Saint Mary's College women's soccer team signs 7 newcomers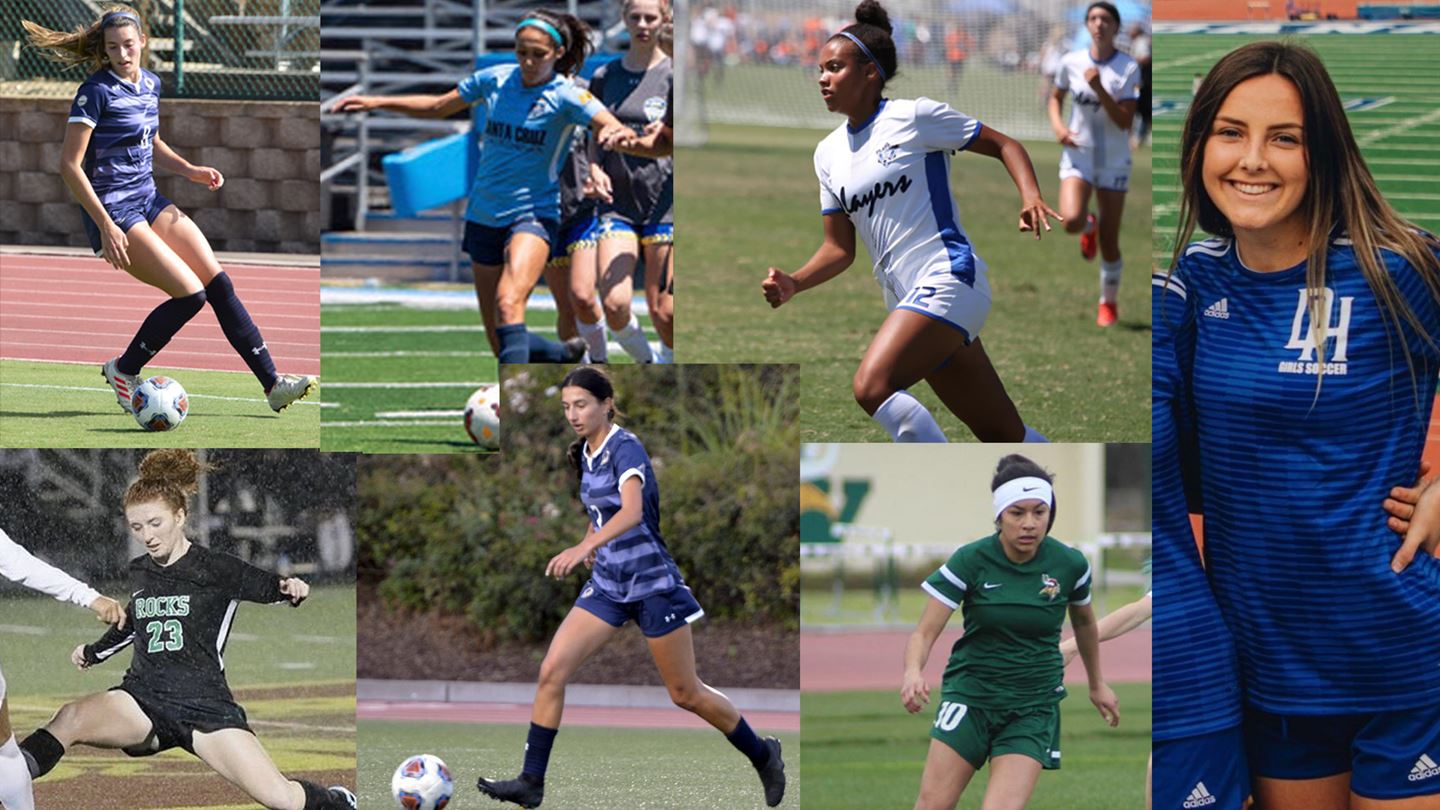 MORAGA, Calif. — Saint Mary's College women's soccer head coach Theresa Romagnolo announced today the signing of seven incoming student-athletes for the fall, including five freshmen and two transfers.
The incoming class is Romagnolo's first recruiting class since taking over the program in January.
"I'm excited to welcome the incoming freshmen and transfers to campus this fall," said Romagnolo. "They will bring great quality and character to our team and we look forward to immersing them into our culture of success."
Here's a little bit about the newest crop of Gaels – listed alphabetically – with their position, previous school, and hometown.
Emma Barthel 
Midfielder | Dublin Coffman High | Dublin, Ohio
Barthel is the Gaels' furthest-from-home recruit as she hails from Dublin, Ohio, a suburb just outside of Columbus. She spent four years on the varsity squad at her high school and during her junior year, she helped lead her team to an incredible run where they won their conference, district, and regional championships. That same year, she was named her conference's Player of the Year in addition to being selected to the All-Ohio First Team. Barthel was also a two-time All-League and All-District player as well as captain of her team.
When asked why she picked to come to Saint Mary's, she said "I chose Saint Mary's for its tight knit community, small classes taught by faculty, amazing job and internship opportunities,
location in the Bay Area, and great soccer program."
Barthel will be studying biology in Moraga and has aspirations of becoming a doctor.
Brynn Mitchell
Midfielder | Aptos High | Santa Cruz, Calif.
Mitchell was a tri-sport athlete at Aptos and appeared on the varsity soccer, volleyball, and track and field teams during her time there. She spent all four years with the varsity club in soccer and appeared everywhere but goalkeeper, picking up accolades at nearly every position. She was named MVP of her league, Midfielder of the Year, and Second Team Defender of the Year and also helped her team claim the SCCAL title once.
"SMC not only has a phenomenal athletics program but the academics are also outstanding," explained Mitchell. "The campus is warming and beautiful and an environment I see myself prospering in."
Mitchell is undeclared in her studies going into her first year. A fun fact about her — she grew up riding horses and competing in local barrel racing events.
Marissa Montelongo
Forward | Kingsburg High | Kingsburg, Calif.
Montelongo brings an impressive resume from Kingsburg High where she was a four-year varsity athlete in both soccer and softball. During her career, she set the school's all-time record in goals scored (122) and total points (296) while filling up her trophy shelf. She was twice named the Central Sequoia League's Offensive Player of the Year as well as League MVP while making the CSL's First Team in all four seasons.
Montelongo is no stranger to winning as her prep team won their CIF section championship in all four years with her on the team and went 44-0 in league play. The forward was named Team MVP in all four of those seasons as well.
"I fell in love with the campus the moment I saw it, it reminded me of home," said Montelongo on why she chose Saint Mary's.
In addition to being on the soccer team, Montelongo will also participate on the Gaels' softball team in the spring. She plans to study biology and is interested in a career in marine biology after graduating.
Ellie Mujushi
Forward | Notre Dame de Namur | Santa Clara, Calif.
Mujushi will transfer for her senior season after playing the last three years at Div. II Notre Dame de Namur in Belmont. The forward began her collegiate career with a bang in 2017 as she racked up 13 goals to finish second in the PacWest in goals and points on her way to the conference's Freshman of the Year award. After only playing in 10 games as a sophomore, Mujushi bounced back by scoring five goals and tallying five assists this past season.
Taylor Poland
Goalkeeper | Dana Hills High | Laguna Niguel, Calif.
Poland is a goalkeeper coming out of Southern California who split her prep time between two states. After spending her first two years in Arizona, Poland finished up at Dana Hills and was a captain for her team. She spent all four seasons on the varsity team while in high school and was also First Team All-Region all four years as well.
Poland was a four-time Scholar Athlete as a prep and will look to continue her dominance off the pitch as she studies psychology at Saint Mary's. In her free time, she enjoys writing and also knows how to juggle.
"I chose Saint Mary's because I love the small class sizes and the unique and specialized education it will provide me," said the goalie. "SMC has allowed me to play Division I soccer at a beautiful school and be part of a great program."
Zinet Siddiqi
Midfielder/Defender | Notre Dame de Namur | Union City, Calif.
Siddiqi is a rising junior who spent her first two seasons at Notre Dame de Namur alongside Mujushi. During her freshman year, Siddiqi started 12 games and was named the team's Defensive Player of the Year. Last season, she led the Argonauts in minutes and was named the team's DPOTY once again. She co-led the team in goals with five (all scored on penalty kick opportunities) and was fourth in total points.
Prior to NDNU, Siddiqi spent four years on the varsity squad at James Logan High in Union City and was three-time All-League. She is also a member of the Afghanistan Women's National Team.
"I chose to attend Saint Mary's because of the high level of academics as well as the high level of competition and professionalism of the women's soccer team," said Siddiqi.
Siddiqi plans to study kinesiology while at SMC and wants to be a physical therapist and pursue a professional soccer career post graduation.
Carly Waller
Midfielder | Robert McQueen High | Reno, Nev.
Waller is a multi-sport athlete who will make the short trek across the state line from Reno to join the Gaels this fall. In addition to spending two years on her high school's varsity team, Waller also lettered for three years in track and field.
Waller was named All-League and helped lead her team win league championships in both seasons as well as a Northern Nevada regional championship. The midfielder was named Team MVP once and totaled 11 goals and 23 assists at Robert McQueen.
"I love the energy and the environment," said Waller on why she chose Saint Mary's. "The area is also extremely beautiful."
Waller will be studying kinesiology and already has her eyes on physical therapy post graduation. She also has a twin sister who will be playing soccer at UC Davis.