Rutgers men's soccer welcomes five players to 2020 early signing class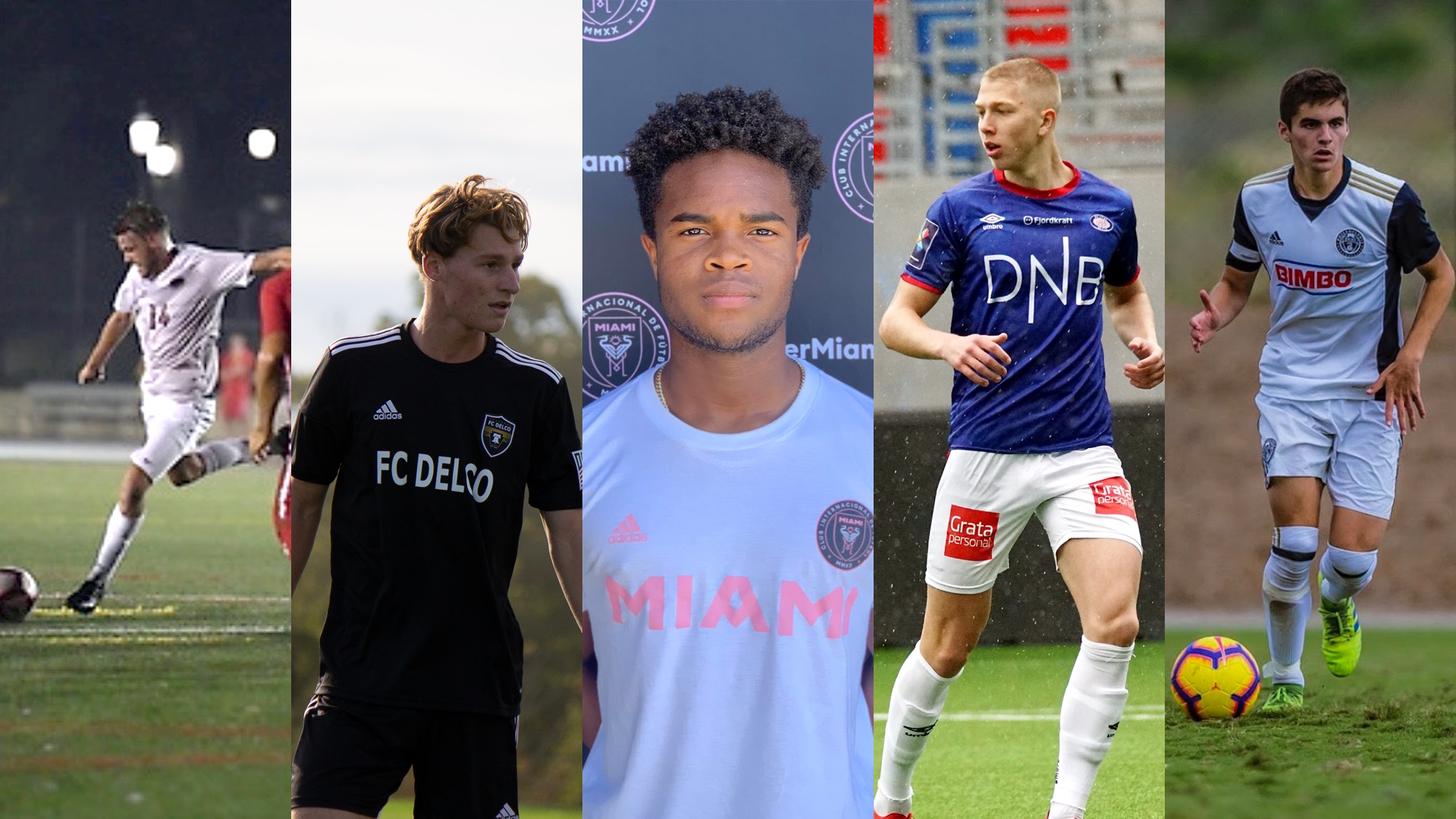 PISCATAWAY, N.J. – Rutgers men's soccer head coach Jim McElderry has inked five new Scarlet Knights during the early 2020 signing period, including a standout transfer and four highly-touted incoming freshmen.
The Scarlet Knights return 20 players from the 2019 season that featured the program's best start to a season since 1985 and the squad's first national ranking since 2016.
"We are excited to announce our first set of recruits for the 2020 season," said McElderry, who begins his second year at the program's helm. "We will add to this group in the coming months, but could not be more happy about these five young men. Our staff is constantly looking to improve our team and program through recruiting good people and good players. We are confident this group addresses some needs on our team both in terms of position and experience."
Ritchie Barry
Class: Junior
Position: Forward
Previous College: St. Joseph's
Club: TSF Academy and the Bristol Rovers
High School: Sparta H.S. (New Jersey)
Hometown: Cardiff, Wales
Ritchie Barry transfers to Rutgers from St. Joseph's, where he was selected to the Atlantic 10 All-Rookie Team and ranked 10th all-time for points in a season with 23. He also holds accolades on the Philadelphia Soccer Six First Team and All-Rookie Team for his performance with the Hawks. His final goal of the 2018 season was featured as a Top 10 Play on ESPN's SportsCenter.
Barry plays his club soccer with TSF Academy and the Bristol Rovers. In one year of high school soccer in the United States at Sparta, Barry netted 27 goals to go with six assists.
Barry on choosing Rutgers: "A chance to play in the Big Ten was one that I could not turn down. I already had a ton of respect for the coaches, who I had seen do amazing things at Fordham. Past players have spoken very highly of the coaching staff. I want to do my part to help make this program the best in the Big Ten."
McElderry on Barry: "The New Jersey resident joins us after spending three years at St. Joe's where he helped them to a successful run in the A10. We were lucky to have Ritchie join us in the spring, where he showed his quality in front of goal, his competitiveness and the workrate we were looking for in a player. He has fit in well and quickly started to combine with our current players in the final third. His talent and experience will be a big asset for us in the fall."
Colin Beasley
Class: Freshman
Position: Forward
Club: FC Delco
High School: Atlantic County Institute of Technology
Hometown: Mays Landing, N.J.
Colin Beasley is a 6-foot-2 striker and aerial specialist, earning Third Team All-State in New Jersey following a 18-goal, 16-assist junior season for Atlantic County. In three years of high school soccer, he tallied 33 goals and 23 assists. He was named to consecutive CAL All-Star First Teams.
Playing his club ball for FC Delco, Beasley overcame a devastating ankle injury to play in the US Soccer club national championship game in 2018, scoring two goals in the final to help his club claim its first national title in its history.
Beasley on choosing Rutgers: "I chose Rutgers because I wanted to be challenged on and off the pitch. The campus is only a two-hour drive from my home."
McElderry on Beasley: "Colin is a big and strong target forward out of New Jersey. He has had a great year with his FC Delco US Soccer Development Academy Team scoring 15 goals in 14 matches. He also understands Rutgers tradition as he plays for a few former Scarlet Knight greats in Jeff Zaun '94 and Nick Labrocca '07. Colin has impressed us with not only his goal scoring, but also his ability to hold the ball and work on the defensive side. He is tough and will be able to handle to physical aspect of college soccer."
Darin Henry
Class: Freshman
Position: Midfield/Defense
Club: Inter Miami CF
High School: Archbishop McCarthy
Hometown: Weston, Fla.
Darin Henry is a versatile defender and midfielder with full-pitch range. He has played most of his recent soccer in club competition as a member of Weston FC and Inter Miami CF in the US Soccer Development Academy. He made 25 starts in 26 appearances for Weston in 2018-19.
In 11 games with Inter Miami CF during the last shortened developmental season, he scored two goals and made four starts.
Henry on choosing Rutgers: "I chose Rutgers because it was the school that could best shape my life professionally and athletically."
McElderry on Henry: "Darin comes to Rutgers from South Florida and the new Major League Soccer franchise Inter Miami FC US Soccer Development Academy Team. Darin is a very good athlete who can play a few positions equally well. He excels on the defensive side when playing centrally, but can also deal with the ball under pressure and push forward into the attack when playing wide. He loves to play and is willing to do whatever is needed to help his team win."
Fredrik Holmé
Class: Freshman
Position: Defense
Club: Vålerenga
High School: Wang Toppidrett
Hometown: Oslo, Norway
Fredrik Holmé is a towering, 6-foot-2 defender from Norway. He has been climbing the ranks of club soccer in his native country, recently earning a promotion to the Vålerenga recruit team.
Holmé on choosing Rutgers: "I chose Rutgers because I believe the coaches have a good plan for the future, and the school's good reputation for their academics."
McElderry on Holmé: "Fredrik arrives at Rutgers from Vålerenga in Norway. He is an imposing central defender who is excellent in the air, can play out of the back and most importantly is a leader. Fredrik has great understanding of playing as a central defender and has gained a ton of experience competing with his club team. I have enjoyed the process of recruiting Fredrik and getting to know him off the field. I expect Fredrik to have a big impact on Rutgers soccer in the future."
Cole Sotack
Class: Freshman
Position: Defense
Club: Philadelphia Union Academy
High School: YSC Academy
Hometown: Doylestown, Pa.
Cole Sotack has been playing at the highest levels of developmental soccer, standing out on the backline of Major League Soccer's Philadelphia Union Academy. He has been a mainstay in the lineup, starting in 56 games in 67 appearances over his last three seasons with the club. He helped lead PUA to first place in the Atlantic Division during his U17 season, and qualified for the DA Cup Knockout Round during his U19 campaign.
He is the son of a Division I soccer player, Joe Sotack, who played for Philadelphia College of Textile and Science. He's around the game off the pitch, as well, volunteering his time at Top Soccer, an outreach soccer program for children with special needs.
Sotack on choosing Rutgers: "I chose Rutgers because of the opportunity to play at the highest level of college soccer in the Big Ten while also receiving a great education."
McElderry on Sotack: "Cole has had a very successful youth career with the Philadelphia Union Academy. He is someone who is always in the lineup. He is incredibly consistent and never seems to have a match where he is not up to the competitiveness of the match. He earned the opportunity to go to preseason with the Philadelphia Union and played friendlies during this period. Cole can play anywhere across the back and is a quiet leader. He makes players around him better, a quality I think is often undervalued in our game. We are looking forward to Cole arriving 'On the Banks'."