Cornell University men's soccer adds 8 to roster for 2020 season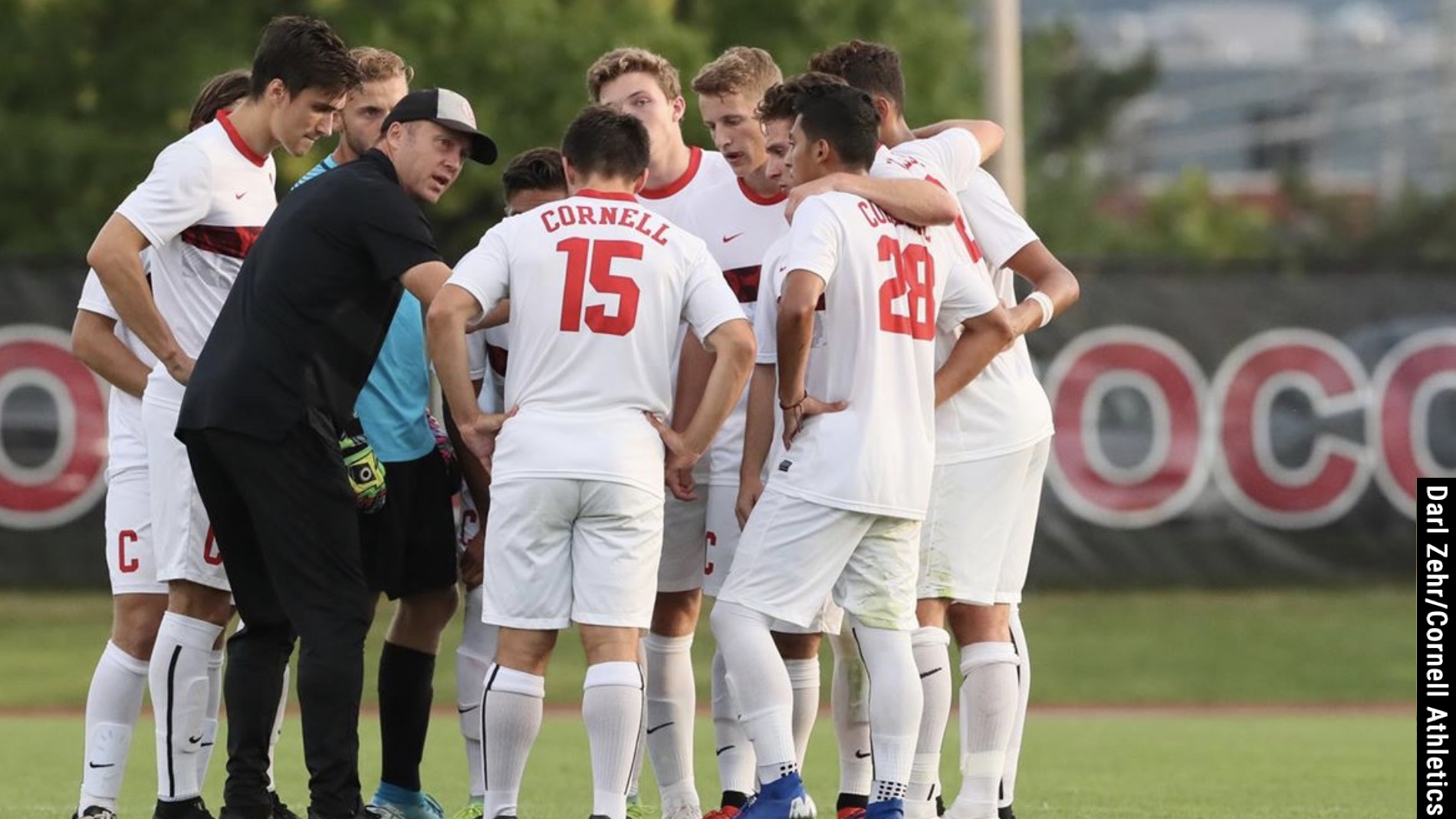 ITHACA, N.Y. – The Cornell University men's soccer program has announced that eight incoming student-athletes will join the team in advance of the 2020 season.
It will be the program's fifth season under the direction of John Smith, who has led the program to finishes of 10 or more wins in back-to-back seasons.
"In the wake of all that is going on in our world, it is with excitement that the men's soccer staff announces the young men who shape our 2020 class," said Smith. "Aside from their obvious talents on the field, they also have great character and all the essential ingredients to epitomize everything we value within the program. These eight newcomers will join a group of experienced returners who are constantly striving to set the bar higher."
The Big Red posted a 10-5-2 overall record in 2019 that featured an impressive 6-0-1 record at home and a 3-2-2 mark in the Ivy League. Cornell defeated a pair of traditional soccer powers in Michigan State and Akron and finished with a record above .500 for the second consecutive season, despite playing a schedule that featured four NCAA Tournament participants (Michigan, Syracuse, Fairleigh Dickinson, Yale).
Cornell graduates a pivotal senior class that helped grow the program from a 1-14-2 record in 2016 to a 10-5-2 mark in 2019. Seniors Ryan Bayneand John Scearce earned first team All-Ivy honors in 2019, while Brady Dickens and George Pedlow played key roles in the Big Red's offensive attack.
The Newcomers
Wilson Eisner  
RB/LB/CM        Menlo Park, Calif. (Menlo-Atherton HS/De Anza Force)
Smith on Eisner: "Wilson is a dynamic fullback, who has the versatility to play in a number of positions. His ability to deliver a cross with accuracy makes him a constant threat when he goes forward, and he has the energy to do so for the entirety of a game. He also happens to be fantastic on dead balls. He has been an integral part of a hugely successful De Anza Force team."
Max Morales   
LB                    Davie, Fla. (West Broward HS/Inter Miami)
Smith on Morales: "Max is also a dynamic fullback. He has a great first touch and is very much a huge component of his team's attack. He is composed in tight situations and, consequently, he is very difficult to dispossess. One of Max's greatest attributes is his absolute passion for the game—he obviously loves to play, and the impact that kind of attitude can have on his teammates is immense."
Henry Hylbert  
F/CM                Nashville, Tenn. (Montgomery Bell Academy/Tennessee SC)
Smith on Hylbert: "Henry is a tough, strong target player, who has a skillset which will allow him to play in multiple positions. His feet make him very good at holding up the ball, which will give us a strong target to play through. What we really like about Henry is his toughness. His ability in the air, and his bravery really compliments the amount of times we swing the ball into the box."
Matthew Goncalves    
WM/F              Everett, Mass. (Belmont Hill HS/Boston Bolts)
Smith on Golcaves: "Matthew has the ability to play as a winger, or an underneath striker. What we really like about him is the fact that he is at his most comfortable when he has the ball at his feet in and around the top of the box. He loves to shoot and he has the moves to be able to create the half yard he needs to get a shot off. He also has a knack of being able to find the ball in a crowded box—which is easier said than done."
Lalo Serrano    
CM/CB             Glendale, Ariz. (Brophy Preparatory/Phoenix Rising)
Smith on Serrano: "Lalo is a very strong central midfielder with an insatiable work ethic. He is comfortable picking the ball up off the back four, and his foot skills—coupled with his vision—help him orchestrate the rhythm of the games. Lalo has the ability to both create and destroy, which fits in perfect with what we are looking for from our central midfielders."
Anthony Reaves          
CB/LB/RB         Duluth, Ga. (Lambert HS/Atlanta United)
Smith on Reaves: "Anthony is blessed with incredible pace. This gift—whether it be recovery, overlapping, or underlapping runs—is impossible not to be impressed by, when you see the effortlessness with which he covers ground. In conjunction, Anthony has very good feet. Whether it be at center back or full back, he has the ability to be a huge part of the team's attack. He also has the toughness to be a strong defender."
Kisa Kiingi
RB/RM             Bethesda, Md. (St. Andrew's Episcopal HS/Bethesda SC)
Smith on Kiingi: "Kisa is a very athletic player who is comfortable playing deeper as a full back, or higher up the field as a winger. He has a good first touch which allows him to make good decisions in possession of the ball. When in attack, he has the speed and ability to get around his defender, and he invariably whips in very good crosses."
Mateo Rodriguez         
CB                    Lake Placid, N.Y. (Northwood HS/Black Rock FC)
Smith on Rodriguez: "Mateo is a highly technical central defender. He has very good feet, is comfortable in tight situations, and has a broad range of passing. He naturally enjoys leading, and when added to his understanding of the game, this skill makes him even stronger as a defender and a player."