Fairleigh Dickinson men's soccer hires Jaymee Highcock as assistant coach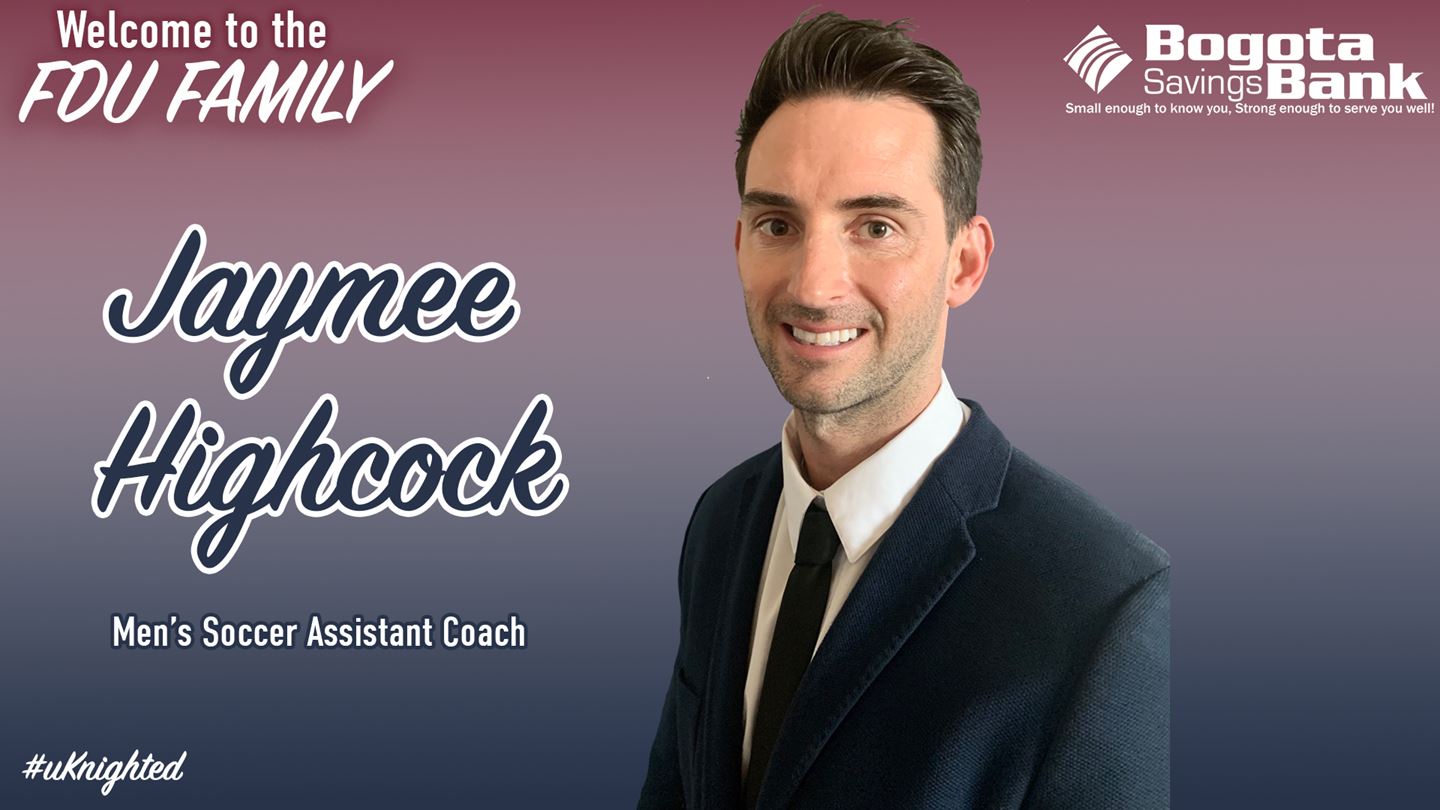 TEANECK, N.J. – Fairleigh Dickinson men's soccer head coach Seth Roland announced the hiring of Jaymee Highcock to the Knights' staff as the full-time assistant coach on Thursday.
Highcock joins the defending Northeast Conference champions after previously serving as the head men's and women's soccer coach at William Penn University at the NAIA level in Oskaloosa, Iowa. He brings to the Knights experience at the NAIA, international and club level after a successful playing career at Benedictine College and with the Kansas City Brass in the USL.
"We are very excited to bring Jaymee on board," Roland said on hiring Highcock. "He brings the total package of soccer experience to the table. He has success as a head coach at the NAIA level, which means he has experience coaching, recruiting and team-building. In addition, he brings a burning desire to constantly challenge himself to get better. I expect him to be a great addition to the FDU Men's Soccer program."
Since 2015, Highcock has guided the men's and women's soccer teams at William Penn. This past season under his leadership, the men's team achieved the highest national ranking in school history, no. 9 in the NAIA Top 25 poll, and qualified for the NAIA National Tournament for the first time in school history. Highcock led the Statesmen to a 15-5-1 record and a second-place finish in the Heart of America Athletic Conference (HEART), with the program setting records for wins and most goals scored and four players earning all-conference honors.
He coached the program's first-ever First-Team All-America honoree, Eduardo Bonatto, this past season as well, one of nine total All-America selections in his tenure. His Benedictine teams made the HEART conference tournament in each of his five seasons and earned the first-ever national ranking for the program in 2018. He finished his five years with a 55-38-5 record on the men's side.
On the women's side, he guided the team to their first winning season in 16 years in his first season taking over (2017). He coached five all-conference players and four All-America honorees. He finished his career at William Penn with a combined overall record of 78-68-7.
Academically, Highcock's players at William Penn garnered many NAIA Scholar-Athlete and Heart Scholar-Athlete honors, and two men's players received CoSIDA Academic All-America honors this past fall.
Highcock took over at William Penn after serving as a men's assistant coach at NAIA-affiliate Avila University in Kansas City, Mo. He helped the Eagles to their most wins in a season in 20 years when they finished with an 8-8-2 record in 2014, and he led the Eagles to the HEART playoffs in his first season in 2013.
Highcock also brings international coaching experience to Teaneck. He previously worked as the head of scouting for the Antigua National team, helping the group win three games in FIFA World Cup qualifying. He also was the former National Team coach for the U.S. Virgin Islands while organizing youth development programs on the islands, and he helped run youth clinics in Barbados in coordination with the U17 and U20 female and male national teams.
Highcock also has experience at the club level, coaching youth teams since 2012 in different stints for Sporting Iowa, Kansas City Legends, Evolution Soccer and Sporting Blue Valley.
A native of Fareham, England, Highcock graduated from Benedictine College with a degree in Physical Education. As a back, he led the Ravens to a conference championship and to the NAIA National Tournament Sweet 16 in 2009 before going on to play professionally for the Kansas City Brass in the USL for two years. Prior to coming to the United States, Highcock played for Swansea FC youth squad in the English Championship league from 2004-06, as well as Yeovil Town FC in the English League Two from 2002-04.
Highcock also attained a Master's degree in Organizational Management from Avila University, and he currently holds a USSF-B, UEFA B Part 2 and English FA Goalkeeper Level 1 license.