Radford men's soccer program hires Hall of Famer John White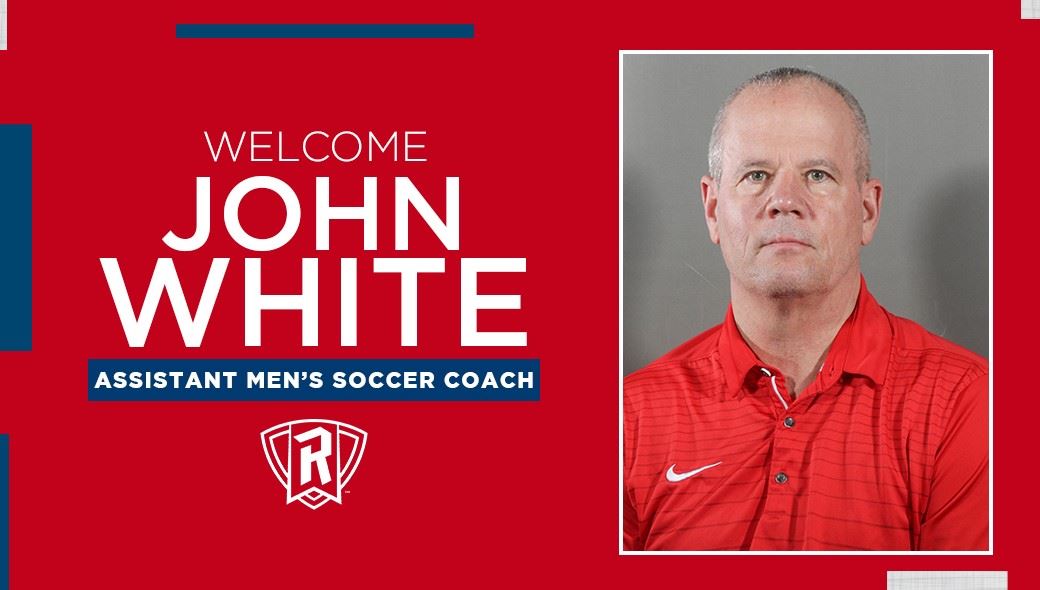 RADFORD, Va. – Radford University interim head men's soccer coach Chris Barrett finalized his coaching staff Friday afternoon with the addition of Radford Athletics Hall of Fame member John White as his assistant coach.
"I am extremely lucky and thankful that John answered my call to come back and help his and our program," Barrett said. "His soccer qualifications and experience speak for themselves, but for me his highest qualification is that he is a Highlander! I know our student-athletes will benefit tremendously from him being a daily presence on and off the field."
White, a former Highlander goalkeeper, returns to the Radford program with over 25 years of coaching experience at the youth, high school and collegiate levels. He most recently served as a youth soccer coach for the VBR Star. At VBR Star he coached all levels of competitive soccer for boys and girls.
White's coaching career began as an instructor at soccer camps from 1979-82 for Randolph-Macon College and Northern Virginia Soccer School.
White also has extensive experience coaching in the Virginia Olympic Development Program, spending parts of five seasons (1998-01, 2003-05) coaching various age groups within the program. He was the head state coach for the U-14 Girls team in 2004 and 2005 after previously being an assistant state coach at that level in 2000. White was also an assistant state coach for the U-16 Girls team in 2003 and an assistant state coach for the U-15 Girls team in 2002. He served as a district coach for Boys and Girls teams within the ODP from 1998-01.
While coaching in the youth ranks, White also was an assistant coach for the women's soccer team at Hidden Valley High School from 2014-17 and an assistant coach for the Cave Spring High School men's soccer team from 2012-13. Both programs made the state playoffs during his tenures at the two Roanoke schools.
White also spent eight seasons (2003-10) as a volunteer assistant coach for the Roanoke College men's soccer team, helping the Maroons continue a rich tradition on the pitch. Roanoke won 90 games while White was on the staff, took home three ODAC Regular Season Championships, two ODAC Tournament Championships and also finished runner-up in the ODAC Tournament twice during that span. The Maroons made two NCAA Tournament appearances during that span and never finished worse than fourth in the ODAC regular season standings.
In addition to his years of coaching, White has also earned multiple coaching licenses from different associations. He has a U.S. Soccer Federation (USSF) "A" coaching license and a National Soccer Coaches Association of America (NSCAA) Level 3 Goalkeeper Coach Diploma. He also has a "Coaching Youth Football" from the KNVB Academy, the governing body of the Netherlands national soccer program, a Premier Diploma from the NSCAA and a USSF Youth National Coaching License.
White was a four-year starter between the sticks for the Highlanders from 1978-81, where he established himself as one of the top goalkeepers in the state. He was a three-time Virginia Intercollegiate Soccer Association All-Star and remains one of the top goalkeepers in program history. White remains Radford's all-time saves leader with 475 and his single-season record of 138, set in 1979, still stands as well.
White, a 1982 graduate of Radford, was also inducted into the Radford Athletics Hall of Fame as part of the Class of 2000. He is married to the former Denise Medvedik, a 1983 graduate of Radford.
The Highlanders begin the 2020-21 campaign on February 17 when they play at Liberty.