Oklahoma hires longtime Ole Miss head coach Matt Mott to lead Sooners soccer program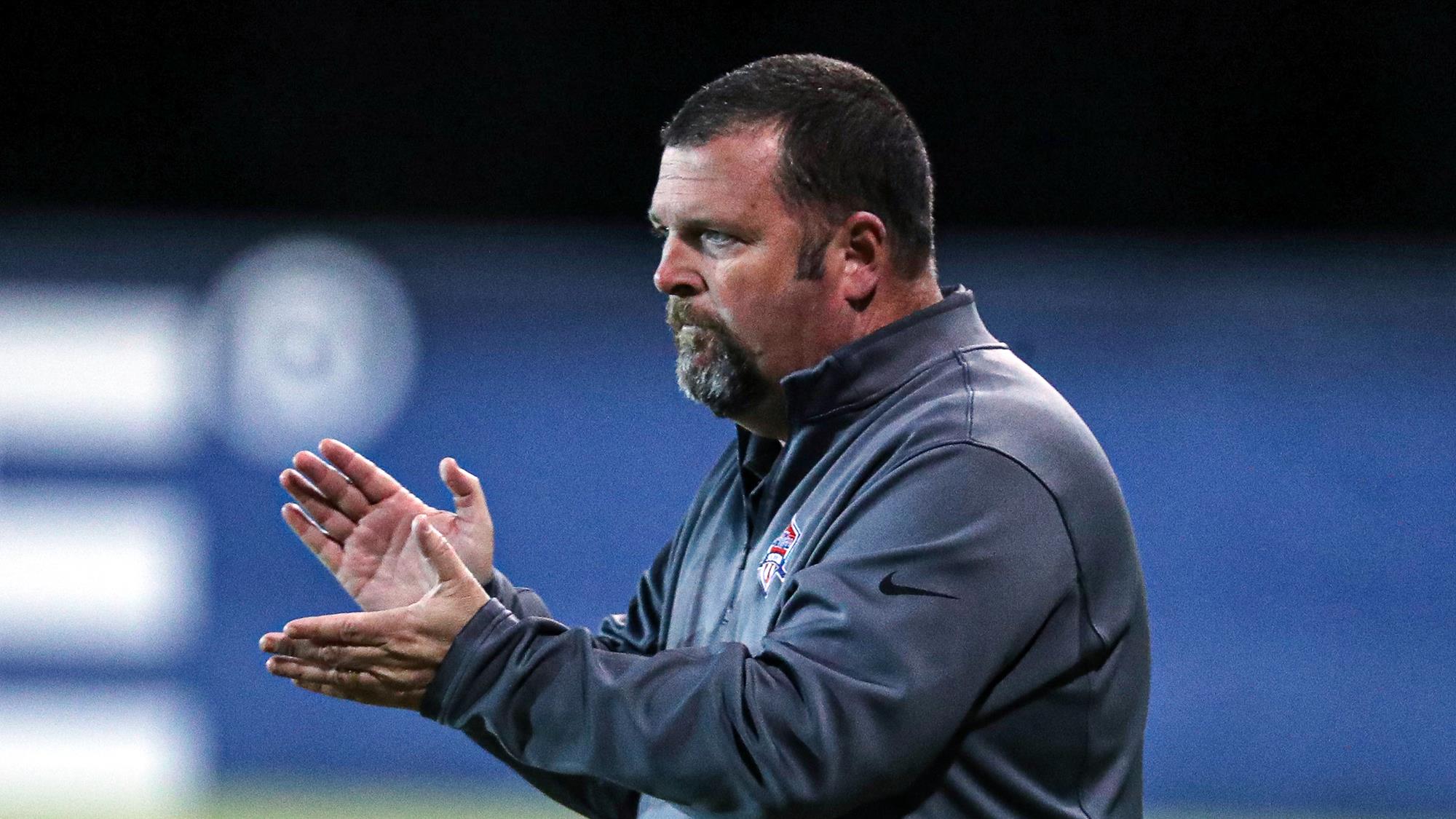 NORMAN — University of Oklahoma Vice President and Director of Athletics Joe Castiglione announced that Matt Mott has been hired as OU's head soccer coach. Mott takes over the Sooners program after a highly successful run the last 13 seasons as head coach at Ole Miss.
Mott coached the Rebels to a 139-97-32 (.578) record and to six of the program's 10 all-time NCAA Tournament appearances, including four of the last six years. He led Ole Miss to a winning record and to the SEC Tournament in 10 of the last 11 seasons, going 124-78-27 (.600) during the stretch.
Four of the Rebels' six NCAA Tournament appearances under Mott resulted in at least one win, with the 2015 and 2020 squads advancing to the Sweet 16. Eleven of his 13 teams featured at least two players with at least six goals each in a season.
"Coach Mott is the right leader at the right time for OU Soccer," said Castiglione, who is celebrating the 25th anniversary of his hiring as OU's athletics director Sunday. "His experience as well as keen understanding of and appreciation for the resources available to build a championship program will serve our student-athletes in a manner emblematic of our core values. As a seasoned SEC coach, he has the expertise to guide us during our final year in the Big 12 and our forthcoming conference move, and his sharp recruiting acumen will immediately benefit our roster. I know his leadership will take us to a new level of excellence and competition. We're so grateful he, his wife Jennifer, and their children Dean, Will and Tacie have decided to join the Sooner family."
[+READ: University of Oklahoma announces departure of head soccer coach Mark Carr]
Mott coached his Ole Miss players to six All-America honors, 19 all-region awards, 25 All-SEC laurels, six SEC All-Freshman picks and seven Academic All-America selections, and had five players drafted into the NWSL professional ranks. He has produced some of Ole Miss's best all-time talent, including the top three scorers in program history in CeCe Kizer (48 goals from 2015-18), Channing Foster (44 goals from 2017-21) and Rafaelle Souza (44 goals from 2011-13), as well as the school's all-time shutouts leader, goalkeeper Ashley Orkus (29 shutouts from 2019-22).
Following her standout three-year Ole Miss career, Souza went on to play in several professional leagues across the world and represented the national team for her native Brazil as a starter at both the World Cup and Olympics. Kizer became Ole Miss' first-ever two-time All-American (2017-18) and is one of the young stars in the NWSL with the Kansas City Current. In 2021, Foster became the SEC's first-ever five-time all-league honoree and started her pro career with the Chicago Red Stars in 2022. Orkus, who earned SEC Goalkeeper of the Year and first-team All-SEC honors each of the past three seasons and was named a United Soccer Coaches All-American in 2020 (third team) and 2021 (first team), was drafted by the Kansas City Current in January.
"First and foremost, I want to thank (Athletics Director) Keith Carter and (Senior Associate AD) Bob Baker at Ole Miss," said Mott. "I'm really proud of everything we accomplished there and my family loved our time in Oxford. After 13 years, I feel I'm ready for a new challenge and Oklahoma is an opportunity I could not pass up. We are absolutely thrilled to be joining the Sooner family.
"I'm grateful to Joe Castiglione and (Deputy AD) Armani Dawkins for giving me this wonderful opportunity to lead the OU soccer program. The success of this athletics department is second to none, and after meeting with Joe it's easy to understand why. His vision during the interview process was so impressive and I'm incredibly excited about the future of the soccer program. We'll play a great brand of soccer with an up-tempo, pressing, exciting style. My family and I can't wait to get to Norman and get started."
Mott led the Rebels to winning records each of the last six seasons and to double-digit victories in six of the last seven campaigns. His 2022 squad began the season with a 9-0-2 record, good for the best 11-game start in program history.
Before becoming just the second Ole Miss head coach in program history, Mott was the top assistant at the University of Texas from 2006-10, helping the Longhorns to three NCAA Tournament appearances, including back-to-back Sweet 16s in 2006 and 2007. UT's 2007 squad reached a No. 1 national ranking. Working with the goalkeepers and defenders, Mott helped guide Texas to a school record for lowest goals-against average (0.64) in 2008 and to several other defensive records during his tenure.
Prior to his Texas stint, Mott served as an assistant at Auburn from 1999-2005. He was promoted from assistant coach to assistant head coach to associate head coach during his time at the school and helped the Tigers to four consecutive SEC West titles and four straight NCAA Tournaments from 2001-04. He was named the AFLAC National Assistant Coach of the Year in 2002 when Auburn claimed the SEC overall championship. As Auburn's recruiting coordinator, Mott helped the Tigers ink six nationally ranked signing classes and helped develop several players to All-SEC and All-America stature.
Mott also served as an assistant coach at UCF, his alma mater, for four years (1995-98). While Mott was in Orlando, the Golden Knights won three Trans Atlantic Athletic Conference championships and earned an NCAA Tournament berth in 1998.
Before UCF, Mott was the head women's coach at NCAA Division III Hilbert College in Hamburg, N.Y., where he became the program's all-time wins leader during his tenure from 1991-94. He was also the goalkeepers coach for the men's team at Hilbert during that time.
A Norwood, N.Y., native, Mott obtained a bachelor's degree in general studies (minored in criminal justice) from UCF in 2000 and also earned an Associate of Science degree in 1994 from Erie Community College in Buffalo, N.Y. Before college, Mott spent four years in the U.S. Coast Guard where he played and coached with the Coast Guard's select team in Portsmouth, Va.
Mott holds a National "B" Coaching License from the United States Soccer Federation. In addition to his college coaching positions, he has served as the goalkeepers coach for the USYSA Region III Olympic Development Program team since 2003.
Mott is married to the former Jennifer Swartz. They have two sons, Dean and Will, and a daughter, Tacie.
MATT MOTT'S YEAR-BY-YEAR OLE MISS HEAD COACHING RECORD
2010     7-9-4
2011     8-10-1
2012     13-9-0 (SEC Tournament)
2013     16-6-2 (SEC Tournament; NCAA Second Round)
2014     8-6-5
2015     14-5-4 (SEC Tournament; NCAA Sweet 16)
2016     9-11-0 (SEC Tournament)
2017     10-7-3 (SEC Tournament; NCAA First Round)
2018     13-8-1 (SEC Tournament; NCAA Second Round)
2019     10-7-3 (SEC Tournament)
2020     10-6-2 (SEC Tournament; NCAA Sweet 16)
2021     12-6-3 (SEC Tournament; NCAA First Round)
2022     9-7-4 (SEC Tournament)
Total   139-97-32