University of Toledo appoints Mark Batman as women's soccer head coach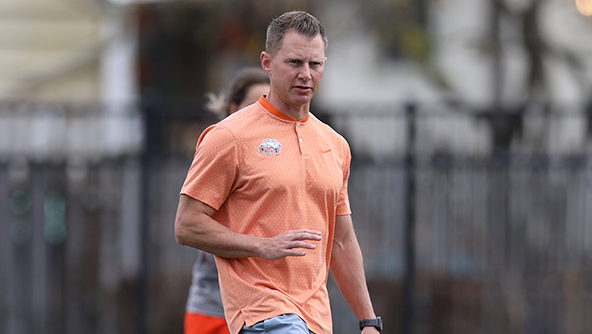 TOLEDO, Ohio – Mark Batman has been named the head women's soccer coach at the University of Toledo, Vice President and Director of Athletics Bryan B. Blair announced.
Batman previously served as the head women's soccer coach at Ohio Northern University, a position he held since 2004. He is winningest coach in ONU history, compiling a record of 253-91-40 in 19 seasons, with a 136-24-11 mark in Ohio Athletic Conference (OAC) play.
"We are excited to welcome Mark to the Rocket family," Blair said. "Mark is a proven winner who has shown the ability to build a program and sustain excellence. His student-athletes win championships while excelling in the classroom and enjoying the best possible student-athlete experience. We are fortunate to have Mark leading our program and look forward to this next chapter for Toledo Women's Soccer."
Batman, who becomes just the fourth head coach in Toledo Women's Soccer history, brings 22 total years of collegiate coaching experience to Toledo. Under Batman's direction, Ohio Northern has collected eight regular-season conference titles, made an appearance in the conference tournament every season from 2006-22, and won five OAC Championship crowns, the most recent coming in 2022.
"I would like to thank Bryan Blair and (Senior Woman Administrator) Kelly Andrews, along with the rest of the UT staff and search committee for giving me this opportunity as the next leader of the Toledo Women's Soccer program," Batman said. "I am looking forward to this opportunity and want nothing more than to get Toledo Women's Soccer back to the top of the MAC and competing for MAC Championships."
Batman is a three-time United Soccer Coaches Association Division III Great Lakes Coach of the Year (2011, 2017, 2019), three-time Ohio Collegiate Soccer Association Coach of the Year (2011, 2012, 2019), and five-time Ohio Athletic Conference Coach of the year (2007, 2012, 2017, 2019, 2021).
In the classroom, Batman's student-athletes have held a 3.4 GPA or higher each of the last 10 seasons and posted a program-best 3.72 GPA during the 2022 season.
Batman starting his coaching career as an assistant coach at his alma mater following his graduation in 2000 from Wilmington College (Ohio). He went on to become a graduate assistant coach for both the men's and women's soccer teams at the University of Dubuque (Iowa) from 2001-02. Batman served as an assistant men's coach and assistant sports information director at Savannah College Arts & Design (Ga.) in 2003 before assuming the head coaching position at Ohio Northern University in 2004.
As a student-athlete at Wilmington, Batman was a two-time First-Team All-Heartland Collegiate Athletic Conference selection and a two-time honorable mention honoree. As a senior, Batman was selected First-Team All-Great Lakes Region and was named team MVP. He helped his team make two NCAA D-III Tournament Sweet 16 appearances and achieve a No. 12 national ranking.
Batman, a Yellow Springs, Ohio native, earned his bachelor's degree in sport management from Wilmington in 2000, and his master's degree in physical education from Loras College (Iowa) in 2003. He holds a Premier Diploma and was a trainer at the United State Women's National Team Training Center from 2013-18.
Batman's official introduction as head coach will be held on campus at a later date.
What They Are Saying About Mark Batman
"Mark Batman made a difference for us in so many ways. He is a great colleague, has high professional standards and ethics, and is a proven winner. But most important of all, our student-athletes benefited from his leadership, in the classroom and in competition. The student-athletes at Toledo will soon experience these same benefits."
– Ohio Northern University Athletic Director Tom Simmons
"I couldn't be more excited for the future of Toledo Soccer and Coach Batman! Mark is a proven recruiter, consistent winner, and a great person. As a former player in the coaching profession, I am continuously inspired and impressed with what he accomplishes with his teams and the culture he develops. Go Rockets!"
– Austin Peay head women's soccer coach Kim McGowan
"Coach Batman will be a great addition to the University of Toledo women's soccer program. He has not just won at Ohio Northern, but has won consistently and has continued to elevate the program to being nationally recognized in Division III. How has he done that? By creating a culture of success both athletically and academically that student-athletes want to be a part of. I look forward to seeing the success he brings to the University of Toledo."
– Ashland University head women's soccer coach Cayleb Paulino
Mark Batman's Head Coaching Record at Ohio Northern
| | | | | | | |
| --- | --- | --- | --- | --- | --- | --- |
| Year | Record | Pct. | OAC | Pct. | OAC Tournament | NCAA Tournament |
| 2022 | 14-2-5 | .786 | 7-0-2/ 1st | .889 | Champions | Second Round |
| 2021 | 14-5-3 | .682 | 7-1-1 / t-2nd | .815 | Champions | Second Round |
| 2020 | 8-1-2 | .788 | 8-0-1 / t-1st | .926 | Runners-Up | |
| 2019 | 18-3-3 | .792 | 9-0-0 / 1st | 1.000 | Champions | Sweet 16 |
| 2018 | 14-4-1 | .763 | 7-1-1 / 2nd | .833 | Runners-up | |
| 2017 | 20-2-2 | .875 | 9-0-0 / 1st | 1.000 | Champions | Elite 8 |
| 2016 | 15-4-0 | .789 | 8-1-0 / 1st | .889 | Runners-up | |
| 2015 | 12-7-2 | .619 | 7-2-0 / 2nd | .777 | Runners-up | |
| 2014 | 10-7-2 | .611 | 6-2-1 / t-2nd | .704 | Quarterfinalist | |
| 2013 | 10-9-2 | .508 | 6-3-0 / 3rd | .667 | Semifinalist | |
| 2012 | 13-5-5 | .674 | 5-3-1 / 4th | .611 | Champions | Second Round |
| 2011 | 16-3-2 | .794 | 9-0-0 / 1st | 1.000 | Runners-up | Second Round |
| 2010 | 13-6-1 | .667 | 7-1-1 / 2nd | .815 | Runners-up | |
| 2009 | 15-5-2 | .712 | 8-1-0 / 2nd | .889 | Runners-up | First Round |
| 2008 | 14-6-1 | .683 | 7-2-0 / t-2nd | .778 | Runners-up | |
| 2007 | 12-5-2 | .667 | 8-0-1 / 1st | .926 | Runners-up | |
| 2006 | 13-3-3 | .737 | 7-1-1 / 2nd | .815 | Semifinalist | |
| 2005 | 11-7-1 | .596 | 5-4-0 / 6th | .556 | | |
| 2004 | 11-7-1 | .596 | 6-2-1 / t-3rd | .704 | Semifinalist | |
| 19 Years | 253-91-40 | .710 | 136-24-11 | .830 | 5 championships | 7 appearances |