Marist hires Nicole Pacapelli from Binghamton as women's soccer head coach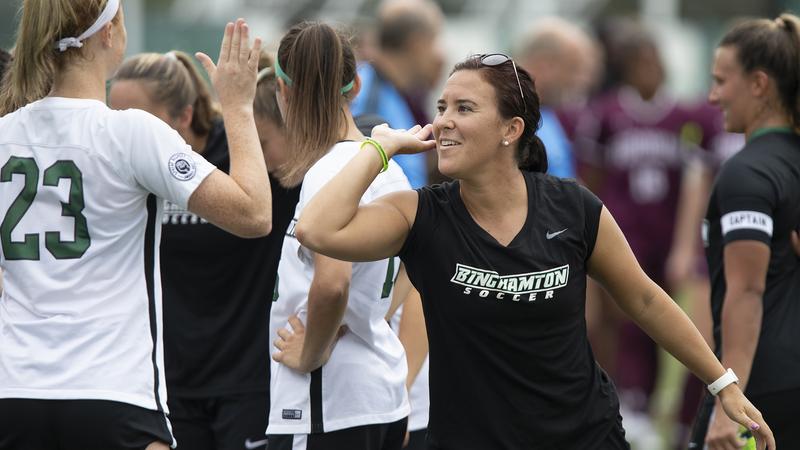 POUGHKEEPSIE, New York – Nicole Pacapelli was hired as the new Marist College Head Women's Soccer Coach, Director of Athletics Tim Murray announced.
"I am grateful for the confidence and belief that Director of Athletics Tim Murray and the search committee have shown for their trust in me to lead the Marist women's soccer program," Pacapelli said. "I can not tell you how grateful and appreciative I am for this amazing opportunity to help build a culture of excellence and community at Marist, a place that so strongly aligns with everything I value and believe in. I am so excited to get started leading and serving our Red Fox student-athletes as we strive to provide them with an elite student-athlete experience.
"I want to say a special thank you to Binghamton Head Coach Neel Bhattacharjee, my former student-athletes and the Binghamton Athletics Department for their endless support in me over the past three years. I would also like to thank my family and my own college coach, Laura Duncan, who I would not be where I am today without."
Pacapelli comes to Marist after a successful three-year run as an assistant coach at Binghamton. In the past three seasons, the Bearcats went 14-5-3 (.705) in America East play and 23-15-8 (.587) overall. Binghamton won a share of its divisional title in the Spring of 2021, won the America East regular-season championship outright in 2022, and reached the conference's championship match in the Spring of 2021 and 2022. These championship appearances marked the first for the Bearcats since 2009.
In the 2022 season, Pacapelli was part of the America East Coaching Staff of the Year. Maya Anand was named Striker of the Year, and Olivia McKnight was honored as Midfielder of the Year. It marked the first time in program history the Bearcats won more than one conference major award. Additionally, Anand and McKnight were named All-Region.
"We are very excited to welcome Nicole to the Marist Athletics Department," Marist Associate Athletics Director/Senior Woman Administrator Elizabeth Donohue said. "She brings experience and a positive outlook to the women's soccer team that will provide a foundation for growth and success. Our student-athletes will be well equipped to flourish both on and off the field under her direction."
Prior to her arrival at Binghamton, Pacapelli was an assistant coach at Richmond in the Atlantic 10 in the 2019 season. For the 2016-18 seasons, Pacapelli was head coach at Queens College, where she doubled as the department's academic coordinator.
Pacapelli earned both her Bachelor's degree (Nutrition and Dietetics, 2014) and Master's degree (MBA, concentration in Sports Management, 2016) from the University of New Haven, where she was a Dean's List honoree. She began her coaching career with the Chargers as their lead assistant from 2014-15. In her three-year playing career at New Haven, Pacapelli helped lead the program to 31 wins and was a two-year captain and an All-Northeast-10 selection. She played her freshman season at Stonehill College.
Pacapelli played in the Women's Premier Soccer League (WPSL) for the Connecticut Football Club (CFC) Passion. She holds a United States Soccer "C" coaching license and United Soccer Coaches National and Advanced National Diplomas. She was selected to the 2022 United Soccer Coaches Coach Credentialing Cohort, was honored as a member of the 2021 United Soccer Coaches 30 Under 30 Class, and was chosen to the 2020 NCAA WeCoach Academy Class.
Pacapelli is a native of West Haven, Connecticut. She was an all-state soccer selection and four-year scholastic standout.