Washington women's soccer legend Tina Frimpong Ellertson departs Husky program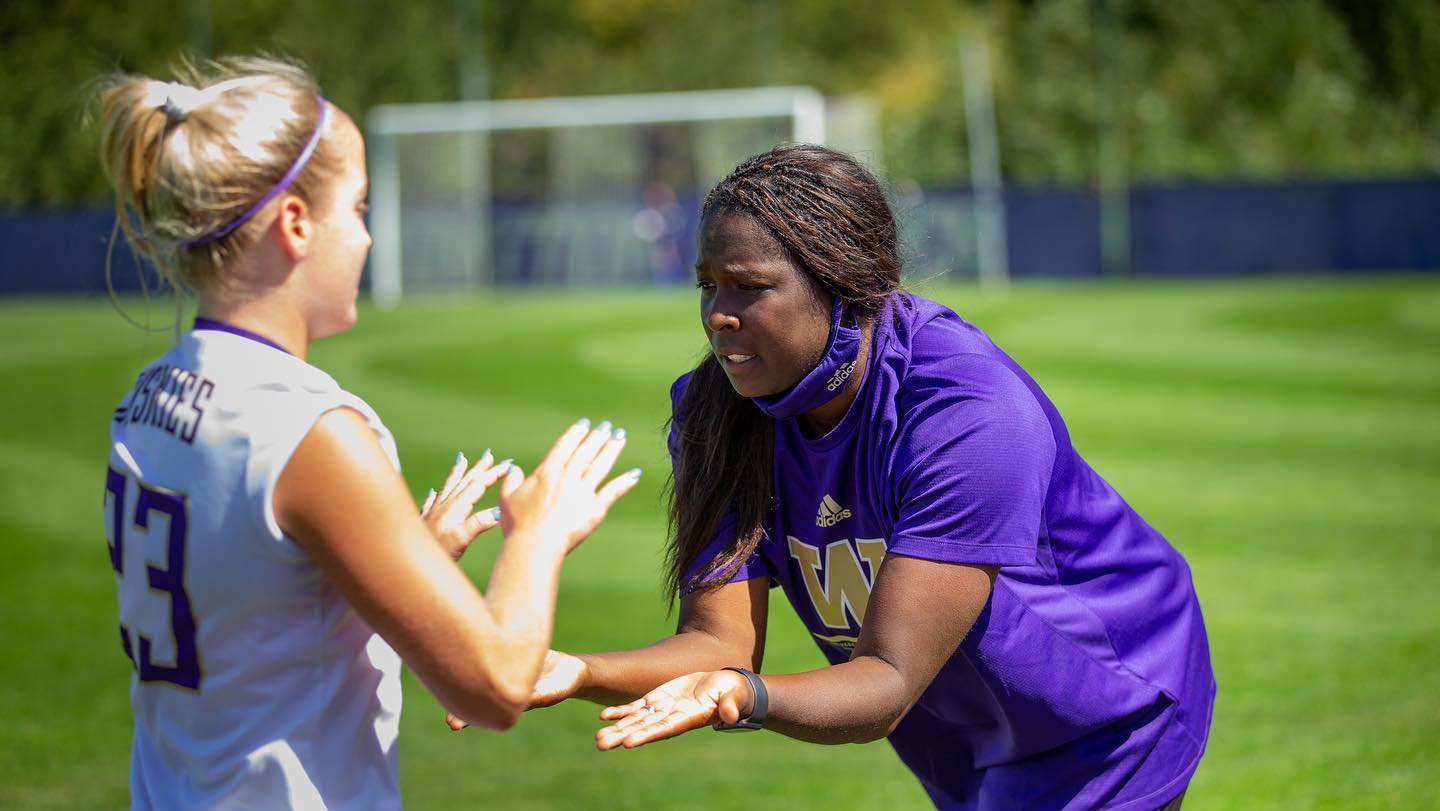 SEATTLE – An iconic figure in the University of Washington women's soccer program, assistant coach Tina Frimpong Ellertson has decided to step aside from the Husky program to accept a coaching position to be announced at a later date.
The move will allow Frimpong Ellertson to be closer to her home and family in Vancouver, Washington.
"Over the past three years Tina has made a tremendous impact on our program and across the department," head coach Nicole Van Dyke said. "She is an unbelievable human, a proud women's soccer alum and a dear friend. I am so grateful to have worked with her, and alongside her, and so appreciative of all that she has done to support and serve our women.
"Tina is a mentor, a belief-builder, and someone that leads with positivity and inspiration – a benchmark for all of us. She will surely be missed on Montlake, but we are so happy for her and her family."
A Pac-12 Hall of Famer and one of the greatest players in program-history, Frimpong Ellertson returned to Montlake in 2020 as part of Van Dyke's first coaching staff at UW.
"The University of Washington and Husky soccer have been such a huge part of my life and it's been an absolute blessing to have coached at my alma mater these last three years," Frimpong Ellertson said. "I can't thank Nicole enough for allowing me to be a part of her staff here on Montlake and serve such an incredible group of young women.
"What has always made UW athletics special is the people who serve our athletes and it's been so rewarding to work alongside such wonderful people. This was a difficult decision but something that I felt was in the best interest of my family. As a forever Husky, I can't wait to see where this program goes moving forward."
During her three-year coaching stint at UW, Frimpong Ellertson assisted in the development of five All-Pac-12 performers, including four-time all-league standout and 2020 All-American Summer Yates as well as 2020 First Team All-Pac-12 performer Ameera Hussen.
In her first season coaching at Washington in 2020, Frimpong Ellertson helped the Huskies making their sixth Sweet Sixteen appearance and first since 2014. During her three seasons on staff, the Huskies collected a record of 26-18-11.
Before coaching on Montlake, Frimpong Ellertson was tearing it up herself on the pitch. A two-time Pac-10 Player of the Year, the Vancouver product is Washington's all-time leader in both points (99) and goals (43).
After wrapping up her collegiate career, Frimpong Ellertson played professionally in Women's Professional Soccer and the National Women's Soccer League, winning the inaugural NWSL Championship with the Portland thorns in 2013.
At the international level, Frimpong Ellertson donned the Red, White and Blue on several occasions, receiving 34 caps for the United States Women's National Team.