New NWSL club Racing Louisville FC appoints Christy Holly as head coach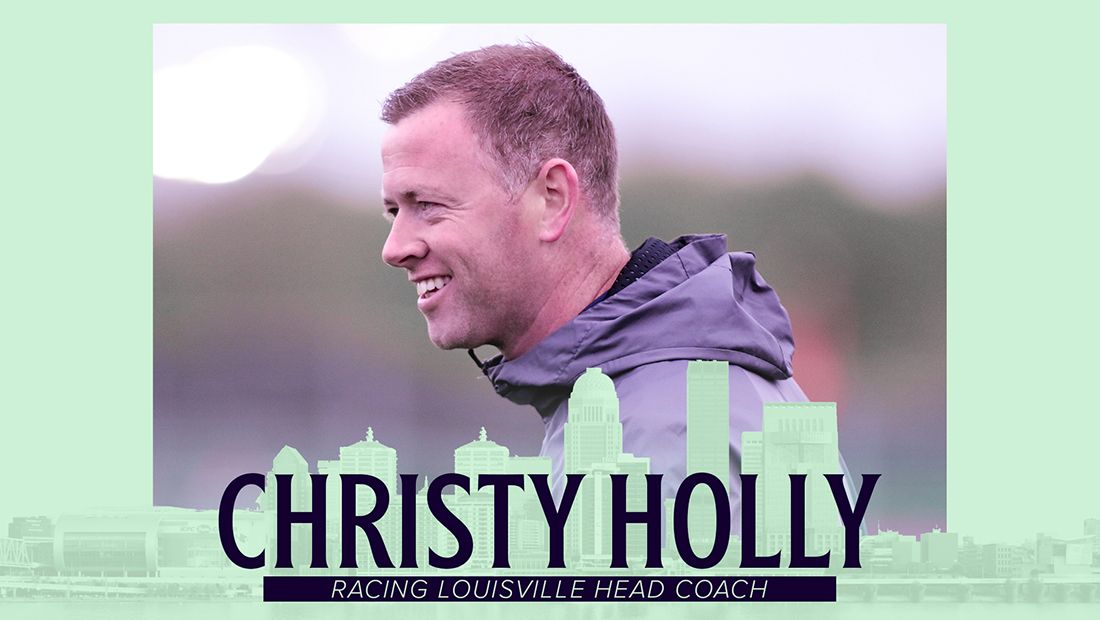 Racing Louisville FC, which begins National Women's Soccer League play in 2021, has appointed Christy Holly as its head coach, the club announced Wednesday.
Holly brings prior NWSL coaching experience to his role, and the native Irishman more recently had a hand in helping the United States win the 2019 FIFA Women's World Cup as an opposition analyst for U.S. Soccer.
"I would like to thank (United States Women's National Team coach) Vlatko Andonovski and U.S. Soccer for their help in releasing Christy so he could join us," said James O'Connor, Racing Louisville FC's executive vice president of development who oversaw the coaching search. "Christy has a plethora of experience in the professional women's game, and we are bringing in a well-rounded individual to coach our team.
"It has been an exhaustive search involving an array of candidates from all backgrounds. Christy's experience with elite youth talent and rapport with the National Team was a big differentiator for us."
Holly traveled extensively in advance of the World Cup, scouting potential rivals for the United States. His diligence — in the form of lengthy reports delivered to the coaching staff — paid off when the USWNT successfully defended its title.
Prior to working with U.S. Soccer, Holly rose from assistant to head coach for Sky Blue FC, the NWSL franchise in Harrison, N.J.
"Within 30 seconds of speaking with James, he started talking about family and the importance of family," Holly said. "He outlined where the club is, where the club wants to go and the type of people they want on board. We're likeminded about the ambition to win and have a huge impact, not just in Louisville and Kentucky but the surrounding states. It's all very appealing."
Holly guided a young Sky Blue FC roster to a 7-8-5 mark in 2016, narrowly missing the playoffs with a roster that featured Rookie of the Year Raquel Rodriguez in the midfield. Holly left Sky Blue FC mid-2017 before resurfacing with U.S. Soccer, for which he has also served as an assistant for the women's U-23 and U-17 teams.
Holly hails from an athletic family. As a star swimmer in his youth, he escaped local conflict at home in Derry, Ireland, to spend summers competing in the United States. He returned to America after college and began working his way up the coaching ladder. The 35-year-old is engaged to Christie Pearce Rampone, an Olympic gold medalist and World Cup winner who formerly captained the USWNT.
"We are excited to welcome Christy to the Racing Louisville FC family," said team president Brad Estes. "His character and values will fit perfectly within our organization, and we can't wait to start the journey to build this club with him."
Holly will coordinate with O'Connor on building Racing Louisville FC's inaugural roster. Key events include an expansion draft anticipated for later this year before the college draft that typically takes place in January.
"I've been fortunate the last three years to be scouring the world for talent," Holly said. "There shouldn't be a player that I'm not aware of. When it comes to our recruitment, we'll be very particular. It's not just about the player. It's about the person. They have to fit the culture that we have at the organization."
Racing Louisville FC will play home games at Lynn Family Stadium, also home of the USL Championship side Louisville City FC. Both Racing and LouCity's daily operations will be based at a new training facility about two miles east of the stadium scheduled to open next spring.
"It's first class, and I have no doubt in my mind that the club's resources and facilities are going to be the best in the league," Holly said. "The stadium's the perfect fit for the NWSL, where we're able to have a good crowd there and a full stadium feeling. We'll generate a great atmosphere at games."