NCAA Division I Women's Soccer All-Americans announced for 2021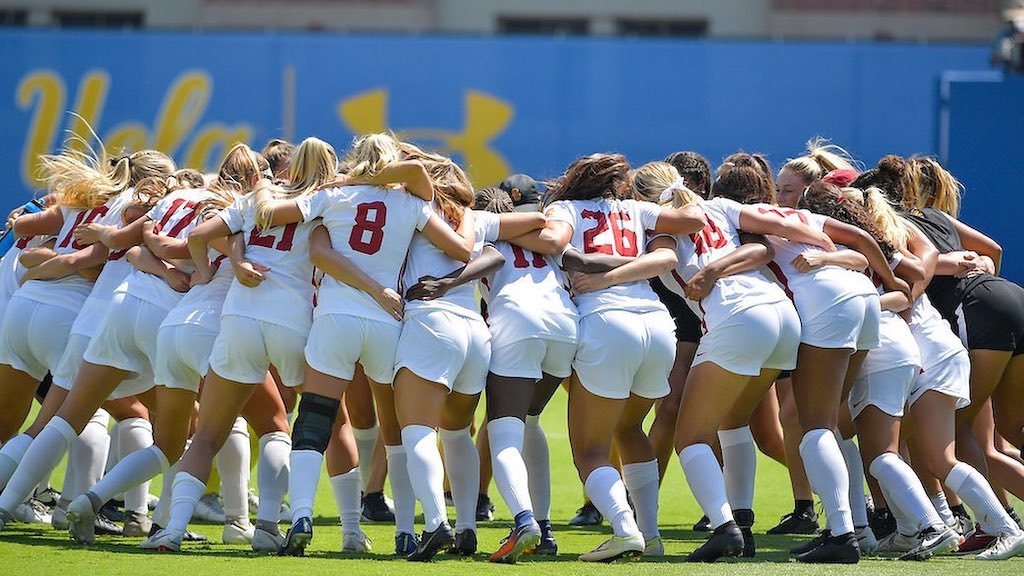 KANSAS CITY, Mo. — United Soccer Coaches announced the 2021 NCAA Division I Women's All-Americans.
Among the 47 players receiving All-America recognition are 14 players earning the second All-America honors of their career including University of Mississippi senior goalkeeper Ashley Orkus, Stanford senior defender Naomi Girma, Florida State senior defender Emily Madril, University of Arkansas senior midfielder Parker Goins, Rutgers senior midfielder Frankie Tagliaferri, Santa Clara senior forward Kelsey Turnbow, Santa Clara senior defender Alex Loera, University of Virginia sophomore midfielder Lia Godfrey, University of South Florida senior midfielder Sydny Nasello, Clemson sophomore defender Megan Bornkamp, West Virginia senior defender Jordan Brewster, UCLA junior forward Mia Fishel, and University of Southern California senior forward Penelope Hocking.
In addition, three student-athletes are earning All-America honors for the third time: Brigham Young senior midfielder Mikayla Colohan, Florida State senior midfielder Yukie Zhao, and Hofstra senior midfielder Lucy Porter.
Rutgers senior forward Amirah Ali is the only student-athlete earning honors for the fourth time in her playing career.
This year's All-Americans will be formally acknowledged for their accomplishments at the United Soccer Coaches All-America Ceremony & Reception on Saturday, Jan. 22, 2022 at the Kansas City Convention Center in conjunction with the United Soccer Coaches Convention.
2021 United Soccer Coaches NCAA Division I Women's All-America Team
First Team
Pos
Name
Class
School
Hometown
K
Ashley Orkus*
Sr.
University of Mississippi
Vestavia Hills, Ala.
D
Naomi Girma*
Sr.
Stanford University
San Jose, Calif.
D
Emily Madril*
Sr.
Florida State University
Navarre, Fla.
D
Alia Martin
Sr.
University of Michigan
Carmel, Ind.
D
Gabby Provenzano
Sr.
Rutgers University
Seargeantsville, N.J.
M
Croix Bethune
Jr.
University of Southern California
Alpharetta, Ga.
M
Mikayla Colohan**
Sr.
Brigham Young University
Kaysville, Utah
M
Parker Goins*
Sr.
University of Arkansas
Broken Arrow, Okla.
M
Jaelin Howell*
Sr.
Florida State University
Lone Tree, Colo.
M
Frankie Tagliaferri*
Sr.
Rutgers University
Colts Neck, N.J.
F
Messiah Bright
Sr.
Texas Christian University
Dallas, Texas
F
Michelle Cooper
Fr.
Duke University
Clarkston, Mich.
F
Diana Ordonez
Jr.
University of Virginia
Prosper, Texas
F
Miri Taylor
Sr.
Hofstra University
Gillingham, England
F
Kelsey Turnbow*
Sr.
Santa Clara University
Scottsdale, Ariz.
Second Team
Pos
Name
Class
School
Hometown
K
Kaitlyn Parks
So.
Wake Forest University
Upper Marlboro, Md.
D
Maycee Bell
Jr.
University of North Carolina
Wichita, Kan.
D
Sydney Cummings
Sr.
Georgetown University
Millstone Township, N.J.
D
Alex Loera*
Sr.
Santa Clara University
Thornton, Colo.
D
Alyssa Malonson
Sr.
Auburn University
Spring, Texas
D
Brandi Peterson
Sr.
Texas Christian University
Atlanta, Ga.
M
Sam Coffey
Sr.
Penn State University
Sleepy Hollow, N.Y.
M
Lia Godfrey*
So.
University of Virginia
Fleming Island, Fla.
M
Sydny Nasello*
Sr.
University of South Florida
Land O' Lakes, Fla.
M
Yujie Zhao**
Sr.
Florida State University
Shanghai, China
F
Elyse Bennett
Sr.
Washington State University
De Pere, Wis.
F
Sarah Griffith
Sr.
Purdue University
Naperville, Ill.
F
Zsani Kajan
Sr.
St. John's University
Budapest, Hungary
F
Megan Nemec
Jr.
Loyola University Chicago
Tinley Park, Ill.
F
Brittany Raphino
Sr.
Brown University
Randolph, Mass.
F
Jaida Thomas
So.
University of Tennessee
Irving, Texas
Third Team
Pos
Name
Class
School
Hometown
K
Lauren Kozal
Jr.
Michigan State University
Ada, Mich.
K
Elaina LaMacchia
Jr.
University of Wisconsin-Milwaukee
Mequon, Wis.
D
Megan Bornkamp*
So.
Clemson University
Mooresville, N.C.
D
Jordan Brewster*
Sr.
West Virginia University
North Canton, Ohio
D
Wrenne French
Sr.
University of Tennessee
Franklin, Tenn.
M
Hannah Bebar
Fr.
Harvard University
Naperville, Ill.
M
Maya Doms
Jr
Stanford University
Davis, Calif.
M
Julia Grosso
Sr.
University of Texas
Vancouver, B.C.
M
Lucy Porter**
Sr.
Hofstra University
Birmingham, England
F
Amirah Ali***
Sr.
Rutgers University
Voorhees, N.J.
F
Mollie Belisle
Sr.
University of Georgia
Atlanta, Ga.
F
Kirsten Davis
Sr.
Texas Tech University
St. Louis, Mo.
F
Nicole Douglas
Sr.
Arizona State University
London, England
F
Mia Fishel*
Jr.
UCLA
San Diego, Calif.
F
Penelope Hocking*
Sr.
University of Southern California
Anaheim, Calif.
F
Cameron Tucker
Sr.
Brigham Young University
Highland, Utah
* – Denotes previous selection