National League Alliance announces the Generation adidas National Cup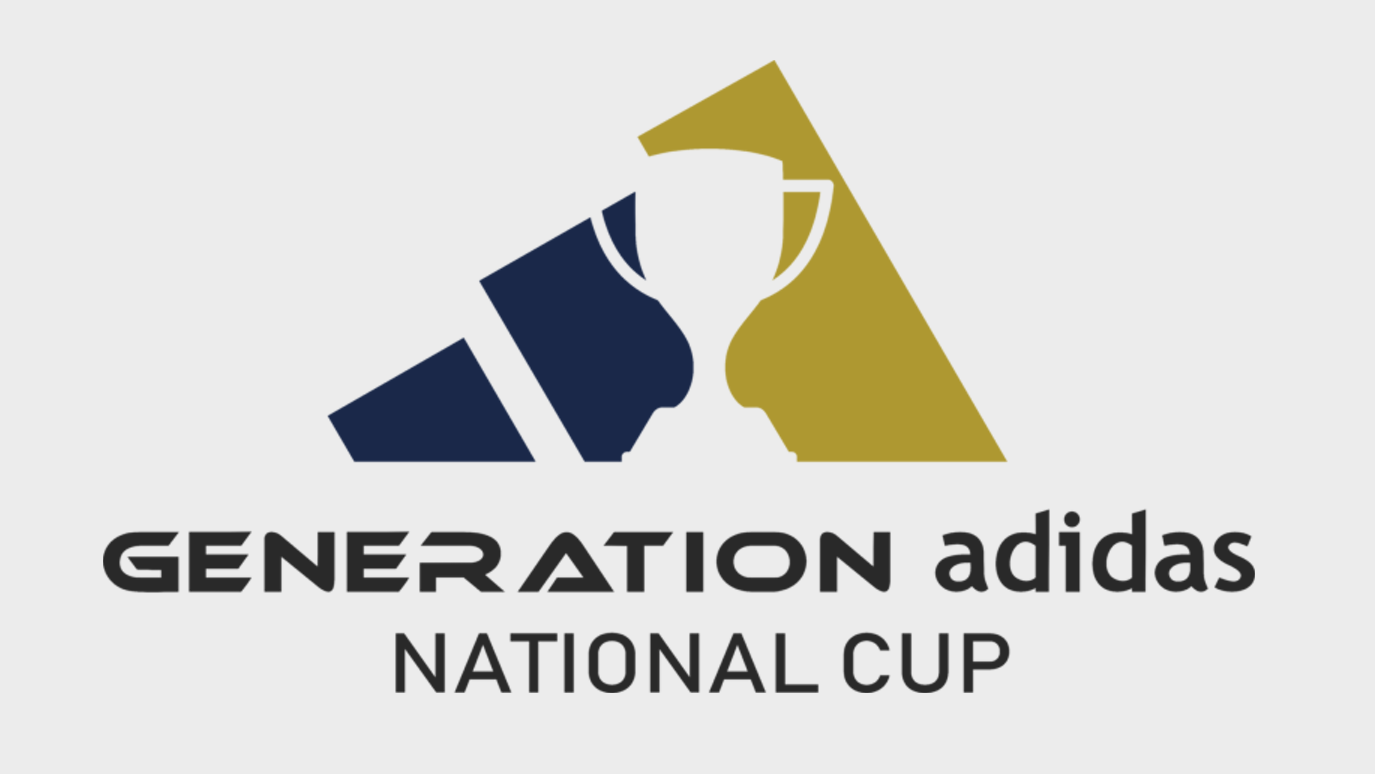 Charlottesville, Va. — This coming year, the National Leagues Alliance (NLA) in partnership with the Club Champions League (CCL) and adidas, will host its first President's Day weekend tournament, the Generation adidas National Cup, February 15-17, 2020, in Richmond, Virginia for U11-U19 boys and girls age groups.
The NLA and CCL expect this event to be a success with top teams coming from all over the East Coast and beyond to attend commented CCL Executive Director, Brian Kuk:
"The timing of this event could not be better. Teams from all over the country can benefit from this top tournament. For teams preparing for Spring soccer, state cup competition, or looking for a first-class event, this will provide them what they desire. And for teams ending their Fall and Winter season, this will offer them an opportunity to claim one last top prize, and a big one at that!"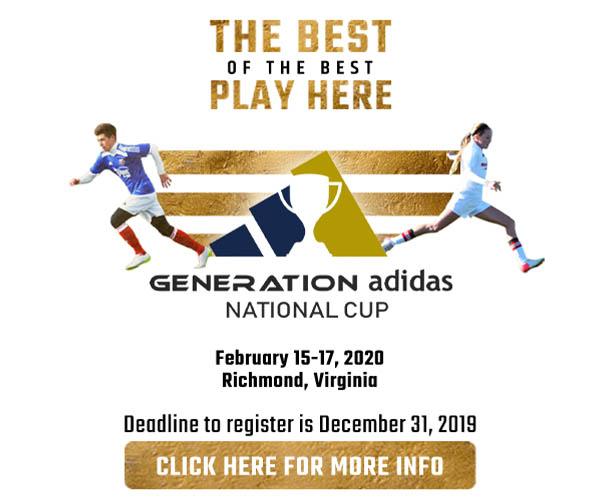 "The National Leagues Alliance is a game-changer in the industry. The size and scope of leagues that have united under the Alliance is tremendous. We, at adidas, are extremely excited to support this event and encourage our partner clubs and top teams to consider attending this high-level event," said adidas Key Account Executive, Adrian Brooks.
NSL's Executive Director, John Barata, expressed his excitement for their league's top teams:
"This is a guaranteed event for our top teams against some of the nation's top competition at fantastic facilities. Best part is that the event will be played regardless of weather and offers refunds in case of cancellation! First class, can't ask for a better opportunity."
All games will be played in Richmond, Virginia at three different facilities with all lighted, turf fields. These fields are within close driving distance from one another and are very well maintained. All 11v11 matches will be played at River City Sports Complex and Stratton Park (14 lighted, turf fields), while all 9v9 matches will be played at Glover Park (8 lighted, turf fields).
When looking to attend tournaments, quality playing surfaces are high on any team's wish list but so are having the right locations.
Many clubs have multiple teams coached by one coach or the same coach, but tournaments can't always accommodate schedule requests that would allow those coaches to attend each of their teams games. The Generation adidas National Cup won't have that problem.
"Having all games in Richmond makes it a breeze to move from field to field in between games," Darryl Gee, CCL's Soccer Ambassador said. Gee also shared, "A key pillar of the event is de-conflicting double coaches for player development purposes. The event offers this benefit so that Head Coaches have the ability to be fully immersed with their teams to guide, advise, teach and mentor players. The schedule will be designed with this in mind so we welcome coaches to bring their multiple teams to experience this big event!"
Teams will be recognized for their success at the tournament with a large team trophy, adidas Champions T-shirts for players and coaches, a Soccer.com Champions Gift Card, a Kwik Goal Coaches Gift Bag, a United Soccer Coaches Gift, and a Richmond Region Sports Tourism Gift.
Kuk stated: "The NLA wants these players and teams to compete with the best but we also want to reward them for being the best! We have worked with all event partners to make sure a one-of-a-kind championship package couldn't be beat and we are confident that they have created that! Year after year, the expectation is that teams to want to come back and compete to win that championship package!"
The final deadline to apply for the tournament is Tuesday, December 31st, with event pricing ranging between $650-$850 per team. Teams not accepted to the Generation adidas National Cup will be offered guaranteed acceptance into the VA President's Day Cup, held in Williamsburg, VA, located 30 minutes from Richmond, VA.
For more information on the Generation adidas National Cup or to apply, Click Here.
WHAT GENERATION adidas NATIONAL CUP partners are saying:
"Sports tourism continues to be a powerful economic driver that improves quality of life in the region," said J.C. Poma, Richmond Region Tourism Sports Development Manager. "We know there's a lot of enthusiasm and interest in youth soccer throughout the area and fans and families will be excited for this event. We can't wait to cheer on some of soccer's most elite youth athletes when the Generation adidas Cup comes to the Richmond region."
"We're very proud partners of the National Leagues Alliance (NLA) that now includes the Club Champions League. The CCL has been fantastic partners for the past 5 years and we look forward to this new chapter in our relationship. Brian, his team, and all the clubs and leagues within NLA are industry leaders in the youth soccer space, promoting player development, superior competition and professionalizing club-to-club matchdays. I'm excited for their first Generation adidas National Cup event and know it will live up to the NLA gold standard in regards to professionalism, quality, competition and hospitality. With CCL's support, this event will go above and beyond. Looking forward to watching players and teams develop and advance their skills at the Generation adidas National Cup in February! This is a ground-breaking event your team does not want to miss," said Jim Kupec, National Sales Director, Soccer.com.
"We genuinely appreciate the opportunities our partnership with CCL has provided us and are especially thrilled to help them support the Generation adidas National Cup this year and its ongoing mission to develop soccer players of all ages and offer competitive competitions," said Chris Chico, Kwik Goal Manager.