Monmouth women's soccer reveals six-player recruiting class for 2022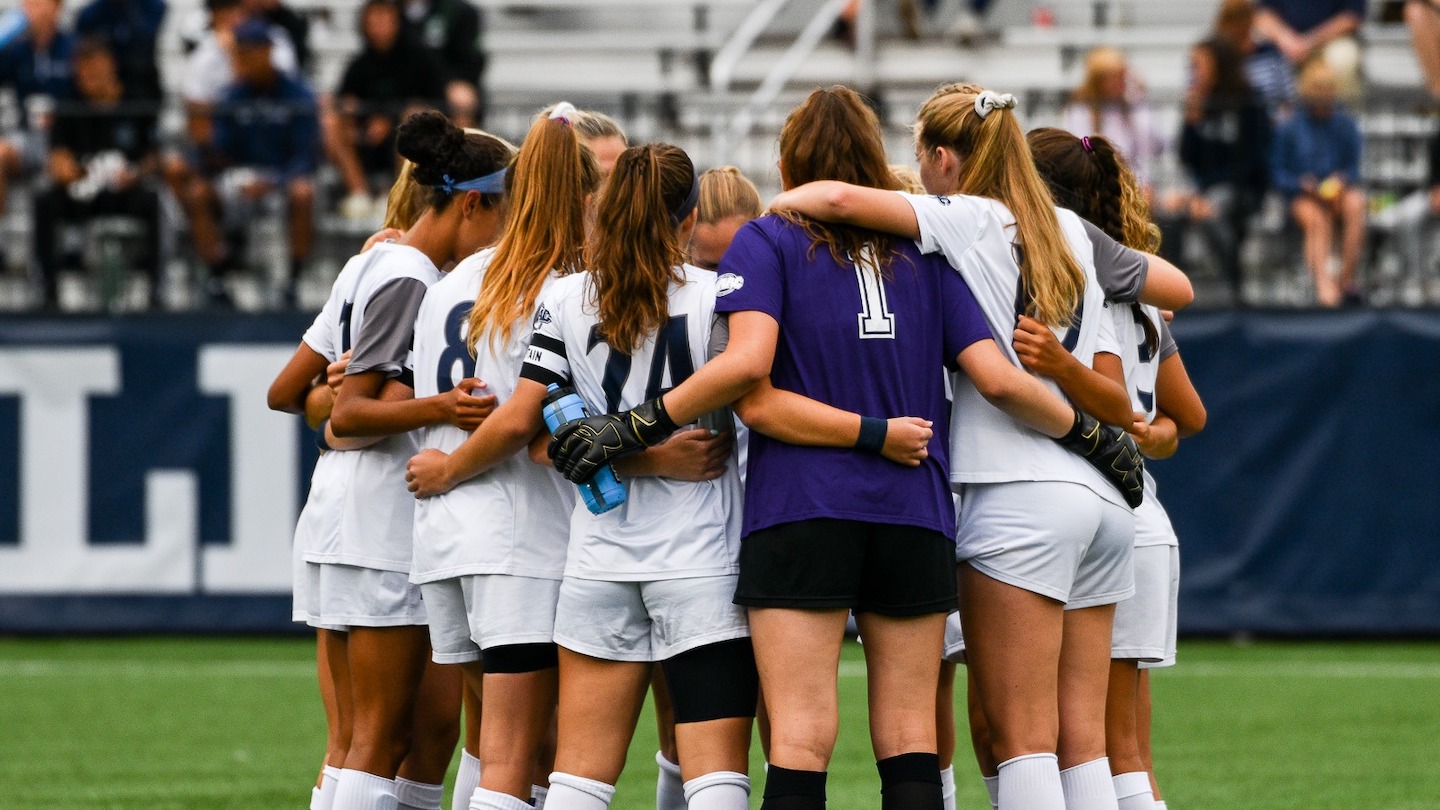 WEST LONG BRANCH, N.J. – Monmouth head women's soccer coach Dr. Krissy Turner officially announced six new additions to her program on Wednesday.
The Class of 2026 is loaded with local talent as four of the newest additions are from the Garden State to pair with the program's first-ever recruit from Utah. This group will join Holly Burns, a Bucknell transfer, as well as Summer Reimet, who was welcomed to the program for the spring semester after wrapping up her time at Ocean City High School this past fall.
"This class continues our tradition of bringing in very talented student-athletes," Turner said. "Kelly, Clara, Sophie, Ari, Brooke and Holly all hail from winning backgrounds. Recruiting is a critical component to achieving excellence and this group checks all the boxes we look for. My staff and I are excited for each of these young women to be an integral part of our future success as we transition into the CAA."
The Class of 2026
Kelly DeGaetano | Midfield | 5-5 | North Brunswick, N.J.
DeGaetano will join the Monmouth women's soccer program after graduating from North Brunswick Township High School this June. In her high school career, she was a four-year letter winner on the girls' soccer team. She earned All-Greater Middlesex Conference (GMC) honors from 2019-2021. The 5-5 midfielder helped her team claim a pair of White Division Championships in 2019 and 2021. She received All-White Division honors in all four seasons and was named Central Jersey Top-10 by the New Jersey Girls Soccer Coaches Association (NJGCSA) in 2020. DaGaetano also played basketball and lacrosse.
Clara Ford | Defense | 5-8 | Monmouth Beach, N.J.
Ford will not have to travel far as she will join the Monmouth women's soccer team this summer after graduating from Shore Regional High School. She was tabbed First Team All-Shore Conference as a junior and New Jersey State Group 1 First Team as a junior. Ford helped her team capture Central Group 1 Championships as a freshman, sophomore and junior. The team additionally finished as a New Jersey State Group 1 finalist during her sophomore campaign. Ford also played basketball.
Ari Keily | Midfield | 5-2 | Manalapan, N.J.
Keily will make the short trip to West Long Branch following her time at Manalapan High School where she was a four-year letter winner on the girls' soccer team. She is coming off a senior season in which she was named First Team All 'A' North Conference, First Team All-Monmouth County and selected to represent Monmouth County in the Senior All-Star Game. The 5-2 midfielder helped her team finish 15-3 overall during the 2021 campaign. Prior to the season, she was tabbed the runner-up for the Shore Conference Preseason Player of the Year honor.
Brooke McKown | Goalkeeper | 5-5 | Jackson, N.J.
McKown will join the Hawks after graduating from Jackson Memorial High School this June where she was a two-year letter winner on the girls' soccer team. At Jackson Memorial, McKown was a standout netminder, compiling 413 career saves. She missed her junior season due to injury, but responded by being named the Shore Conference Comeback Player of the Year following the 2021 campaign. McKown collected First Team All-Divisional 'A' South Goalkeeper honors and All-Ocean County Team recognition. After her senior season, she was selected for the Ocean vs. Monmouth County All-Star Senior Game. The 5-5 goalkeeper helped her team claim an 'A' South Conference Championship in 2019 after finishing with a flawless 14-0 record. She also played four years of varsity basketball, two years of varsity lacrosse and track & field, as well as one year of varsity volleyball.
Sophie Merrifield | Forward/Midfield | 5-6 | Alpine, Utah
Merrifield will make the trek to the Garden State all the way from Utah this summer after graduating from Lone Peak High School. She was a three-year letter winner as a forward and midfielder on the girls' soccer team. She helped her team capture the state championship in 2018.
The Class of 2023
Holly Burns | Defense/Midfield | 5-5 | Morris Plains, N.J.
Burns is returning to the Garden State following a playing career at Bucknell University where she was a four-year starter. She played in 50 career matches with 44 career starts, logging over 4,200 minutes of game action. Burns was a co-captain on Bucknell's 2021 team that won the Patriot League Championship. In her four years, she compiled seven points on two goals and three assists while helping the Bison post 17 clean sheets as a center back. Prior to her time at Bucknell, she was a team captain at Morristown High School where she was a two-time First Team All-Morris County selection and named NJGSCA All-State Top-20.