Boston University women's soccer head coach Nancy Feldman retires after 27-year tenure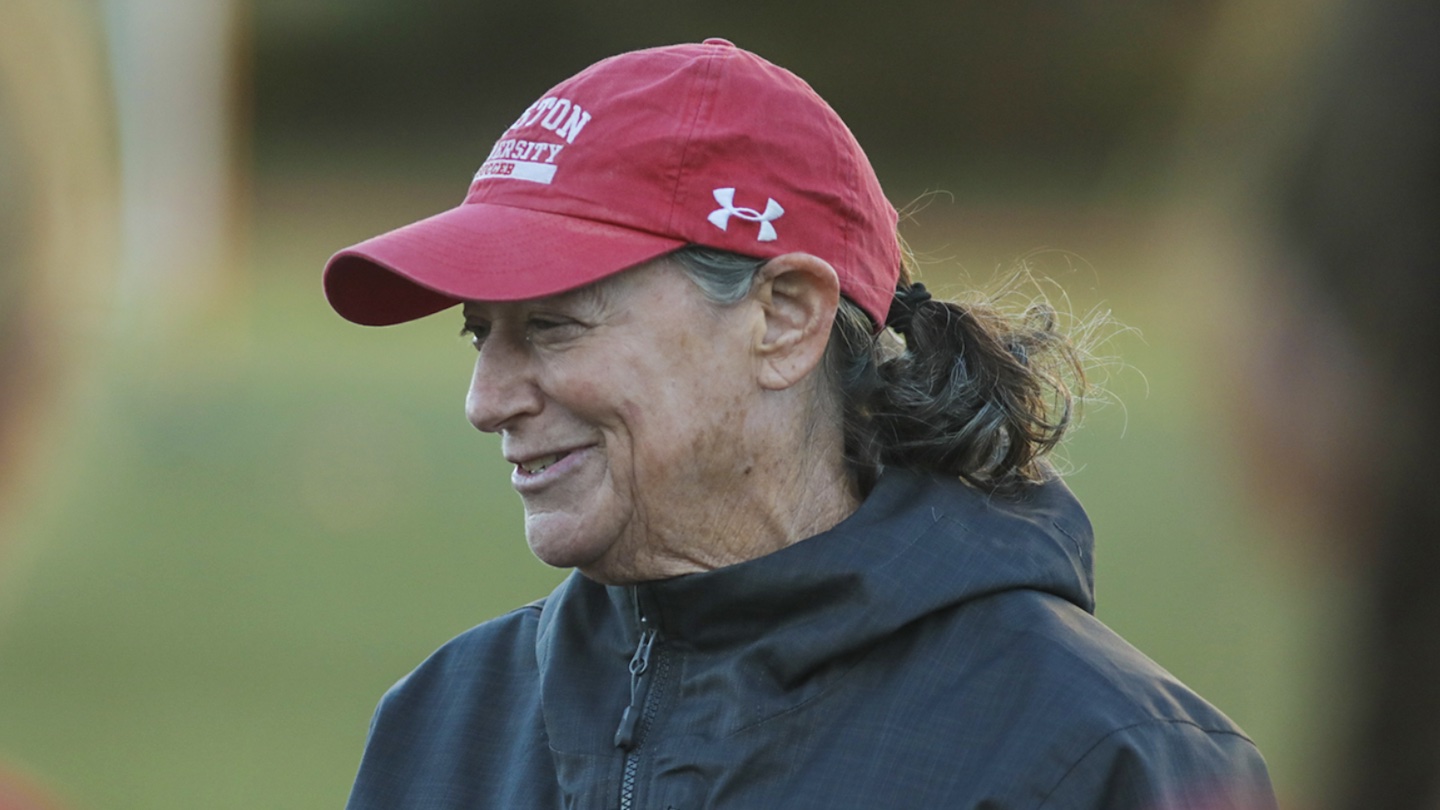 BOSTON – After 27 seasons as one of the most decorated head coaches in the history of Boston University Athletics and women's collegiate soccer, Nancy Feldman has announced her retirement. Feldman will fulfill her duties up to the end of the spring semester.
"I feel so fortunate to have dedicated the last 27 years to being the head women's soccer coach at Boston University," said Feldman. "Though it is a difficult decision to step away from coaching, I leave feeling fulfilled and satisfied at what this program has accomplished. I know the future is bright for BU Women's Soccer based on the returning student-athletes and the outstanding athletic and academic prestige of Boston University to continue to recruit the best prospects in the country.
"I am incredibly grateful to the late Gary Stickler and my dear friend Averill Haines, who were the athletic administrators at BU in 1995, who chose to hire a young and unproven Division I coach. And the support that Steve Bamford, my Athletic Director at Plymouth State College lent me to apply for, and ultimately take the job. These mentors gave me the opportunity of a lifetime, to start a program from scratch with all the resources necessary to build a successful one.
"Mike Lynch, the former, and now Drew Marrochello, the current Boston University Director of Athletics, have continued to fully support me and BU Women's Soccer, enabling us to achieve conference, regional and national recognition as a program with a winning tradition.
"I have been surrounded by amazing administrative and coaching colleagues these last 27 years. I will sorely miss the camaraderie and friendships that I have leaned on. There is not a more caring nor generous group of professionals in a college athletic department in the country."
As the only head coach since the Terriers became a varsity program in 1995, Feldman has developed BU into a premier women's soccer powerhouse at the conference and national level. The Terriers have won 13 conference tournament titles and 14 regular season championships across the America East and Patriot League under Feldman's guidance. She has guided BU to 14 NCAA Tournament selections, winning five games in those appearances.
At BU, Feldman has a record of 326-169-54, winning over 64 percent of her matches. Including her seven seasons with Lake Forest and Plymouth St. before arriving to Commonwealth Avenue, Feldman has 418 head coaching victories, which ranks 22nd all-time among women's soccer head coaches in NCAA history. She is 13th all-time in wins as a women's soccer head coach with 10-plus seasons at a Division I institution.
"One of the greatest coaching careers in college soccer has come to an end and words really can't describe what Nancy has meant to BU and to all of the women who have been lucky enough to call her 'Coach,'" said Marrochello. "Nancy set a high standard of excellence with a hallmark of incredible consistency, passionately devoting herself to her team and its growth every fall. All of the numbers and records speak for themselves and, most importantly, she built leaders and lifelong connections decade after decade.
"It has been a privilege to work with Nancy – she has not only been a valuable colleague but also a friend and mentor to many. Everyone associated with our department owes a debt of gratitude to Nancy and her legacy, as she simply made us better. We all congratulate Nancy on her retirement and thank her for everything she has given to BU."
In 2014, USA Today named Boston University the third-best Division I women's soccer program in the U.S. based on team success, overall school quality and the academic record of the student-athletes.
Feldman won 12 conference Coach of the Year awards, was named the National Soccer Coaches Association of America (NSCAA) Region Coach of the Year in 2001 and 2013, and was selected as the New England Women's Intercollegiate Soccer Association (NEWISA) Division I Coach of the Year in 1997.
Under her leadership, 149 Terriers earned All-Conference accolades, including 25 All-Rookie selections, 11 Defensive Players of the Year, seven Midfielders of the Year, six Offensive Players of the Year, and six Goalkeepers of the Year.
In its inaugural varsity campaign under Feldman, BU went 10-3-2 to begin a stretch of seven consecutive seasons with 10 or more victories. Joining the America East the following season, the Terriers captured their first conference title in 2000 thanks to a perfect 9-0 league slate. In the first round of the NCAA Tournament, BU defeated Holy Cross 1-0 for its first victory in the postseason.
BU went on to win a total of nine America East titles with Feldman at the helm, including five straight from 2007-11. The Terriers maintained their dominance after moving to the Patriot League in 2013, collecting the conference championship in their first three seasons in the PL and their fourth in 2018.
Feldman oversaw the development of multiple Terriers that reached the professional ranks. All-time scoring leader Deidre Enos '01 was drafted in the Women's United Soccer Association (WUSA) Supplemental Draft in 2001. Marisha Schumacher-Hodge, '09 played for the Atlanta Beat of Women's Professional Soccer (WPS), the Boston Aztecs in the Women's Professional Soccer League (WPSL) and the Santa Clarita Blue Heat of the W-League.
The 2010 WPSL Draft featured Class of 2009 graduates Mara Osher and Casey Brown as the seventh pick in the sixth round for the Washington Freedom and the fifth pick of the seventh round for the Boston Breakers, respectively.
In the National Women's Soccer League (NWSL), three-time All-Patriot League pick Anna Heilferty, '20 became the first Terrier to be drafted into the NWSL, as the Washington Spirit selected her 19th overall in 2021. Kylie Strom, '14 currently plays for the Orlando Pride, while Class of 2016 graduates Clare Pleuler and McKenzie Hollenbaugh made appearances in training camps across the league.
At the national level, Feldman coached eight NSCAA All-Americans, highlighted by Enos' First Team selection in 2000. Sixty Terriers garnered All-Region recognition across the NSCAA and United Soccer Coaches.
"The legacy I hope to leave is one where individual growth and development was a central tenant, coupled with an environment where teammates were committed to each other," said Feldman. "Building sincere relationships, competing for and with one another to reach our program's goals, and experiencing the joy and satisfaction of playing the game of soccer we love were the outcomes I strived for.
"Strength and conditioning, associate head coaches, assistant and volunteer coaches, along with athletic trainers, equipment managers, facility staff, academic support, and sports information associates that I had the privilege of working with, have been the most committed and loyal comrades I could have ever hope for. Their behind-the-scenes efforts are a primary reason why we were able to accomplish so much. They played a significant role in the individual growth, development, experience, and well-being of our student-athletes.
"To the current student-athletes and alumnae of the BU Women's Soccer Program, I owe a tremendous amount of gratitude and thanks. For allowing me the honor of coaching you. For trusting the process and giving full commitment to the team and the program. For being all in and giving us your best."
Feldman's impact has extended beyond the BU women's soccer program and into Boston University as well as the City of Boston. Feldman has helped run the Summer Day Camp Soccer Program at BU for kids from Boston, and has served on the Board of City Kicks, an organization that provides soccer programming along with academic support for middle schoolers.
On December 11, 2018, former City of Boston Mayor Marty Walsh declared the day Coach Nancy Feldman Day, recognizing her contributions to the university and the city. Feldman also received an Honorary Scarlet Key from Boston University at the end of the 2008-09 academic year, which acknowledges a faculty or staff member who has made a positive influence on student life and is one of BU's highest academic honors.
A United Soccer Coaches member since 1985, Feldman has chaired numerous United Soccer Coaches committees to support the organization's annual Convention as well as the regional and national awards and rankings initiatives, spotlighting the collegiate soccer landscape. In 2010, she received the Mike Berticelli Excellence in Coaching Education Award.
The United Soccer Coaches honored Feldman in 2017 with the Long-Term Service Award. Now known as the Bill Jeffrey College Long-Term Service Award, the distinction goes to a person who has raised intercollegiate soccer to new heights through their long-term dedication to the game.
A year later, Feldman picked up the United Soccer Coaches Women's Soccer Award of Excellence. In coordination with the Women's Soccer Advocacy Group and WAGS (Women and Girls in Soccer), the honor recognizes individuals who have provided long-term service to the women's game on behalf of the association and the sport in the United States.
BU Athletics will begin a national search for Feldman's successor immediately.