Mid-American Conference champion Buffalo signs seven women's soccer recruits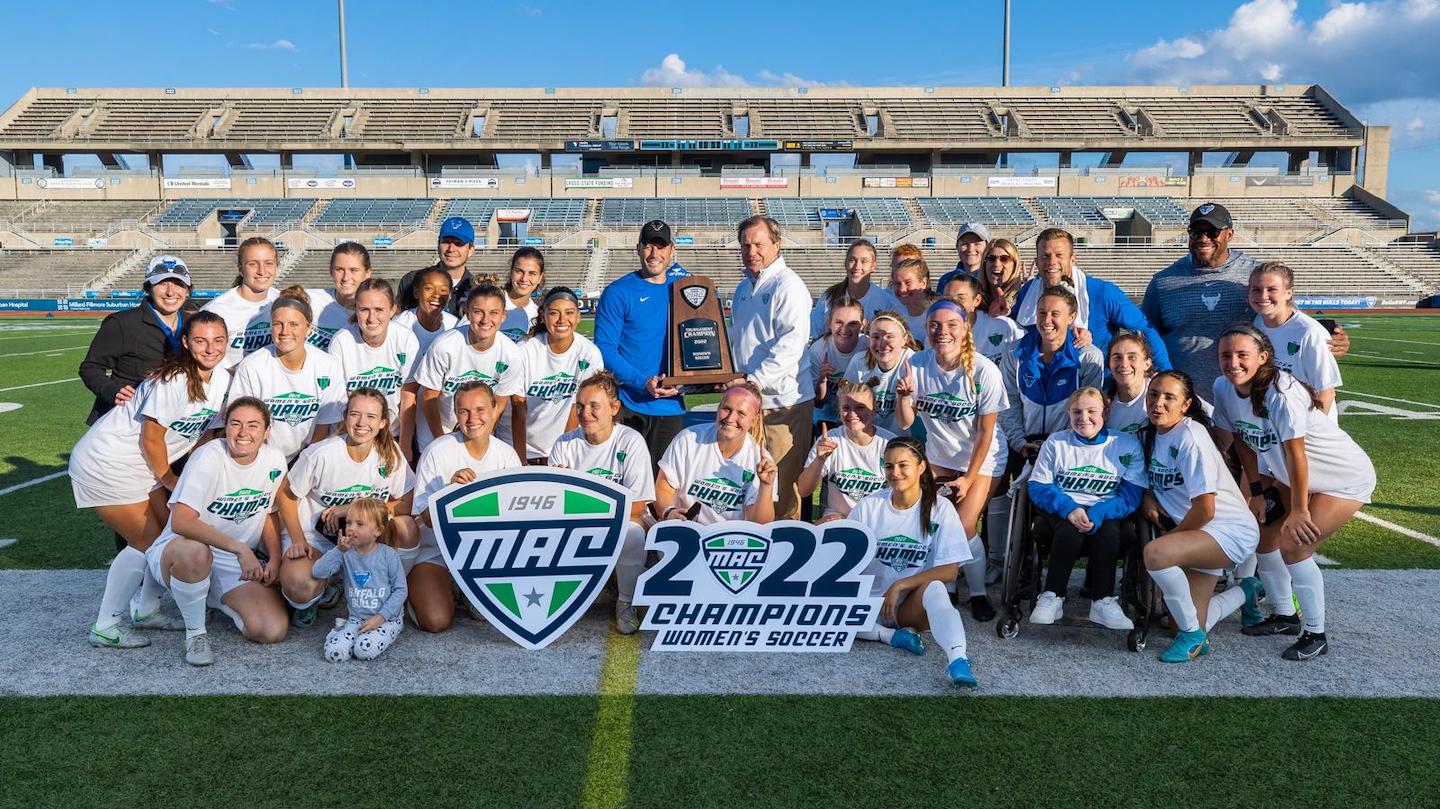 BUFFALO, NY – University at Buffalo women's soccer head coach Shawn Burke has announced his 2023 signing class.
The Bulls welcome seven student-athletes to a team that won the second Mid-American Conference Tournament Championship in program history.
"As we continue to build the profile of our program, we are always looking to add impact players," said Burke. "We've not only done that with this class but also added much needed depth as we lose so many seniors to graduation."
See below for a look at each of Buffalo's new signings.
Eva Blatz – Bethel Park, PA – Bethel Park High School – Century United GA – Midfielder
Blatz comes to Buffalo from Bethel Park, PA where she played for Bethel Park High School and Century United GA. Ranked in the top 10 in her class, Blatz is a two-time First Team All-Conference selection and three-time All-Section honoree while also earning All-WPIAL honors as a senior. She captained Bethel Park for two years while leading the team in scoring. Eva has also served as both a Club, and Mid-Atlantic Conference Representative for the Girls Academy League. Off the pitch, Blatz is an AP Scholar and is a member of the National Honor Society.
Burke on Blatz: "Eva comes from a great soccer background and has an unbelievable understanding of the game. A versatile player who can play in the midfield or backline, we fully expect her youth success to the college game."
Maya Galko – Ottawa, Ontario – Ottawa TFC/NDC Ontario – Defender
Galko comes to Buffalo from Ottawa, Ontario. She grew up playing her club soccer for Ottawa TFC and has been brought into Ontario's NDC program for the 2022-23 season. Galko has also represented Ontario's provincial team and most recently participated in the Canada Games where she won Gold with Team Ontario. She is coming off a very successful 2021 season in which she led TFC Ottawa to a regular season championship and the Gary Miller Charity Shield gold medal. Galko is currently ranked as FTF's number one prospect in Canada's 2023 class. Off the pitch she is a member of the honor roll.
Burke on Galko: "Maya is a recently converted center back who plays as if it's been her position her whole life. Her physicality, soccer IQ and composure on the ball is exactly what we look for to lead our backline."
Laiken Kiser – Sherrill, NY – Vernon Verona Sherill HS – Syracuse Development Academy – Midfielder
Kiser comes to Buffalo from Sherill, NY where she attends Vernon Verona Sherill High School and is also a member of the Syracuse Development Academy, the same club of former Bull Kaitlyn Walsh. She had a decorated high school career in which she was a five-time TVL First Team All Star and a three-time All-Section All Star. She is also coming off a stellar season with SDA as she led the team to the USYS National Championships earlier this year.
Burke on Kiser: "Laiken will bring an immediate attacking threat to our midfield. She'll fit right in with our attacking style and will have an impact on both sides of the ball."
Mika Marolly – Ile Bizard, Quebec – Ecole Secondaire Des Sources – PEF – Midfielder
Mika Marolly comes to Buffalo from Ile Bizard, Quebec. For a number of years Mika has developed and competed with PEF, Canada Soccer Associations top EXCEL program in Quebec. In the 2021/22 season she was called into Canada's U17 Youth National Team camp, where she represented her country against Belgium and Poland. Mika was also a finalist with Team Quebec in the 2022 Canada Games, where she was selected to the tournaments All-Start team.
Burke on Marolly: "Mika's youth international experience has prepared her for the next level. Her ability to be the pulse in the midfield should have an immediate impact in our system."
Eva Poissant – Camillus, NY – West Genesee HS – Syracuse Development Academy – Center Midfielder
Poissant comes to Buffalo from Camillus, NY where she played for West Genesee High School and the Syracuse Development Academy. Poissant led the Wildcats in scoring for three straight seasons, leading them to a state championship this fall and an Eastern Regional finals appearance in 2021. She is a three-time First Team All-League selection, a two-time All-Section III team member. In club ball, she was selected to the DPL 2005 Tournament All-Star Team. Off the pitch, Poissant is a member of the National Honor and Business National Honor Societies as well as Secretary of the student Senate.
Burke on Poissant: "Eva will bring attacking depth to our midfield group. Her time with SDA and exposure at our prospect camps will have her fitting in nicely to our style."
Lexie Thompson – Levittown, NY – General Douglas MacArthur HS -SUSA Academy – Goalkeeper
Lexie Thompson comes to Buffalo from Levittown, NY where she played for General Douglas MacArthur High School and is a three-year member of the SUSA Academy. She had a standout high school career in which she led the Generals to four straight conference championships. Individually, she amassed 28 career shutouts and was a three-time All-County selection and was named the conference's Goalkeeper of the Year twice. In club ball, she led her team to a Showcase Cup Championship in 2021. Off the pitch, Thompson is a member of the National Honor Society and is a recipient of the seal of biliteracy.
Burke on Thompson: "Lexie has shown early on she's ready to come in and compete for a starting spot. She's exceptional with her feet and distribution while being capable of all the saves you expect from a number one."
Talia Vitullo – New Hartford, NY – New Hartford HS – Syracuse Development Academy – Defensive Center Midfielder
Vitullo comes to Buffalo from New Hartford, NY where she starred for New Hartford High School and the Syracuse Development Academy. Vitullo led the Spartans to unprecedented success, compiling a 59-game win streak while leading the team to a Class A regional and state championship in 2021 before following that up with a second straight regional championship and runner up honors at the 2022 state championship. As a junior, Vitullo led Section III Class A in assists, a total that ranks in the top five all-time in New York State for a single season. She is a two-time Tri-Valley League All-Star and was the recipient of the United Soccer Coaches Senior Excellence Award. In club ball, she led SDA to four Eastern New York State Cup championships, a EDP north Atlantic Conference championship, a Great Lakes Alliance NPL Regional Championship and a Region 1 finals appearance. Off the pitch, Vitullo is a member of the National Honor Society and an AP Scholar with Distinction.
Burke on Vitullo: "Talia is a talented midfielder whose athleticism and versatility will translate well to our level."