McNeese women's soccer announces two additions to 2021 incoming class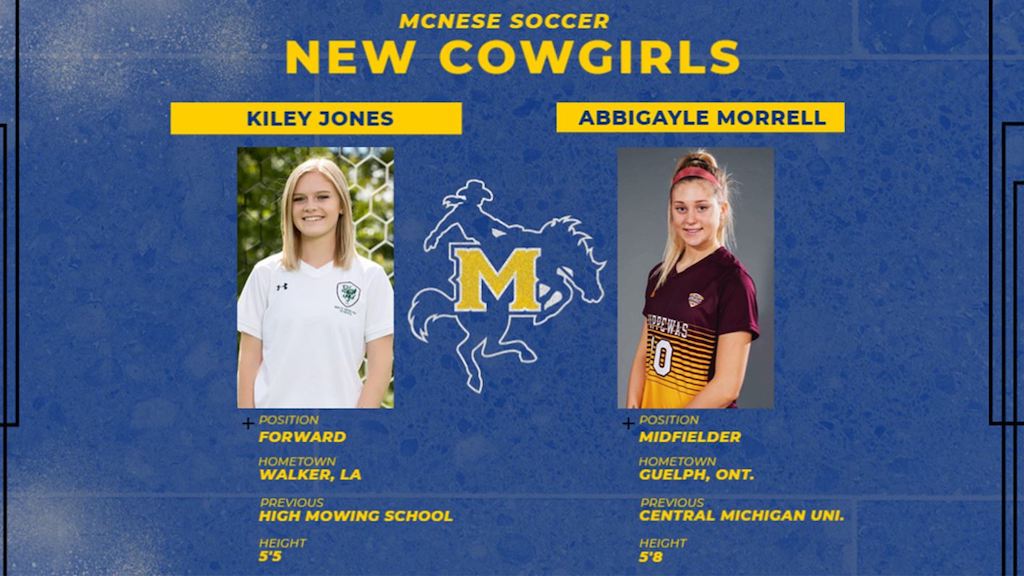 LAKE CHARLES – McNeese head women's soccer coach Drew Fitzgerald announced the addition of midfielder Abbi Morrell and forward Kiley Jones, bringing the total of the 2021 incoming class to five.
Morrell and Jones join goalkeeper Jackie Kelly, midfielder/forward Kaile Kukaua and midfielder Amanda Whiting who signed NLI's in November.
Morrell, a native of Guelph, Ontario, Canada comes to McNeese from Central Michigan University and will have two years of eligibility remaining. While at Central Michigan, she appeared in 18 matches and led all freshman in minutes played in 2018 and earned starts against Nortre Dame, Southern Utah, Detroit Mercy, Oakland and UIC. She was credited with seven shots on the season. As a sophomore, she appeared in only four games due to an injury and opted out of the 2020 season. She has a member of the dean's list each semester of college as of now and holds the program record in the Beep Test.
At the club level, she was a member of the Burlington Bayhawks with current Cowgirl Brianna Mascia. With Burlington, Morrell captured a silver medal at the 2017 National Club Championships, where they played the team of another future Cowgirl teammate, Magalie Depot. Morrell was honored with the Golden Boot at the 2017 National Club Championships, won the Quebec-Ontario Cup in 2016 and the Ontario Cup in 2017. Her team was Ontario Youth Soccer League Champion three consecutive years.
She is the daughter of Ian and Teresa and has one brother, Nicholas.
"Abbi was a player we recruited out of high school but weren't lucky enough to land her the first time around," said head coach Drew Fitzgerald.  "She brings speed and athleticism to our team.  The pace was something we lacked this past season and it will be a welcome addition.  Along with that, she brings in experience and has performed against some of the best programs in the country.  She can play just about anywhere on the field, but we envision her in a wide role where her pace and tireless work rate can really be showcased."
Jones, a native of Walker, La., will also join the team from Black Rock FC in New Hampshire, where she was recruited to be a member of the first ever girls' residential soccer academy in the northeast.
At Black Rock FC, Jones has been named Player of the Month multiple times including following a five-goal performance in the Generation Adidas National Cup.
Jones currently attends High Mowing High school, but she originally attended Walker High (La.), where scored 12 goals as a freshman and 15 goals as a sophomore. She Was named first team all-county, first team all-area and second team all-state. Her club team, Baton Rouge SC, won three state championships and were Gulf States Premier League Champions. She was selected to the ODP Region 3 Pool and by Generation Adidas International to train at Olympique Lyonnais in Lyon, France.
She is the daughter of Doug and Brandy and has one sister, Makinley.
"Kiley is a gifted athlete who can be special on the ball," Fitzgerald said.  "She's done everything in her power to play at a high level in club and high school and her commitment to seeking out those opportunities really impressed us.  We believe she'll be a versatile, creative attacking player and we are excited about the opportunity to add her late to our recruiting class.  Above all else she is a competitor who is out to prove something, and that is something you just can't have too much of."
Abbi Morrell – Midfielder – Central Michigan University – Guelph, Ontario, Canada
Kiley Jones – Forward – Black Rock FC – Walker, LA.