NC State signs 13 recruits from top U.S. youth clubs and abroad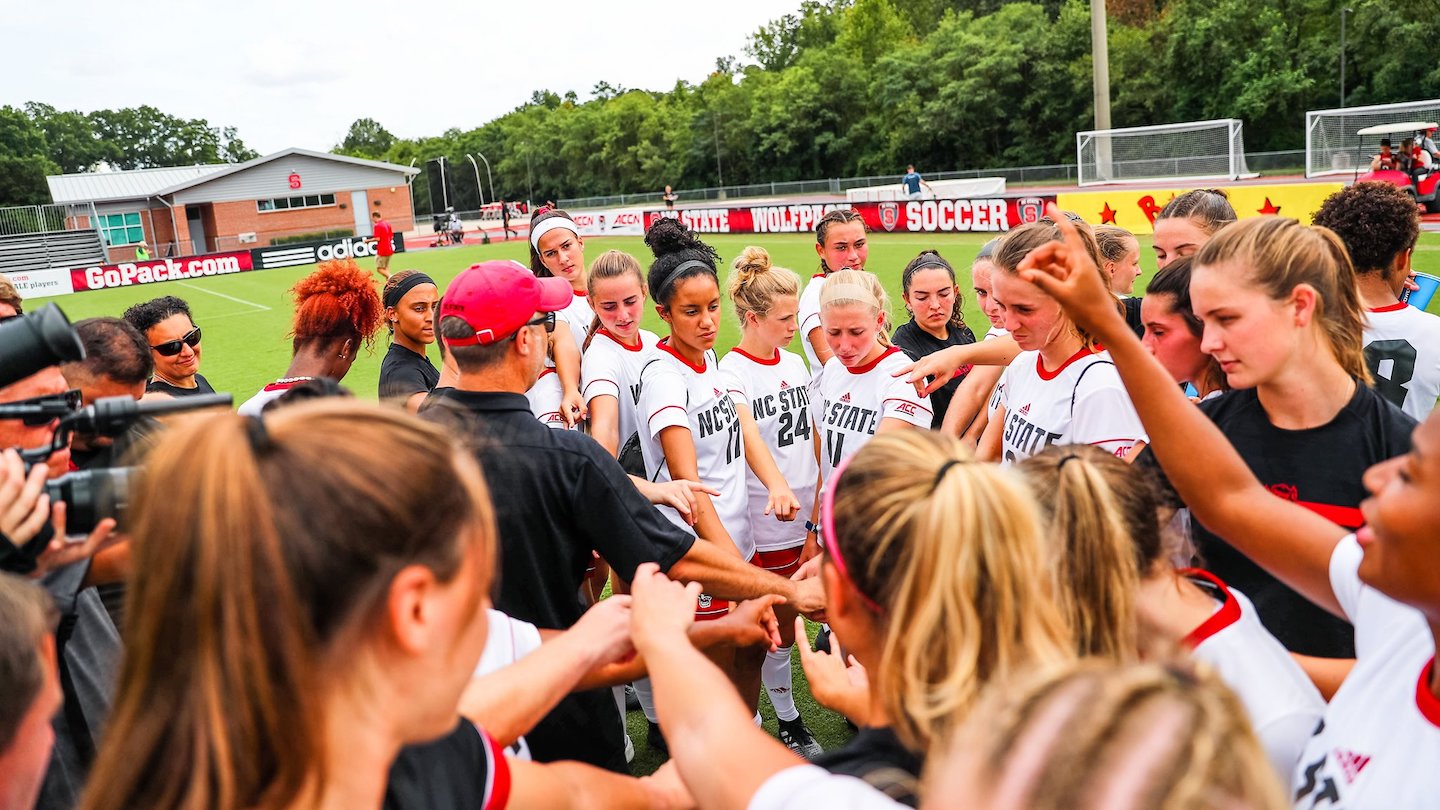 RALEIGH – NC State women's soccer head coach Tim Santoro announced the program's newest signees on Thursday.
The 2021 recruiting class is comprised of 13 members who hail from California, Illinois, Louisiana, New York, North Carolina, Virginia, Germany and Japan.
Three were really enrollees and joined the program this past spring, while the rest will arrive on campus this fall.
"We're excited to release our 2021 class. Through patience and being thorough, we used this last year to our benefit in reorganizing our program overall and re-structuring our roster in terms of quality and depth," said Santoro.
"While we prefer to not bring in a class of this size, and probably never will again, the unique circumstances over the last year dictated otherwise. We've been preparing for fall 2021 since last summer. This group of players will be very impactful, along with our group of returners, and keep us on track to be one of the premier programs in the ACC and the country for years to come."
SARAH ARNOLD | MF | RALEIGH, N.C. | NC COURAGE
Arnold, a local product from Raleigh, comes from NC Courage. Arnold has two brothers at NC State and will also follow her father and uncle. She is one of three early enrollees who joined in the 2021 spring semester.
Santoro on Arnold: "Sarah is a player who will adapt to our playing style because of her technical quality and vision on the ball. She has good passing range and the ability to play both deep in midfield and possibly in back for us. And, NC State is in her blood."
SAMANTHA CASTRO | MF | CULVER CITY, CALIF. | REAL SO CAL
Castro, a California native, comes from Real SoCal SC.
Santoro on Castro: "Sam has a real toughness about her that caught our eye. She's a very combative midfielder that is comfortable on the ball. The combination of these qualities is what made Sam someone we wanted to get into our program."
BRIANNA HOLT | FWD | RALEIGH, N.C. | NC COURAGE
Holt, from Raleigh, comes from NC Courage. Her parents are NC State alumni as mother, Carla, played soccer for the Wolfpack and her father, Tory, played football.
Santoro on Holt: "Bri is a player we had interest in before a knee injury and we patiently waited for her to recover and rehab. She's returned strong and is playing as well as we've seen her in the process. She's got all of the soccer tools to be an impact at the next level."
EMIKA KAWAGISHI | MF | OSAKA, JAPAN | CEREZO OSAKA
Kawagishi arrives in the United States from Japanese club Cerezo Osaka, where she captained the club to success since 2015. In addition, she has represented Japan at the National Team level, last doing so in the U17 Torneo delle Nazioni in Italy.
Santoro on Kawagishi: "Emika brings a tremendous technical level and mature sense of the game. She's been at a high level of the game in Japan and will be a player that really fits our midfield."
KAYLA SIDDIQI | DEF | MIDLOTHIAN, VA. | RICHMOND UNITED
Siddiqi arrives to Raleigh from Midlothian, Va., and played club soccer with Richmond United. She is one of three early enrollees who joined the program for the 2021 spring semester.
Santoro on Siddiqi: "Kayla is the type of player we look for: one who was an attacking player that converted to defense. She's a versatile player that we love to work with and improve within our system."
GRACE SPRIGGS | GK | GEISMAR, LA. | ALABAMA FC
Spriggs arrives to Raleigh from Louisiana and played club soccer with Alabama FC.
Santoro on Spriggs: "Grace is the quick, strong and aggressive goalkeeper we like to develop. She's got a very competitive drive and will add a lot of competition for places in our goalkeeper position. I'm ecstatic that she's arriving early."
CAROL SOTO | DEF | ROMEOVILLE, ILL. | ECLIPSE SC
Soto arrives to Raleigh from the Eclipse Soccer Club in Chicago, Ill. She was selected to the U15 US National Team in March 2018.
Santoro on Soto: "Carol was a super creative attacking player when we first saw her but has converted to a prototype NC State outside back in the last few years. She's really developed her defensive game fast and is an exciting addition for us that I foresee playing multiple positions."
NADIA STUPEC | GK | SWEET BRIAR, VA. | TSJ FC VIRGINIA
Stupec arrives in Raleigh from FC Virginia in Northern Virginia.
Santoro on Stupec: "Nadia will add much needed depth at the goalkeeper position. We've been looking to build up the numbers and competition in this area, and Nadia will come in and add the push we need for this group."
MICHAELA VIRGIN | MF | APEX, N.C. | NC COURAGE
Virgin, from Apex, N.C., comes from NC Courage.
Santoro on Virgin: "Mickey has so many intangibles that we want in the program. She plays about 1,000 times bigger than her size. She's a quick, hard-working two-way midfielder that we believe can develop in our program. We recruit soccer players, and Mickey is a soccer player."
BRIANNA WEBER | DEF | SAN DIMAS, CALIF. | LEGENDS FC
Weber, a California native, played with the Legends FC youth program. She is one of three early enrollees who joined the program for the 2021 spring semester.
Santoro on Weber: "Brianna is a very complete defensive player, whether in back or in the midfield, and is comfortable on the ball. She was an early target for us because she's simple in possession and a well-rounded presence without the ball. She's had a great spring."
ANNIKA WOHNER | MF | POING, GERMANY | BAYERN MUNICH
Wohner arrives in the United States from German club Bayern Munich. In addition, she has been a member of the German National Team program from U15-U17, last representing in September 2019 in a U17 international friendly tournament in Sweden.
Santoro on Wohner: "Annika is a very unique player in that she has the physical attributes and quality to play as a higher attacker but is very clean and comfortable on the ball to play deeper in the midfield."
NINA ZIMMER | DEF | DORTMUND, GERMANY | FSV GUTERSLOH
Zimmer arrives in the US from German club FSV Gutersloh where, at age 16, played in DFB Pokal game against VfL Wolfsburg in June 2020. Additionally, she has been a member of the U17 National Team program, representing Germany versus Spain in UEFA U17 qualifying in March 2020.
Santoro on Zimmer: "Nina is a high-level defender. She's fast, strong and tenacious, but has great attacking instincts from being an attacker early in her career.
LINDSAY ZOLGA | DEF | EAST NORTHPORT, N.Y. | SUSA FC
Zolga arrives to Raleigh from SUSA FC in Long Island, N.Y.
Santoro on Zolga: "Lindsay is a tough, athletic defender who has the ability to pass and dribble out of the back. She's battled a few injuries in the last few years, but when healthy and back on track, should develop her game at NC State."