Massive shakeup in Boys Fall High School Rankings as season winds down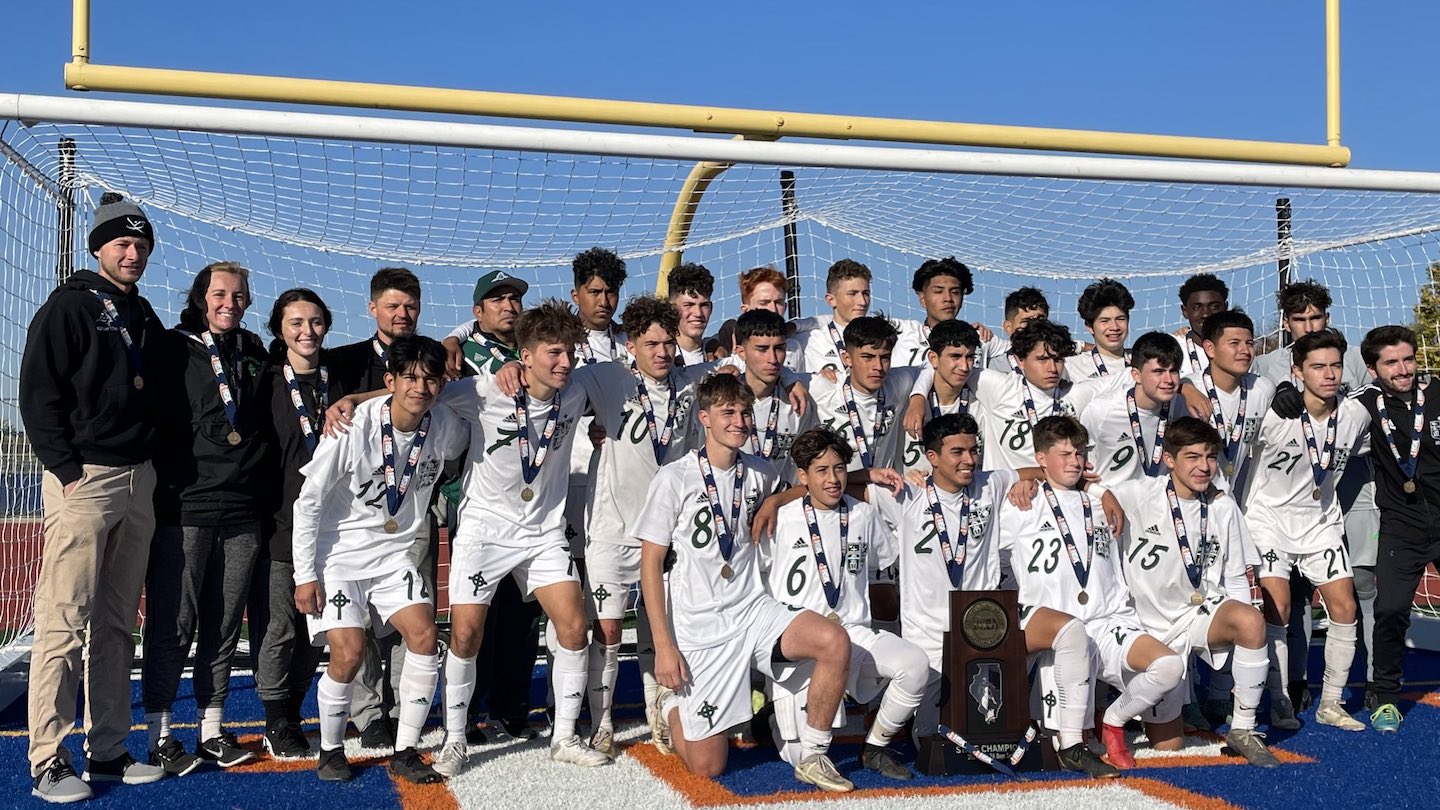 KANSAS CITY, Mo. — United Soccer Coaches released the latest fall high school boys' and girls' soccer rankings on Tuesday. St. Ignatius (Cleveland, Ohio) remains atop the boys' poll, while Skyline (Salt Lake City, Utah) claims the No. 1 spot on the girls' poll this week.
On the boys' poll, the Top 3 saw no change, with St. Ignatius (Cleveland, Ohio) in first, St. Benedict's Prep (Newark, N.J.) in second, and Marquette University High (Milwaukee, Wis.) in third. Fayetteville-Manlius (Manlius, N.Y.) rose one spot to claim fourth, followed by Boylan Catholic (Rockford, Ill.) in fifth.
Boylan Catholic (pictured above) climbed into the top five after previously being ranked No. 20, following their Illinois state championship win over the weekend. A total of 10 teams that had been unranked or were receiving votes in last week's poll cracked this week's rankings.
FALL BOYS – NATIONAL – POLL 10 – NOVEMBER 9, 2021
| Rank | School | Prev | W-L-T |
| --- | --- | --- | --- |
| 1 | St. Ignatius (Cleveland, Ohio) | 1 | 21-0-0 |
| 2 | St. Benedict's Prep (Newark, N.J.) | 2 | 13-0-0 |
| 3 | Marquette University High (Milwaukee, Wis.) | 3 | 23-1-1 |
| 4 | Fayetteville-Manlius (Manlius, N.Y.) | 5 | 19-0-1 |
| 5 | Boylan Catholic (Rockford, Ill.) | 20 | 27-1-0 |
| 6 | Nashua South (Nashua, N.H,) | 6 | 19-0-1 |
| 7 | New Hanover (Wilmington, N.C.) | 14 | 22-0-1 |
| 8 | Summit (Bend, Ore.) | 21 | 15-0-1 |
| 9 | Conestoga (Berwyn, Pa.) | 7 | 22-0-0 |
| 10 | Martin Luther King, Jr. (New York, N.Y.) | 10 | 17-0-1 |
| 11 | Noblesville (Noblesville, Ind.) | 18 | 20-1-1 |
| 12 | Collegiate School (Richmond, Va.) | 19 | 18-0-1 |
| 13 | Okemos (Okemos, Mich.) | NR | 20-0-4 |
| 14 | Xavier (Middletown, Conn.) | 24 | 14-0-2 |
| 15 | Rockhurst (Kansas City, Mo.) | RV | 20-2-0 |
| 16 | Mullen (Lakewood, Colo.) | NR | 16-1-1 |
| 17 | Pingry School (Basking Ridge, N.J.) | 17 | 18-0-1 |
| 18 | Somers (Lincolndale, N.Y.) | NR | 20-1-2 |
| 19 | Blue Valley Southwest (Overland Park, Kan.) | RV | 14-1-3 |
| 20 | Centerville (Centerville, Ohio) | RV | 19-1-1 |
| 21 | Santa Fe (Santa Fe, N.M.) | NR | 22-1-0 |
| 22 | Yarmouth (Yarmouth, Maine) | RV | 17-0-2 |
| 23 | Calvert Hall (Baltimore, Md.) | NR | 22-1-1 |
| 24 | Oregon (Oregon, Wis.) | NR | 22-0-3 |
| 25 | Seton Hall Prep (West Orange, N.J.) | 25 | 17-0-1 |
Records shown are through games of Nov. 7, 2021
Also receiving votes: Mamaroneck (Mamaroneck, N.Y.), York (Elmhurst, Ill.), Caesar Rodney (Camden, Del.), Paul Laurence Dunbar (Lexington, Ky.), Mounds View (Mounds View, Minn.), Jesuit (Portland, Ore.), Essex (Essex, Vt.), Central Dauphin (Harrisburg, Pa.), New Albany (New Albany, Ohio), Needham (Needham, Mass.), Fremd (Palatine, Ill.), Anchor Bay (Fair Haven, Mich.), Timberline (Boise, Idaho), Chaminade (Mineola, N.Y.), Morgantown (Morgantown, W.Va.), Seneca Valley (Harmony, Pa.), Avon (Avon, Ind.), Hilton (Hilton, N.Y.), South Kingston (Wakefield, R.I.), Orono (Orono, Minn.), Maize South (Maize, Kan.), Palo Verde (Las Vegas, Nev.)