Three new teams move inside top ten of Boys Fall High School Rankings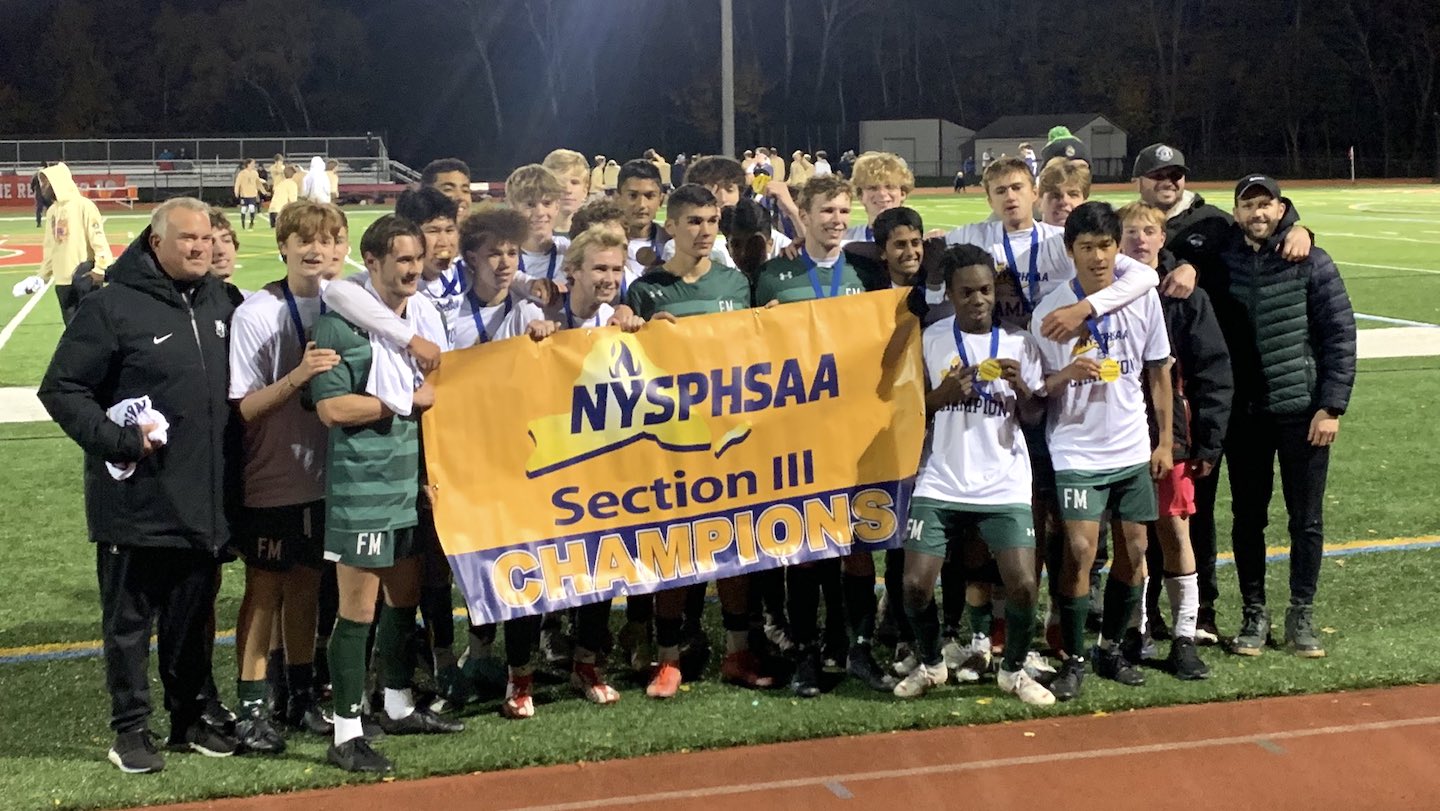 KANSAS CITY, Mo. — United Soccer Coaches released the latest fall high school boys' and girls' soccer rankings. St. Ignatius (Cleveland, Ohio) and Edina (Edina, Minn.) remain on top of the boys' and girls' polls, respectively.
St. Ignatius (Cleveland, Ohio) maintained its No. 1 position in boys' soccer again this week, followed by St. Benedict's Prep (Newark, N.J.) in second, and Marquette University High (Milwaukee, Wis.) in third. St. Louis University High (St. Louis, Mo.) claimed No. 4, while previously No. 18 ranked Fayetteville-Manlius (Manlius, N.Y.) (pictured above) climbed to the fifth spot on the boys' poll.
FALL BOYS – NATIONAL – POLL 9 – NOVEMBER 2, 2021
| Rank | School | Prev | W-L-T |
| --- | --- | --- | --- |
| 1 | St. Ignatius (Cleveland, Ohio) | 1 | 19-0-0 |
| 2 | St. Benedict's Prep (Newark, N.J.) | 2 | 12-0-0 |
| 3 | Marquette University High (Milwaukee, Wis.) | 3 | 21-1-1 |
| 4 | St. Louis University High (St. Louis, Mo.) | 4 | 22-1-1 |
| 5 | Fayetteville-Manlius (Manlius, N.Y.) | 18 | 17-0-1 |
| 6 | Nashua South (Nashua, N.H.) | 6 | 16-0-1 |
| 7 | Conestoga (Berwyn, Pa.) | 7 | 20-0-0 |
| 8 | George Washington (Charleston, W.Va.) | 9 | 20-1-1 |
| 9 | Boulder (Boulder, Colo.) | 22 | 13-2-1 |
| 10 | Martin Luther King, Jr (New York, N.Y.) | 11 | 15-0-1 |
| 11 | New Albany (New Albany, Ohio) | 10 | 19-0-0 |
| 12 | Dodge City (Dodge City, Kan.) | 12 | 17-0-1 |
| 13 | Troy (Troy, Mich.) | 13 | 17-0-4 |
| 14 | New Hanover (Wilmington, N.C.) | 14 | 21-0-1 |
| 15 | Nauset Regional (Eastham, Mass.) | 15 | 14-0-2 |
| 16 | La Cueva (Albuquerque, N.M.) | 16 | 17-1-1 |
| 17 | Pingry School (Basking Ridge, N.J.) | 17 | 17-0-1 |
| 18 | Noblesville (Noblesville, Ind.) | 20 | 20-1-1 |
| 19 | Collegiate School (Richmond, Va.) | 21 | 16-0-0 |
| 20 | Boylan Catholic (Rockford, Ill.) | RV | 24-1-0 |
| 21 | Summit (Bend, Ore.) | 8 | 13-0-1 |
| 22 | Maine Endwell (Endwell, N.Y.) | RV | 16-0-1 |
| 23 | Clarkston (Clarkston, Mich.) | 23 | 15-2-1 |
| 24 | Xavier (Middletown, Conn.) | 24 | 12-0-2 |
| 25 | Seton Hall Prep (West Orange, N.J.) | RV | 16-0-1 |
Records shown are through games of Oct. 31, 2021
Also receiving votes: Yarmouth (Yarmouth, Maine), Whitefish Bay (Whitefish Bay, Wis.), Williamsville North (Williamsville, N.Y.), Centerville (Centerville, Ohio), McDonogh School (Owings Mills, Md.), Rockhurst (Kansas City, Mo.), Valor Christian (Highlands Ranch, Colo.), Central Dauphin (Harrisburg, Pa.), St. Anthony's (Melville, N.Y.), Las Vegas (Las Vegas, Nev.), Jackson (Massillon, Ohio), LaSalle Academy (Providence, R.I.), Anchor Bay (Fair Haven, Mich.), Caesar Rodney (Camden, Del.), Blue Valley Southwest (Overland Park, Kan.), Seneca Valley (Harmony, Pa.), Timberline (Boise, Idaho), Pittsford Sutherland (Pittsford, N.Y.), Essex (Essex, Vt.), Point Pleasant (Point Pleasant, W.Va.), Paul Laurence Dunbar (Lexington, Ky.), Duluth East (Duluth, Minn.), Saint Thomas Aquinas (Overland Park, Kan.)