Los Angeles expansion club Angel City FC officially welcomed into NWSL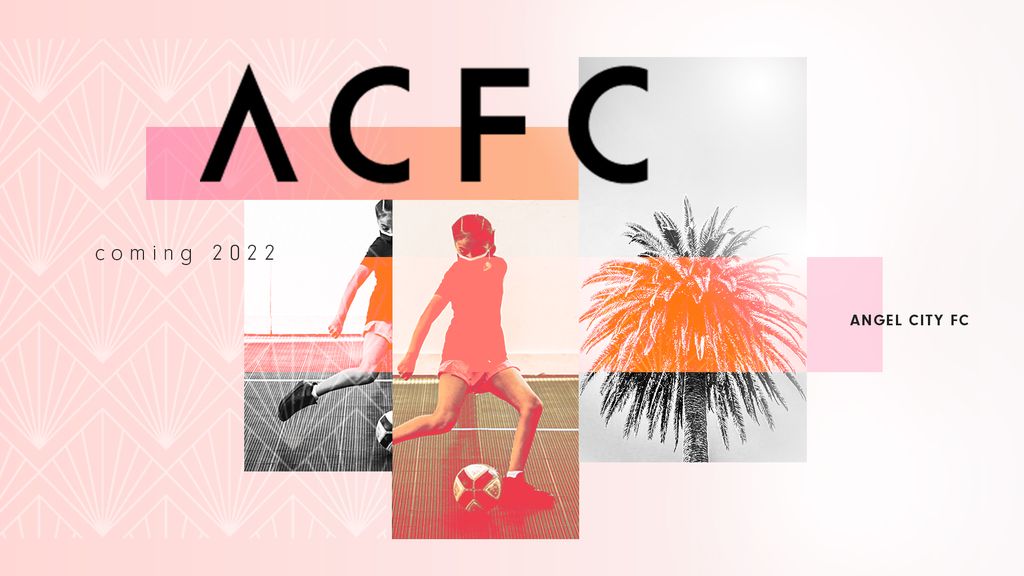 CHICAGO – Professional women's soccer team, Angel City, today announced that the team has been formally welcomed into the National Women's Soccer League (NWSL) as the league's 11th expansion team.
Also, Founder and President Julie Uhrman confirmed the team's formal name as Angel City Football Club (ACFC). In celebration of the momentous occasion, ACFC unveiled the team wordmark and launched the debut collection of Angel City FC merchandise at  www.angelcity.com.
"We could not be more pleased to have reached this exciting milestone of officially joining the league and introducing the world to Angel City Football Club," said Uhrman. "I am also thrilled to announce some additional founding investors who have already been contributing meaningfully to the Angel City Family. This group, aligned in our passion and purpose, is committed to delivering for Los Angeles and our fans on and off the pitch."
EXPANSION OF FOUNDING INVESTOR GROUP
In July 2020, the NWSL announced that it had awarded the exclusive right to bring a team to LA to a group of founders, including Academy Award-winning actress and activist Natalie Portman, technology venture capitalist Kara Nortman, media and gaming entrepreneur Julie Uhrman, and venture capitalist, 776 founder & Reddit co-founder Alexis Ohanian.
Today, the team officially welcomes a new group of founding investors including sports icons
Billie Jean King
and
Ilana Kloss
, WNBA legend
Candace Parker
and her daughter
Lailaa
, Gold Medalist and Alpine Skiing Legend
Lindsey Vonn
, Gold Medalist and NHL-All Star
PK Subban
, Latin pop superstar
Becky G
, actress and activist
Sophia Bush
, private investor,
Deirdre DeLany
, actor and late night host
James Corden
, MLS/US Soccer legend and sports broadcaster
Cobi Jones
, and NFL All-Pro
Ryan Kalil.
Billie Jean King: "We need everyone to invest in women's sports and Ilana and I are proud to stand with the Angel City FC ownership group and help make new history in Southern California sports. Angel City's mission to make an impact on and off-the field, and to provide an opportunity to some of the best professional female athletes in the world to play on a stage as powerful as Los Angeles, sends a strong message to young girls in the community and beyond."
The group is also joined by MLS Co-Owner and investor Ben Grossman, media executive Brian Sullivan and private investor, Deirdre DeLany, and several business, media and entertainment executives including Rachael Blumberg, Courtney Carter, Glenne Christiaansen, Robyn Farmer, Jeremi Gorman, Sarah Harden, Karin Kildow, Amy Longhi, Hedy Nazarian, Rachael Neumann, Heidi Patel, Jenna Segal, Laela Sturdy, John Brennan, Juan David Borrero and model Jasmine Tookes, Jack Brody and Nicole Gibbs, Doug Sanders, Kathrin Dellago and Doug Dossey, Mark Sheletsky, Jim Shepherd, and George Strompolos, Intersect VC, and Ben Winston.
"On behalf of the NWSL and our member clubs, we are thrilled to officially welcome Angel City Football Club, and this exciting and committed ownership group, to the league," said NWSL Commissioner Lisa Baird. "The soccer community in Southern California is filled with passionate fans of the game and I can't wait to see them rally around their own team and help us continue to grow the NWSL."
COMMUNITY ENGAGEMENT AT MAR VISTA FAMILY CENTER
Angel City FC is highly-committed to extending access to sports for youth in Los Angeles. ACFC has developed a relationship with the LA84 Foundation – a highly-respected community relations organization focused specifically on youth and sports in Los Angeles. LA84 tirelessly advocates for the vital role sports participation plays in positive youth development.
In that vein, last week, the Angel City FC team hosted a socially-distanced, drive-up equipment donation rally for families affiliated with the Mar Vista Family Center. Over 60 families were gifted equipment to help kids stay active while homeschooling, including a soccer ball, water bottle, backpack, and some Angel City merchandise, as well as a copy of team founding investor Abby Wambach's newest book, "Wolfpack – Young Readers Edition." The team is now in the midst of a listening tour with local organizations. The tour's goal is to learn more about their missions and needs and determine how we can make a meaningful impact in the short and long-term directly.
FRONT OFFICE AND SOCCER OPERATIONS NEW HIRES
Jessica Smith as Head of Corporate Partnerships
. Jessica joins from Major League Soccer's San Jose Earthquakes, where she spent four years overseeing the club's partnership portfolio, sponsorship revenue stream, and strategic partner initiatives. She has held similar roles within the NHL, MLB, and MiLB. For Angel City, her initial focus is to build out the club's partnership portfolio, starting with securing jersey partners – first team, training, and sleeve.
Julie Uhrman: "Last week, to again tangibly demonstrate our commitment to social impact, we unveiled the Angel City FC Sponsorship Model in which we will collaborate with each of our partners to re-allocate 10% of the value of their sponsorship via product, asset, or monetary donation, to local causes. This is something unique in our industry and we hope other teams and leagues will follow our lead."
Kim McCauley as Director of Recruitment and Analytics. McCauley joins from VOX Media, where she spent eleven years as a soccer reporter and analyst. Her focus is to build player analysis models and databases to ensure the future coach is armed with the tools they need to successfully assemble the team's inaugural squad. She will also work collaboratively to build out the coaching staff and Angel City's playing philosophy.
Catherine Dávila as Head of Community. Catherine brings more than ten years of experience building purpose-driven organizations in women's and girls' soccer. Dávila co-founded LA Villa FC and helped grow it from a single team to the largest amateur women's soccer club in California. Also, she has coached youth club soccer, assisted at Occidental College and US Soccer regional youth training centers, and ran a youth soccer club, Hollywood FC, all while continuing to build the LA Villa FC community on and off the field. Her focus will be on driving the team's relationship with the Angel City community, including working directly with all supporter groups and affinity organizations. She is also tasked with building a strong relationship with Southern California's youth and adult soccer clubs and clinics and leading all Corporate Social Responsibility (CSR) efforts, including working with the team's social impact partner LA84.