Next generation of U.S. National Team players campaign for change at U.S. Soccer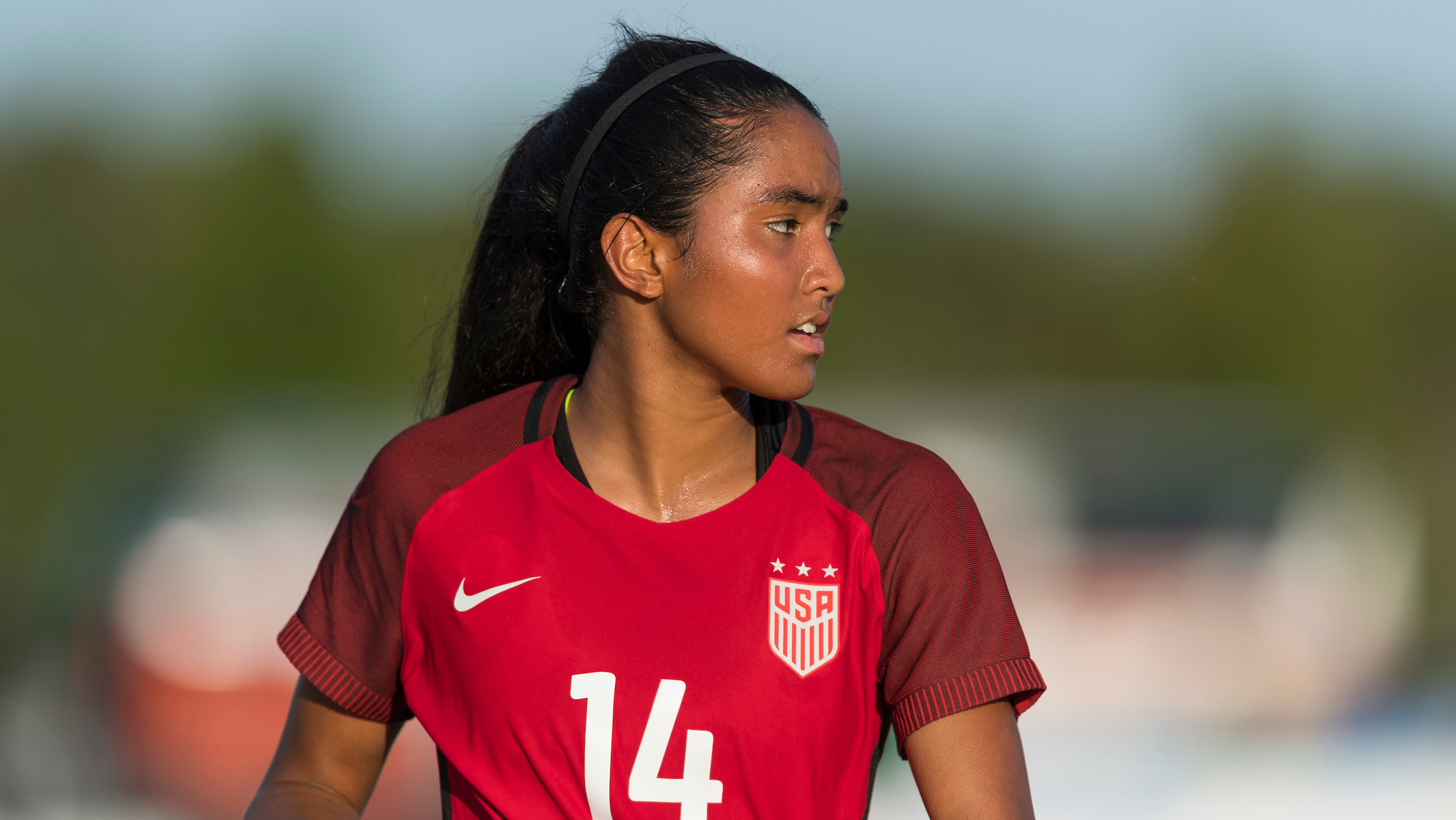 By Quinn Casteel
SoccerWire Managing Editor
A group of five players who have represented several different squads within the U.S. National Team program launched a joint campaign for upcoming open seats on the U.S. Soccer Federation (USSF) Athletes' Council.
The Athletes' Council, which is a group of 20 U.S. Soccer athletes who are elected by their peers to provide a broader means of communication between athletes and the Federation, will have 10 open seats up for election this November. Holding significant direct power in U.S. Soccer's overall structure, the Athletes' Council is responsible for electing three members to the U.S. Soccer Board of Directors.
[+Learn more about the USSF Athletes' Council]
Traditionally, athletes elected to the Council are veterans or recently-retired USMNT and USWNT players with the most experience and name recognition. This year, a diverse alliance of current and former national team members has banded together in an effort to bring fresh faces and perspectives to the Council.
Branding their campaign and accompanying website with the title 'Next Gen United', the group of five candidates known as the 'The Next Gen Five' includes: Philadelphia Union / U-23 MNT goalkeeper Matt Freese; Harvard University / U-20 WNT defender Smith Hunter; current Birmingham Legion (USL) / former USYNT midfielder Mikey López; Para 7-a-Side National Team standout Nick Mayhugh; and University of North Carolina / USWNT midfielder Brianna Pinto.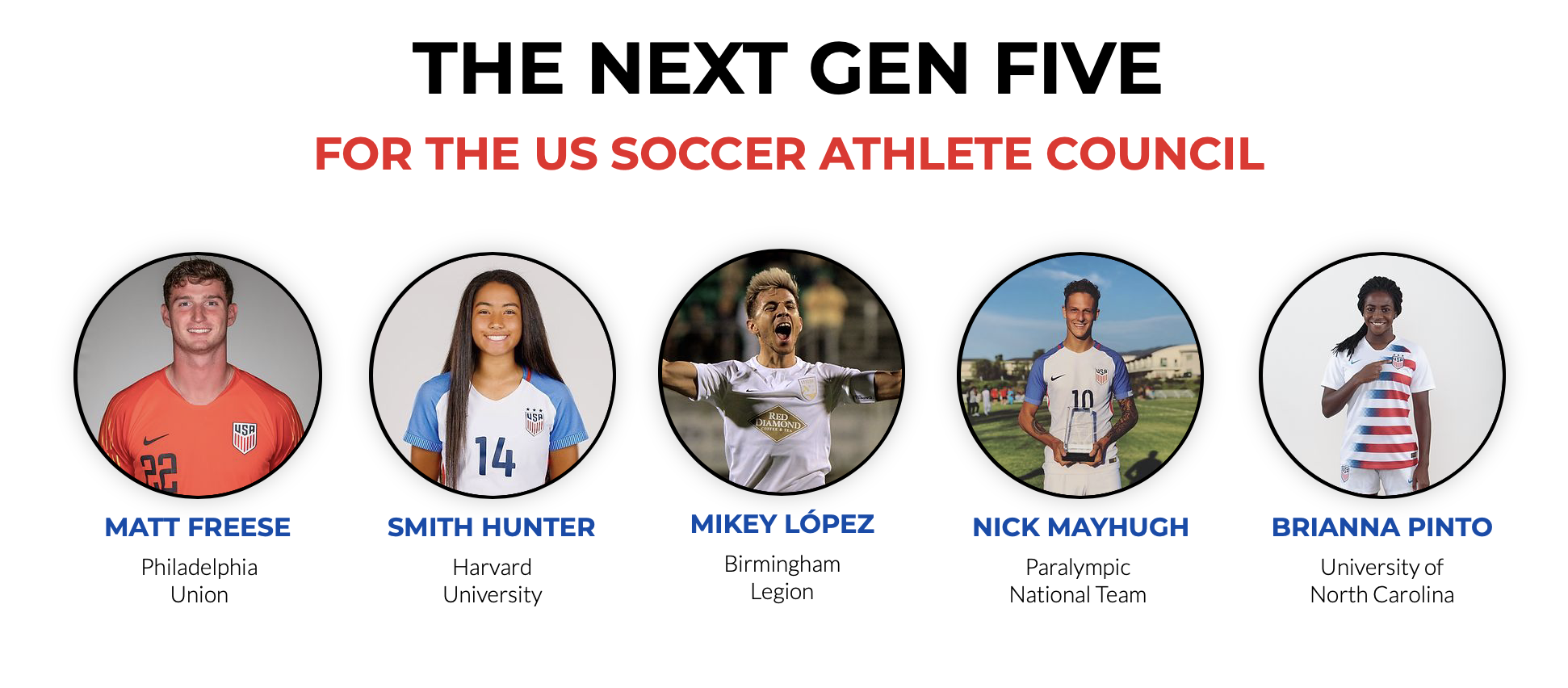 Each coming from their own unique backgrounds, 'The Next Gen Five' is starting their campaign on the shared belief that: "U.S. Soccer should look more like the people that play soccer in our country, and that includes having youth and minority voices at the highest levels."
Both on and off the field, the group's individual stories and accomplishments are quite notable. Mayhugh and Pinto each won major U.S. Soccer awards in 2019, with Mayhugh being named Player of the Year with a Disability, and Pinto earning Young Female Player of the Year honors.
López and Freese each came up through the USYNT system before advancing to the professional ranks in MLS and USL. If elected, Freese would be the first-ever MLS Homegrown Player on the Athletes' Council, while López would provide representation for both the USL and the Hispanic community.
Hunter, who has worked her way up through the USYNT ranks since the U-14 level, overcame major financial barriers throughout her youth soccer career in order to compete at the highest levels. While growing up in Seattle, she often had to raise her own money to help pay her own youth soccer fees, even doing so by selling water bottles with her sister on the city's waterfront.
"The five of us have really unique perspectives on how U.S. Soccer can achieve its mission of making soccer the preeminent sport in the U.S.," Hunter said in an interview with SoccerWire. "I've received a lot of support, but I can't even imagine the amount of talent that hasn't been identified due to financial barriers. U.S. Soccer needs to reach every corner of the country to expand its player pool at every level and find the best talent."
In addition to providing new perspectives and various forms of diversity to the Council, the Next Gen campaign has outlined a detailed platform with specific changes they would like to create in the coming years.
One component of this platform is in the Community section of the Next Gen United website, which calls for increased communication between the Council and the rest of the athletes, providing their peers with more regular updates on the latest developments at U.S. Soccer.
They also advocate for the creation of something akin to an annual convention – potentially as part of U.S. Soccer's Annual General Meeting – where Athletes are invited to collaborate with the Federation on shared priorities and ongoing tactical education.
"Coming from the extended national teams, I haven't met anyone from the other extended national teams like the beach national teams," said Mayhugh on the idea of an annual gathering for U.S. players. "I think it would be amazing to share ideas and collaborate, and leave the event with new ideas and new connections. And the Federation could learn more about who we are as athletes and as people, to make things better overall."
Continuing with the theme of increasing a sense of community among USSF athletes, Next Gen United expressed support for U.S. Soccer continuing to hold joint training camps across age groups. They believe that more crossover between U.S. teams on the training field will reinforce consistency in technical concepts and facilitate fruitful relationships between younger and older players.
"We want to have more camps for younger players to work with older players, and for the older players to pass down their knowledge and be an example," Hunter said. "Having a cohesive tactical approach between teams is really important as well, so the younger players have a smoother transition when they move up."
To view the full Next Gen United platform, Click Here.
Online voting for this year's USSF Athletes' Council election is taking place between November 2-16. For an FAQ on the 2020 Athletes' Council election, Click Here.
We, as The Next Gen Five, are incredibly excited to announce that we are running for the @ussoccer Athlete Council. Join us in advocating for youth footballers of all backgrounds. Please visit our website to learn more about our campaign! ⚽️🇺🇸 #vote https://t.co/SdgwRYQH9Z pic.twitter.com/9fHtcAvD9D

— Mikey Lopez (@MLopez12_5) October 15, 2020