Portland Thorns FC goes unbeaten in NWSL Fall Series to win Community Shield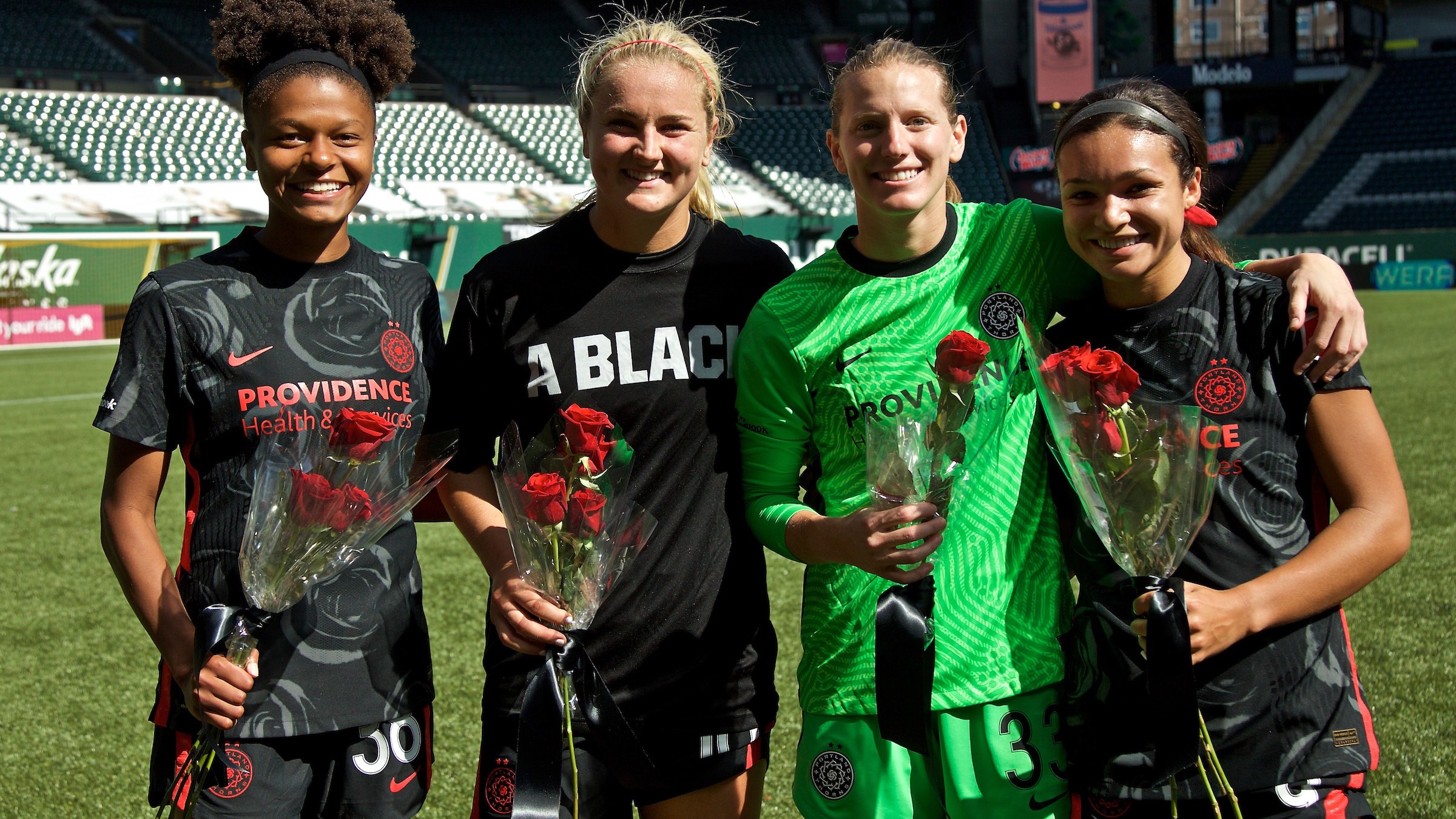 CHICAGO – The National Women's Soccer League today announced Portland Thorns FC have won the 2020 Verizon Community Shield, after finishing 3-0-1 in the NWSL Fall Series.
Houston Dash garnered second place and the Washington Spirit earned third place and finished first in the Northeast pod. As part of the Verizon Community Shield program, Verizon will provide grants to the three winning teams' community partners, which include Portland's Mimi's Fresh Tees, the National Association for the Advancement of Colored People Houston Branch and DC SCORES.
"Congratulations to Portland, Houston and Washington on finishing this unprecedented year in fantastic fashion, and thanks to Verizon for making this fall series about something bigger than just wins and losses," said NWSL Commissioner Lisa Baird. "Each club's community partner was a great opportunity for our league to play a small role in showcasing important causes and organizations, and I'm really proud of the role that each of our clubs play in the city's where they live and play."
The Verizon Community Shield was created to provide the league with an opportunity to support small businesses and programs in NWSL communities. As part of the Shield, each of the nine clubs played on behalf of local small businesses throughout the series. Each team's story about their partnership with a local small business can be found here.
Led by captain Christine Sinclair, Portland Thorns FC outscored their opponents 10-3 in four games, with Sinclair scoring six goals including a hat trick against OL Reign on Sept. 30 to secure first place and the $25,000 grant from Verizon. Thorns FC chose to play for Mimi's Fresh Tees, a Portland-based t-shirt company owned by Kamelah Adams that promotes social justice.
"I am honored and grateful for the partnership with Thorns FC and we are so excited to receive the Verizon Community Shield grant. It's life changing for Mimi's Fresh Tees," said Adams. "My journey as a black woman business owner has been challenging, mostly because I had a difficult time finding working capital, which is vital for small businesses. Because of this grant, we'll be helping even more people 'Wear their Truth' because we're able to expand our production, develop new designs and update our e-commerce website."
"I am so excited that we had the opportunity to partner with Mimi's Fresh Tees. We love what Mimi's stands for and how they want to continue the race conversation in our community by allowing people to wear their truth," said Thorns FC forward Simone Charley. "To be able to help a local business that empowers individuals to stand up for what they believe in was an opportunity we could not pass up. I think for us as a team, it is special being able to support our community because that is such a big part of the Thorns identity, and we are thrilled that we are able to give back to a community that supports us so much."
Coming off their first league title in club history at the 2020 NWSL Challenge Cup, the Houston Dash continued to be a threat on the pitch going 3-1-0 in the Fall Series. Midfielder Kristie Mewis helped lead the way with two goals and five assists securing Houston's second place finish and the Verizon Community Shield's $15,000 grant for their partner NAACP Houston. The NAACP is the largest and most pre-eminent civil rights organization in the country that strives to ensure a society in which all individuals have equal rights without discrimination based on race.
"We discussed a foundation that we wanted to choose based on a lot of research we did in the Houston community. Being such a diverse city, we knew there was a lot out there, but the NAACP stood out to us because it dives right into the community in a smaller aspect and then branches into a bigger cause," said Dash captain Jane Campbell.
With a 2-1-1 record, seven points and a plus-one goal differential the Washington Spirit topped Sky Blue FC and the Chicago Red Stars in the Northeast pod and clinched third place and the $10,000 grant in the Verizon Community Shield competition. The Spirit chose to play for DC SCORES throughout the Fall Series. Founded in 1994, DC SCORES utilizes a unique combination of soccer, poetry, and service-learning to create neighborhood teams that give kids in need the confidence and skills to succeed on the playing field, in the classroom, and in life.
"We are proud of our partnership with DC Scores. They are an amazing organization doing great things for young people in D.C.," said Spirit defender Paige Nielsen. "We are thrilled that we were able to support them with our play during the Fall Series. We look forward to the work we will continue to do together that will have a positive impact on our community."