Lorraine Schubert honored as 2020 NJYS Liesel Krehan Volunteer of the Year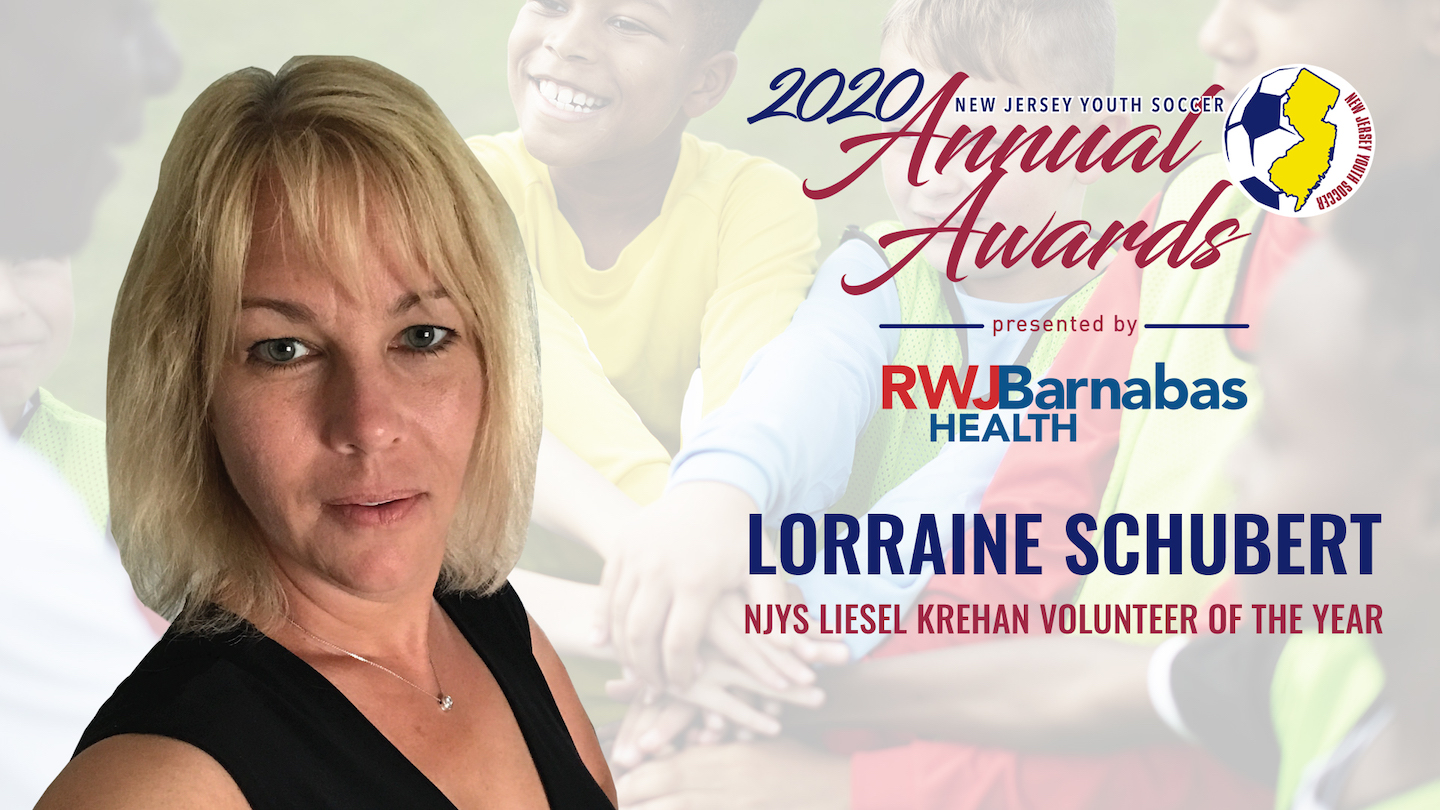 East Windsor, N.J. ― New Jersey Youth Soccer continues its virtual celebration of the 33rd Annual NJYS Awards Presented by RWJBarnabas Health today, officially announcing Lorraine Schubert as the 2020 NJYS Liesel Krehan Volunteer of the Year.
As part of her acknowledgement, Schubert received a plaque and also participated in an exclusive interview by New Jersey native Carli Lloyd, who is an NJYS Ambassador and a two-time FIFA World Player of the Year.
The Liesel Krehan Volunteer of the Year Award is presented to an individual who serves as a great role model to the soccer community while also demonstrating a willingness to promote the game through their actions and individual character.
"I am so honored and humbled to receive the Liesel Krehan Volunteer of the Year," said Schubert. "I am so proud to be a part of the Suburban Youth Soccer League and what we have accomplished in a few short years for the children in youth soccer. It has been my pleasure and passion to create a great environment for all who are involved with our league. To be recognized for my efforts is truly beyond my expectations."
Schubert has volunteered with Suburban Youth Soccer League (SYSL NJ) since its inception in the Fall of 2017, and she currently holds the role of League Administrator. In her time with the league, she has contributed countless hours to develop SYSL NJ as an administrator, coordinator and volunteer. Per SYSL NJ policy, no board members are compensated for their efforts, so she does it all based on her passion for the game and desire to deliver a great product for everyone involved in the league. In addition to her efforts with SYSL NJ, she has also volunteered, managed and coordinated activities in the Cranford School system.
Schubert epitomizes the NJ Youth Soccer vision of providing fun and safe soccer experiences for all ages, which is seen in growth of SYSL NJ to more than 17 clubs and 165 teams in just its third year of operation. Her involvement with soccer has given her more confidence in her own abilities, helped her become a more effective manager and has established her league as a model for operational efficiency, communications and governance. Schubert plans to continue her volunteer work with SYSL NJ in an effort to provide exceptional youth soccer experiences to all members of the league.