La Salle women's soccer program welcomes eight new Explorers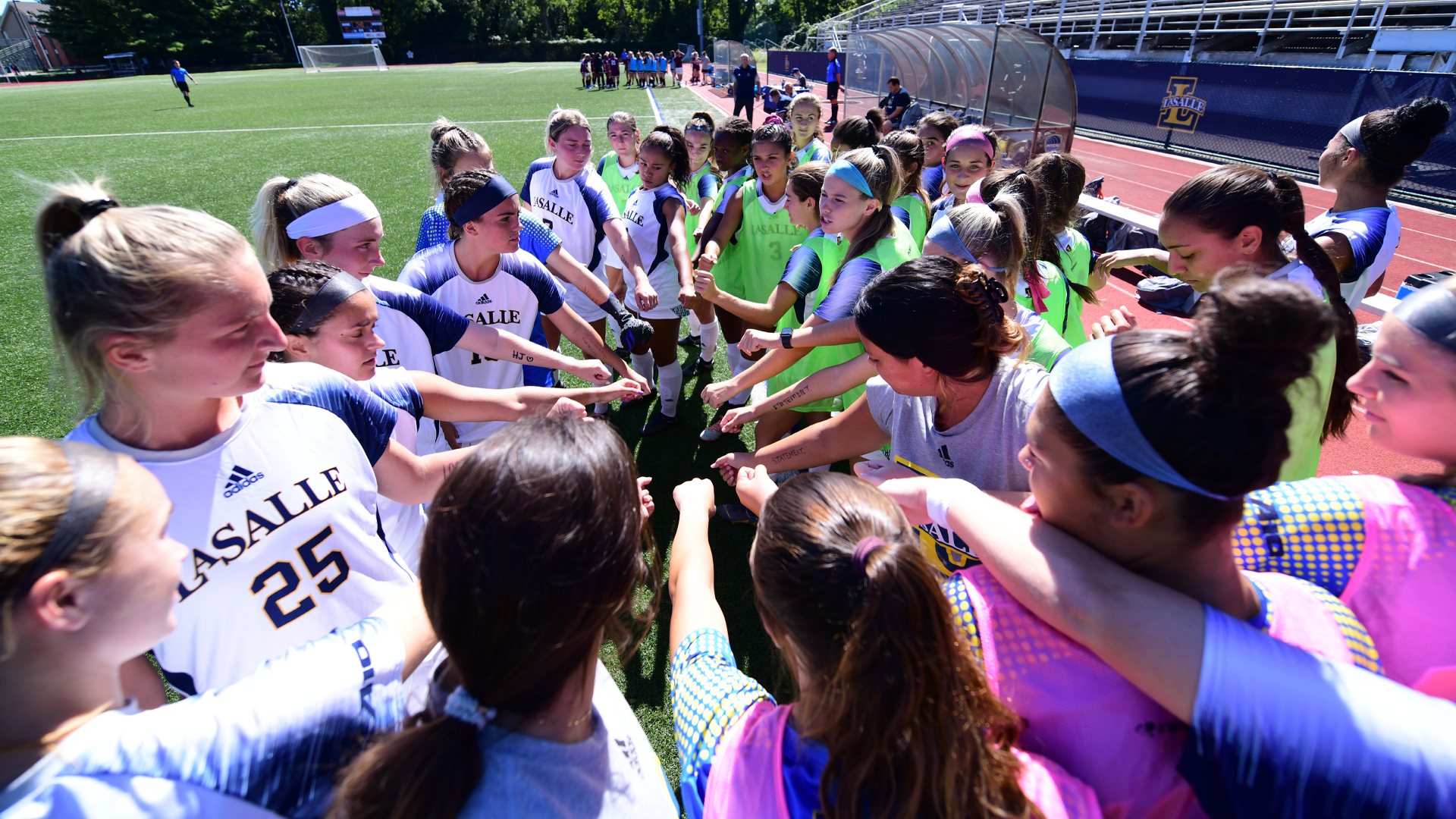 PHILADELPHIA – La Salle women's soccer head coach Paul Royal has announced his 2022 recruiting class, adding eight Explorers to the roster for the upcoming season.
A mixture of experience enters the roster, with five incoming freshman, two transfers and a current La Salle athlete joining the team. All five incoming freshman (Gabby Neal, Justyce Hollenbach, Peyton Yocum, Elizabeth Estrada and Ricshya Walker) hail from the Keystone State, while a pair of transfers (Courtney Butlion, Kirsty Woodacre) come from overseas after winning an NJCAA Division I championship with Eastern Florida State College. A familiar face in Mackenzie Click sees the current sophomore lacrosse player on 20th & Olney trade her stick for shinguards during the fall season.
See below for the full list of incoming Explorers.
FRESHMEN
Gabby Neal
Goalkeeper | 5-5 | Pennsburg, Pa.
Upper Perkiomen (FC Delco 2004 ECNL)
Neal provided leadership from her spot in net as a senior, a team captain for her side at UPHS. In her senior season, she helped record 14 clean sheets to an 18-4 record. During her high school career, she earned PIAA 3A First Team All-Conference honors and ECNL First Team All-League honors with FC Delco.
Justyce Hollenbach
Forward | 5-5 | Harrisburg, Pa.
Lower Dauphin (Penn FC 03/04 Lightning)
Hollenbach enters the team as a versatile forward that can operate on the wing. Hollenbach spent time in the 02/03 Regional Olympic Development Program and the U18 Eastern PA ODP. With Lower Dauphin, Hollenbach recorded a spot on the 2020 All-Region team and is a two-time PSCA All-State nominee. Recently, Hollenbach was selected to the All-Mid Penn Conference First Team and was chosen to the Keystone Division All-Star Team.
Peyton Yocum
Midfielder | 5-4 | Mifflinburg, Pa.
Mifflinburg Area (North Union United 04)
Yocum helped her Mifflinburg Area team make history before stepping onto La Salle's campus, tallying a 20-2 record in her senior season. Mifflinburg won its first ever conference and division title, while securing its first ever playoff victory in the first appearance at the state level before falling in the Class 2A state quarterfinals. Yocum is a three-time Daily Item All-Star, a three-time PHAC I First Team selection and was a 2021 PSCA All-State selection.
Elizabeth Estrada
Midfielder | 5-4 | Reading, Pa.
Wilson (FC Revolution Rowdies 04)
A successful senior season in which Estrada capped off her career with 14 goals and 22 assists, Estrada was selected as a United Soccer Coaches (USC) High School All-American at Wilson High School. Estrada also made the USC All-Region II (East) Team, while proven to be a repeat All-Berks and All-State recipient.
Ricshya Walker
Forward | 5-8 | Philadelphia, Pa.
Franklin Learning Center (PDA South 03/04 ECNL)
A Philly native, Walker makes a short trip to join up with her team on 20th & Olney after playing with PDA South ECNL at the club level, where she played with current La Salle Explorer and goalkeeper Michela Auguadro. Walker looks to make an impact in the attack with a similar taste to goal as was had in her high school career.
TRANSFERS
Courtney Butlion
Forward | 5-6 | Bunbury, Australia
Eastern Florida State College (Fremantle City)
Butlion was a proven goal scoring threat at the NJCAA level, where she grabbed 10 goals and one assist in her two year career at Eastern Florida. Butlion started in 17 of her 23 appearances en route to a NJCAA Division I National Championship with the Titans, including tallying a goal in the semifinals in a 3-0 win.
Kirsty Woodacre
Defender | 5-11 | London, England
Eastern Florida State College (Barking Abbey)
Woodacre joins the squad with a wealth of leadership and experience to offer in her playing career, becoming a National League champion with her West Ham U23 team in England before making her way over to the States. Woodacre was teammates with Butlion at Eastern Florida, a captain that made eight starts in 12 appearances over her two years as a Titan. In the 2021 season, she allowed just four goals in 11 games, with eight shutouts, from her spot in the central defense. After helping hoist the NJCAA Division I trophy, Woodacre earned Defensive MVP accolades at the national tournament.
CURRENT EXPLORERS
Mackenzie Click
Defender/Midfielder | 5-3 | Baltimore, Maryland
Perry Hall (HFC/Coppermine FC)
After teammate Kelli McGroarty joined the lacrosse team in the spring after competing with women's soccer in the fall, Mackenzie Click is making a similar transition. The Baltimore native appeared in three games in her freshman lacrosse campaign and was named to the Atlantic 10 Commisioner's Honor Roll. Click returns to the pitch after being a three-year starter in high school at Perry Hall, where she won a pair of state championships as well as making it to the All-Division Team.