Old Dominion University announces eight-member women's soccer signing class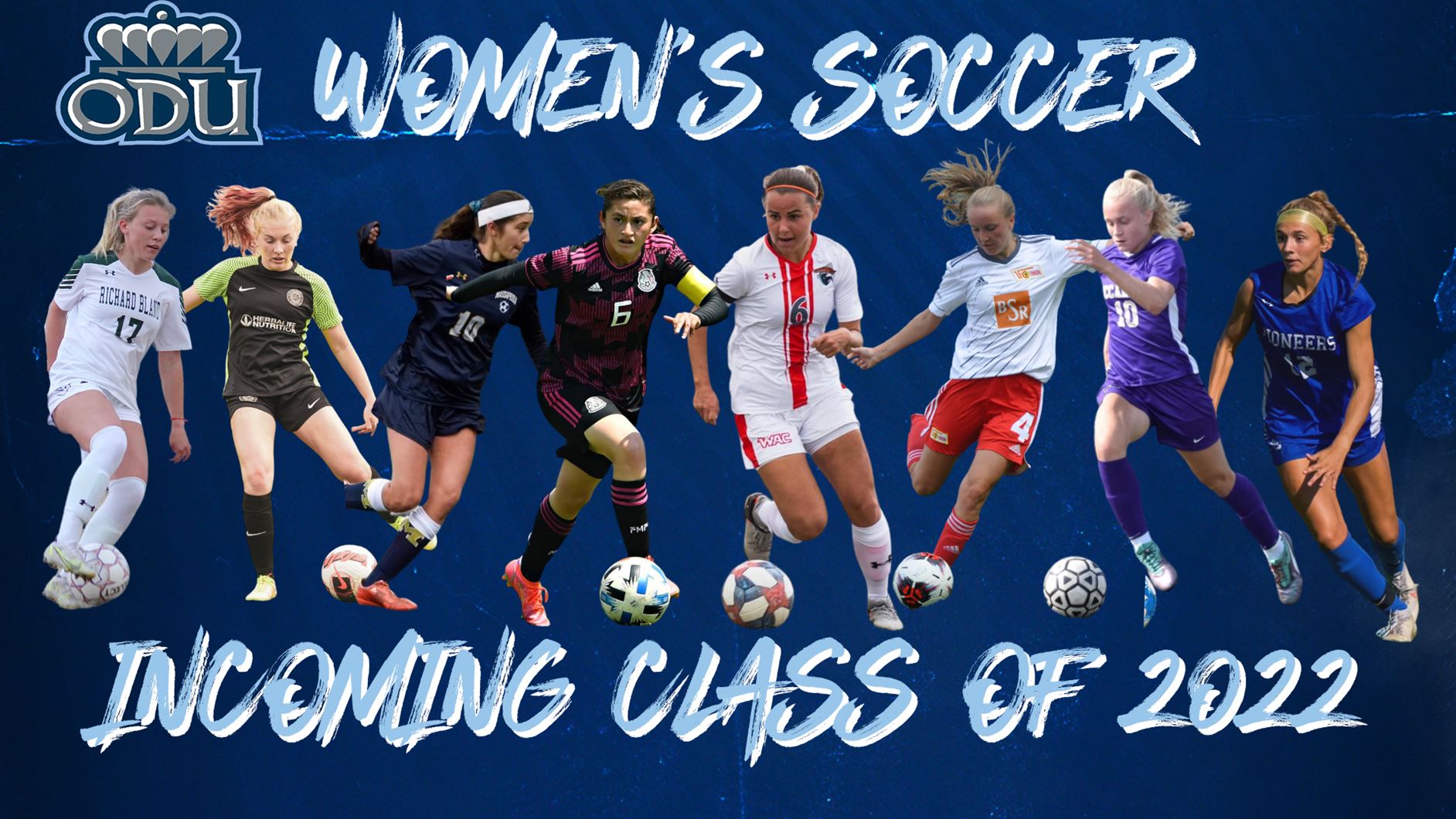 NORFOLK, Va. – Head coach Angie Hind and the Old Dominion University women's soccer program announced an eight-member recruiting class.
The 2022 signing class has a mix of freshmen, internationals and transfers.
"This incoming class for 2022 is the largest we have had and also taken us the longest to complete," said Hind. "We lost a great group of seniors this year, who obviously graduated winning a championship and without doubt left the program in a better place. It's so important to us as a program that we continue to grow, not only sustain our level of play and success, but hopefully take it further every year."
"Therefore, to find a way to do this we felt it was so important to be patient and find not only the right talent, but also the right people to continue this program in the right direction," Hind continued. "We as a staff are thrilled to have this group of talented young women join our team, and family, and genuinely cannot wait for their arrival and to be on the field working with them every day. "
See below for a look at each member of ODU's signing class.
Andrea Balcazar Algarin
Position: Midfielder
Hometown: Mexico City, Mexico
Previous Club: FC Pachuca
HIND ON ALGARIN: "Andy is a great young talent and has exceptional individual skills as well as a winning mentality and desire to compete. Having played the with Mexican youth national squads she has another level of experience that we hope will help her settle in quickly here at ODU.  An exciting player who we feel will add a different dimension to our attack."
Jenna Daveler
Position: Defender
Hometown: Lancaster, Pennsylvania
Previous club: PA Classics, GA
HIND ON DAVELER: "Jenna is a tough, aggressive defender who has such a great winning mentality. She is athletic, composed on the ball and has the ability to get forward well to support the attack. Throughout the process Jenna has shown her strong desire to be a Monarch and we are delighted that she will be joining this program. She has the right winning mentality, work-rate, and desire that underpins our culture here."
Carolin Fredrich
Position: Midfielder
Hometown: Berlin, Germany
Previous club: FC Union Berlin
HIND ON FREDRICH: "Carolin is a very composed player who has great vision and ability to play an attractive style of soccer, something that is important to us. She also has experience in the German National youth squad and so being around this level brings additional experience to her game. Her style of play and ability to solve pressure as a central player will continue to add much depth to our talented midfield unit"
Addie Galek
Position: Midfielder
Hometown: Charlotte, NC.
Previous club: FC Malaga City, Spain
HIND ON GALEK: "Addie has spent the last year in Spain playing in an environment that has helped develop her understanding of a European style of play. She has good passing range and can move the ball well showing good awareness of possession and build up. Again Addie showed such desire to be part of this program and we are thrilled she has as we believe she will add more midfield options to our team and fit in easily given our possession style of play"
Thalia Morisi
Position: Midfielder
Hometown: Massapequa, NY
Previous club: East Meadow ECNL
HIND ON MORISI: "Thalia is an incredibly talented and technical soccer player with great vision and ability to create in the final third. Her understanding of the game and solving pressure are qualities that we feel will allow her to potentially play in a few positions within our attack.  We are excited to add her unique qualities to this program."
Madison Micheletti
Position: Forward
Hometown: Islip, NY
Previous club: SUSA ECNL
HIND ON MICHELETTI: "Madison is a strong, aggressive attacker with the ability to receive the ball under pressure and link well with others. She has a fantastic competitiveness to her play which is an attribute that fits in so well with our style of play and mentality. A hard-working selfless player who we feel will add much to our attacking options this season"
Gaby Sylstra
Position: Midfielder
Hometown: Little Falls, NY
Previous program: Richard Bland College
HIND ON SYLSTRA: "Gaby is a strong, competitive player who has good qualities on the ball and the versatility to offer herself in a few positions. She has college experience of scoring goals, along with that experience is a winning mentality which will help her offer much to this class and program this season. A hard-working player who has shown great desire to be a Monarch, we are excited to see what she will bring to our team."
Anna Toersloev
Position: Forward
Hometown: Copenhagen, Denmark
Previous program: UTRGV
HIND ON TOERSLOEV: "Anna is a very exciting wide player with great technical ability and has already shown her ability to impact at the college level. She can create and score goals and is an incredibly determined and hard-working player who we feel will be able to really impact our attack and bring a different dimension. Adding some experience to this class and team is something that we are excited to also get from Anna this year also"