Penn State signs three women's soccer transfers from Texas Tech, USC, Florida State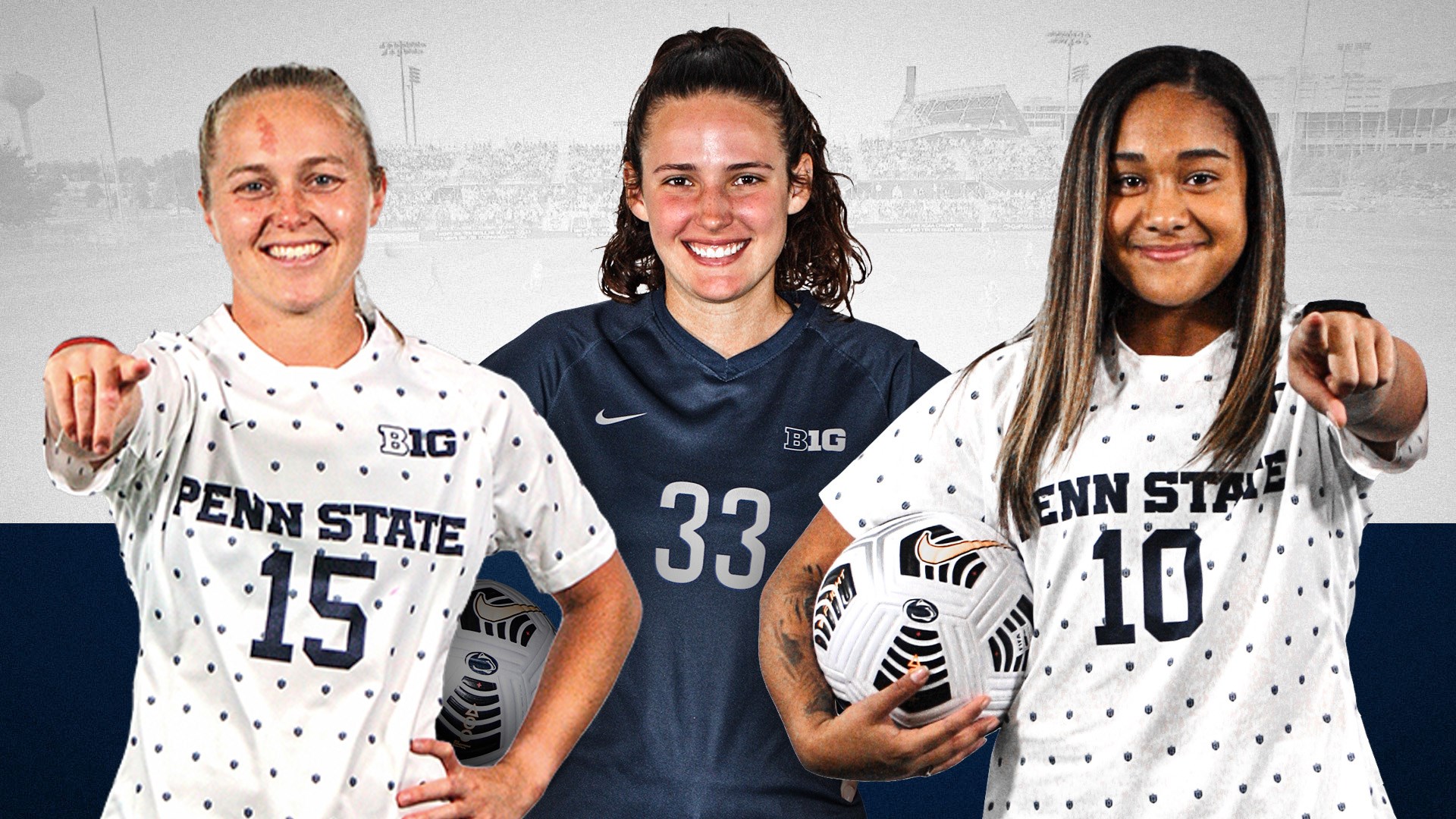 UNIVERSITY PARK, Pa. — Penn State women's soccer head coach Erica Dambach has announced the addition of three transfers to the program.
The additions include defender Cassie Hiatt, forward Penelope Hocking and midfielder Olivia Smith.
Hiatt, a transfer from Texas Tech, and Hocking, a transfer from Southern California, join the Nittany Lions as fifth years while Smith comes to Happy Valley as a freshman transfer from Florida State.
"The transfer portal has been very good for us this spring, and we have been able to bring some incredible talent to Happy Valley," said associate head coach Ann Cook. "These three additions will be added to an already impressive class, and we honestly couldn't be more excited about our newcomers!"
The three transfers further bolster the Penn State roster after the Nittany Lions welcomed seven signees to their 2022 recruiting class on National Signing Day. The class was ranked No. 5 in the country per Top Drawer Soccer and was the program's fifth Top-5 class in the last 9 years.
"We have a good mix of defenders and attackers and all kinds of talent and experience," Cook continued. "Some were able to join us for this past semester and have already impressed and grown into our culture. We expect several in this group to be able to step in and impact right away and have incredibly high expectations for all of their careers here.  We can't wait to get started!"
Meet our newest Nittany Lions
Cassie Hiatt
Parker, CO | 6-0 | Defender
Individual Honors
2021 First Team Academic All-Big 12
2020 MAC Hermann Trophy Preseason Watch List
2020 First Team Academic All-Big 12
2019 Third Team All-American
2019 First Team All-Midwest
2019 First Team All-Big 12
2019 First Team Academic All-Big 12
2019 Preseason All-Big 12
2018 All-Big 12 Freshman Team
2018 Texas Tech Rookie of the Year
2018 Academic All-Big 12 Rookie Team
Prior to Penn State: Played four years at Texas Tech…Appeared in 71 career-games….In 2021 started all 19 games…In 2020 was appointed as a team captain…Played in nine games…In 2019 played in 20 games in an All-America-caliber season…Helped Tech to ten shutouts and a conference-best 18 goals-against as the lone returning starter on the back line…Became Tech's second defender named as an All-American…In 2018 played in all 22 matches during her freshman season…Made collegiate debut in season opener with New Mexico, getting the start and playing 66 minutes…Knocked in a corner against FIU for the first score of her collegiate career…Followed up with a score from distance in the right corner against Oregon State…Headed in a dramatic game-tying goal at Kansas with 90 seconds remaining to force overtime, where Tech would go on to win.
Why Penn State? "I chose Penn State because of the belief the coaches have in their players and the team culture they have created. I'm so excited to learn and make any impact I can with this team. It really is a special group of girls."
Penelope Hocking
Anaheim, CA | 5-5 | Forward
Individual Honors
2021 Third Team All-American
2021 First Team All-Pacific Region
2021 Pac-12 Forward of the Year
2021 First Team All-Pac-12
2021 Senior CLASS Award Finalist
2020 Pac-12 Forward of the Year
2020 First Team All-Pac-12
2020 First Team All-American
2020 MAC Hermann Trophy Semifinalist
2020 First Team All-Pacific Region
2020 Second Team Academic All-American
2019 First Team All-Pac-12
2019 First Team All-Pacific Region
2019 Second Team Academic All-District
2018 Pac-12 Freshman of the Year
2018 Second Team All-Pac-12
2018 First Team Top Drawer Soccer Best XI Freshman
2018 Second Team All-Pacific Region
Prior to Penn State: Played four years at Southern California…Appeared in 72 career-games with 53 career-starts…In 2021 became USC's all-time leading scorer by surpassing the program record of 48 career goals, breaking a mark which had stood for 21 years…Her 54 career goals are the 12th most in Pac-12 history…In 2021, scored 12 goals, notched six assists and posted 30 total points…Helped team to NCAA Second Round…In 2020 was one of four Trojans to start all 14 matches…Led USC to a berth in the NCAA Tournament…Led the Trojans with ten goals…Was second for the Trojans with 23 total points…Had three game-winning goals…In 2019 played in all 23 games for the Trojans starting all but one…Helped the team to an NCAA Quarterfinals appearance…Finished the season with 18 goals and seven assists…18 goals led the team…In 2018 saw action in 20 games for a total of 1019 minutes played as a freshman…Led USC and the Pac-12 with 14 goals scored…Led team with 34 points…Scored three game-winning goals on the season.
Why Penn State? "I chose Penn State because I believe it is the perfect combination of an elite soccer program, and a team culture that exudes and expects high standards in all aspects of the student-athlete experience. I look forward to competing in one of the best conferences in the country next to the most elite players and learning from an incredibly successful and committed coaching staff to ensure my growth as a player. I love the sense of school spirit and pride that Penn State has, and I can't wait to call Happy Valley home!"
Olivia Smith
Whitby, CAN | 5-3 | Midfielder
Individual Honors
Youngest player ever to debut for the Canada WNT
2019 Canadian Youth International Player of the Year
Prior to Penn State:  Was 12 years old when she made her debut in the Canadian youth program in 2017…Represented Canada at the 2018 Concacaf Girls' Under-15 Championship… Represented Canada at the 2022 Concacaf Women's Under-20 Championship in Dominican Republic (Canada qualified for Costa Rica 2022)…Was 15 years old when she made her debut for Canada on November 7, 2019…In the same tournament, got her second international cap in a match against New Zealand.
Why Penn State? "I chose Penn State because of the amazing coaching staff and team they have here. Coaches have a clear vision of where they want to be and how they are going to get there. Coach Dambach played the ultimate role in my decision to transfer to Penn State. Her knowledge, intensity and experience are factors in which I know will allow me to develop in the environment to reach the level I want to be at. With that being said, they have the facilities to do so. Penn State Women's Soccer is such a successful program having won 20 Big Ten titles, eight Big Ten tournament championships, 27 consecutive NCAA appearances, along with one NCAA National Championship… hoping to make it two this coming season. I believe it will be possible with the team and coaching staff here at Penn State."