Jefferson Cup U10-U14 Girls Weekend Day 1 Recap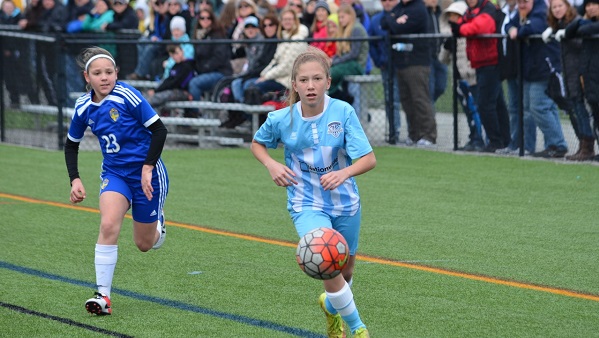 Follow the Jefferson Cup: Twitter | Instagram | Facebook
Championship Division Previews
Girls Showcase: U-15 | U-16 | U-17 | U-18
Jefferson Cup 2016 Schedules
Girls U10-U14 | Girls Showcase
The 2016 Jefferson Cup U10-U14 Girls Weekend kicked off on Saturday in Richmond, VA with 364 teams from 18 different states competing in one of the nation's top tournaments.
Each team played its first two group matches of the event as the standings took shape, leading into a dramatic finish on Sunday. See below for a recap of how things played out in each of the Championship Divisions, along with game notes from various U-14 matches.
+Jeff Cup 2016 U10-U14 Girls Weekend Photo Album
Championship Division Recaps
U-10 Championship Division (8v8)
Pittsburgh Riverhounds Academy and Maryland Rush Montgomery Coyotes Blue 05 took over the top spots in Group A, each winning once and tying each other, leading into an exciting final round of group play on Sunday morning. Pittsburgh edged out Georgia side Concorde Fire 2-1 to begin the tournament, while Rush shut out New York's World Class FC 1-0 in its opening match. Rush and Pittsburgh played to a 1-1 draw later in the day. Rush faces Concorde while Pittsburgh battles World Class on Sunday morning, determining who will face the winner of Group B in the Final.
Philadelphia SC Coppa United took control of Group B on Saturday, earning a win and a draw. Coppa narrowly defeated Bergen Bulldogs SC 06 Sky 3-2 to open the tournament and played Loudoun 05 Red to a 1-1 draw in the second round, setting up a chance to secure a spot in the Final with a favorable result on Sunday morning against Maryland side SAC Premier Blue 05.
U-11 Championship Division (8v8)
FC Stars of Massachusetts Central United Blue 04/05  and Northern Virginia's Loudoun 04 Red enter Sunday's final round of Group A play tied with 13 standings points each, after both finishing Saturday with a win and a draw. FC Stars rolled to a 4-1 victory over Ohio side Total Futbol Academy Elite in the morning round, before tying CASL 04 Ladies Red South 2-2 in the afternoon. Loudoun's win also came against CASL, a 2-0 clean sheet decision in the morning at River City Sportsplex.
Group B will also come down the final round on Sunday morning, as Philadelphia SC Coppa Swarm 04 and Michigan side ROI 04 each earned back-to-back wins in the opening two rounds on Saturday. Coppa defeated FC Virginia United 04 Elite by a score of 3-0 before topping OP Fire Red 6-2 in the afternoon round, while ROI rolled past OP Fire 5-1 and edged out FC Virginia 2-1. ROI and Coppa will play each other for a spot in the Final at 10:40 a.m. at River City.
U-12 Championship Division
Massachusetts side Aztec Soccer 03 NPL Leroux, Texas side D'Feeters 04 Black, Michigan's Waza FC East 04 Black and New Jersey's PDA Lyon earned spots in the semifinals on Saturday, finishing at the top of their three-team groups.
Group A winner Aztec Soccer allowed just one goal on the day, playing Baltimore Celtic Legends to a 1-1 draw before shutting out Voorhees Xtreme in a 1-0 win. Aztec will face Group D champion PDA in the semifinals on Sunday morning. PDA did not allow a single goal in group play on Saturday, blanking Charlotte SA 03 Torsion Elite 2-0 and Total Futbol Academy Elite 03/04 by a score of 1-0.
Group B champion D'Feeters 04 Black and Group C champion Waza FC East 04 Black both earned back-to-back victories as well on Saturday, and will square off on Sunday morning at River City for a spot in the Final. During group play, D'Feeters notched hard-fought one-goal wins over Florida Elite 03/04 and World Class FC 03 Bulldogs, and Waza did the same against FC Virginia United 03 Academy and Cleveland FC 03-04.
+Read: Division titles decided on Sunday at Jefferson Cup Boys Showcase
U-13 Championship Division
North Carolina side Greensboro United SA 02 Navy put across two goals in each game, earning a 2-0 win over OP Fire Red 02/03 and a 2-2 draw against PDA Galaxy. Greensboro has a firm lead on Group A entering Sunday, and will look to secure its spot in the Final in the final round of group play against reigning Eastern Pennsylvania State Cup and Region I champion HMMS Eagle FC.
Georgia's GSA 03 Pre-ECNL and FC Virginia United Pre-ECNL head into Sunday dead even in the standings, and get to play each other in the morning at River City. GSA fell 2-1 to Maryland squad Pipeline SC Black to open the tournament, and rallied for a 2-0 shutout win against reigning New Jersey State Cup champion NJ Rush 02 Blue. FC Virginia dropped a 4-2 decision to Rush in its morning match, before going on to blank Pipeline SC 1-0 in the afternoon.
While FCV and GSA are leading with 10 points each in the tiebreaker, Pipeline SC and NJ Rush are also 1-1-0 entering the final round of the group play, and both could find themselves representing Group B in the final as well depending on how things turn out in Sunday's group matches.
U-14 Championship Division
PDA Storm ECNL and FC Virginia ECNL jumped out to perfect starts in Group A and Group B respectively, each winning their first two group games. PDA allowed just one goal on the day, earning a 1-0 shutout win against CASL ECNL before stunning Virginia side BRYC 01 Elite with a last-minute goal in a 2-1 victory. PDA will try to complete a sweep of Group A on Sunday morning against reigning State Cup champion Florida Elite 01/02, which sits in second place in the group after earning a win and a draw to begin the event. Florida Elite could overtake PDA for the top spot in Group A with a win on Sunday morning.
FC Virginia ECNL rolled through its first two games on Saturday in Group B, outlasting reigning Pennsylvania East State Cup champion Penn Legacy Black 1-0 before overpowering NJ Wildcats Averbuch NPL 4-0 in the afternoon round. FC Virginia faces off with East Meadow ECNL Hotshotz in the final round of group action on Sunday morning with a spot in the Final on the line. East Meadow played its way into a close second place in Group B on Saturday, earning a 1-1 draw against NJ Wildcats and a 4-0 shutout of Penn Legacy.
Game Notes
PDA Storm ECNL 1, CASL ECNL 0
U-14 Championship Division
In a physical battle between two U-14 squads very much in the ECNL playoff race, PDA was able to put across a second half goal to defeat CASL 1-0 in one of the morning matches at River City Sportsplex.
Madisyn Pilla netted the only goal of the match, blasting a shot from well outside the box midway through the second half. Pilla nearly scored again just a few minutes later, but CASL goalkeeper Felicity Baker made a fantastic save to keep her team within a goal.
Both teams put on displays of top notch defense throughout the game, as Baker and the CASL back line largely shut down the potent PDA attack. Maggie Pierce, Elaine Rouse, Tyler Petlick and Anuhea Kane helped lead a strong team effort on the back line, shutting down a litany of PDA runs throughout the match.
Meanwhile, PDA held strong to earn the clean sheet victory, supported by a back line and defensive midfield featuring imposing play from Madison Taibl, Caitlyn Leffler, Rebbecca Fluchel, Madyson Laudisi and Emily Mason, among others.
---
BRYC Elite 1, Florida Elite 1
U-14 Championship Division
After trading first half goals, with Florida Elite finding the net in the opening minutes and BRYC equalizing late on a counter strike by Meghan Kenefick, defense dominated this match for both sides the rest of the way as they each clamped down for second half shutouts.
BRYC goalkeeper Riley Melendez had a strong performance in net after conceding the early goal, while defenders Riley McCarthy, Alexandra Rabinowitch,  Jaden Steele and Jordyn Turner, along with a tough defensive midfield held off Florida's offense for the majority of the game.
Reigning State Cup champion Florida Elite was anchored by a superb effort in net from goalkeeper Juliana Arciprete, along with smart and physical play in front of her on the back line and in the defensive midfield by Alexandra Horton, Jovanna Cernatescu, Brielle Maloney, Tori Grambo and Paige Hunt.
---
Bethesda SC ECNL Express 0, Oakwood SC 0
U-14 Elite Orange Division
Maryland's Bethesda ECNL Express played Connecticut side Oakwood SC to a scoreless draw in an afternoon match-up in the U-14 Elite Orange Division. In tune with the theme of the day across the U-14 level, defense was the key to the match for both sides as the teams tied and now head into Sunday neck-and-neck for the top spot in Group B.
Stevie Mika earned the clean sheet in net for Bethesda, behind a solid effort in front of her from defenders Jillian Smalls, Cailynn Adelman, Haley Seabolt and Niamh Haynos.