Division titles decided on Sunday at Jefferson Cup Boys Showcase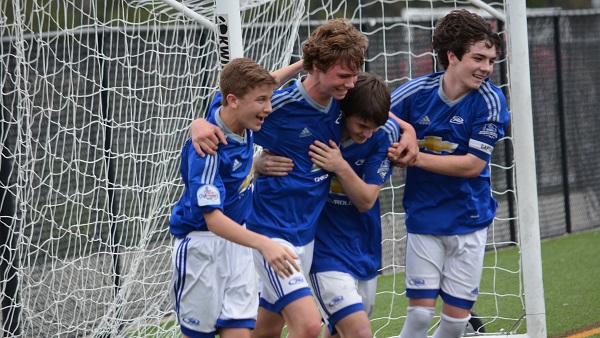 Follow the Jefferson Cup: Twitter | Instagram | Facebook
Boys Weekend Daily Recaps: Day 1 | Day 2
Champions were crowned on Sunday at the 2016 Jefferson Cup Boys Showcase. See below for a recap of the U-14 through U-18 Championship Division action on Sunday, along with a full listing of champions and finalists across the 49 total divisions at the event.
Championship Division Recaps
U-14 Championship Division
In one of the most thrilling matches in recent memory at the Jefferson Cup, Maryland side Calverton Cerritos stunned Global Premier Soccer (GPS) – Massachusetts with a 5-4 comeback victory to claim the U-14 Championship Division title. Four of the game's nine total goals came in a flurry during the final five minutes of the second half, three of which were scored by Calverton as the team completed a memorable comeback.
"It was a fun game to watch and a great job by both teams to play as hard as they they did," said Calverton coach Ronald Cerritos. "I always tell my team that in soccer, you need to compete to the end. You won't always win but if you play to the final whistle, you're going to have a chance."
"That was a really good team with very good players at every position on the field, but I believe with our group, we already have four years of experience working together, traveling all over the nation, and today was one of the hardest games we have played," Cerritos continued. "GPS has a lot of talent and we have a lot of respect for how they play the game."
GPS advanced to Sunday's title match by storming through the competition in Group A, outscoring opponents 15-2 in a three-game sweep of the bracket. Calverton finished at the top of the table in Group B with two wins and a draw, setting up a match-up of two of the top teams on the East Coast in the division championship. Early on, it appeared GPS may have been on track to continue their dominance, jumping out to a 2-1 lead while controlling the possession and pace of play for most of the first half.
However, Calverton's quick-strike attack began to click early in the second half as Benjamin Boucher netted his second goal of the match to equalize at 2-2. After a physical stretch of play as both defenses dug in, GPS was the next side to break through, claiming a 3-2 leading into the wild last five minutes of the match.
The madness began with Calverton scoring yet another equalizer five minutes before the final whistle, knotting things up at 3-3. Moments later, Nehemias Rubio gave Calverton a 4-3 lead, bursting past the defense and beating the GPS goalkeeper in a 1v1 situation up the middle, sliding into a shot while colliding with the keeper in front of the goal.
Only a minute after that, GPS struck back with an equalizer of its own on a corner kick. From there, it was Rubio once again attacking on a breakaway for Calverton, blasting a shot into the left side of the net from near the top right side of the box. Rubio's second goal in the closing minutes beat the final whistle by just a few seconds, vaulting his team to victory.
+PHOTO ALBUM: Jefferson Cup Boys Showcase
U-15 Championship Division
Group A's top finisher OBGC Rangers Blue and Group B winner Delaware Rush met in the U-15 top flight title match, which was also decided by just one goal, with Rush coming out on top 2-1.
It was an evenly-matched contest, with Rangers having outscored their group opponents by a combined margin of 11-2 and Rush rolling to three straight wins with a 9-2 goal differential. Rush made it four in a row on Sunday with more swarming defense and a potent attack, scoring two first half goals and preserving the lead the rest of the way.
Rush netted the first goal of the match 10 minutes in, with Benjamin Strine sending in a corner kick to Niklas Powell, who out-jumped two defenders and struck a powerful header into the right side of the net to put his team ahead early. Later in the period, Casey Kurlej doubled Delaware's lead with a strong, perfectly-placed shot which glanced off the woodwork and in.
OBGC would not go away quietly in the second half, relentlessly testing the Delaware State Cup champions' back line and eventually breaking through with a brilliant goal on a great pass into the box from Nathan Messer to Matteo Spilimbergo, who calmly connected on a short-range shot after receiving the pass in traffic.
From there, the Rush back line clamped down like they had for the entire weekend, with Jacob Ostroski, Thomas McGrail, Jason Dauerty and Michael Ruggeri leading the defensive unit.
U-16 Championship Division
Manhattan SC Villa concluded a dominant weekend at the Jefferson Cup with its third win in as many days, blanking Virginia side CYA 99 Purple 3-0 on Sunday morning. It brought Manhattan's goal differential to 11-2 for the event, going up against State Cup Final Four teams from Virginia and Pennsylvania, and the State Champions from North Carolina.
Reigning Virginia State Cup champion Loudoun 99 Red emerged as the runner-up in the highly-competitive 12-team division, finishing with an unbeaten 2-0-1 record after coming out on top 3-1 against Dix Hills Hurricanes on Sunday. Loudoun was the top finisher among four 2-0-1 teams with a 9-3 goal differential.
Three State Cup finalists – Texas North's Andromeda FC 00 Red, Ohio South's Cincinnati United Premier and Virginia's Arlington Eagles Red – each finished with two wins and a draw as well, closing the weekend out with one-goal victories. Andromeda earned a 1-0 shutout win over South Carolina United FC 99 while Arlington won by the same scoreline over Penn Fusion SA, and Cincinnati United Premier edged out GPS-Massachusetts 99/00 NPL in a 2-1 result.
U-17 Championship Division
Ohio Galaxies FC 98 Elite capped off a sweep of its three opponents at the Jefferson Cup with a hard-fought 1-0 win over OGBC Roadrunners Blue on Sunday morning, clinching its spot at the top of the 12-team U-17 table.
The match-up between Galaxies and OBGC at West Creek Complex was a meeting of the top two teams in the division entering the final day of the tournament, with both sides coming in at 2-0-0. As had been the case for the entire weekend, the Galaxies defense put on a dominating performance with its second clean sheet of the event.
Goalkeeper David Rueth and the Galaxies back line gave up just one goal at the Jeff Cup, shutting down some of the premier attacks in the country at the U-17 level. After going into halftime with a 1-0 lead, Galaxies defender Cole Hamilton, Christian Wright, Matthew Ruffolo and Jacob Erlandson largely held off a relentless OBGC attack throughout the second half, while Rueth made several key saves on the few times that he was tested. Rueth also imposed his will in the box on multiple occasions before needing to make a save, picking the ball out of the air and absorbing collisions on crosses and corner kicks, and punching balls away before OBGC could get a shot off.
Match Fit Academy FC 98/99 and Penn Fusion SA 98 Elite placed second and third in the U-17 Championship Division with one win and two draws, followed by Massapequa SC Aces and OBGC with 2-1-0 records. Match Fit capped off the event with a 3-3 draw against FC Virginia / SYC Strikers Blue on Sunday, while third place Penn Fusion drew Georgia's Concorde Fire 1-1. Massapequa picked up its second win of the weekend, defeating South Carolina's CESA 98 Premier 3-1.
U-18 Championship Division
New York's Everton FC Westchchester Dreamers played New Jersey's TSF Academy to a 1-1 draw on Sunday morning at West Creek, finishing off an undefeated weekend and topping the eight-team U-18 bracket.
Everton and reigning North Carolina State Cup champion Charlotte United FC 97 Gold tied for first with identical 2-0-1 records. Charlotte continued its impressive defense display on Sunday by playing St. Louis Scott Gallagher to a scoreless draw, finishing the event with just two goals allowed in three games.
+Jeff Cup 2016: Everton FC Westchester Dreamers dominate boys U-18 play
Charlotte and TSF Academy, which placed third at 1-0-2, had the top team defenses in the division, allowing less than a goal per game. Meanwhile, Everton netted a division-high nine goals.
Boys Weekend Champions and Finalists
U-10
Championship 8v8 Division
Champions: XL Soccer World 05 Elite Rangers
Finalists: Columbus Crew SC East Gold 05/06
Championship 7v7 Division
Champions: Richmond Kickers Elite Red
Finalists: BRYC 05 Elite
Elite 7v7 Division
Champions: BRYC 05 Elite Blue
Finalists: Arlington SA Bayern White
U-11
Championship 8v8 Division
Champions: LMVSC Patriots 04 Red
Finalists: Baltimore Celtic Elite
Elite 8v8 Division
Champions: Greensboro United Navy
Finalists: West Chester United SC Predators
Superior 8v8 Division
Champions: Lake Norman SC 04 Force Fire
Finalists: PA Classics Academy 04
Platinum 8v8 Division
Champions: CASL 04 Red South
Finalists: Piedmont Triad FC 04 Black
Classic 8v8 Division
Champions: Virginia Legacy CCL Elite
Finalists: Wake FC 04 Milan
Premier 8v8 Division
Champions: SAC United Black Spurs 2005
Finalists: Richmond Kickers Elite White
U-12
Championship 11v11 Division
Champions: CASL 03 Juniors Red South
Finalists: World Class FC 03 Messi
Elite 11v11 Division
Champions: LMVSC Patriots Red 02
Finalists: WAZA FC East 04 Black
Championship 8v8 Division
Champions: Richmond Strikers Elite Orange
Finalists: GPS MA NPL 03/04
Elite 8v8 Division
Champions: Arlington SA Legend Red
Finalists: Triangle United 03 Celtic
Superior 8v8 Division
Champions: Wilmington Hammerheads 04 White
Finalists: Lake Norman Huntersville 03 Highlanders
Platinum 8v8 Division
Champions: FC United Orange 03
Finalists: Arlington SA Legend White
Classic 8v8 Division
Champions: Tidewater Sharks United
Finalists: Virginia Rush Black
U-13
Championship Division
Champions: CASL 02 Academy Juniors
Finalists: TSF Academy 02/03
Elite Division
Champions: World Class FC 02 Boca Juniors Red
Finalists: Manhattan SC Fury
Superior Division
Champions: Lake Norman SC 02 Force
Finalists: FC Boulder 03 Elite
Platinum Division
Champions: West-Mont United Montco Alliance 02-03
Finalists: FC Copa Academy NPL
Classic Division
Champions: CESA 02 Premier
Finalists: Syracuse Development Academy
Premier Division
Champions: Chesterfield United FC 02 Utrecht Academy
Finalists: Yardley Makefield Soccer Shamrock Rovers
U-14
Championship Division
Champions: Calverton Cerritos
Finalists: GPS-MA NPL 01/02
Elite Division
Champions: SYA Cardinals Red 01
Finalists: TSF Academy 01/02
Superior Division
Champions: CASL 01 Black
Finalists: Triangle United 01 Gold
Platinum Division
Champions: CESA 01 Premier
Finalists: Delran Future
Classic Division
Champions: Interdevelopment Futbol
Finalists: BRYC01 Elite
U-15
Championship Division
Champions: Delaware Rush 00
Finalists: OBGC Rangers Blue
Elite Division
Champions: SOCA 00-01 Elite
Finalists: Ukrainian Nationals Chornomorets
Superior Division
Champions: XL Soccer World 00 Elite Rangers
Finalists: BRYC 00 Elite
Platinum Division
Champions: Tampa Bay United Elite 00
Finalists: Charlotte SA 00 Predators
Classic Division
Champions: CESA 00 Premier
Finalists: Richmond Strikers Eite
Premier Division
Champions: Parsippany SC NPL-00
Finalists: Penn Fusion SA 00 Predators
U-16
Championship Division
Champions: Manhattan SC Villa
Runner-up: Loudoun 99 Red
Elite Division
Champions: Match Fit Academy FC 99/09
Runner-up: Storm SA 99 Black
Superior Division
Champions: Wilmington Hammerheads 99 White
Runner-up: Parsippany SC Crew Blue
Platinum Division
Champions: Seacoast United Maine SC
Runner-up: FC Gottschee Roma 99
Classic Division
Champions: CSU NPL Elite
Runner-up: Match Fit Academy FC 99/00
U-17
Championship Division
Champions: Ohio Galaxies FC 98 Elite
Runner-up: Match Fit Academy FC 98/99
Elite Division
Champions: BRYC 98 Eilte
Runner-up: Arlington Attack Red
Superior Orange Division
Champions: Minneapolis United FC Premier
Runner-up: TSF Academy 98/99
Superior Black Division
Champions: Marlboro SA Warrior
Runner-up: Triangle United 98 Gold
Platinum Orange Division
Champions: GPS-MA NPL 98/99
Runner-up: Montgomery United SC Cobras
Platinum Black Division
Champions: East Meadow Hawks 98 NPL
Runner-up: Carolina Rapids 98 Burgundy
U-18
Championship Division
Champions: Everton FC Westchester Dreamers
Runner-up: Charlotte United FC 97 Gold
Elite Division
Champions: Lower Merion SC Magic
Runner-up: Continental FC Premier 97
Superior Division
Champions: Massapequa SC Raptors
Runner-up: Columbus Crew SC Pre-Academy
Platinum Orange Division
Champions: Ohio Elite BCC-NPL
Runner-up: Richmond Kickers Elite
Platinum Black Division
Champions: Match Fit Academy FC 97/98
Runner-up: BRYC 97 Elite