Jefferson Cup 2016 Boys Showcase Day 2 Recap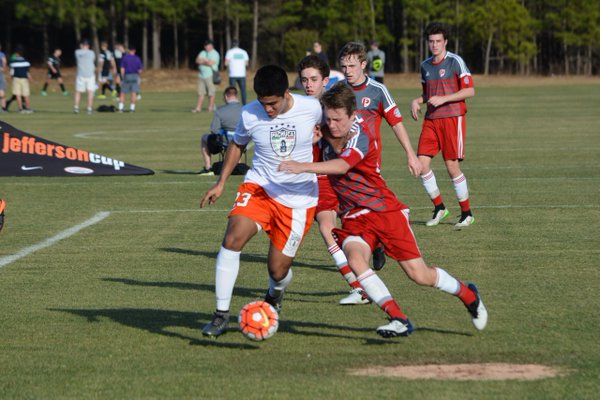 Follow the Jefferson Cup: Twitter | Instagram | Facebook
Championship Division Previews
Boys Showcase : U-15 | U-16 | U-17 | U-18
Girls Showcase: U-15 | U-16 | U-17 | U-18
Although the temperature in Richmond dropped several degrees between Friday and Saturday, the level of intensity on the fields at the Jefferson Cup Boys Weekend was noticeably higher on Day 2 of the event.
With more college coaches settling in to watch the tournament, players in the showcase age groups not only sought to lead their teams to victories, but also to show their potential for the next level.
See below for a recap of the U-15 through U-18 Championship Division action on Saturday.
+Jefferson Cup 2016: Boys Showcase Day 1 Recap
U-15 Championship Division
Saturday was the opening day of the Jefferson Cup for U-15 teams, who kicked off the event with two group matches each.
In the top flight at the U-15 level, OBGC Rangers Blue and Delaware Rush took control of Bracket A and Bracket B respectively, and can clinch spots in the Final on Sunday morning with wins in their last group games.
Maryland side OBGC holds the top spot in Bracket A after earning a win and a draw on Saturday, defeating FSA FC Elite 5-0 and playing FPYC Fury to a 2-2 draw. Seven different Rangers players scored one goal each as the attack found a great deal of balance, and the defense had an overall strong effort along the way.
Patrick Watkins, Alhadji Turay, Ryan Elie, Sam Wells and Matteo Spilimbergo each found the net in the team's 5-0 win over Connecticut State Cup champion FSA in the morning match at River City, while goalkeeper Gonzalo Bartoli Pinero and the Rangers back line held on for the clean sheet.
In OBGC's afternoon match against FPYC Fury, the team received goals from John Keating and Christopher Rindov, coming away with a draw in a hard-fought battle between two talented teams. For the Rangers, it was a strong outing for a team just starting its preseason.
"From our team's standpoint, we are here just looking to get better, and the quality opponents we get to play against here definitely help us do that," said Rangers coach and OBGC Director of Coaching Pete Wood. "The Jefferson Cup is a quality tournament with great facilities and it's a good opportunity for these kids to get some exposure."
In Bracket B, reigning State Cup champion Delaware Rush 00 put on dominating performances in a pair of 3-0 shutout victories against PA Crew Academy 00-01 and TSF Academy 00/01 Blue.
Led by a speedy and physical back line, Rush managed to stifle the potent opposing attacks of the Pennsylvania West State Cup champion and US Youth Soccer Region I finalist PA Crew, as well as one of New Jersey's top teams in TSF Academy.
Thomas Hughes, Jacob Ostroski, Thomas McGrail and Jason Dauerty were among the leaders defensively for Rush, while goalkeepers Tyler Deutsch and Eric Fasteson split time between the posts.
In the team's afternoon match against TSF Academy, the Rush offense exploded for three goals in the first half. Team captain and midfielder John Leonard was a catalyst for the attack, showing his playmaking abilities throughout the opening period with great runs and passing, including an assist on the first goal of the game.
After Leonard set up Niklas Powell for a tap-in goal to open the scoring, Anthony Barbieri netted Rush's second with a long-range strike from 35 yards out following a quick turnover in TSF's defensive zone. Brendan Dawson padded the lead even further in the final seconds of the half, connecting on a long distance strike from outside the top right corner of the box. TSF clamped down defensively the rest of the way, and Rush also held on for its second shutout of the day.
On Sunday, Rush look to lock up the Bracket B title with a win against second place Loudoun 00 Red, while OBGC tries to clinch Bracket A with a favorable result against Manhattan SC Emelec.
U-16 Championship Division
On the second day of competition in the U-16 Championship Division, Manhattan SC Villa emerged as the only two-win side in the 12-team group with a 3-1 victory over Carolina Rapids 99 Burgundy.
Meanwhile, four teams – Loudoun 99 Red, Andromeda FC 00 Red, Cincinnati United Premier 99/00 and Arlington Eagles Red – finished the day with 1-0-1 records, leading into a tightly-contested final day of play on Sunday.
Three other teams – Carolina Rapids, Dix Hills Hurricanes and Penn Fusion 99 Elite – enter Sunday with .500 records, all sitting at 1-1-0.
In one of the most thrilling matches of the day, Northern Virginia powerhouse Arlington Eagle Red stunned Global Premier Soccer (GPS) – Massachusetts NPL with a late goal to come out on top in a physical 1-0 contest.
Following a scoreless first half and most of the second half highlighted by both sides working hard in the midfield and swarming the ball defensively, Arlington's Andrew Rogers netted what proved to be the game-winner in the closing minutes.
Rogers' shot was the only one to beat GPS goalkeeper Ryan Manning the entire day, as the class of 2018 netminder made several key saves, including a highlight reel diving stop moving to his left earlier in the second half.
On Arlington's side, a deep and relentless back line led by Giacomo Mecagni, Garrett Lusk, Martin Hockey III and Joaquin Sanchez, among others, largely shut down the dangerous GPS attack as goalkeeper Giovanny Reyes Saravia registered the clean sheet.
Meanwhile, Loudoun 99 Red and Texas side Andromeda FC 00 Red played to a 2-2 draw in the early morning match, Dix Hills Hurricanes edged out South Carolina United FC 2-1 and Cincinnati United Premier notched a 2-1 win over Penn Fusion 99 Elite in what has proven to be one of the Jeff Cup's most evenly-matched divisions.
Division-leading Manhattan has stormed through the competition so far, outscoring its opponents by a combined score of 10-2. Villa will face Virginia side Chantilly Youth Association (CYA) 99 Purple on Sunday morning, with a chance to lock up the top spot in the U-16 table.
U-17 Championship Division
Maryland club OBGC is well-represented in the top brackets of the Jefferson Cup Boys Showcase, as the U-17 OBGC Roadrunner Blue side also finds itself at the top of its table after Day 2.
OBGC's stellar defensive play continued on Saturday at West Creek Complex as the team followed up on Friday's 2-0 shutout win over LDC United with a 1-0 victory against Brentwood SC NPL Aguila 98.
Ohio Galaxies FC 98 Elite also advanced to 2-0-0 on Saturday, building on their tournament-opening 2-1 win against Brentwood with a 1-0 shutout of LDC United.
The two remaining U-17 Championship Division sides with unblemished records will meet on Sunday morning in a match that willy likely decide the winner in the bracket.
Following close behind are three teams – Match Fit Academy FC 98/99, Penn Fusion 98 Elite and CASL 98 Red – all with 1-0-1 records, any of which could overtake the top spots in the table with favorable results on Sunday, should the Galaxies-OBGC match end in a draw.
The high-stakes matches will likely add another dimension of intensity to Sunday's competition, along with the dozens of college coaches on hand for many of the top games.
U-18 Championship Division
For U-18 teams playing in their final Jefferson Cup, the sense of urgency was especially high at West Creek Complex, the central college showcase venue for the older age groups.
Not only do the attending teams want to go out on a high note, they want to play for their teammates, and remaining uncommitted players seek to potentially earn a spot on a college program's roster.
One team leaving it all on the line this weekend at the U-18 level is the Everton FC Westchester Dreamers out of Eastern New York, which finds itself at the top of the U-18 Championship Division table after two days of play.
The core of the Dreamers team has been composed through a unique program out of Ghana called Right to Dream, which has an established pipeline into the Mid Atlantic region's network of private boarding schools. Players on the roster span across five years in age, with a variety of future professional players and high level Division I recruits.
The Dreamers continued their impressive run on Saturday with a 4-2 win over Virginia State Cup champion SOCA 97-98 Elite, following a 4-1 win against Jacksonville FC 97/98 Armada to open the event on Friday.
Everton will face a major challenge to close the tournament on Sunday as it faces a tough TSF Academy side, which ranks third in the division at 1-0-1. TSF notched a 1-0 shutout win over Jacksonville FC on Saturday after earning points in a 1-1 draw against SOCA to open the event .
Neck-and-neck with Everton is Charlotte United FC 97 Gold, which improved to 2-0-0 as well on Saturday with a 3-1 win over Smithtown Kickers Thunder. Charlotte topped Arlington Impact Red 3-1 on Friday, and goes for the sweep on Sunday against St. Louis Scott Gallagher.