US Youth Soccer National League Boys continue play in Las Vegas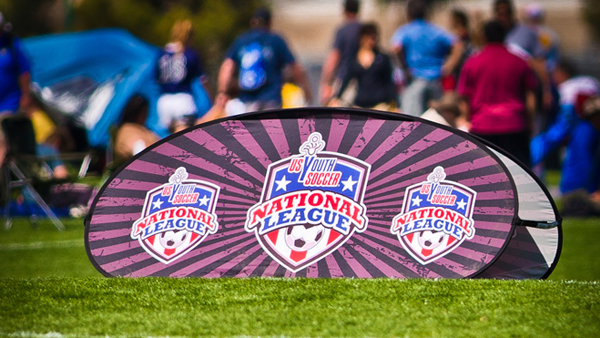 Day 2 of 3 complete
Scores and Standings | Video

LAS VEGAS, Nev. (Via US Youth Soccer) — The US Youth Soccer National League U-14, U-15, U-16, U-17 and U-18 Boys continued league play Saturday at Bettye Wilson Soccer Complex in Las Vegas, Nev., alongside the 2016 Players Showcase. The boys will wrap up their season on Sunday, as the standings will be solidified and the final tickets to the US Youth Soccer National Championships will be secured.
After five berths to the National Championships were determined Friday, another six teams secured their ticket to Frisco, Texas, on Saturday. However, the top of some group standings are still in question, as three National League division titles will decided on the season's final day. Aside from earning an automatic ticket to the 2016 US Youth Soccer National Championships, teams in the Under-14, Under-15, Under-16 and Under-17 age groups are also vying for a chance to earn their automatic return to the league in the 2016-17 National League season.
On Saturday, Under-14 Baltimore Darby 01/02 (MD) became the second defending National Champion to claim a National League division title this season on the boys' side. Baltimore has won each of its six games, coach Michael Lookingland said his players have needed to step up in each game in order to maintain that record.
"I think the National League does a great job to help these guys in their development. Because without these high-level games and individual battles against the top players in the country, it's tough to point out weaknesses and get your team to see how they can get better," Lookingland said. "These games really help to bring that out. The guys have to be more focused and organized, and play their best game to win. It's a perfect scenario for these guys to get better."
+Read: US Youth Soccer National League Boys begin final weekend of play
While Baltimore is one of the handful of teams who know their fate, there are still several other sides who will have a lot on the line during Sunday's games — with a wide range of finishes possible within their division.
One team in that unknown scenario is Under-14 SLA Nomads 01 (CA-S), who needed a key victory on Saturday just to put themselves in a position to control their fate when they play group leader Valparaiso United Futbol 02 JG (AZ)on Sunday. With the possibility to finish anywhere from first to third, SLA coach Hernan Garcia knows what's on the line for his team.
"We hold our destiny in our own hands. We know it will be a tough game. We've played them before at Regionals, so we know who we're stepping up against," Garcia said. "I believe tomorrow will be the most important game my team has played in their career, so it's a good opportunity for them to play on this stage."
2016 US Youth Soccer National Championship Qualifiers via the National League
*qualified Saturday
Under-14 Boys
Blue Champion: Baltimore Darby 01/02 (MD)
Red: Valparaiso United Futbol 02 JG (AZ)
Under-15 Boys
Blue Champion: United FA 01 Premier (GA)
Blue Runner-up: McLean 00 Green (VA)*
Red Champions: CFA Raiders (IL)
Red Runner-up: Sparta 01 JK (UT)*
Under-16 Boys
Blue: La Roca South CS 99/00 Premier (UT)*
Blue: Fullerton Rangers White (CA-S)*
Red Champion: Dix Hills Hurricanes (NY-E)
Under-17 Boys
Blue Champion: Baltimore Celtic 98/99 (MD)
Blue Runner-up: Sporting St. Croix (MN)
Red Champion: Solar Chelsea Red 99 (TX-N)
Red Runner-up: Loudoun 98 Red (VA)
Under-18 Boys
Blue Champion: Lehigh Valley United 97 (PA-E)
Blue Runner-up: Arlington Impact Red (VA)
Red: Santa Barbara SC White (CA-S)*
Red: FC Golden State Platinum (CA-S)*
National League Boys action continues Sunday, March 13 at Bettye Wilson Soccer Complex with games at 7:30 a.m., 9:20 a.m. and 11:10 a.m. PDT. Teams and anyone interested in attending the games should remember that daylights saving time begins tomorrow and games will be pushed forward one hour.
The National League is an extension of the US Youth Soccer Regional Leagues (US Youth Soccer Region I Champions League, Midwest Regional League, Southern Regional Premier League and Far West Regional League). Competing for a league title and a spot in the US Youth Soccer National Championships, each and every game will play into who represents the National League this summer in Frisco, Texas.
+Read: Jefferson Cup 2016 Boys Showcase Day 2 Recap
Some highlights from Saturday's matches…
Under-14
In the Under-14 Red Division, Valparaiso United Futbol 02 JG (AZ) had a chance to clinch the title with a win, but it ran into an organized team in Solar Chelsea 02 Red (TX-N). The Arizona side couldn't break down Solar in the first half, as the teams went to halftime in a scoreless draw. Valparaiso generated some dangerous second half pressure but saw its attempts denied by the crossbar and some swarming Solar defense. Solar had some near-misses of its own, and the teams settled for a scoreless tie — meaning Valparaiso's title hopes will be put on hold for one more day.
The team that will challenge Valparaiso for the Red Division title is SLA Nomads 01 (CA-S), who scored a late winner to defeat Concorde Fire Central Elite (GA), 2-1, and move into second place in the group. Diego Botello put SLA up in just the third minute of the game, but Concorde Fire replied later in the half with a John Franks strike to level the score. Concorde's keeper tipped a dipping shot over the bar in the 50th minute to keep the game even, but SLA continued to pressure the Georgia side's goal. That pressure paid off in the 69th minute, as Botello netted his second goal of the game to give SLA the 2-1 victory. The Nomads can win the division title with a win over Valparaiso on Sunday, while a loss would open the door for Concorde to potentially regain second place.
Baltimore Darby 01/02 (MD) wrapped up the Under-14 Blue Division title on Saturday with a 2-0 victory over Team Challenger FC 01 Black (OH-N). The defending National Champions gained a 19th-minute lead when Dylan Sloan found the back of the net. Baltimore doubled its advantage in the 52nd minute, as Daniel Osuji headed home a corner to give Darby a 2-0 lead. The Maryland side completed the shutout to earn its sixth win of the season and claim the Blue Division title. South Carolina United FC 01 Elite (SC) and CASL 01 Red (NC) will meet on Sunday in a game that will decide who claims the division's second berth to Nationals.
Under-15
In the Under-15 Blue Division, a CUP Gold 00/01 (OH-S) loss helped idle United FA 01 Premier (GA) secure the division title, while McLean 00 Green (VA) is safely in second place.
A 2-1 win on Saturday helped Sparta 01 JK (UT) punch its ticket to the National Championships by securing a second-place finish in the Under-15 Red Division.
Under-16
La Roca South CS 99/00 Premier (UT) recorded a big victory over Fewster FC (MD) on Saturday to secure a top-two finish in the Under-16 Blue Division. Lincoln Augenstein put the Utah side up in the opening minutes, and that score held until halftime. La Roca found an attacking rhythm in the second half, as it doubled the lead with a Jose Pizano-Rodriguez strike in the 51st minute. Cristobal Zamorano then made sure to put the game away by recording a hat trick in a span of 10 minutes to extend the La Roca advantage to 5-0. That's how the match ended, as the Utah side punched its ticket to Nationals and will have a chance to win the group title on Sunday.
In the Under-16 Red Division, Jack Coad scored a stoppage time equalizer to help Dallas Texans 00 Red (TX-N) earn a crucial point for a 1-1 draw. The Texans are now just two points back of second place and can earn a berth to the National Championships with a win on Sunday.
Under-17
A rally from two goals down helped Scottsdale Blackhawks 99 Davidson (AZ) earn a 2-2 tie with Sporting St. Croix (MN). The tie ended St. Croix's pursuit of first-place Baltimore Celtic 98/99 (MD), who captured the Under-17 Blue Division title with the result. Ataniel Claremond and Kenlove Solon each scored first-half goals to put the Minnesota side up, 2-0. However, Carlos Franco pulled Scottsdale within one with a key goal just before the half. Alexis Gomez-Perez netted an equalizer in the 65th minute, and that proved to be the final goal in the 2-2 draw. St. Croix will continue on to Frisco, Texas as the division runner-up.
+Read: Jefferson Cup 2016: Boys Showcase Day 1 Recap
Solar Chelsea Red 99 (TX-N) wrapped up the Under-17 Red Division title in Orlando, where Loudoun 98 Red (VA) also secured a second-place finish.
Under-18
A matchup of a pair of former National Champions didn't disappoint, as Santa Barbara SC White (CA-S) defeated Baltimore Celtic 97/98 (MD), 3-2, in an entertaining Under-18 Red Division matchup. Chairat Puengrod headed home the opening goal in the 20th minute to put Santa Barbara in front, but Baltimore responded shortly after halftime with an Aquinas Akinlosotu tally. Brandon Sanchez and Raul Guerrero scored a pair of goals for Santa Barbara in quick succession to give the Cal South a two-goal advantage. U.S. Youth National Team midfielder Keegan Kelly pulled Baltimore within a goal in the late minutes, but Santa Barbara held on to claim the 3-2 win. With the victory, the Cal South side secured a top-two finish, but the division title won't be decided until it plays FC Golden State Platinum (CA-S) on Sunday.
The top two spots in the Under-18 Blue Division have been determined, as Lehigh Valley United 97 (PA-E) took the title and Arlington Impact Red (VA) finished second.