US Youth Soccer National League Girls kick off in Las Vegas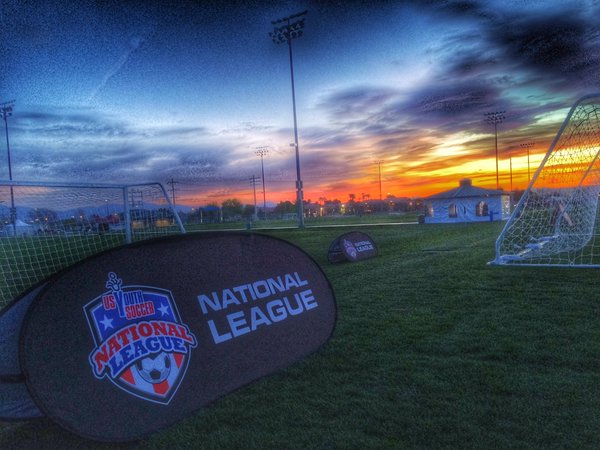 LAS VEGAS, Nev. (Via US Youth Soccer) — The US Youth Soccer National League Under-14, Under-15, Under-16, Under-17 and Under-18 Girls resumed league play Friday at Bettye Wilson Soccer Complex in Las Vegas, Nev., alongside the 2016 Players College Showcase. All Under-14 squads are competing this weekend, while half of the field is represented in the Under-15 through Under-18 age groups.
When the National League Girls' standings are finalized on Sunday, March 20, the top two finishers from each age group division will earn a spot in the 2016 US Youth Soccer National Championships, and the top finishers in the Under-14, Under-15, Under-16 and Under-17 age groups will secure their place in the league next season. All teams were focused when they kicked off their weekend in Las Vegas on Friday, as many entered play with division titles and berths to the National Championships on the line.
This season has shown how difficult it is to have success in the league, no matter how a team has done in the past. Just one defending National Champion — Under-14 PSG MI Gators 02 Orange (MI) — is currently in the top two of its division. And the Gators needed a tight 1-0 victory on Friday in order to move into that position.
MI Gators coach Jeremy Harkins said the level of competition in the National League is just as high as what his team faced at Nationals. And with each team having earned a place in the league, he said coaches at the next level recognize the highly competitive environment.
"Being a part of the National League — knowing you've earned your place and being successful in games against the best across the whole country — means an incredible amount to the girls and the coaches," Harkins said. "I've talked to a lot of college coaches who feel the National League is the best recruiting tool for them because they know everybody has earned the right to be here and that every game is going to exhibit a lot of quality players."
The depth of the competition has resulted in seven division titles still up for grabs entering the final two days of play. One team looking to grab its record fourth division title, Under-18 Carlsbad Elite 97/98 (CA-S), finds itself in a very tight division race after a 2-2 tie Sunday against Tennessee SC 16 (TN). The two early Tennessee strikes marked the first time Carlsbad had conceded a goal in 12 National League games.
Speaking after a thrilling late win for their Under-16 side, Carlsbad coach Carl Higham mentioned the importance of each game in the pursuit of finishing on the top in the National League divisions.
"Every game is important. It really is," Higham said. "Our goal is to win the division. [The Under-16 team] won it a couple years ago and came in second last year. What we said the girls is, 'We want a No. 1 seed going into the National Championships.' And to do that, you have to win the league."
2016 US Youth Soccer National Championship Qualifiers via the National League
*qualified Friday
Under-14 Girls
Red: CUP Gold 01/02 (OH-S)*
Under-15 Girls
Blue Champion: Midwest United FC 01 Royal (MI)
Red: Sunrise Sting 00/01 (FL)*
Under-16 Girls
Red: FCKC Pink Panthers Elite (MO)
Under-17 Girls
Blue: Team Chicago Academy-Brasilia (IL)*
Red Champion: YMS Premier Xplosion 98 (PA-E)
Under-18 Girls
Red Champion: MD United Coyotes (MD)
Red Runner-up: NJ Stallions Dynamite (NJ)
National League Girls action continues Saturday, March 19 at Bettye Wilson Soccer Complex, with games at 8 a.m., 10 a.m. and 12 p.m. PT.
The National League is an extension of the US Youth Soccer Regional Leagues (US Youth Soccer Region I Champions League, Midwest Regional League, Southern Regional Premier League and Far West Regional League).
National League teams earn their place in the league based on a proven track record of success in US Youth Soccer regional and national competitions. Competing for a league title and a spot in the US Youth Soccer National Championships, each and every game will play into who represents the National League this summer in Frisco, Texas.
Some highlights from Friday's matches…
Under-14
Defending National Champion PSG MI Gators 02 Orange (MI) picked up a much-needed 1-0 victory against South Shore Select Elite (MA) in Under-14 Blue Division action on Friday. Neither side managed to grab hold of the game early, but the Gators struck just before halftime when Justina Gaynor recorded a 34th-minute goal. South Shore, who entered the contest in first place, received some help from the crossbar, which twice denied the Michigan side in the second half. South Shore's Allyson Sentnor continued to pressure the Gators' back line in search of an equalizer, but she saw her best look at goal fly just wide. By holding on for the win, the Gators moved into second place — just three points back of division leader Legends FC 01 (CA-S).
Greater Binghamton United FC (NY-W) and Michigan Jaguars 02 Green (MI) are still near the top of the Under-14 Red Division standings after playing to a 1-1 draw to open their weekends in Las Vegas. Angelina Fahrenkrug put GBU in front with a fourth-minute tally, but Erica Toupin provided a reply for the Jaguars, as she found the back of the net in the 19th minute. Neither team could solved the opposing defense in the second half, as the match ended in a 1-1 tie. GBU and Michigan are in second and third, respectively, while CUP Gold 01/02 (OH-S) currently sits in first place at 5-0-0.
Under-15
In the Under-15 Blue Division, CUP Gold 00/01 (OH-S) recorded a dominant win on Friday to move within two points of second place. A win on Saturday would clinch a second-place finish for the Ohio side, while Midwest United FC 01 Royal (MI) has already secured the division title.
With Friday's results, Sunrise Sting 00/01 (FL) secured a top-two finish in the Under-15 Red Division. Legends FC 00 (CA-S) and FC Pride 01 Elite (IN) are still contending for the other automatic berth to Nationals, and the two sides meet Saturday in a key matchup.
Under-16
After a tight first half, La Roca Premier PO (UT) pulled away for a 4-0 win over LA Galaxy SB Elite (CA-S) in Under-16 Red Division play. The Galaxy has the best chance of the first half in the early minutes, when just Sydney Sharp got behind the La Roca back line but saw her shot hit the post and stay out. The game remained scoreless until La Roca struck twice just before the hour mark, with goals coming from Marli Niederhauser and Kendell Petersen. The Utah side added pair of late insurance goals by Sammie Murdock and Hailee Atwater to secure the 4-0 victory, which moved La Roca three points from the top two in its division.
In the Under-16 Blue Division, Carlsbad Elite 99 (CA-S) scored a late winner to slip by CUP Gold 99/00 (OH-S) with a 3-2 win. Jocelyn Panduro directed home a 50th-minute corner kick to put Carlsbad up, 1-0. CUP immediately responded when Laurin Uptegrove's well-placed free kick was finished by Kiley Keehan. Sierra Enge put Carlsbad back on top when she hit her shot around the keeper in the 70th minute. But CUP once again had a quick answer, as Olivia Popovich rounded the keeper and slid home her shot from a tight angle. It appeared the teams would split the points, but Tina Oddone volleyed Enge's dangerous corner kick in the final minute and watched her shot fly into the back of the net for the game-winner.
Under-17
Legends FC 98 (CA-S) and Kings Hammer Academy Red (KY) still have work to do in the Under-17 Blue Division after the two sides played to a 1-1 draw on Friday. Sophie Gorman's long strike put KHA up in the 29th minute, but Kristin Breaux pulled Legends even with a goal midway through the second half. Neither side managed to generate a late winner, as they settled for the draw. With the tie, Legends remains in third — just one point back of second place and three points ahead of KHA.
Three-time National finalist YMS Premier Xplosion 98 (PA-E) has already secured the Under-17 Red Division title. Meanwhile, Beach FC 98 Academy (CA-S) picked up a key 4-0 win on Friday to begin its pursuit of idle FC Kansas City Forte Elite (MO), who is currently in second with 16 points. Beach needs at least four points in the final two games to catch the Missouri side.
Under-18
A late rally by Legends FC 97 (CA-S) prevented KHA Red (OH-S) from moving into first place in the Under-18 Blue Division, as the teams tied, 2-2. Mary Tierney found the back of the net in the 19th minute to help KHA head to halftime with a 1-0 lead. The Ohio South side doubled its advantage early in the second half with an Alexandra Powell strike. Legends came close to providing an immediate response but saw an attempt hit the crossbar. The Cal South side did manage to pull within one when Olivia Seddon beat a diving keeper from 25 yards on a shot that flew just inside the left post. In the 89th minute, Legends once again hit the woodwork, but Seddon managed to force the rebound into the net to give her side a share of the points in the 2-2 draw. KHA remains tied with Carlsbad Elite 97/98 (CA-S) in second place, as the Cal South side also drew, 2-2, with Tennessee SC 16 (TN) on Friday.
The Under-18 Red Division title was decided in Orlando, as the MD United Coyotes (MD) secured the crown. January's games also saw NJ Stallions Dynamite (NJ) secure second place in the division.