Jefferson Cup Girls Showcase Weekend Day 2 Recap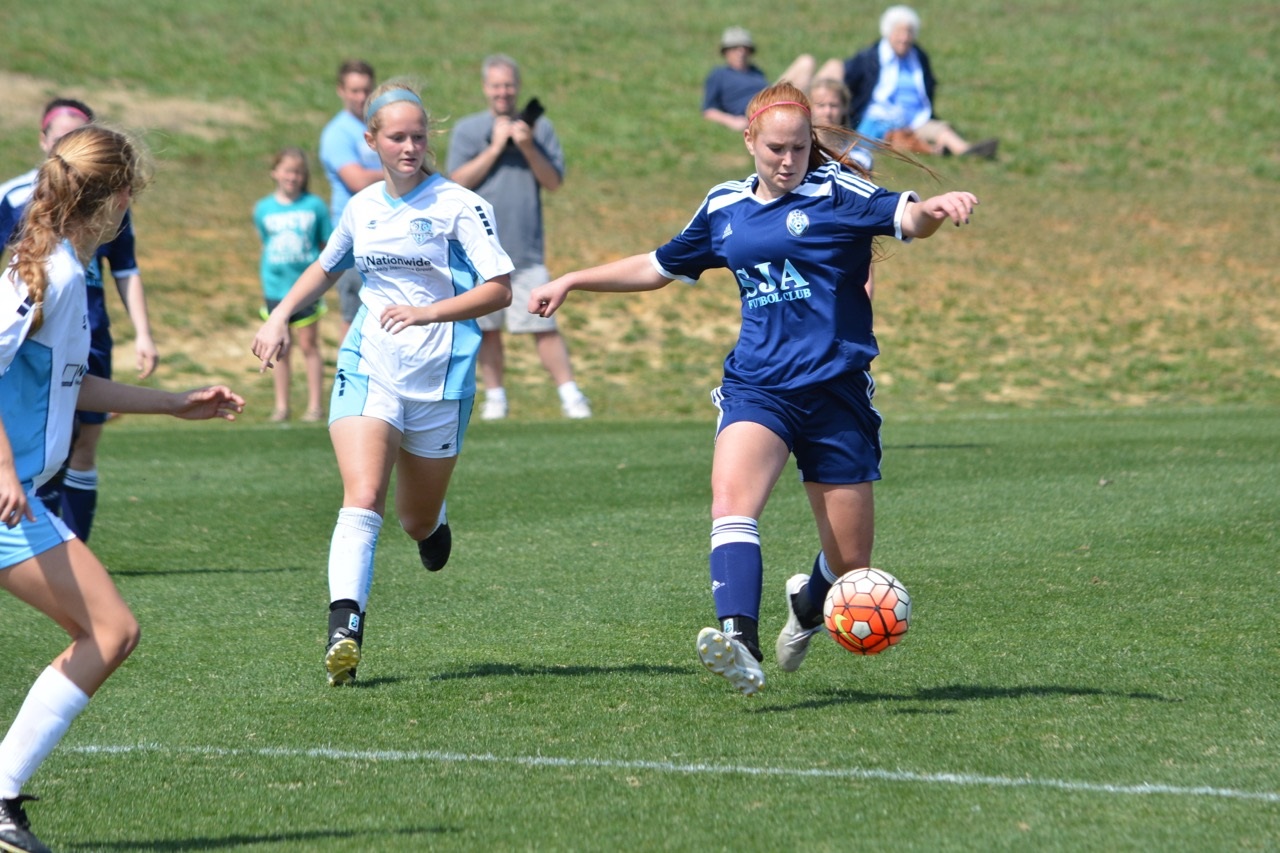 Follow the Jefferson Cup: Twitter | Instagram | Facebook
Championship Division Previews
Girls Showcase: U-15 | U-16 | U-17 | U-18
Jeff Cup 2016 Schedules: Girls Showcase
The Jefferson Cup Girls Showcase Weekend continued with more top notch competition and great weather on Friday, as hundreds of college coaches were on hand to scout the 344 teams in attendance, ranging from the U-15 through U-18 age groups.
+Jeff Cup Girls Showcase Photo Album
See below for a rundown of the action in the Championship Divisions, along with game notes taken from matches throughout the day.
Championship Division Recaps
U-15 Championship Division
None of the eight teams in the U-15 top flight won both of their group games on Friday, as parity was the theme of the day. Spots in the Final coming up on Saturday afternoon will come down to the last round of group play in the morning.
At the end of Friday's action, Bethesda SC ECNL Tempo leads Bracket A with a win and a draw. After opening the weekend with a 1-1 tie against HBC Impact in the morning, Bethesda exploded for four goals in a rout of Princeton SA NPL later in the day. On Saturday morning, Bethesda will face second place Dallas Kicks SC for a spot in the title match. Dallas Kicks, the reigning Texas State Cup champions and US Youth Soccer National Championships finalists, began the Jeff Cup on Saturday with a 1-0 loss to Princeton and a 3-0 win over HBC.
TFC Alliance 00 and PDA Splash ECNL are the leaders in Bracket B both with 1-0-1 records, and will play each other on Saturday morning in a de facto semifinal match. TFC and PDA each won 1-0 decisions and tied in 1-1 results on Friday, displaying tough team defensive efforts throughout the day.
+In their words: Notable quotes from Jeff Cup Girls Showcase Day 1
U-16 Championship Division
PDA Gunners Blue built on their opening day 2-1 win over FC Pennsylvania Strikers with a 2-0 shutout of Florida Krush 99/00 Black on Friday, climbing to the top spot in the U-16 top bracket.
Behind PDA in the standings are five one-win teams log-jammed in the No. 2 through No. 6 spots in the table, led by FC Virginia ECNL at 1-0-1. FC Virginia will face third place Quickstrike FC Elite NPL on Saturday morning in the final round of group play.
Meanwhile, PDA will seek to wrap up the division title and an unblemished record at the Jeff Cup as it closes out the tournament against Cleveland FC.
U-17 Championship Division
Continental FC DELCO ECNL and Richmond United ECNL both advanced to 2-0-0 on Friday, setting up an exciting final round of action on Saturday.
DELCO still has not allowed a goal at the event, following up a 1-0 clean sheet win on Thursday with a 3-0 victory against Annandale United FC on Friday. DELCO will battle NEFC Elite on Saturday morning at West Creek, seeking to finish up undefeated.
After defeating FC Copa 1-0 on Thursday, Richmond United edged out Brentwood SC NPL Freedom 2-1 on Friday. United closes out the tournament on Saturday against New Jersey side STA Morris United.
+Read: Jefferson Cup Girls Showcase Weekend Day 1 Recap
U-18 Championship Division
Five teams enter Saturday's final round of competition with perfect 2-0-0 records, setting up a thrilling finish to the top U-18 flight.
PDA Spurs remains at the top of the table with a 9-0 goal differential following a 4-0 win over Maryland side SAC Premier Showcase Blue on Friday.
Joining PDA with unblemished records entering the final day of the event is Maryland United FC ECNL, PWSI Courage Red, Syracuse Development Academy and Pittsburgh Riverhounds Academy.
Maryland United, PWSI Courage and Syracuse Development Academy each have identical 4-0 goal differentials, while Pittsburgh Riverhounds Academy has outscored its opponents by  combined score of 4-1.
Four of the five undefeated teams will face off with another unbeaten squad in the final round of competition on Saturday. PDA will take on Syracause DA, and PWSI Courage will go up against Pittsburgh Riverhounds Academy at West Creek Complex.
+Read: Jefferson Cup U10-U14 Girls Weekend concludes in exciting fashion
Game Notes
Connecticut FC United ECNL 1, South Jersey Elite Barons NPL 0
U-15 Elite Orange Division
Connecticut FC United ECNL defeated South Jersey Elite Barons NPL 1-0 on Friday morning in a tough defensive battle at Stratton Park.
Hannah Shimura, Josie Horosky, Marissa Giamportone and Cora Creighton anchored a Connecticut back line that shut down a potent SJEB attack which went on to score three goals in its second match of the day.
Goalkeepers Abigail Lucas and Alessandra Augur combined to earn the clean sheet in net for CFC, each turning in a half of shutout soccer.
Caroline Monahan netted the only goal of the match, connecting on a shot from the left side of the box to give her team a lead in the first half, which would be all they needed.
SJEB had an outstanding team defensive effort as well, with Monohan's goal being the only one they allowed over the course of two games on the day. Wayden Ay, Breana Winder, Sophia Spadano and Julianna Capano led the back line against CFC, playing in front of Kristen Guthier, who had a strong game in net.
Greater Binghampton United FC 4, Tennessee SC 3
U-15 Elite Black Division
In a closely-contested match that turned into a track meet in the end, New York side Greater Binghampton United FC emerged with a stunning 4-3 comeback victory.
After going into halftime down 2-0, GBUFC racked up four goals in a 20-minute span during the second half, as Victoria McKnight and her teammates on the attacking side took over the game. McKnight had a hat trick in the second half surge for GBUFC, while also linking up with Rachel Hutchison for a close range goal to tie things up at 2-2. McKnight was simply in the zone as she netted the go-ahead goal just a few minutes later, bolting through the attacking third in a dead sprint and hitting a well-placed shot into the left side netting.
Only a few minutes after that, center back Kristen Fisher set up McKnight for another score, extending the GBUFC lead to 4-2. Tennessee pulled within striking distance in the closing minutes on Hailey Braemer's second goal of the match.
Arlington Comets Red 1, Premier Strikers 1
U-15 Elite Black Division
Reigning Virginia State Cup champion Arlington Comets Red met up with Maryland State Cup champion Premier Strikers in a physical contest that finished in a 1-1 draw.
After a first half largely dominated by the teams' strong defenses, Arlington broke through in the final minute of the period to take a lead into the intermission. Cadyn Westhoff converted a penalty kick to give the Comets a lead, with her shot hitting the underside of the crossbar and dropping just over the goal line. 
The majority of the second half looked exactly like the first, with both teams exchanging impressive defensive stops and some timely saves by both goalkeepers. In the game's waning minutes with Arlington holding onto the slim lead, Premier found an equalizer on a blazing shot from outside the box off the foot of Elyssa Nowowieski.
FC Virginia ECNL 1, PDA Splash ECNL 1
U-15 Championship Division
In a match-up of two playoff-bound ECNL teams, FC Virginia played PDA to a 1-1 draw on Friday afternoon at Stratton Park.
Both teams found the net in the first half, but the second half was dominated by two of the top defenses in the country at the U-15 level. FCV struck first early in the game, as Caitlyn Arroyo won the ball away from the PDA goalkeeper's grasps on a play in the box and knocked it into the net before two incoming defenders could win it away from her.
In the final minute of the first half, PDA scored the equalizer on a long range free kick taken by Holly Burns. She connected on the shot from well outside the box, dropping the high-arching but still powerful shot just under the crossbar.
From there, the impressive back lines clamped down the rest of the match. Goalkeepers Kaitlyn Emmons and Darrian Burnett split the game in net for FCV, behind a back line featuring Macy Monticello, Meaghan Bornholdt, Megan Ogawa, Victoria Powell and Payton Moore, among others, as the team showed its depth and versatility with a host of contributors.
For PDA, Victoria Carnevale, Leanne Engemann, Juliette Pike and Burns held down the back line, while Kristen Obetz had a strong performance in net.
Triangle FC Alliance 1, PA Classics Academy 0
U-15 Championship Division
In another match highlighted by superb defensive play and flashes of prolific offense, Triangle FC Alliance notched a 1-0 clean sheet victory over Pennsylvania East State Cup champ PA Classics Academy.
Sara Moushegian scored the only goal of the contest early in the second half, recovering a rebound on a loose ball after a save made by the PA Classics keeper and hitting it in.
Sylvia Soler nearly broke through on at least two occaisions in the second half as well for Triangle, but ultimately the Classics back line and goalkeeper Kellie Kreider held the North Carolina side to the single goal.
On the other end, the Triangle back line featuring Austen Dellinger, Mackenzie Roach, Alexa Wojnovich and Katherine Hoerner shut down the dangerous Classics attack throughout the match.
Richmond United ECNL 3, Quickstrike FC Elite NPL
U-16 Championship Division
U.S. Youth National Team striker Jordan Canniff put her scoring ability on full display Friday at West Creek, recording a hat trick in Richmond United's 3-1 win over Quickstrike FC Elite NPL, one of the top defensive squads in the nation at the U-15 level.
WNY Flash Academy 3, Jersey United Spartans NPL 1
U-16 Superior Orange Division
The Western New York Flash Academy U-16s rolled to a 3-1 win over McLean as the offense continued its high scoring rate.
Taylor DiMarco played a part in all three goals, scoring one and assisting Meghan Root and Hope Balling on the other two.
Herndon United 1, FC Copa Academy 0
U-16 Superior Orange Division
Herndon United improved to 2-0-0 on Friday and still has not allowed a goal at the tournament following a 1-0 shutout of FC Copa Academy. United's Layne Fadely scored the only goal of the match in the first half, and it would be all her team needed as the defense continued to lock down their opposition.
Pittsburgh Riverhounds Academy 5, New Jersey Rush 1
U-17 Elite Black Division
The Lady Hounds responded from a disappointing 2-1 loss on Thursday despite controlling the game, with a convincing 5-1 win on Friday. With goals from four different players and stellar defensive control throughout, the girls from Pittsburgh put in a total team effort to take the points against a quality NJ Rush NPL side.
Pittsburgh Riverhounds Academy 3, McLean Youth Soccer ECNL 1
U-18 Championship Division
Pittsburgh Riverhounds improved to 2-0-0 with a 3-1 win over McLean on Friday, following up on a 1-0 victory against Richmond United on Thursday. After setting up Maya Watkins for the game's only goal against Richmond, Bailey Cartwright netted a goal of her own in the win against McLean, evening the game at 1-1.  Mikayla Mance and Shawna Zaken each found the net as well on Friday for Pittsburgh, as the team's offense picked up steam throughout the game. They will seek to finish up the event undefeated on Saturday against Virginia State Cup champion PWSI Courage Red.
[player_box id=67800 leftright=right]
Shattuck-St Mary's 4, Richmond Kickers Elite 3
U-18 Superior Black Division
Shattuck-St Mary's and Richmond Kickers Elite played an entertaining back-and-forth affair filled with plenty of goals and near misses in the U-18 Superior Black Division. SSM pushed their U-17 team up into the U-18 age group for this event and carried most of the play through the first half with their pressure eventually paying off when Anna Kuhl combined neatly inside the penalty area with Kallie Clements to put the Sabres ahead 1-0, a led they carried to the halftime break.
[player_box id=67880 leftright=right]
Kickers responded with a flurry of second half chances that were denied by some fine saves from Dana Blessum, but eventually the home team found the back of the net to level the score.
SSM responded almost immediately when Meredith Manson finished off a good solo dribbling effort with a shot the Kickers goalkeeper was unable to hang onto despite her best effort to claw it back before crossing the goal line.
SSM then doubled their lead 10 minutes later. When Kuhl set up Lisa Aasa to make it 3-1 and seemingly give the Sabres a little breathing room. The Kickers showed they would not lie down so easily and from the ensuing kickoff marched straight the field and capped off a great attacking sequence with a goal to bring the score back to 3-2.
With SSM stunned by that response, Richmond took full advantage and quickly leveled the score in a lightning quick counter attack and take full momentum of the game. The Sabres though were able to restore their confidence and get back into the game and reassert some control of possession.
An excellent combination led to a fine stop from the Kickers goalkeeper, however the Sabres were still able to win a corner. Mya Vu served up a fantastic ball to the back post where Kuhl rose up to power home a header for her second goal of the day and what turned out to be the game-winner.