Jefferson Cup U10-U14 Girls Weekend concludes in exciting fashion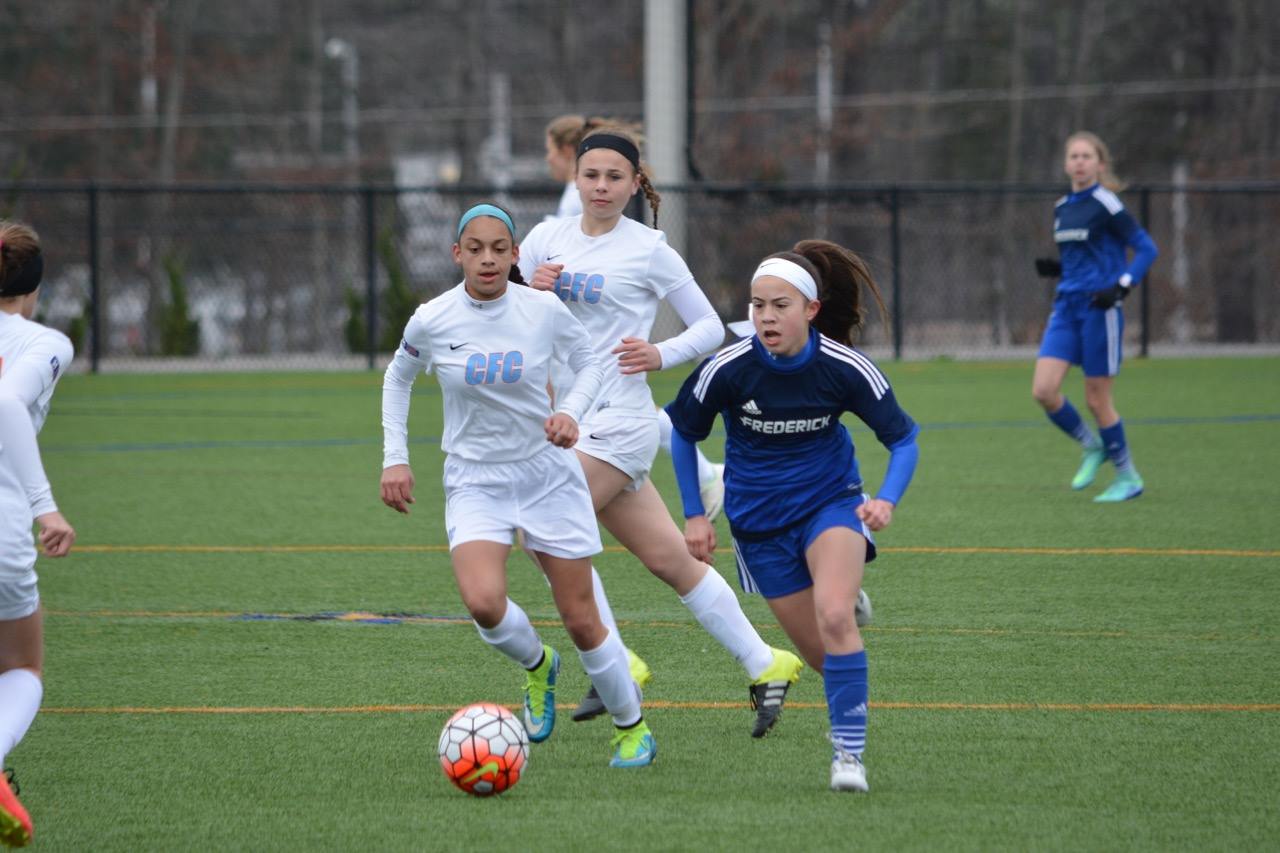 Follow the Jefferson Cup: Twitter | Instagram | Facebook
Championship Division Previews
Girls Showcase: U-15 | U-16 | U-17 | U-18
Jeff Cup 2016 Schedules: Girls Showcase
Champions were crowned on Sunday at the Jefferson Cup U10-U14 Girls Weekend, where teams from around the country played in one of the nation's most competitive tournaments of the year.
Representing the top leagues in the United States, teams from 12 different states earned division titles, and 13 of the 18 states represented at the event advanced to the finals of at least one division.
New Jersey clubs led the way with a total of eight division championships and seven other finalists. A total of 13 Pennsylvania teams went home with hardware, including seven champions and six finalists. Maryland sides earned seven championships and five other trips to the finals, while teams from the host state of Virginia captured six championships and had seven finalists.
+Read: Jefferson Cup U10-U14 Girls Weekend Day 1 Recap
Other states with teams taking home quite a bit of hardware included Massachusetts (4 champions, 2 finalists), North Carolina (3 champions, 5 finalists), South Carolina (3 champions, 1 finalist), New York (2 champions, 6 finalists) and Georgia (2 champions, 4 finalists).
Ohio teams earned a division title and a finalist trophy, while Connecticut and Florida teams each won a division, and one Texas team advanced to the finals.
Some of the top club performances included Continental FC (3 champions) FC Stars of Mass (2 champions, 1 finalist), FC Boston (2 champions, 1 finalist), Bethesda SC (2 champions), CASL (2 champions), Discoveries SC (2 champions), NJ Wildcats (2 champions), Players Development Academy (2 champions), Premier SC (2 champions), Gwinnett Soccer Association (1 champion, 1 finalist), Southern Soccer Academy (1 champion, 1 finalist), World Class FC (1 champion, 1 finalist), host club Richmond Strikers (1 champion, finalist), Beach FC (2 finalists), Triangle FC Alliance (2 finalists) and Carolina Rapids (2 finalists).
+Read: Division titles decided on Sunday at Jefferson Cup Boys Showcase
See below for Championship Division recaps, game notes from several U-14 match-ups and a full listing of champions and finalists.
+Jeff Cup 2016 U10-U14 Girls Weekend Photo Album
Championship Division Recaps
U-10 Championship Division (8v8)
World Class FC 04 X-Treme concluded the weekend with a 1-0 shutout victory against Bergen Bulldogs SC 06 Sky, winning the top flight in the U-10 age group. World Class reached the title match after improving its results in each of its three group matches, building on a 1-0 loss to MD Rush Montgomery to open the event with a 2-2 draw against Concorde Fire North 06, and closing group play with a 5-2 win over Pittsburgh Riverhounds Academy.
U-10 Championship Division (7v7)
Virginia side Old Dominion FC Cesena 05 reeled off four straight wins en route to a division championship at the Jeff Cup, not allowing a single goal along the way. ODFC outscored opponents by a combined score of 13-0, culminating with a 2-0 clean sheet against Arlington SA Freedom Red in the title match.
U-11 Championship Division (8v8)
Contributing to a standout weekend for FC Stars of Mass as a club, the Central United Blue 04/05 squad claimed the top U-11 division title with an explosive offense and a stingy defense, outscoring opponents by a total of 13-2. FC Stars of Mass did not allow a single goal in either of its two games on Sunday, including a 2-0 shutout of Philadelphia SC Coppa Swarm 05 in the Final.
U-12 Championship Division (11v11)
PDA Lyon earned four consecutive shutouts on its way to the U-12 Championship Division title on the 11v11 side, winning challenging matches against teams from North Carolina, Ohio, Massachusetts and Texas. On Sunday, PDA notched a pair of 3-0 wins, defeating Aztec Soccer NPL Leroux (MA) and D'Feeters 04 Black (TX).
U-12 Championship Division (8v8)
Unbeaten in four total games at the Jeff Cup, Northern Virginia squad BRYC 03 Elite allowed only two goals while racking up 12 on the weekend. After compiling a 2-0-1 record in group play, BRYC edged out reigning New Jersey State Cup champion NJ Crush FC Fire 2-1 in the Final.
U-13 Championship Division
After starting group play with a win and a draw on Saturday, Greensboro United 02 Navy went on to defeat Pennsylvania East State Cup champion HMMS Impact Eagle FC 1-0 in its last group match on Sunday morning to earn a spot in the Final. Greensboro then beat Georgia squad Gol Soccer Academy 03 Pre-ECNL by a score of 3-1 in the title match.
U-14 Championship Division
In a U-14 top flight loaded with ECNL playoff contenders as well as powerhouses from the soccer hotbeds of Florida and Northern Virginia, it was PDA Storm ECNL emerging as the champion. PDA won four straight matches each by a margin of just one goal. PDA's stout defense and timely offense took care of business one last time in the Final against East Meadow ECNL Hotshotz, earning a 1-0 win to claim the title in one of the most closely-contested divisions at the entire tournament.
Game Notes
East Meadow SC Hotshotz ECNL 3, FC Virginia ECNL 1
U-14 Championship Division Group Match
Two of the nation's most talented teams at the U-14 level met on Sunday morning at River City Sportsplex in the last round of group play for a spot in the Final. FC Virginia's team-wide technical prowess was on display throughout the match, but ultimately it was the relentless motor of East Meadow on both ends of the pitch that led them to victory, as the Hotshotz netted two goals in the game's closing minutes to pull away 3-1.
East Meadow struck first in the opening half, when Kayleigh Goodrich assisted a Taylor Bryan goal on a play that required nearly flawless precision and timing in the box. Goodrich, running full speed down the left side of the box with an FCV defender on her hip, weaved the pass in between to other defenders to hit Bryan in stride, who then calmly finished in traffic.
Both defenses clamped down for the remainder of the first half, but the scoring opened up again in the second half with three total goals. Just a few minutes into the second half, FCV equalized on a strike from Alexis Theoret.
East Meadow responded with two more goals in the closing minutes, including a shot from an extremely difficult angle into the right netting taken by Goodrich deep down the left side of the box. Not only did East Meadow manage to score three times on an FCV side that has given up three all season in 13 ECNL league matches, but also held the ECNL's highest scoring attack to just one goal.
East Meadow, which leads the ENCL Northeast Division and is ranked 10th in the league's national overall standings, was powered defensively by a deep back line and defensive midfield including Allison Kiernan, Kerry Pearson, Alyssa Vega, Emma Beattie and Kiley Hamou.
PDA Storm ECNL 1, East Meadow Hotshotz ECNL 0
U-14 Championship Division Final
PDA earned its fourth win in two days as it claimed the U-14 Championship Division title, shutting out East Meadow 1-0. Both defenses put forth admirable efforts, with East Meadow holding the potent PDA attack to a single goal, and PDA picking up its third clean sheet of the weekend. Alexa Vegoda, Pearson, Kiernan and Beattie once again played a strong game on the back line for the Hotshotz.
PDA's tough defensive unit featuring Nicole Chico, Caitlyn Leffler and Emily Mason, as well as Madison Taibl in the defensive midfield and goalkeeper Hannah Mitchell anchoring the team in net, proved impenetrable once again as they were able to shut down an imposing East Meadow attack.
Following a scoreless first half, PDA's Madisyn Pilla broke through for the game-winning goal in the second half, corralling the ball near the top of the box, gathering and launching a shot into the left upper-90.
Maryland United ECNL 1, Albertson Fury ECNL 0
U-14 Elite Black Division Final
Maryland United ECNL edged out Albertson Fury ENCL by a score of 1-0 in a physical battle to take home the U-14 Elite Black Division Final on Sunday afternoon. With Sofia Roberts in net and Kale'a Perry, Laila Booker and Emily Armero helping anchor the defense, United preserved the clean sheet against a potent Albertson offense. Meanwhile, after a series of close calls, it was Paige Rosenfeld who broke through for MUFC in the final 10 minutes of match, providing the game-winner on a point blank goal following a corner kick, as she got into position among a crowd of defenders and finished the play.
U-10
Championship Division (8v8)
Champions: World Class FC 05 X-Treme (NY)
Finalists: Bergen Bulldogs SC 06 Sky (NJ)
Elite Division (8v8)
Champions: NJ Wildcats O'Halloran (NJ)
Finalists: HFC United Spirit (MD)
Superior Division (8v8)
Champions: South Jersey Academy FC Chivas (NJ)
Finalists: TFC Alliance CAM 05 Navy (NC)
Championship Division (7v7)
Champions: Old Dominion FC Cesena 05 (VA)
Finalists: Arlington SA Freedom Red (VA)
Elite Division (7v7)
Champions: Bethesda SC Academy Blue 05 (MD)
Finalists: Maryland Rush Montgomery Academy Coyotes Gray 05 (MD)
Superior Division (7v7)
Champions: Reston Blue 05 (VA)
Finalists: Richmond Strikers Jones (VA)
U-11
Championship Division (8v8)
Champions: FC Stars of Mass Central United Blue 04/05 (MA)
Finalists: Philadelphia SC Coppa Swarm 05 (PA)
Elite Division (8v8)
Champions: FC Boston East Elite (MA)
Finalists: Southern SA 05 Elite (GA)
Superior Division (8v8)
Champions: Premier Attack (MD)
Finalists: BRYC 04 Elite (VA)
Platinum Orange Division (8v8)
Champions: NWC Alliance 04 (OH)
Finalists: Hulmeville SC Freedom 04/05 (PA)
​Platinum White Division (8v8)
Champions: CASL 04 Ladies Black North (NC)
Finalists: TFC Alliance CAM 04 Fast Navy (NC)
Classic Division (8v8)
Champions: Baltimore Celtic Dynamos (MD)
Finalists: SAC Premier White 04 (MD)
U-12
Championship Division (11v11)
Champions: PDA Lyon (NJ)
Finalists: D'Feeters 04 Black (TX)
Eilte Division (11v11)
Champions: CASL 03 Jr's Ladies (NC)
Finalists: HMMS Eagle FC 03 Legends (PA)
Superior Division (11v11)
Champions: GOL GSA 04 Red (GA)
Finalists: Massapequa SC NPL 2003 Fury Blue (NY)
Platinum Division (11v11)
Champions: Southern SA 04 Elite (GA)
Finalists: AFC Lightning 03/04 Gold (GA)
Classic Orange Division (11v11)
Champions: Premier SC Storm (MD)
Finalists: Carolina Rapids 03 Burgundy (NC)
Classic Black Division (11v11)
Champions: Discoveries SC 03 Gold (SC)
Finalists: SJA FC Sol (NJ)
Championship Division (8v8)
Champions: BRYC 03 Elite (VA)
Finalists: NJ Crush FC Fire (NJ)
Elite Division (8v8)
Champions: NJ Wildcats Lopez-NPL (NJ)
Finalists: Loudoun 03 Red (VA)
Superior Division (8v8)
Champions: Continental FC Barca 03 (PA)
Finalists: Beach FC 03 Red (VA)
Platinum Division (8v8)
Champions: Bethesda SC Academy Blue 03 (MD)
Finalists: Gunston Premier Red (VA)
Classic Division (8v8)
Champions: CYA 03 Purple (VA)
Finalists: Yardley Makefield Soccer Force (PA)
U-13
Championship Division
Champions: Greensboro United 02 Navy (NC)
Finalists: Gwinnett GSA 03 Pre-ECNL (GA)
Elite Orange Division
Champions: FC Boston ECNL (MA)
Finalists: SUSA Commack Destroyers Academy 02 (NY)
Elite Black Division
Champions: SDFC Rage (NJ)
Finalists: Cherry Hill FC Destroyers 02 (NJ)
Superior Orange Division
Champions: Arsenal Premier Maximus Red (NJ)
Finalists: STA Morris United NPL 02 (NJ)
Superior Black Division
Champions: Continental FC Pre-ECNL 02 (PA)
Finalists: Crew SC Elite (OH)
Platinum Orange Division
Champions: FC Bucks Red Pre-ECNL (PA)
Finalists: TSF Academy 02/03 (NJ)
Platinum Black Division
Champions: FC Stars of Mass NPL (MA)
Finalists: Alleycats 02/03 NPL (NY)
Classic Orange Division
Champions: Levittown Wildcats (NY)
Finalists: North Atlanta SA Elite (GA)
Classic Black Division
Champions: Century United PGH FC 02/03 Gold (PA)
Finalists: FC Copa Academy 02 NPL (NJ)
Classic White Division
Champions: Supernova FC 02/03 Black (PA)
Finalists: United Mt. Pleasant 21 Premier (SC)
Premier Division
Champions: Twin County SA X-Treme 02/03 (NJ)
Finalists: MSC Dragons White (MD)
U-14
Championship Division
Champions: PDA Storm ECNL (NJ)
Finalists: East Meadow ECNL Hotshotz (NY)
Elite Orange Division
Champions: Oakwood SC (CT)
Finalists: FC Frederick 01 (MD)
Elite Black Division
Champions: Maryland United FC 01-ECNL (MD)
Finalists: Albertson Fury ECNL (NY)
Superior Orange Division
Champions: Carolina Elite (CESA) 01 ECNL (SC)
Finalists: FC Carolina Alliance Green (NC)
Superior Black Division
Champions: McLean U14 ECNL (VA)
Finalists: FC Boston North Elite (MA)
Platinum Orange Division
Champions: Harford FC United Thunder (MD)
Finalists: Beach FC 01 Red (VA)
Platinum Black Division
Champions: Tampa Bay United Premier 01 (FL)
Finalists: Beadling SC Elite (PA)
Platinum White Division
Champions: Continental FC DELCO ECNL 01 (PA)
Finalists: FC Stars of Mass NPL (MA)
Classic Orange Division
Champions: Discoveries SC 01 Lady Gold Premier (SC)
Finalists: Carolina Rapids 01 Burgundy (NC)
Classic Black Division
Champions: Richmond Strikers Elite (VA)
Finalists: World Class FC 01 NPL (NY)
Premier Division
Champions: Penn United Force 01 (PA)
Finalists: Pittsburgh Riverhounds Academy (PA)