Jefferson Cup Girls Showcase Weekend Day 1 Recap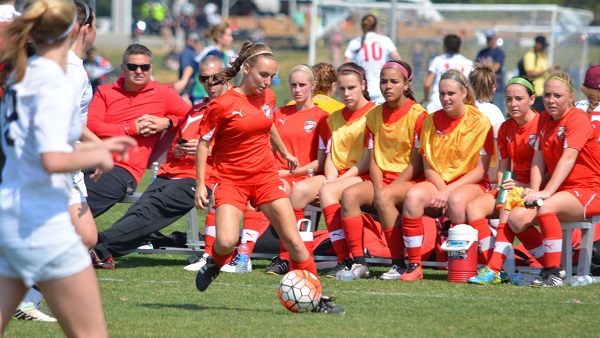 Follow the Jefferson Cup: Twitter | Instagram | Facebook
Championship Division Previews
Girls Showcase: U-15 | U-16 | U-17 | U-18
Jeff Cup 2016 Schedules: Girls Showcase
The Jefferson Cup Girls Showcase Weekend kicked off with picture perfect weather and high level competition on Thursday, as hundreds of college coaches were on hand to scout the 344 teams in attendance, ranging from the U-15 through U-18 age groups.
+Jeff Cup Girls Showcase Photo Album
See below for a rundown of the action in the Championship Divisions, along with game notes taken from matches throughout the day.
+Read: Jefferson Cup U10-U14 Girls Weekend concludes in exciting fashion
Championship Division Recaps
U-16 Championship Division
Quickstrike FC Elite 00 NPL jumped out to an early lead in the U-16 Championship Division with a 3-0 victory against in-state opponent Albertson Fury ECNL. Two other teams – Cleveland FC 99-00 and PDA Gunners Blue – each earned wins on opening day as well, both by 2-1 scorelines and enter Friday tied for second. FC Virginia ECNL 99 and Florida Krush 99/00 Black played to a hard-fought 1-1 draw, finishing the day tied for fourth in the eight-team division.
U-17 Championship Division
Maryland side Bethesda SC ECNL Impact 98 holds a slim lead in tiebreaker points among the four teams that began the tournament with wins on Thursday, thanks to a 3-2 victory over Massachusetts powerhouse NEFC Elite. Brentwood SC NPL Freedom 98, Continental FC DELCO ECNL and Richmond United ECNL each came out on top in one-goal victories as well, in one of the most evenly-matched divisions at the Jeff Cup.
U-18 Championship Division
PDA Spurs have taken over the top spot in the U-18 Women's Championship Division, overpowering Massapequa SC Crush 5-0. Virginia's PWSI Courage 97 also clicked on both sides of the ball, earning a 3-0 clean sheet victory over Carolina Rapids 97 Burgundy. Maryland's SAC Premier Showcase Blue secured a 3-1 win over New Jersey side Match Fit Academy NPL Black 97, climbing to third in the division. Three other teams – Maryland United FC 97 ECNL, Pittsburgh Riverhounds Academy and Syracuse Development Academy – each won their opening matches as well, all by 1-0 scorelines as defense largely dominated the day in this division.
Game Notes
Bethesda SC ECNL Real 3, Toms River FC Everton 2
U-16 Elite Black Division
Maryland side Bethesda SC ECNL Real overcame a second half deficit to earn a thrilling 3-2 win over New Jersey's Toms River FC Everton.
After the teams traded goals in the first half, Toms River took the lead early in the second half on an impressive finish by A'Liah Moore. After juking two defenders, Moore raced deep into the right side of the box and put a move on the goalkeeper, then was able to connect on an open shot from a very difficult angle.
Bethesda was able to equalize on a penalty kick converted by Carolyn Mang, and in the waning minutes, Maddie Tchou netted the game-winner by sliding into a close-range shot that she was able to place out of the keeper's reach.
FC Bucks ECNL 3, PDA Breakers 2
U-16 Elite Orange Division
FC Bucks held off a late PDA surge to secure a 3-2 win on Thursday afternoon at River City Sportsplex.
Bucks netted three unanswered goals to open the scoring, including two in a span of less than 10 minutes at the beginning of the second half. After taking a 1-0 lead into the break, Kelly Moss found the net on a close-range strike just two minutes into the second period, beating the PDA defense to a rebound following a tough save by PDA goalkeeper Rylee Wernoch.
Only a few minutes later, Kate Henesey extended her team's lead to 3-0, connecting on a shot from a tough angle along the right side of the box, angling it past the charging goalkeeper.
Henesey's goal would prove to be necessary for FC Bucks to come out on top, as PDA stormed back for a pair of goals late in the contest.
Dakota Fiedler put PDA on the board, converting a powerful free kick which hit the underside of the crossbar, but still crossed the plane. The comeback attempt for PDA continued just moments later, as Carissa Eckel finished off a quick run with another goal. From there, Bucks held strong in the final minutes and emerged with the win.
NJ Stallions Stampede NPL 3, Alleycats SC NPL 0
U-16 Elite Orange Division
Standout performances on both ends of the field carried NJ Stallions Stampede NPL to a 3-0 clean sheet victory over Alleycats 99/00 NPL in an afternoon contest at River City scouted by a wide range of college coaches.
The potent NJ Stallions attack showed put the team ahead for good early, as Jamie Walton and Kayla Afflitto each netted first half goals.
On the defensive end, the Stallions back line of Hannah Busch, Corinne Kropas, Daria Wendell and Elaine Lewis was solid throughout the contest, swarming the ball, winning possession and starting runs the other way. Maya Greenstein earned the shutout in net.
Bethesda SC ECNL Impact 3, New England FC Elite 2
U-17 Championship Division
Thursday afternoon's Championship Division match between New England FC and Bethesda ECNL was a match pitting two sides that play a beautiful brand of soccer.
Both have strong organization, communication, and plenty of individual skill that drew college scouts in large numbers. Bethesda came out on top 3-2 despite NEFC looking really comfortable for long stretches. One goal for NEFC was a truly world class free kick by Emily Longo from 22 yards in the left-central channel. Longo picked the only spot left on the goal, driving a low rocket easily to the right of the four-player Bethesda wall and finding net inside the right post.
WNY Flash Academy 3, NJ Crush FC Charge NPL 3
U-17 Elite Orange Division
Western New York Flash Academy played NJ Crush FC Charge NPL to a 3-3 draw at West Creek Park in a morning contest on Thursday.
Marissa Birzon had a standout performance for Flash Academy, netting two of the team's three goals, and Maddie Pezzino scored as well in the draw.
Cape Coral Cyclone Black 4, Mt. Laurel United Flash 0
U-17 Superior Orange Division
Tori Kowalczyk and Victoria Mayo each had a brace as Florida side Cape Coral Cyclone Black was firing on all cylinders against Mount Laurel United Flash in a 4-0 victory. 
SAC Premier Showcase Blue 3, Match Fit Academy FC NPL Black 1
U-18 Championship Division
Playing in her first game since recovering from knee surgery, Ally Rudy had an outstanding performance in a 3-1 win for SAC over Match Fit Academy on Thursday, scoring two of the team's three goals. Her teammates looked her throughout the match, helping her get back to form as she played without missing a beat.
PDA Spurs 5, Massapequa SC Crush NPL 0
U-18 Championship Division
In this U-18 Championship Division game between PDA Spurs and Massapequa SC, it was all PDA in the cross-border rivalry.
Of particular note were two quick goals by forward Morgan Morocco and the uber-versatile Sarah Gibson who plays pretty much every position for the Spurs. The first saw Morocco pick up the ball near midfield, slice through multiple defenders and fire home from the edge of the area.
The second was a perfectly executed corner kick where Gibson was sent forward from her central defender position at the time. She timed her run and jump perfectly to make a difficult play look easy in smashing home her header.
Syracuse Development Academy 1, McLean Youth Soccer ECNL 0
U-18 Championship Division
Thursday's game between McLean and SDA in the U-18 Championship Division was a good exhibition of quality team soccer peppered with outstanding individual performances.
SDA came out on top 1-0 thanks to an early rare mistake by McLean in defense when a soft pass was picked off by Niagara University commit Hailey Bicknell, who slotted home from close range. McLean fought back throughout the match, with the most dangerous chances occurring repeatedly down the right flank where the speed and power of Duke bound and U.S. Youth National Team regular Mia Gyau was a major challenged for SDA, but they were able to hold on with a calmness and positive intent in possession rarely seen at the youth level.
Montgomery United SC Black 1, Richmond Kickers Elite 0
U-18 Superior Black Division
After 79 minutes and 50 seconds of scoreless soccer highlighted by imposing defensive units on both sides, Montgomery United SC's Angela Gervassi beat her defender to make a left-footed cross to Tara Sheridan, who volleyed off the bottom of cross bar and into the net with 1 second to go, lifting her team to a 1-0 win over the hometown Richmond Kickers.
SDFC Liberty 4, Lehigh Valley United 1
U-18 Superior Black Division
With only 11 active players for the tournament due to recent injuries, SDFC Liberty faced an uphill struggle into the wind with no subs in the first half.
Trailing 1-0 at halftime, the Liberty turned it up in the second half, scoring four outstanding team goals.
Notably, center back Jadyn Herry was able to shut down the Lehigh attack in the second half, limiting their most dangerous player to only one shot, and funneling the ball forward for the midfielders to create scoring opportunities. Ending the game with only 10 on the field due to a player illness, the Liberty truly put in a team effort to grab the win in the opening game.