Iowa State soccer adds 10 student-athletes for upcoming season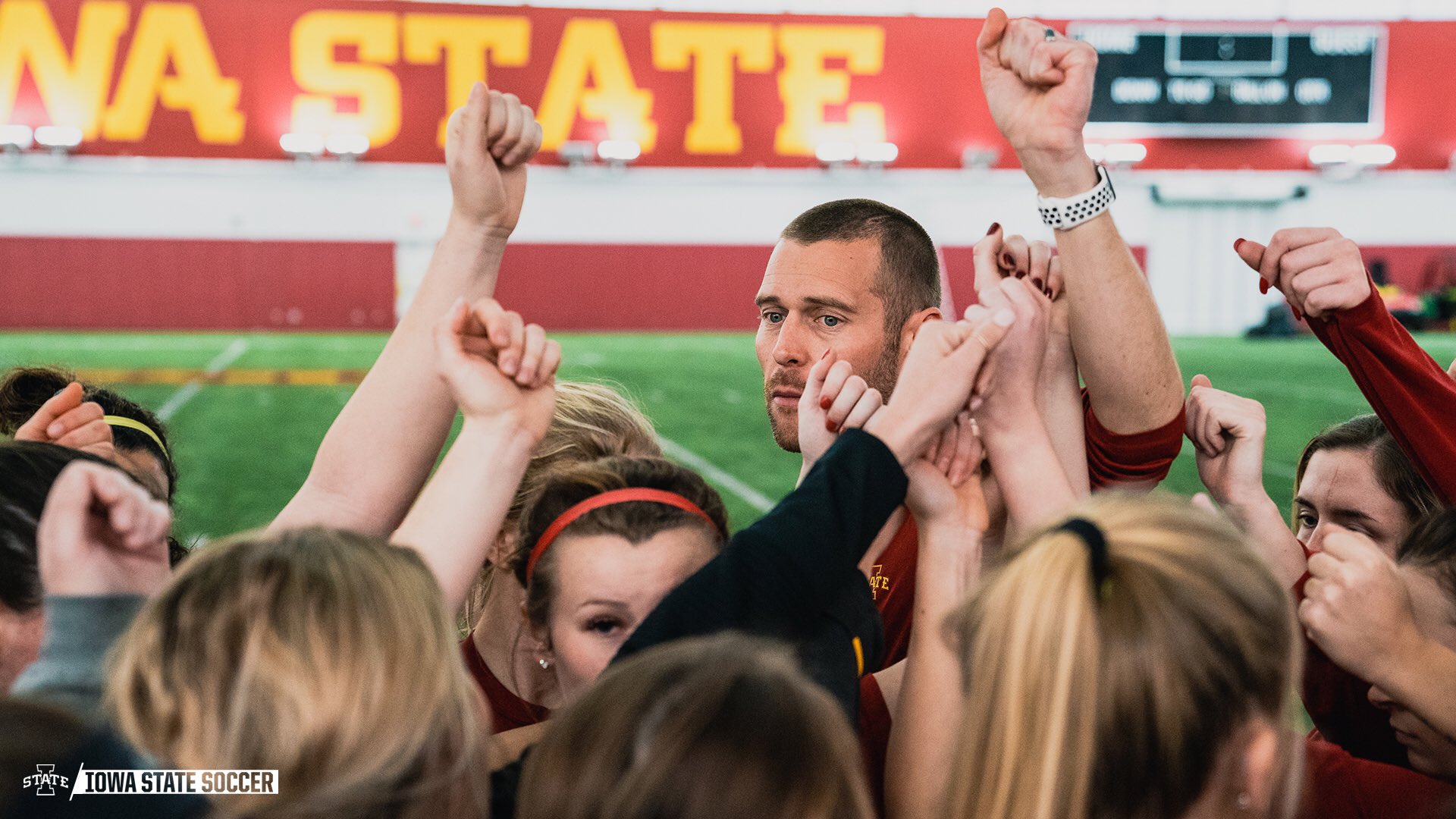 AMES, Iowa – The Iowa State soccer program and head coach Matt Fannon announced on Friday the program's complete 2020 class, set to join the team this fall.
Cora Anderson, Isabelle Barmore, Meghan Carl, Olivia Edwards, Grace Guidry, Paige Moore, Elin Persson, Schuyler Riese, Hannah Shaw and Jordan Silkowitz are the new Cyclones, and are set to arrive on campus for the 2020 season. Silkowitz, a goalkeeper, comes to Iowa State as a transfer from Ohio State, while the remaining nine are prep signees.
The Cyclones bring in talent from across the nation, as well as internationally. Signees from California, Colorado, Iowa, Illinois, Nebraska, Oklahoma, Virginia and Wisconsin are included in the class. Iowa State also signed Elin Persson, a native of Bjärred, Sweden, who is set to become the program's first international player since 2003 (Arlene Samuel).
"We are very excited about the future of our program knowing the qualities of our 2020 class," Fannon said. "We have an eclectic group of wonderful young women with quality in positions all over the field."
Here's a look at Iowa State soccer's incoming additions:
Cora Anderson
Hometown: Burlington, Wis.
Position: Goalkeeper
High School: Burlington
Club Team: FC Wisconsin (ECNL)
Cora Anderson joins the Cyclones following an outstanding prep career at Burlington High School. The goalkeeper is a three-time first team all-conference selection and tallied 26 shutouts in 55 career games played while helping her team to a pair of regional championships. Anderson, a National Honors Society member, was also a four-time letter winner for the Burlington football and basketball teams.
Anderson on why she chose Iowa State: "I chose Iowa State because I fell in love as soon as I walked on campus. The campus is beautiful, the soccer environment is very welcoming and it is a great school for what I want to go into (biology major). It also is not far from home and has a great atmosphere."
Isabelle Barmore
Hometown: Waunakee, Wis.
Position: Midfield
High School: Waunakee
Club Team: Madison 56ers (ECNL)
Isabelle Barmore is one of two talented preps from the state of Wisconsin in Iowa State's 2020 class. Barmore tallied nine goals and 17 assists in her final two seasons at Waunakee High School en route to being a two-time all-conference selection. Barmore was also a honorable mention all-state honoree in 2019. She is a two-time state ODP selection, and a member of the National Honors Society.
Barmore on why she chose Iowa State: "I chose Iowa State for many reasons. I fell in love with the campus, atmosphere, and size of the school. Iowa State has strong academics and athletics, where I know I will be challenged both in the classroom and on the field."
Meghan Carl
Hometown: Sycamore, Ill.
Position: Forward
High School: Sycamore
Club Team: Sockers FC (DA)
Carl, a native of Sycamore, Ill., signs with Iowa State after a promising club career playing with Eclipse Select and Sockers FC. Carl helped Eclipse Select to a State Cup Championship in 2016, as well as three appearances in the ECNL National Playoffs. Carl also helped Sockers FC to the DA National Playoffs in 2019 and 2020.
Carl on why she chose Iowa State: "I chose Iowa State because the campus, the facilities, and the atmosphere are all amazing! Going through the recruiting process, I could see that the culture of the soccer program was a perfect fit for me."
Olivia Edwards
Hometown: Irvine, Calif.
Position: Defender
High School: Woodbridge
Club Team: Slammers FC (ECNL)
Edwards comes to Iowa State from Irvine, Calif., but grew up a Cyclone legacy as the daughter of former ISU volleyball standout Heidi Rodgers. Edwards played club soccer with Slammers FC, and was also selected to tryout for the Olympic Development Program.
Edwards on why she chose Iowa State: "I decided to continue my education and soccer career at Iowa State University because I have a deep appreciation for Cyclone Nation. My parents attended Iowa State and have raised me to be a Cyclone for my entire life. When I went on my visit, I immediately made my decision.  The university is committed to their student-athletes, their top-of-the-line facilities and there was no question that Iowa State was the right choice for me."
Grace Guidry
Hometown: Council Bluffs, Iowa
Position: Midfield
High School: Lewis Central
Club Team: Sporting Omaha FC (DA)
Grace Guidry joins the Cyclone program as one of the top prep players in the state of Iowa. Guidry was twice an all-state selection and a two-time 2A state champion at Lewis Central. She amassed 28 goals and three assists in 2018 en route to being named the City Player of the Year.
Guidry on why she chose Iowa State: "My love for Iowa State first began at the summer camp before my freshman year of high school. I didn't even know I wanted to play college soccer at the time. After that camp I knew that soccer is my everything, and Iowa State was the best place to continue what I love."
Paige Moore
Hometown: Fort Collins, Colo.
Position: Defender
High School: Liberty Common
Club Team: Arsenal Colorado
Moore comes to Iowa State from Fort Collins, Colo., where she was a two-time all-conference selection and scored 12 goals with seven assists as a defender in just two years of high school soccer. She then transitioned to focusing solely on club soccer with Arsenal Colorado, where she was a club team captain all four years.
Moore on why she chose Iowa State: "I chose Iowa State because not only does it have a competitive sports program, strong academics, and a beautiful campus, it has the community and support of a family. I knew it would allow me the opportunity to have the best possible college experience. I could not be more excited to spend the next four years growing with such an amazing group of people and building a solid foundation for the rest of my life."
Elin Persson
Hometown: Bjärred, Sweden
Position: Midfield
High School: Polhemskolan HS
Club Team: Borgeby FK
Persson is the first international signee of the Matt Fannon era at Iowa State, joining the Cyclones from Bjärred, Sweden. Persson helped her Borgeby FK squad to the 2016 Swedish Championship, as well as Swedish indoor titles in 2016 and 2018. She also helped the club to the Gothia Cup in 2017.
Persson on why she chose Iowa State: "One of the main reason why I chose Iowa State is because the head coach and the staff are very friendly and we came along very well. They all seemed very dedicated toward their job and you can tell that they think it is important to have a team spirit. The team seems very friendly as well and I got a feeling that they all take care of each other, like a family, which is an important aspect for me. The campus is also really impressive and I have never seen something similar to that before. I can't wait be a part of the team, most importantly be a part of the Cyclone family."
Schuyler Riese
Hometown: Lincoln, Neb.
Position: Defender
High School: Lincoln Southeast
Club Team: Sporting Omaha FC (DA)
Riese joins the Cyclones after a promising club career with Sporting Omaha FC, where she was a four-year team captain. She helped the club to a pair of Nebraska State Cup Championships (2017, 2018), as well as being a national championships qualifier in 2017. Riese played just one season of high school soccer at Lincoln Southeast, and was named all-conference and all-city.
Riese on why she chose Iowa State: "I chose Iowa State because from my first visit, I knew it was going to be a home away from home. The athletic environment is something that I wanted to be part of because every player is challenged to not only succeed on the field at the highest level, but off the field at the highest level as well. The atmosphere on campus is extremely welcoming, which is what made me fall in love with the school. I'm excited to be a Cyclone!"
Hannah Shaw
Hometown: Tulsa, Okla.
Position: Midfield
High School: Bixby
Club Team: TSC Hurricane 02 (ECNL)
Hannah Shaw comes to Iowa State from Bixby, Okla., where she was three times selected a member of the Tulsa World All-World Girls Soccer Team. She earned three all-district and all-conference designations, and scored 10 goals with eight assists as a junior. She also helped TSC Hurricane 02 ECNL to a 2018 ECNL Champions League qualifier.
Shaw on why she chose Iowa State: "I was raised in the Big 12 and always dreamed of playing in the Big 12, but I didn't want to stay close to home. I wanted a quality education, cold weather with lots of snow, and a family-like team environment. During my first visit, I fell in love with the campus, instantly felt a connection to the team and knew I could call it home. Iowa State has everything I've dreamed of plus more!"
Jordan Silkowitz
Hometown: Fairfax, Va.
Position: Goalkeeper
Previous School: Ohio State
High School: W.T. Woodson
Club Team: McLean Youth Soccer (ECNL)
Silkowitz comes to Iowa State as a transfer from Ohio State, where she was a Big Ten All-Freshman Team selection in 2019. After redshirting in 2018, Silkowitz saw action in all 18 matches last season, making four starts in goal. The Fairfax, Va., native posted a 1.32 goals-against average and tallied 58 saves on the year. In her first career start, Silkowitz tallied a season-high seven saves vs. Louisville on Aug. 22. The native of Fairfax, Va., was a part of five clean sheets and made eight scoreless appearances.
Silkowitz on why she chose Iowa State: "I chose Iowa State because it is a highly-respected academic institution with a top athletic program that will provide me with the opportunity to learn from some of the best coaches in the country and work with my teammates to achieve new milestones for Iowa State's soccer program. I am very excited to get to Ames and get to work!"