Syracuse University women's soccer unveils 9-player recruiting class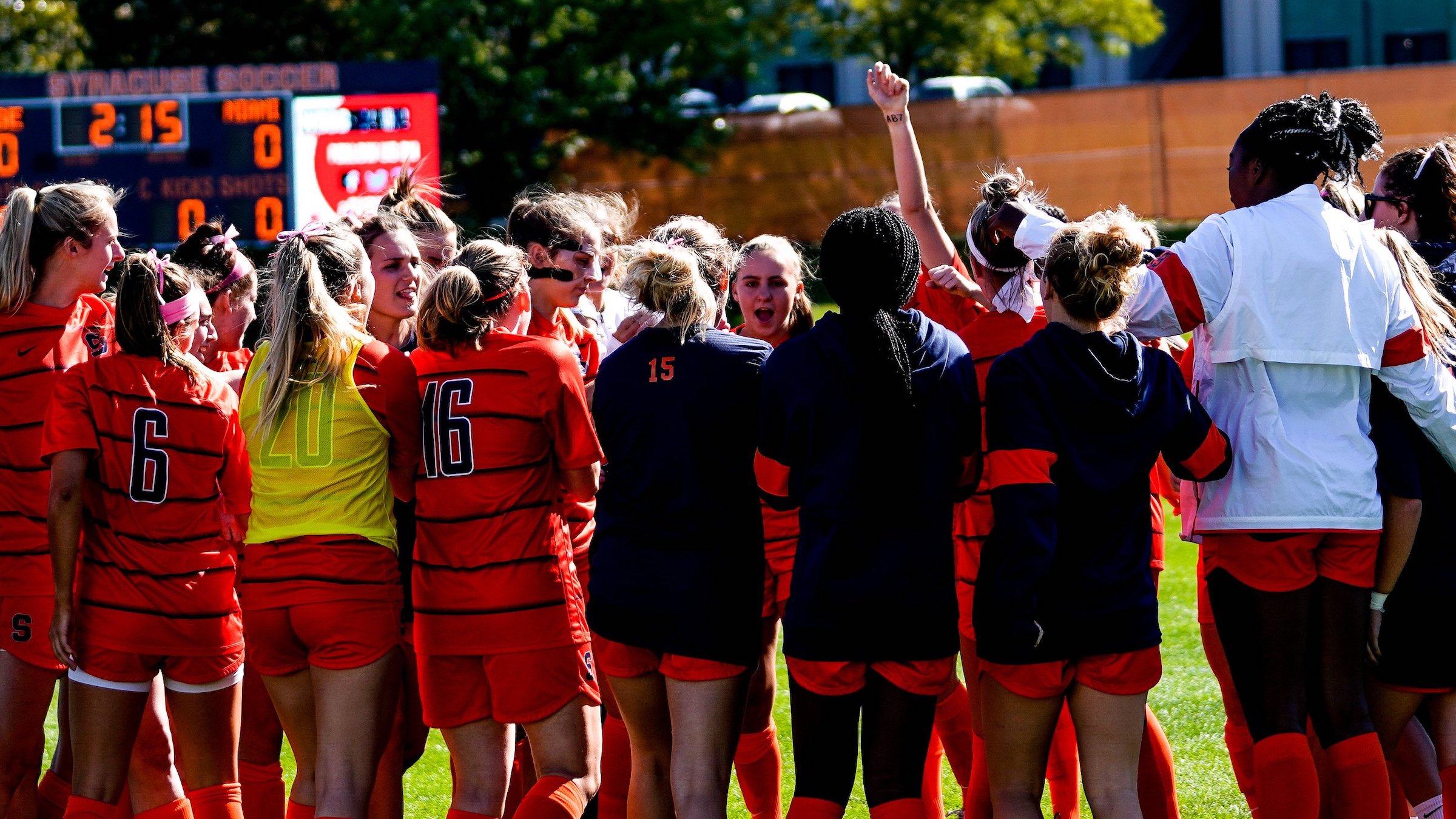 SYRACUSE, N.Y. – The first signing class of the Nicky Adams era is here, as the Syracuse University women's soccer program unveiled a 9-player recruiting class on Monday.
The class includes Aysia Cobb, Olivia Erlbeck, Carina Hendley, Raia James, Lauren Jewett, Kate Murphy, Hannah Pilley, Telly Vunipola, and Natalie Weidenbach. The nine signees round out Adams' 11-person signing class. Syracuse previously announced Alina Miagkova and Lindsey Brick's signings in January. The class represents six states and three countries, and includes five transfers.
"We are thrilled to be adding such a large diverse group to our team this fall," Adams said. "With the combination of incoming freshman, transfers and grad transfers, we feel this group will help continue the standards and expectations we have set here at Syracuse.  We have high expectations of our team this fall and are eager to get everyone together and get started."
Aysia Cobb | Forward| Plantation, Fla. ( South Plantation)
Cobb registered 40 goals and six assists in her high school career, earning Broward 5A-4A girls soccer First Team honors during the 2017-18 season. She earned back-to-back South Plantation Girls Soccer Offensive Player of the Year awards (2016-17,2017-18) and was league MVP for the 2017-18 season. Cobb participated in DECA in high school and was the class president and chapter secretary. She was also a member of the National Honor Society and Aquarium Society.
"I chose Syracuse because it's a world -class institution with an amazing campus atmosphere," Cobb said. "Every student, regardless of if they were athletes or not, had genuine school pride and that's not something you get everywhere. The academics are what initially peaked my interest in the school, but it was the soccer program that sold me. Coach Adams, Madsen, and Warren were all welcoming and made Syracuse soccer feel like a family."
Olivia Erlbeck | Midfield | San Diego, Calif. (Duke)
One of five transfers joining the Orange in 2020, Erlbeck comes from Duke where she saw action in 42  contests with the Blue Devils. She registered eight points at Duke and participated in the U-17, U-19 and U-20 U.S. National Team training camps. Erlbeck will attend Syracuse alongside her brother Blake who begins his lacrosse career at 'Cuse this fall.
"I've decided to use my fifth year of eligibility at Syracuse University because the style of soccer, the coaching staff, and the forensic science program all fit with what I was looking for in continuing my soccer career while furthering my education," Erlbeck, who's pursuing a master's in forensic science, said. "When I met coach Adams, the assistant coaches, and all the girls, I felt an immediate connection with them and knew that Syracuse was the place for me."
 Carina Hendley | Forward | Irvine, Calif. (Rutgers)
Hendley registered five goals and three assists in 43 games (980 minutes) at Rutgers and was a three-time Academic All-Big Ten honoree. With Hendley's assistance, the Scarlet Knights went 51-15-19 (25-7-12 B1G) over the previous four years.
"Syracuse University is beautiful, and the team's culture really drew me in," Hendley said. "I instantly felt welcomed and can't wait to join the family."
Raia James | Midfielder/Forward | Ballston Lake, N.Y. (Burnt Hills-Ballston Lake High School)
James competed on both the varsity soccer and track teams at Burnt Hills-Ballston Lake High School. She started on the junior varsity soccer squad where she registered 15 goals and 15 assists. On varsity she shuffled between the midfield and defense, scoring 11 goals and nine assists, with two goals and three assists coming during her senior year. James helped her team become Section 2 Class A semifinalists in 2019. In track, she ran the 100, 200, 400, 4×1, 4×2, and 4×4 and attended the 2017 NYS Track Championship and 2018 Nationals.
"I chose Syracuse University because it felt like home the moment I stepped on campus," James said. "I am excited to continue my education. I know that I will be learning from experienced and passionate coaches, and I'm looking forward to being both a productive student and contributing member to an amazing soccer team."
Lauren Jewett | Midfield | Long Beach, Calif. (Los Alamitos/Slammers FC)
Jewett comes to Syracuse from Long Beach, Calif. where she helped Los Alamitos High School and Slammers FC collect multiple accolades. A four year letter-winner, Jewett helped Los Alamitos go 96-15-13 in the Surf League, scoring three goals and six assists her senior year. She was a midfielder for Slammers and helped them win the Far West Regional Champion title in 2018. In 2019, Jewett and Los Alamitos came in second place in the So Cal CIF Division 1 and State finals. Jewett was a 2019-20 First Team All-Surf League selection and earned a spot on the Press Telegram All-Area Dream Team. She was also invited to the 2020 Adidas/Niky's High School All-Star Soccer Showcase but the event was canceled.
"I chose to go to Syracuse because I fell in love with everything the University had to offer," Jewett said. "The school pride, the team's family-like atmosphere, the competitive athletic and academic environment, and knowing that this school will challenge me on and off the field were all things I really valued about Syracuse. Because of how welcoming Coach Adams was and all the support the administration has already shown us, I am proud to be able to say 'Go Cuse!' and join this new family."
Kate Murphy| Defender | Plano, Texas (Ursuline Academy of Dallas)
Murphy joins Syracuse following an impressive senior season at Ursuline Academy that featured the 5-foot 7 defender recording three goals and six assists, helping her school become district champions. Murphy earned 2019-20 Second Team All-District honors and attended the 2019 ECNL Nationals.
"I chose Syracuse University because I love the school and the academic opportunity," Murphy said. "The women's soccer program has a highly competitive atmosphere and will allow me to become the best version of myself on and off the field."
Hannah Pilley | Forward | Auckland, New Zealand (Baradene College)
Pilley played over 100 games throughout her four years at Baradene College and split time playing for Eastern Suburbs in the Premier Team League. With her assistance, Baradene won back-to-back national championships (2018, 2019). Pilley earned the Golden Boot in 2018 for scoring 13 goals in Baradene's title run. Baradene were also Auckland League and APC Knockout Cup Champions in 2019, and her club team won the NRFL and Kate Sheppard Cup in 2019.
"I chose Syracuse University because of the great athletics, academics and culture," Pilley said. "I had a gut feeling from the start that this is the place I wanted to attend, and competing in such a strong conference as the ACC will certainly challenge me to become a better soccer player every day. People I talked with who are familiar with Syracuse couldn't speak more highly of it. I am beyond excited to join the team."
 Telly Vunipola | Midfield | Chino, Calif. (Louisiana)
Vunipola comes to 'Cuse after two seasons with Louisiana where she scored three goals and two assists. In her sophomore season, Vunipola started all 20 matches, logging 1,557 minutes. Her two goals came against Northern Illinois and Little Rock. Vunipola comes from an athletic family and has relatives who have played for Fresno State, Loyola Marymount, San Diego State and the Baltimore Ravens.
"I chose Syracuse because I feel that it will be a great place for me to grow as a student, a player, and as a person," Vunipola said.
Natalie Weidenbach | Defender | North Bend, Wash. (Texas)
Weidenbach joins the Orange after three years as a reserve defender with Texas. Her club career with Eastside FC included four Washington State titles (2014-17) along with 2016 and '17 US Youth Soccer Region IV titles.
"I chose Syracuse because I saw what Coach Adams was building toward with the program and I wanted to be a part of it while also having access to the unparalleled academic opportunities that the University offers," Weidenbach said.
Lindsey Brick | Defender | Gaithersburg, Md. (Quince Orchard)
Original signing release
Brick helped Quince Orchard win 45 games and claim three regional championships over the last four years. With Brick's assistance, the school also reached the state semifinals in 2017 and state quarterfinals in 2019. As a 2018 team captain, Brick helped anchor a defense that allowed just six goals all season – a school record for lowest goals-against. Recording 11 goals and four assists in her career, Brick earned First Team All-State in 2018 and 2019, and Second Team All-Met in 2018.
"Syracuse has been my dream school ever since my alumni parents started taking me to Orange basketball games when I was 7 years old," Brick said. "As I grew older and decided my goal was to play soccer in college, I never gave up on my dream of going to Syracuse. I'm eager to become a productive member of the Syracuse University community, contribute my athletic abilities on the field, and earn a degree at a university I'm passionate about."
Alina Miagkova | Defender | Lipetsk, Russia (Central Michigan)
Original signing release
Miagkova competed at Central Michigan last season where she made 11 starts in 13 games with the Chippewas, scoring three goals and assisting in another. She was called up to the Russian National Team mid-year for its September 3 match against Estonia where she scored the final goal of a 4-0 shutout in Moscow. She earned another call up in March where she helped Russia top Kosovo 5-0. Miagkova started her academic career at Syracuse in January.
"I'm excited about the opportunity to play soccer at the highest level while earning an education from such a quality university," Miagkova said.
For complete coverage of Syracuse women's soccer, follow us on Facebook (Syracuse Women's Soccer), Twitter (@CuseWSOC) and Instagram (@CuseWSOC).