Wake Forest women's soccer unveils 9-player signing class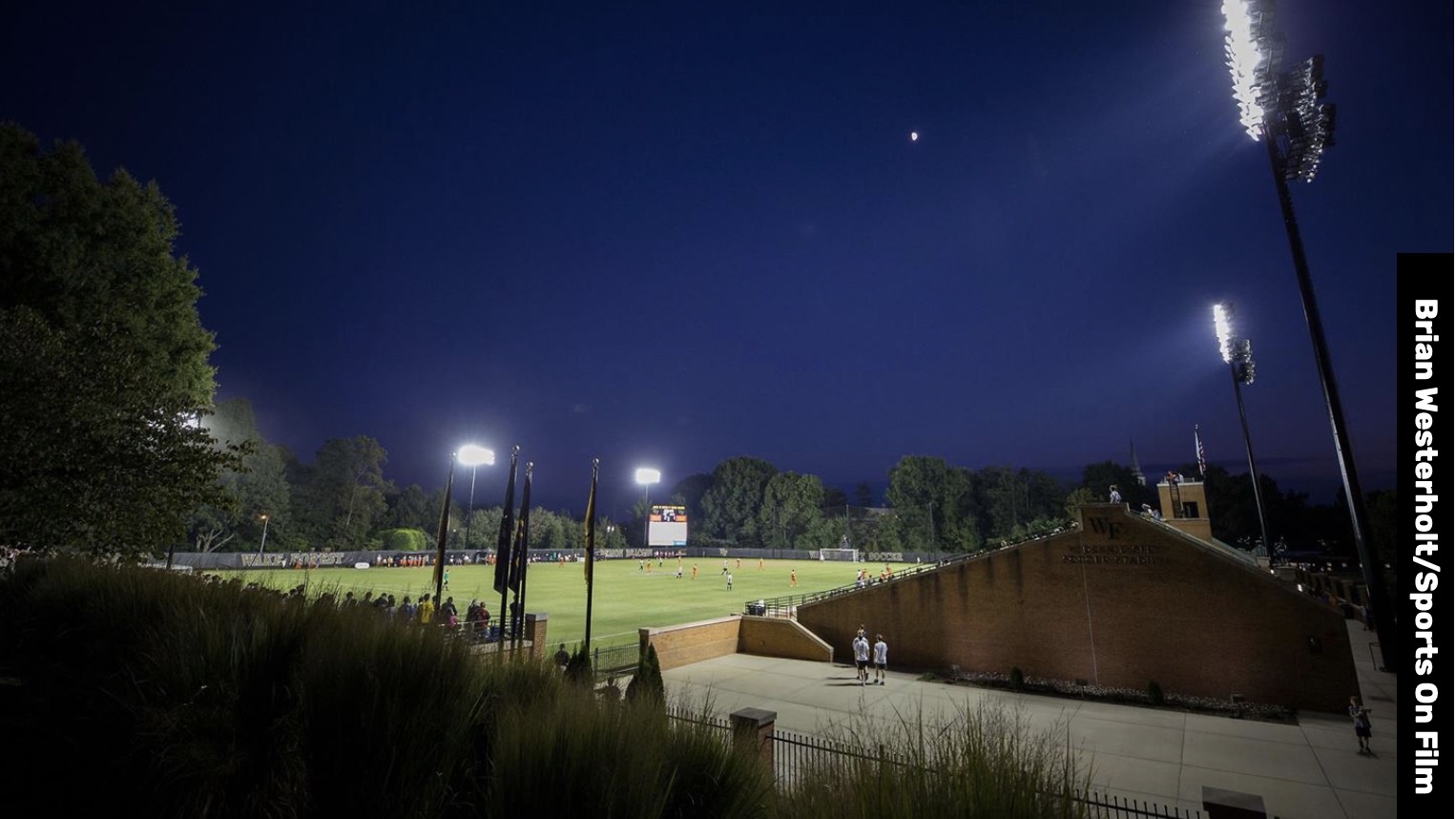 WINSTON-SALEM, N.C. – Head coach Tony da Luz has announced the Wake Forest women's soccer program's 2020 signing class, featuring nine incoming Demon Deacons.
"I can't wait to start working with this talented class of players. I know they are all hungry to establish themselves and carry on our tradition of doing things the right way," Da Luz said. "This 2020 class has a great blend of talent, versatility, speed, athleticism and soccer instincts. They will improve our team on all lines and will keep our returning players honest. I expect that this quality group of young players will make their positive presence felt right away on the field, in the classroom and in the Wake Forest Community."
Through 2019, da Luz holds a 263-173-48 record at Wake Forest, with his 263 wins ranking third among coaches of ACC programs since the conference first recognized women's soccer in 1987. He is one of only 10 coaches in Wake Forest history across all sports to win 200 games at the helm of the Demon Deacons. Under da Luz's guidance, Wake Forest has earned a bid to the NCAA Tournament in 19 of his 23 seasons.
This year's class features one goalkeeper, two defenders, four midfielders, and two forwards.
Faith Adams | Midfield | Charlotte, N.C.
Faith played three years of varsity soccer at Weddington High School where she was a three-time All-State player and two-time All-American. She was selected to the ODP international travel team in 2018 and 2019. She also participated in the ODP Boca Raton Interregional event in 2016 and 2018 and was invited to the ODP National Training Camp in Phoenix, Ariz. in 2016. She played club soccer for Charlotte Soccer Academy DA under coach Brian Moore and won the U19 USYS National Championship in 2017.
Da Luz on Adams…
"Faith is a central midfielder with a brilliant soccer IQ. She sees the game in advance and plays well under pressure, a clever passer who is capable of scoring from distance. I expect Faith to transition quickly into the ACC and have an impactful freshman year."
Sophie Faircloth | Midfield | Winston-Salem, N.C.
Faircloth played three years of varsity soccer at Reagan High School where she tallied 45 goals and 16 assists. She was a three-time All-Conference selection and two-time All-Region and All-State selection. During her sophomore season she was named the Central Piedmont Conference Offensive Player of the Year. She played club soccer for NC Fusion ECNL under coach John Pardini and was a Mid-Atlantic All-Conference selection. Her sister Spencer currently runs track and cross country for Wake Forest.
Da Luz on Faircloth…
"Sophie plays with a fierce competitive edge; she covers tons of ground in midfield and has a knack for scoring big goals. She will primarily play in midfield but is capable of playing on the back line as well. She is also a monster on free kicks, scoring often and putting the ball in really dangerous areas. Sophie has grown up at Spry and is ready to compete for a starting position."
Madison Howard | Goalkeeper | Greensboro, N.C.
Howard played three years of varsity soccer for Greensboro Day School where she was a two-time MVP, two-time All-Region selection, and two-time All-State selection. She was a three-time All-Conference selection as well. During her junior season she was the Conference Player of the Year. Her team was also back-to-back conference champions in 2018 and 2019. She was an All-Conference and CSP selection for her club team, NC Fusion ECNL under coach John Pardini.
Da Luz on Howard…
"Maddie will compete for time at the goalkeeper position right away. She trains like a maniac, has a commanding vocal presence and makes big saves in crunch time. She is always prepared, focused and ready to fight. Our goalkeeper situation will be incredibly competitive upon her arrival."
Reese Kim | Midfield | Manhattan Beach, Calif.
Kim played for Mira Costa High School where she earned team MVP and the club team Beach FC under coach Anton Arrache. She was the Charlaine Deatherage Award winner, Scholar-Athlete Award winner, and made the Principal's Honor Roll every year. She was also a four-year member of the California Scholarship Federation
Da Luz on Kim…
"Reese is incredibly technical, with superior ball control. She always finds ways to escape tight marking and attack spaces. She can be an impact player as a midfielder or outside back and I expect her to make some noise in our lineup."
Carrie McIntire | Forward | Haymarket, Va.
McIntire only played one year of high school soccer due to US Development Academy restrictions. In her one year she was the top scorer for Battlefield High School and was a First Team All-Conference selection. In the club world, she was named one of the Best Overall XI in the ECNL National Event in Phoenix, Ariz. and was selected to the Virginia ODP State Roster. She was one of the leading scorers for her club team, TSJ FC Virginia DA under coach Christian Cziommer, while playing up an age group with the U18/19s. She is also ranked ninth in goals scored per game across all US Development Academy U18/19 Girls (#5 in Eastern Region).
Da Luz on McIntire…
"Carrie is a strong, fast, physical player. Her speed allows her to blow by defenders to create scoring chances and great crosses. She is exceptional as a winger or as a target forward and will make our starting lineup selection very difficult."
Breckyn Monteith | Defense | Charlotte, N.C.
Monteith holds the record for most goals scored in a season at South Lake Christian Academy. She played club for Charlotte Soccer Academy under coach Brian Moore and was called up to the Northern Ireland National Team on multiple occasions. When she was a freshman, she played for the U19 National Team and mde her debut in a friendly against Slovakia. During her sophomore year she made the US Development Academy Nationals in San Diego and was called to the U17 National Team for two games. During her junior season she led her club team in assists and started all three games she got called up for on the U17 Northern Ireland National Team. She also scored a goal against Kazakhstan. During her senior year her club team went 11-1-1 and she started all but one game. She also traveled with the U19 Northern Ireland National team to England for friendlies against Canada and England and started both games.
Da Luz on Monteith…
"Breckyn joined us in January and transitioned quickly into the team. She is fit, fast, strong and has a warrior personality. She was working her way into the spring starting lineup as an outside back before the COVID interruption hit. I anticipate she will be hungry to prove herself this fall. She is a tenacious defender but can attack as well. I expect big things."
Sasha Schwartz | Defense | New York City, N.Y.
Schwartz played three years of varsity soccer for the Marymount School of New York, notching 15 goals and 10 assists as a defender. She was a three-time All-NYC selection and a two-time League All-Star. In 2019, she won the Kevin Kennedy Memorial Award for Outstanding Performance in Defending for her club team, FC Fury Development Academy under coach Paul Riley.
Da Luz on Schwartz…
"Sasha is a solid central defender, she keeps it simple, shuts down attackers and finds great passing outlets. She may also compete as an outside back, but primarily improves our depth at the center back position. She has the potential and work ethic to develop into a solid, reliable defender."
Liv Stowell | Forward/Midfield | Londonderry, N.H.
Stowell played four years of varsity soccer at Londonderry High School, tallying 77 goals and 58 assists. She was a four-year All-State selection and the 2019 All-American Player of the Year. She was a two-time All-New England selection and All-American. She played for the FC Stars of Massachusetts ECNL under coach Jason Dewhurst.
Da Luz on Stowell…
"Olivia is a really quick and elusive winger. She loves going 1v1 to create shots and quality crosses. Her acceleration is fantastic and she's capable of playing on either side. She is a feisty, competitive player who will be a force off the bench."
Kristi Vierra | Midfield | Norwell, Mass.
Vierra played four years of varsity soccer and varsity basketball at Norwell High School, earning the title of Player of the Year in her school's division of Massachusetts. She scored 99 goals and tallied 55 assists in her four years. She was a four-year League All-Star and three-year All-State player. In her junior season, she led her team to the high school State Championship, was an AllState All-American, and was selected to the AllState All-American Cup in Orlando, Fla. During her senior campaign she was a USA Today Preseason All-American and an All-New England selection. In 2015 she attended the Olympic Development National Training Camp. In 2018 her club team, South Shore Select, were the National Cup Champions.
Da Luz on Vierra…
"Kristi is an extremely creative attacking midfielder. She is a playmaker who can execute the critical final pass. She will play as an attacking link between midfield and the front line, and definitely challenge for substantial playing time."