UCLA women's soccer unveils No. 1 ranked recruiting class, featuring 14 players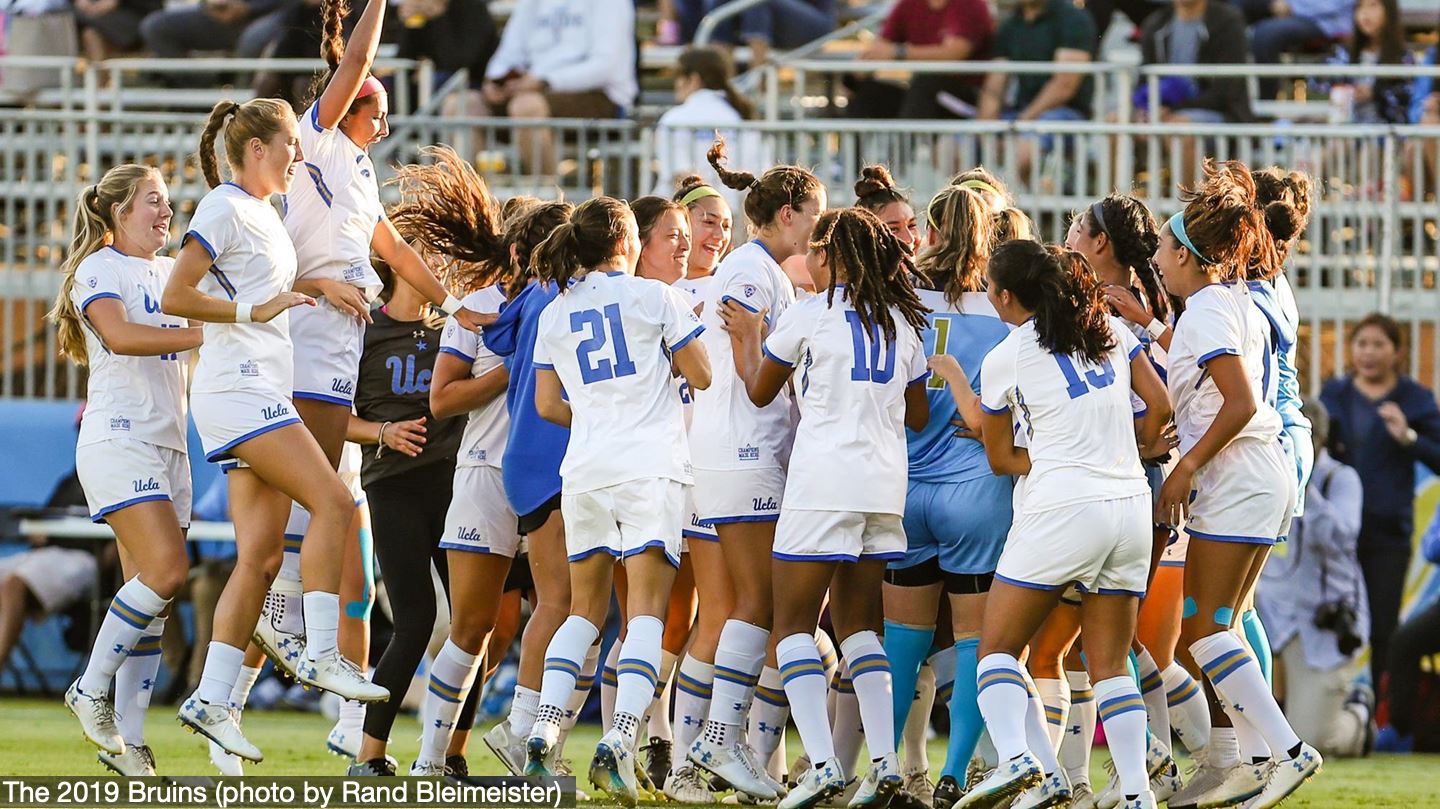 UCLA women's soccer has pulled together the No. 1 recruiting class in the nation for the upcoming 2020 season. This is the second consecutive Top 2 class for the Bruins, according to Top Drawer Soccer rankings.
Among the 14 Bruin signees are U.S. Youth National Team members Aislynn Crowder, Isabel Loza, Jillian Martinez, Michaela Rosenbaum, Dasia Torbert, Reilyn Turner and MacKenzee Vance. Also joining UCLA this upcoming season are international youth national team players Kaila Novak from Canada, My Haugland Sørsdahl from Norway and Clara Härdling from Sweden. Completing the class are California standouts Jen Alvarado, Megan Edelman, Jordyn Gather and Kelly McManus.
"We are very proud and excited to announce our 2020 Bruin incoming class," said UCLA head coach Amanda Cromwell. "This group of players, ranked first in the country, is committed to the culture of excellence that defines UCLA. They have represented their countries and club teams at the highest level and are now ready to bring that experience to Westwood and make an immediate impact in our program and around our university. This class adds immense talent and depth to our team and will carry on the championship legacy of UCLA Athletics for years to come. We can't wait to welcome the newest Bruins to campus!"
2020 Freshman Class
Player
Pos.
Class
Hometown (High School)
Club Team
Jen Alvarado
MF
Fr.
Corona Del Mar, Calif. (JSerra Catholic HS)
SoCal Blues
Aislynn Crowder
MF
Fr.
Mililani, Hawaii (Mililani HS)
Hawaii Rush Soccer Club
Megan Edelman
MF/F
Fr.
Walnut Creek, Calif. (Monte Vista HS)
Mustang Soccer Club
Jordyn Gather
D
Fr.
Ladera Ranch, Calif. (JSerra Catholic HS)
SoCal Blues
Clara Härdling
MF
Fr.
Taeby, Sweden (Tibble Gymnasium)
AIK
Isabel Loza
MF
Fr.
La Mirada, Calif. (La Mirada HS)
LAFC Slammers
Jillian Martinez
MF/F
Fr.
San Antonio, Texas (James Madison HS)
Lonestar SC
Kelly McManus
GK
Fr.
Long Beach, Calif. (Mater Dei HS)
Strikers FC ECNL
Kaila Novak
F
Fr.
St. Thomas, Ont., Canada (Bill Crothers Secondary School)
FC London
Michaela Rosenbaum
MF
Fr.
Sana Rosa, Calif. (Montgomery HS)
Santa Rosa United ECNL
My Haugland Sørsdahl
D
Fr.
Moss, Norway (Wang Toppidrett)
Kolbotn IL
Dasia Torbert
MF
Fr.
Buford, Ga. (Mountain View HS)
NASA Tophat
Reilyn Turner
F
Fr.
Aliso Viejo, Calif. (Laguna Beach HS)
SoCal Blues
MacKenzee Vance
MF/F
Fr.
Bluffton, S.C. (Bluffton HS)
United Soccer Alliance
Jen Alvarado
Midfielder
Corona Del Mar, Calif. (JSerra Catholic HS)
SoCal Blues
All-State player in 2018 after leading JSerra to the league, CIF, state and Max Prep national championships
Played on the three-time ECNL National Championship SoCal Blues team
Younger sister of former Bruin captain Annie Alvarado
Enrolled at UCLA Winter 2020
Aislynn Crowder
Midfielder
Mililani, Hawaii (Mililani HS)
Hawaii Rush Soccer Club
Member of U.S. Youth National Team from U-16 to U-20 level
2019 Gatorade Player of the Year nominee
2019 Allstate All-American
Three-time All-Hawaii honoree
Megan Edelman
Midfielder/Forward
Danville, Calif. (Monte Vista HS)
Mustang Soccer Club
2020 Cal-Hi Sports Player of the Year
Three-time first-team All-NSC and four-time first-team all-league
Totaled 68 goals and 30 assists in 77 regular season high school games, leading her team to CIF NorCal championships in 2018 and 2019
Led her ECNL team in scoring from 2014-20 and helped guide them to two national Final Fours
Jordyn Gather
Defender
Ladera Ranch, Calif. (JSerra Catholic HS)
SoCal Blues
2018/2019 Allstate All-American
Won two national titles with SoCal Blues along with three ECNL national championships
Led JSerra HS to three CIF Championships, the 2019 state title and No. 1 national ranking
Trained with the U-16 National Team in 2016
Clara Härdling
Midfielder
Taeby, Sweden (Tibble Gymnasium)
AIK
Member of the Swedish Youth National Team since 2015, playing at the U-15 through U-19 levels
Earned seven caps in 2019 with the U-19 National Team, including six at the UEFA Qualifiers
Made five appearances at the UEFA U-17 Qualifiers
Played 39 games for her club team AIK
Isabel Loza
Midfielder
La Mirada, Calif. (La Mirada HS)
LAFC Slammers
2020 Area Player of the Year
All-CIF and Suburban League MVP after scoring 20 goals and 11 assists in 2019-20
Led La Mirada to a league title and to the state championship game
Member of the 2019 ECNL Southwest Conference championship team and named to the all-conference team
Jillian Martinez
Midfielder/Forward
San Antonio, Texas (James Madison HS)
Lonestar SC
Participated in US Youth National Team training camps from 2015-18 at the U-14 to U-16 level
Named to the 2019-20 US Soccer Coaches Youth All-America team
Selected to the Best XI team at the 2019 U.S. Soccer Development Academy Championship Tournament
Represented the U.S. at the 2018 UEFA Women's Development Tournament in Portugal
Kelly McManus
Goalkeeper
Long Beach, Calif. (Mater Dei HS)
Strikers FC ECNL
NSCAA High School All-American and All-CIF as a freshman in 2017
Two- time All-CIF and first-team all-league
2020 USA Today Los Angeles Girls Soccer Player of the Year nominee
Kaila Novak
Forward
St. Thomas, Ont., Canada (Bill Crothers Secondary School)
FC London
Member of Canadian U-20 National Team and played in the 2020 CONCACAF Championship
Played at the 2018 FIFA U-17 Women's World Cup, assisting on the game-winning goal to send Canada to the semifinals
Totaled 11 caps and two goals at the U-17 level
Enrolled at UCLA in Winter 2020
Michaela Rosenbaum
Midfielder
Santa Rosa, Calif. (Montgomery HS)
Santa Rosa United ECNL
Member of US Youth National Teams from U-14 through U-18 levels
Represented the U.S. U-16 National Team in Germany in 2017
Led her high school squad to three NBL titles, two NCS titles and the 2020 CIF Championship
Three-time overall MVP at Montgomery HS
My Haugland Sørsdahl
Defender
Moss, Norway (Wang Toppidrett)
Kolbotn IL
Member of the Norwegian U-19 National Team
Played in two games at the 2019 UEFA U-19 Championship
Helped lead Norway to the 2017 UEFA U-17 Championship semifinals
Has 54 appearances and two goals for Kolbotn IL's senior team
Dasia Torbert
Midfielder
Buford, Ga. (Mountain View HS)
NASA Tophat
Member of U.S. Youth National Teams (U-14, U-16, U-18)
Started two games for the U-18s at the 2020 Tricontinental Cup
2018 United Soccer Coaches Youth All-South Region selection
Played with NASA Tophat, ranked the No. 1 club team in the nation in 2020
Reilyn Turner
Forward
Aliso Viejo, Calif. (Laguna Beach HS)
SoCal Blues
A fixture on the U.S. Youth National Teams, having attended 18 training camps at various levels
Played for the U.S. at the 2018 CONCACAF U-17 Championship, scoring two goals, including the game-winner against Canada to send the team to the semifinals
Leading scorer for the four-time national champion SoCal Blues
All-American and All-CIF honoree at Laguna Beach HS
MacKenzee Vance
Midfielder/Forward
Bluffon, S.C. (Bluffton HS)
United Soccer Alliance
Made her U.S. Youth National Team debut in 2015 with the U-14s and has since played with the U-15s, U-16s, U-17s and U-19s
Earned her first cap in 2017 with the U-17s
2018 and 2019 All-American
2018 and 2019 All-South Region honoree