Indy Eleven signs four youth players to USL Academy contracts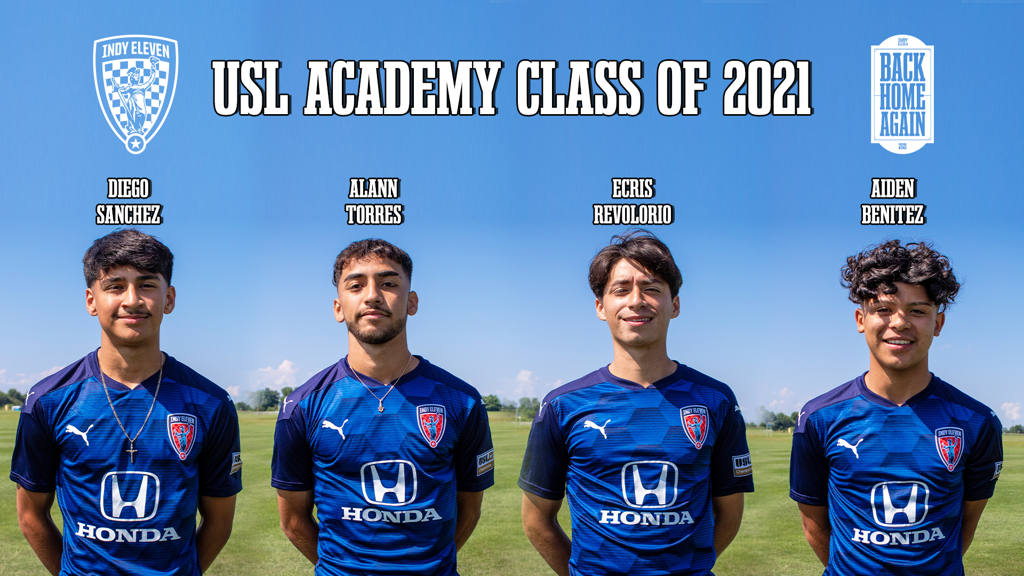 INDIANAPOLIS – Indy Eleven has added four new players to its roster via USL Academy contracts, including the youngest such signing in USL Championship history. The four new Boys in Blue are midfielders Diego Sanchez, Alann Torres and Aiden Benitez and defender Ecris Revolorio, with Benitez taking the title of youngest player in USL Championship history at 14 years, three months and 26 days of age.
Per club policy, terms of the USL Academy contracts that bring the quartet of youngsters into Indy's first team camp will not be disclosed.
In corresponding roster moves, Indy Eleven announced the contracts of three of its four previous Academy signings on the roster across the first half of the 2021 season – those of defender Matthew Senanou, midfielder Patrick McDonald, and forward Matthew Roou – have expired. Senanou is off to the Tar Heel State to attend the University of North Carolina, while McDonald and Roou will stay in-state to attend Indiana University and the University of Notre Dame, respectively. Goalkeeper Alex Svetanoff will remain on the squad through the end of the 2021 campaign, giving Indiana's Team an all-time high of five USL Academy contract players currently on the squad.
"We are proud to welcome another group of driven and talented Academy players to the club in Diego, Alann, Aiden, and Ecris. During their time with our Academy set-up and at Indiana Fire Academy, they have proven they possess the maturity and skill to continue their development at a higher level, and we are excited to be a part of that process through the rest of the 2021 season," said Indy Eleven Interim Head Coach Max Rogers. "In addition, we want to thank Matthew Senanou, Patrick McDonald, and Matthew Roou for their contributions during a challenging year and wish them nothing but the best as they continue their careers."
All four of Indy Eleven's new academy signings are local products, with each calling Westfield-based Indiana Fire Academy their home on the club side. Three of the four – Torres (Elkhart, Ind.), Sanchez (Indianapolis, Ind.) and Revolorio (Evansville, Ind.; IUPUI commit for 2022) – have already represented Indiana's Team in USL Academy League play, just part of the groundwork that was laid in working towards signing with the first team.
"I was pretty excited. It was some shocking news," said Sanchez, who also helped the Indy Eleven U-17 Team to a runner-up finish in the club's first USL Academy Cup appearance over Memorial Day weekend. "It was a little bit to take in considering being called up to the first team and working for it the whole time I was with the academy, but I'm blessed and excited to see what the journey has in store for me."
The Westfield-native Benitez has not yet featured for Indy at the academy level, but he has already made history as the youngest player to sign a contract with a USL Championship side, becoming the first player born in 2007 to be added to a Championship roster in the process.
"I work every day with guys that are older than me. I go to training with the U-19's and I'm working out at Sogility every day," Benitez said. "I'm very blessed that I have the opportunity at 14 years old to train with Indy Eleven, and I'm just going to take this opportunity as far as I can take it."
Since the start of the 2019 season, Indy Eleven has now signed 13 players to USL Academy contracts, continuing the club's standing as one of the premier player development destinations in the USL Championship. In joining Indy Eleven as USL Academy contract signings, all four youth players will retain their NCAA eligibility.
All four new additions will be available for selection starting this Saturday, August 14, when Indiana's Team returns to IUPUI Carroll Stadium for a 7:00 p.m. showdown against OKC Energy FC.