Young Mexican-American talents, Liga MX and the new soccer reality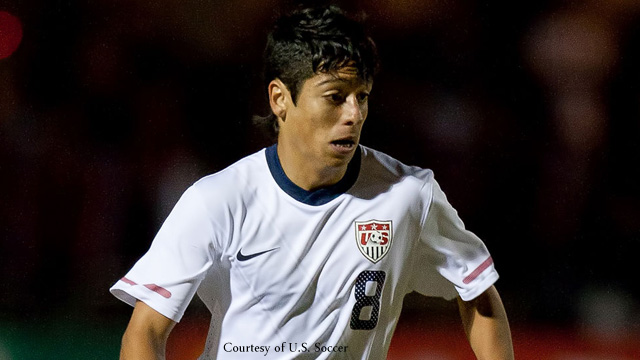 When Esteban "Stevie" Rodriguez, a highly touted Chivas USA Academy midfielder, signed with Mexico's Club Tijuana in early 2012, his former club expressed its outrage in a carefully worded statement.
"Chivas USA has invested a lot of resources into Esteban and we are disappointed with his decision to move elsewhere," said then-Chivas USA Academy director Teddy Chronopoulos.
"Esteban and his family felt they had an opportunity to become a professional for Tijuana's youth reserve teams so that is why he has chosen to leave."
+READ: LA Galaxy go all in on youth movement with signing of 15-year-old GK Eric Lopez
Chronopoulos blamed Rodriguez's departure on MLS and the mechanisms by which Chivas USA could or could not sign him to the first team.
"It is difficult to sign a young player to a professional contract in MLS," he said.
But pull back the curtain on American youth soccer and you'll discover a complex cadre of Mexican scouts, agents and profiteers, all intent on poaching the best and brightest young Mexican-American and Latino talents from their American clubs.
"So I looked south … All these clubs across Mexico are scouting out academies all across the U.S.," U.S. National Team forward Herculez Gomez told Graham Parker.
"They really work hard at trying to find that talent — they realize what type of player there is there. And I think U.S. Soccer and MLS are just coming around to it. And I know it freaks them out. I know it scares them that Mexico is so deeply rooted in their own system."
Yet what motivates these young talents — some of whom, like former U.S. youth international Edwin Lara, are as young as 15 years old — to leave behind comfortable lives in the U.S. for the potential pitfalls and dangers of Mexican professional soccer?
For young Mexican-American players and their families, the allure of professional soccer back in Mexico can often be too good an opportunity to pass up.
+READ: Breaking down Red Bulls academy starlet Amando Moreno's Mexico move
"When I was at Chivas [USA], we'd have a lot of kids that felt that they could be signed by Chivas, [but] weren't getting the opportunity to get signed," former Chivas USA Academy and current LA Galaxy Academy coach Michael Munoz told SoccerWire. "So the next easiest thing to do is just go down to [Club Tijuana] and get picked up."
Sometimes, however, the dream really is too good to be true.
"A number of these kids, when they go down to Mexico, they find that the conditions are poor," Munoz continued. "They find that the living situations aren't good; there's just a bunch of kids living in a tiny area. It's not safe. They're on their own. It's completely different from living in the United States.
"The money isn't good, at least not in the beginning, playing for the youth teams," he said. "We try to tell a kid that after he's offered a contract down there. We try to get them to grasp that and understand that and [we] say, 'Listen, you're in the right environment. Stay patient with us. You have to trust us. We're not going to be able to give you something right now like this Mexican club, but it's difficult down there.'"
Munoz stressed that parents often play the most decisive factor in their child's professional career.
"I think family background [is important], you know, the parent situation: what is stressed at home, parent education, are there other siblings who have gone to college or are they first generation when it comes to college?"
+READ: Home or Abroad? Tab Ramos on the dilemma facing young American professionals
When a young Mexican-American player is deciding whether to forego his eligibility for a NCAA athletic scholarship for a professional career abroad, that decision may come down to the parents. This is why, Munoz insists, coaches must educate both players and parents about collegiate options and about the perils of professional soccer abroad.
"The majority of the kids that we get through our academy aren't going to become pros. So it's obviously very, very important for our kids [to consider college] because they're in an environment where they're going to be seen by colleges constantly. It's obviously important for them in terms of their grades to be on top of that and at least give themselves a chance to get into a school."
For every success story like Isaác Brizuela (born in San Jose, California) or José Torres (born in Longview, Texas), there are countless other young players who have gone to Mexico and failed. If and when they return to the U.S., they'll do so having given up years of schooling and their best chance at a college scholarship.
+READ: LA Galaxy-Cal Blues partnership reignites MLS academy territorial disputes
Munoz wants his charges to understand that they're taking a gamble on their futures — whether they sign with a Liga MX club or with the Galaxy — and that the road to their dream career is one fraught with risks. But that's a risk that many ambitious young players — and their parents — are more than willing to make.
As for Esteban Rodriguez, after getting some playing time with Tijuana's U-20 team, he was loaned out to Dorados, Tijuana's Ascenso MX affiliate. After several strong showings, the 20 year-old finally earned himself a spot on Tijuana's first team roster last week.
His story, at least, is only just beginning.