LA Galaxy go all in on youth movement with signing of 15-year-old GK Eric Lopez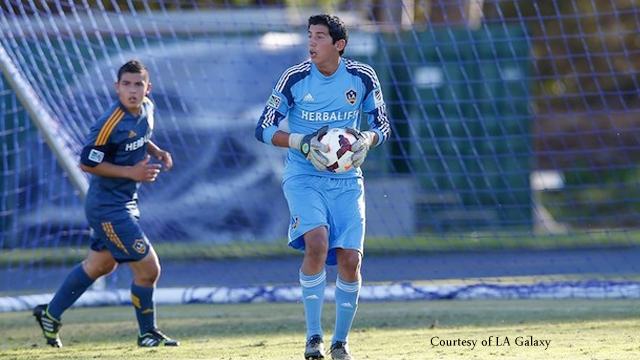 On Monday, the LA Galaxy announced that it had signed 15-year-old goalkeeping prospect Eric Lopez to a contract with its USL PRO reserve team, LA Galaxy II.
Lopez, who has been a mainstay for the LA Galaxy's U13/U14 Development Academy team, is now the youngest player to ever sign with a USL PRO franchise.
The move both confirms the Galaxy's ambitions for its academy and invites yet more questions about the opaque roster rules now governing player movement between the two leagues.
+READ: MLS youth development from age 10? That's the plan, say LA Galaxy
"Eric is another example of the fully-realized player developmental system that the Galaxy have implemented," Galaxy technical director Jovan Kirovski said in the club's official statement. "We are excited to complete this deal and keep talented prospects like Eric within the Galaxy organization as their careers progress."
Lopez is one of several talented youth players who have signed with the Galaxy in the past year. In February, Bradford Jamieson IV and Raul Mendiola signed with the Galaxy, and both players featured for Galaxy II this past USL PRO season.
Within the Galaxy organization, however, there exists the persistent fear that the organization could lose top academy talents to Liga MX clubs. Last year, highly-touted Galaxy Academy prospect Paul Arriola spurned the club to sign with Liga MX side Club Tijuana.
As club president Chris Klein put it earlier this year: "If you listen to Paul [Arriola], one of the reasons that he says that he chose [Club Tijuana] is because he didn't think he was going to get the playing time [with the Galaxy]. Now, I would debate whether that's the case now for him, but if he was still in our system he would be playing a minimum of 30 games in between our first team and Galaxy II .
"We can now say, 'Here's your path.'"
In an interview with SoccerWire in July, Galaxy Academy director Pete Vagenas talked about the influence outside clubs were having on the club's priorities.
"It just forces us — knowing that there are competitors out there, that there are other clubs that are trying to find the best players and develop the best players — to focus internally and make sure that our academy is second to none, and that it's an environment that kids can't find elsewhere," he said.
"It serves as motivation knowing that we're constantly being challenged," he continued. "It serves as motivation that we're constantly being pointed at. It serves as motivation that our kids are the targets of other clubs quite frankly."
By signing Lopez to Galaxy II, the Galaxy front office has sent a clear message to its young prospects and a warning to its competitors.
+READ: LA Galaxy-Cal Blues partnership reignites MLS academy territorial disputes
But is the Galaxy violating any roster rules — whether in MLS or in USL PRO – by signing Lopez to its second team or is it merely taking advantage of loopholes in the rulebooks?
Clear answers — like with MLS's own roster rules — are hard to come by.
What is clear, however, is that Lopez will fill one of the 26 available roster spots allowed to a USL PRO team, per league rules. Likewise, any loan movement to the parent club will be restricted to the FIFA international transfer windows.
Does this move foreshadow the end of discovery claims, player allocations, and player lotteries in MLS?
Not exactly.
However, the Lopez signing does imply that at least one MLS team believes that the new collective bargaining agreement will bring with it more financial independence for clubs and more rights for MLS players.
+READ: Real Salt Lake, LA Galaxy play to scoreless draw in first leg of Western Conference semis
Whether or not Lopez ever moves to the Galaxy first team, the club's front office has demonstrated its conviction that future MLS rules will permit such a transfer without interference from the league office or from other MLS clubs.
The move also suggests that, once again, Bruce Arena and his staff are one step ahead of their rivals.
This past offseason, the LA Galaxy were the first team to enter USL PRO with a reserve team of its own. Several other MLS clubs have since followed suit, including the Portland Timbers, Seattle Sounders and Real Salt Lake.
But by signing so many of its young academy players to both the first and second teams, and by cleverly skating around the existing roster rules, the Galaxy have also set the template that every enterprising MLS club will surely follow.
With the Eric Lopez signing, the Los Angeles club has once again demonstrated that it is going all in on its ambitious youth movement.