George Mason University women's soccer announces three more signings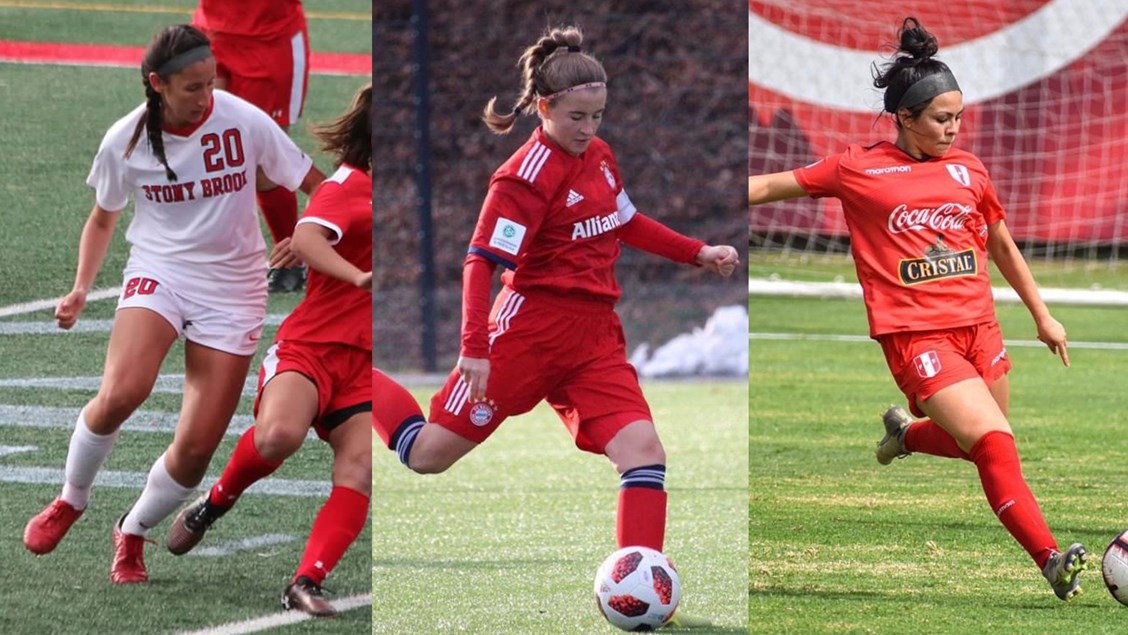 FAIRFAX, Va. – George Mason University women's soccer head coach Todd Bramble has announced the addition of three student-athletes who will compete for the Patriots beginning this fall.
The talented trio includes Lina Dirnberger (Munich, Germany), Tabitha Galliani (Centreville, Va.) and Marissa Kelberman (Bolton, Mass.).
"We are excited to announce the addition of these three student-athletes to our team for the upcoming season," Bramble said. "Continued credit goes to our assistant coaches Dirk and Emma for their efforts in finding players that will fit our team and culture. Adding these three in Lina, Tabitha and Marissa gives us a diverse group of personalities and skillsets in all areas of the field."
Lina Dirnberger
Dirnberger comes to Fairfax after recently completing a lauded pre-collegiate career in Germany. She played in the top Bundesliga in her home country while competing for both FC Bayern München and FFC Wacker München. She recently served as Bayern's U-17 team captain. Dirnberger attended secondary school at Theodolinden-Gymnasium München.
"Lina is a very technical player with tremendous game understanding." Bramble said. "She has received excellent training and played at a very high level in her youth career. We expect she will transition very well to college life as she is a mature young woman and a very good student."
"Lina is a creative and ambitious player." FFC Wacker München assistant coach Sabrina Gahr said. "As center mid, she has a great overview of the game, technical abilities to protect the ball and contributes to the offensive as well as to the defensive play in the interest of the team. Her positive, joyful and open-minded nature is pleasant to work with and distinguishes her as a team player."
Tabitha Galliani
Galliani will not have to travel far to begin her college career after recently graduating from Paul VI High School in Fairfax. Galliani's decorated career has included competition as a member of the Peruvian National Team. She has competed for Peru since she was 14, including time with the country's U-17/U-20 teams. She also played as member of the U.S. Futsal National Team in 2016. She competed at the club level for Metro United.
"We have been tracking Tabi for a couple of years now and are really impressed with her growth and progress." Bramble said. "In her gap year after high school, she gained tremendous experience with the Under-20 National Team of Peru through their World Cup qualifying campaign. She will fit nicely into our desired style of play."
"I'm so incredibly proud and happy for Tabi as she gets to continue her soccer journey at George Mason University." GU19/23 Head Coach and Director of College Placement for Metro United Izzy Cotto said. "Mason has been her dream school for years and her commitment is the culmination of all her hard work during that time.  As a player, Tabi has something different about her.  When she's on the ball, you don't want to look away for fear of missing what she's going to do.  I consider myself very fortunate to have the opportunity to watch her play in person right here at Mason over the next four years."
Marissa Kelberman
Kelberman arrives in Fairfax after a four-year career at Stony Brook University, where she led the Seawolves to a pair of NCAA Tournament appearances and America East titles. She started 30 of 38 games and helped the Stony Brook defense post 15 clean sheets over her final two seasons on Long Island. A native of Bolton, Mass., Kelberman played her high school soccer at Nashoba Regional.
"Marissa will be in Law School at George Mason and we are excited to be adding a person of her ability and experience." Bramble said. "She made significant contributions not only on the field but to the university community as a whole at Stony Brook."
"Marissa played an imperative role in our success last season and helped us tremendously in winning the America East Championship." Stony Brook head coach Tobias Bischof said. "I want to wish her all the best at George Mason University."
Dirnberger, Galliani and Kelberman join an incoming Mason class which includes fall signees Jasmine Hamid (Alexandria, Va.), Savanna Keppy (Birmingham, Mich.) and Katie Saunders (Aldie, Va.).