Four South Carolina women's soccer seniors to return for another season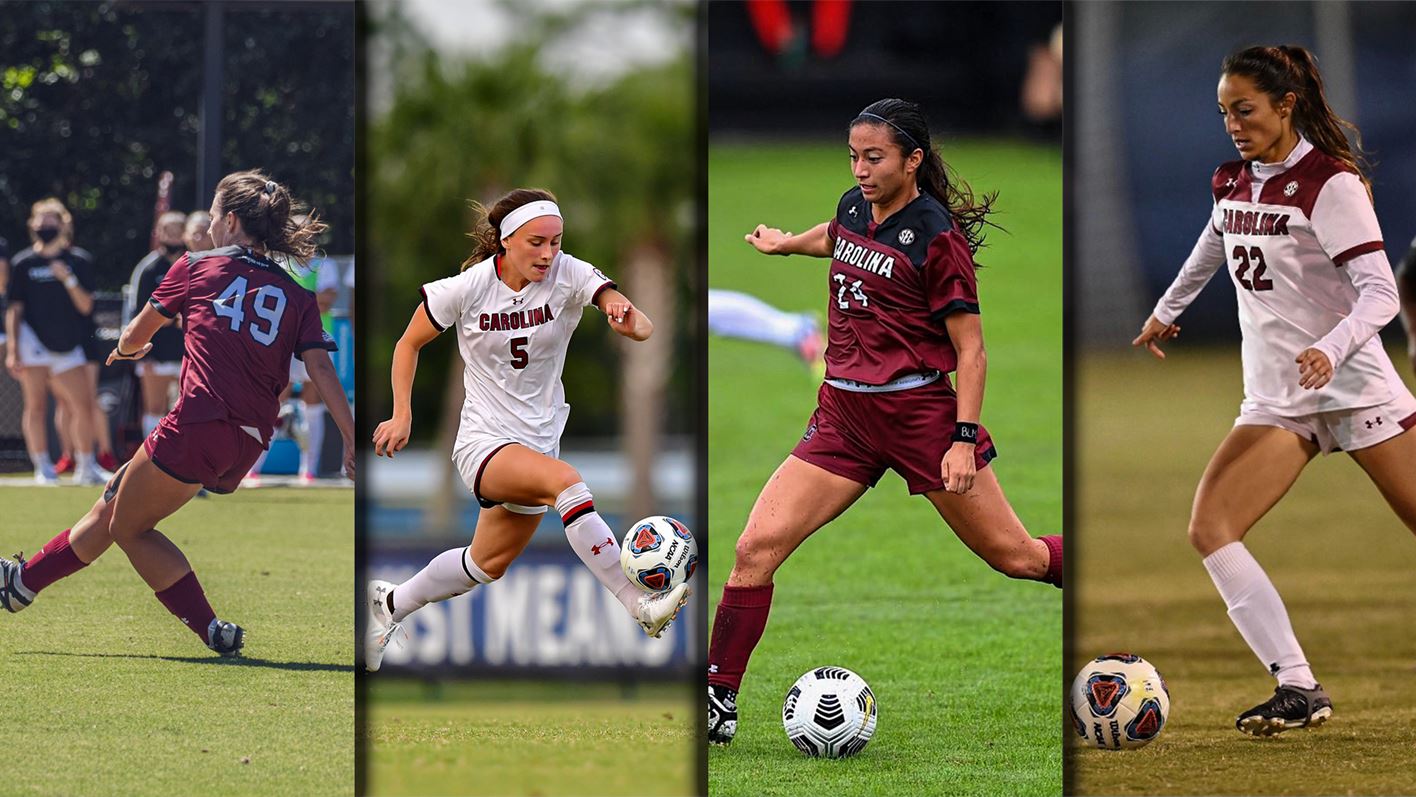 COLUMBIA, S.C. – After leading the University of South Carolina women's soccer team to another successful season in 2020-21, seniors Lauren Chang, Sarah Eskew, Ryan Gareis and Luciana Zullo have informed the program that they will all be returning for another collegiate campaign this fall.
"A positive to this past year we have had is that we will now have four wonderful leaders and teammates returning for a fifth year," South Carolina head coach Shelley Smith said. "We are all excited to have a little more time with them in the program as they continue to represent us and this university so well on and off the field as student-athletes."
Lauren Chang will return to an already loaded group in the midfield for Carolina. The Alpharetta, Ga., native is the active leader in career goals for the Gamecocks with 17 along with a team-leading 14 assists and 46 points. She was the SEC Co-Scholar Athlete of the Year in 2020 and is a three-time All-SEC Second Team member. Her 83 career appearances already give her a great opportunity to become the first Gamecock to reach 100 appearances next season.
Gareis will give the Gamecocks some great veteran leadership on the outside. She brings back 11 career goals and nine assists for a total of 31 points, the third most among active Gamecocks. The two-time SEC Champion also has started 59 career matches, the most among returning Gamecocks in 2021. The Naperville, Ill., native also holds the second-best shot on goal percentage in school history with over 60 percent of her shots on goal in her 77 appearances in the Garnet and Black.
After missing the entire spring season due to injury, Luciana Zullo will return to action in 2021 for Carolina. The Flemington, N.J., native has played in 77 career matches, and returns the second-most active goals on the team with 13 and a total of 34 points. She is also eighth in program history in career game-winning goals with eight, and she brings back more shot volume for the Carolina attack with a total of 128 shots in her career, the second most among returning Gamecocks in 2021 and the 10th most in school history.
On the defensive end of the field the Gamecocks will happily welcome back Eskew as an outside back. The Centerville, Ga., native brings back a total of 71 appearances and has contributed to 46 shutouts since joining the program in 2017. Eskew had an impressive streak of 49 straight starts end in the fall of 2020 after suffering a season-ending knee injury in Carolina's 2-1 win over Vanderbilt in October. Eskew's veteran presence next season will be vital for a defensive crew that will still be young at its core along with graduate transfer Remi Swartz joining in the fall.