Mizzou Soccer adds Dallas Sting forward Kylie Dobbs to signing class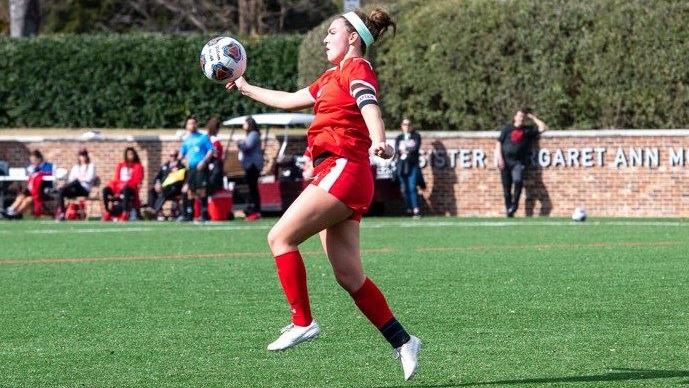 COLUMBIA, Mo. – Kylie Dobbs will be joining Mizzou Soccer's 2021 signing class, head coach Bryan Blitz announced Wednesday.
Dobbs is a forward from Dallas, Texas, becoming the fourth player in her signing class from the Lone Star State.
She is the eighth player to sign with Mizzou in the 2021 class, joining Avery Brant (McKinney, Texas), Milena Fischer (Saarbrücken, Germany), Bella Hollenbach (The Woodlands, Texas), Jenna McCormick (Highlands Ranch, Colo.), Ashlyn Mills (Frisco, Texas), Leah Selm (Manchester, Mo.), and Gia Woodfolk (Keswick, Va.).
Bryan Blitz: "We are excited for Kylie to join such a strong 2021 incoming class. Her best quality is her ability to play back to goal and her left foot. We can't wait to have all eight of our incomers together."
Dobbs comes to Mizzou as a two-time TAPPS Division I state champion. She and her teammates at Ursuline Academy in Dallas, Texas captured the state title during her senior season in March. Dobbs scored four of her team's five goals in the match. She concluded her high school career with 103 goals, becoming Ursuline's all-time leading goal scorer. In her senior season, she amassed 49 goals and 17 assists.
Ursuline Associate Athletic Director/Head Women's Soccer Coach Darrin Hedges: "Kylie is a versatile forward that is comfortable playing with her back to goal or running at defenders one on one. She has a cannon of a shot with the ability to get on the end of crosses. Highest compliment I can give her is she is a natural goal scorer!"
Dallas Sting Soccer Coach Stuart Hilton: "At Sting, we are proud of Kylie's commitment to Mizzou. To see her find her fit at the college level is just a reward for her passion and commitment to the game and her skill level. We can't wait to see her fulfill her full potential."
FC Dallas Youth Select Coach Matt Grubb: "Kylie is an intelligent, athletic, and technically gifted player that can impact the game off dribble, with disguised and creative passing, or crushing a ball into the back of the net with her cannon left foot. Her work-rate, competitiveness, and determination coupled with her talent make her an incredible player."
She chose Mizzou over Colorado State and intends to major in Journalism.
Dobbs: "I chose Mizzou because the education, combined with the athletic program, provides me opportunities to succeed as an athlete and as a person. When I stepped on campus, I instantly knew I made the right decision, and I can't wait for the next four years!"