Binghamton women's soccer finalizes recruiting class with three additions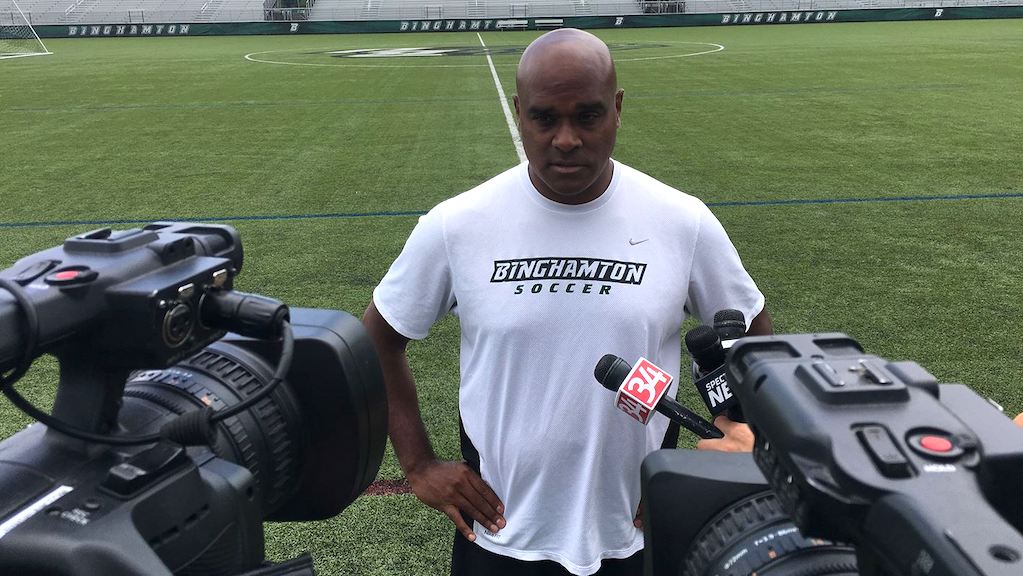 VESTAL, N.Y. – On the heels of the team's run to the America East title game, Binghamton women's soccer has firmed up its recruiting class with the addition of three high school standouts.
Head coach Neel Bhattacharjee announced Wednesday that Ashley Cirilla (Pattersonville, N.Y./Schalmont), Isabella Martillo (East Brunswick, N.J./East Brunswick) and Hannah Mimas (Baldwinsville, N.Y./Baker) will begin their Bearcat careers in the fall. The trio joins Bhattacharjee's NLI class of eight that was announced in November.
"Our program is very pleased to be adding Ashley, Hannah, and Isabella," Bhattacharjee said. "Every year we expect to reload with the next set of talent and these three incoming student-athletes along with their eight classmates will leave us primed to compete again for the top of the America East on an annual basis.  Each of them is a special talent with athletic ability, technique on the ball, and how they play their positions. Most importantly we see them as being positive ambassadors for our program and Binghamton campus who will uphold 'Excellence with Honor.' We are ecstatic to have these new additions to our Bearcats family."
Cirilla is an all-state midfielder who tallied 74 goals and 83 assists in a standout career at Schalmont High School outside Albany. She led her teams to a pair of Class B sectional titles and one regional final. Cirilla played four years of ODP and competed with the International Region 1 Team that traveled to Scotland in 2018. She also captained the Albany Alleycats, the nation's No. 1 ranked club team in 2017. Cirilla, who also played basketball, was a High Honor Roll member throughout high school and is a member of the National Honor Society.
Martillo was a four-year midfield standout at East Brunswick High (N.J.) who led her team to four straight divisional titles, three consecutive county championships and a 60-10-8 overall record during her scholastic career. Martillo was a captain and two-time all-conference selection who also worked out at the U.S. National Training Center in 2015 and 2016 and was a four-year captain in the PDA. She is an Honor Roll student.
Mimas is an all-state forward out of Baker High School in Syracuse. She scored a school-record 79 goals during her scholastic career and led Baker to the 2017 New York State Class AA championship. Her scoring output broke the record held by former Bearcat assistant coach Emma Firenze. She was named to the Class AA all-state team as well as the All-Central New York Large Schools team.