Five more players sign with Boston College women's soccer for 2021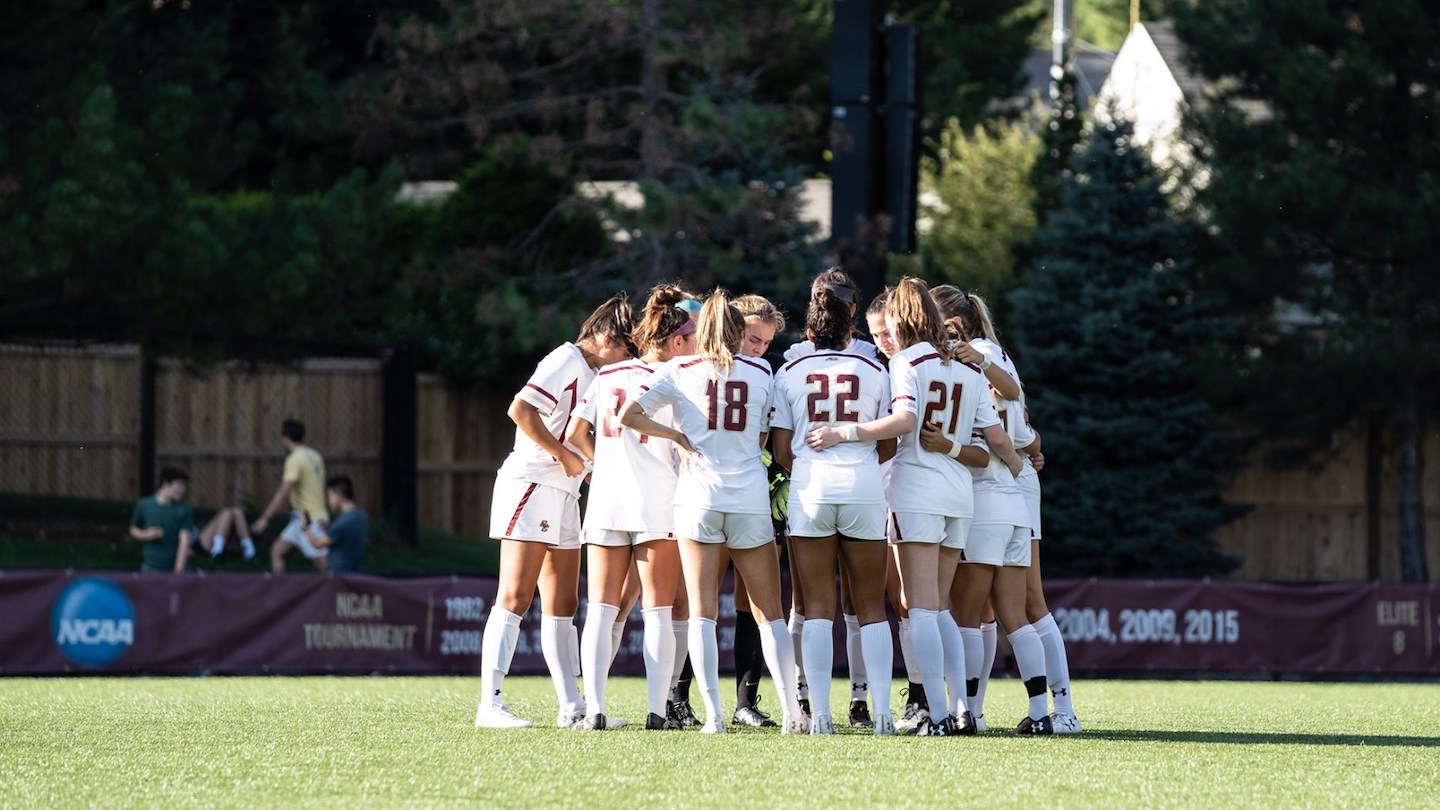 CHESTNUT HILL, Mass. – Boston College women's soccer head coach Jason Lowe announced five new additions to the 2021 roster on Friday, with two graduate transfers and three new members of the Class of 2025 set to arrive on the Heights.
————
Back for More
Along with the newest additions, Jenna Bike and Mia Karras are also set to return for the Eagles. Bike will be back for her sixth year of eligibility. The captain, who already completed her undergraduate degree in nursing and is set to complete her master's degree in nursing this spring, will be enrolling in the Doctor of Nursing Practice Program. Karras, a captain, is returning for her fifth year and will be in the MBA program in the Carroll School of Management.
————
Graduate Transfers
After four-year collegiate careers, a forward and defender come to the Heights as graduate transfers.
Abby McNamara
Position: F
Height: 5-10
Hometown: Dayton, Ohio
Club/Last School: Wake Forest
Before BC: Played in 63 career games at Wake Forest, making 19 starts … recorded seven goals and three assists for 17 points in four seasons as a Demon Deacon … was a part of two NCAA tournament teams at Wake Forest, along with Eagles' head coach Jason Lowe, advancing to the second round in 2017 and the Sweet 16 in 2018.
Haley Thomas
Position: D
Height: 5-8
Hometown: Kennewick, Wash.
Club/Last School: Weber State
Before BC: Spent the last four seasons at Weber State, playing in 58 contests and starting all 58 … was named to the Big Sky All-Conference First Team and was the Big Sky Co-Defensive MVP in 2021 … also earned Big Sky All-Conference First Team honors in 2019, along with second team accolades as a sophomore and honorable mention honors as a freshman … led the Wildcats in minutes played in each of the last three seasons.
Ready to Go
The Eagles will also see two familiar faces finally begin competition in the maroon and gold in August. Wiebke Willebrandt – who started classes at BC in the fall but remained in Germany to train for the U-20 World Cup and Taliyah Walker – who began classes at BC and trained and traveled with the team throughout the spring semester – will finally begin collegiate competition.
————
Meet the Rookies
Jessica Carlton, Kate Goggins and Ella Richards join the previously announced Class of 2025 that includes Andi Barth, Sarai Costello, Eva Nahas, Éabha O'Mahony, and Walker.
Jessica Carlton
Position: M
Height: 5-4
Hometown: Upland, Calif.
Club/Last Team: Legends FC
Before BC: Ranked No. 117 overall, No. 28 in Southern California and No. 38 midfielder by Top Drawer Soccer … has played her club soccer for the last two years for Legends FC under Josh Hodges and Andy Plascencia … named to the Top Drawer Best XI at the November 2020 National ECNL event … was a multiple weekly and Showcase DA Stand Out honoree during the 2019-20 season … member of the 2018 ODP Cal South Championship team … attended national girls team camps at the U14 and U15 level and was invited to the ID2 Nike Training Camp.
Kate Goggins
Position: D
Height: 5-4
Hometown: Orange County, Calif.
Club/Last Team: CDA Slammers
Before BC: Has played her club soccer for CDA Slammers since 2015, including the last two seasons under Ziad Khoury … was a member of the Slammers team that won the national championship in 2017-18 and also the third-place squad in 2018-19 … also played soccer and ran track and cross country for the Rosary Academy … was a captain of the soccer team in 2021 … was twice named the Offensive MVP (2018, 2020) and was MVP in 2019 … named All-CIF Southern Section and First Team All-League in 2019 and was Second Team All-League in 2020 … earned track MVP honors in 2019 and named Athlete of the Year in 2018 … sister, Emma, is a member of the women's soccer team at BC.
Ella Richards
Position: F
Height: 5-9
Hometown: Chicago, Ill.
Club/Last Team: Eclipse Select SC
Before BC: Plays her club soccer for Eclipse Select SC under Mike Nesci … was named the 2019 ECNL Midwest All-Conference Payer … in 2019 and 2021, was a part of a squad that won the ECNL Midwest Conference championship and qualified for the ECNL national playoffs … played two years of soccer for Saint Ignatius College Prep, earning MVP honors in 2018 and 2019 … was named First Team All-Conference and All-State in 2018 and 2019 …. also played four years of basketball.
————
Previously Announced
Andi Barth
Position: Forward
Height: 5-6
Hometown: Saint Paul, Minn.
Club: Minnesota Thunder Academy
Before BC: Plays her club soccer for Minnesota Thunder Academy under Mark Yueill … played four years of soccer for the Visitation School, captaining the team and earning most valuable player honors in 2020 … earned all-conference and first-team all-state honors in 2019 and 2020 … three-time Section 3A finalist (2018-20) and three-time conference champion (2017-2019) … member of the third-place 2017 MSHSL State Championship team.
Sarai Costello
Position: Defender
Height: 5-7
Hometown: Canton, Mass.
Club: NEFC
Before BC: Plays her club soccer for NEFC under Matt Jones and Nick Burke … captain of the team since 2018, helping the team to a Development Academy National quarterfinalist finish in 2019 … named to the ODP Inter-Regional Top 11 in 2016 … played one year of soccer at Canton High School, earning a Davenport Division title in 2020.
Eva Nahas
Position: Goalkeeper
Height: 5-8
Hometown: Atlanta, Ga.
Club: NTH Tophat
Before BC: Plays her club soccer for NTH Tophat under Troy Garner … has also played for the Marist School since 2018, earning Defensive Player of the Year honors in 2019 … was a member of the 2018 team that won a state championship.
Éabha O'Mahony
Position: Defender
Height: 5-7
Hometown: Cork, Ireland
Club: Cork City FC | Irish WNT
Before BC: Member of the Republic of Ireland women's national team … made her debut in a friendly against the United States in August 2019 and was most recently a member of the squad that faced Germany in 2022 UEFA Women's European Championship qualifying … also captained the 2018-19 Under-17 squad … was a member of the U17 team that reached the UEFA finals … named the Football Association of Ireland U17 International Player of the Year in 2019 … plays her club soccer for Cork City FC … named National League Player of the Month in 2018 and earned a spot on the National League Team of the Year … has also won two country championship medals in hurling at the U14 and U16 levels.