Florida Gators add four Class of 2024 recruits during early signing period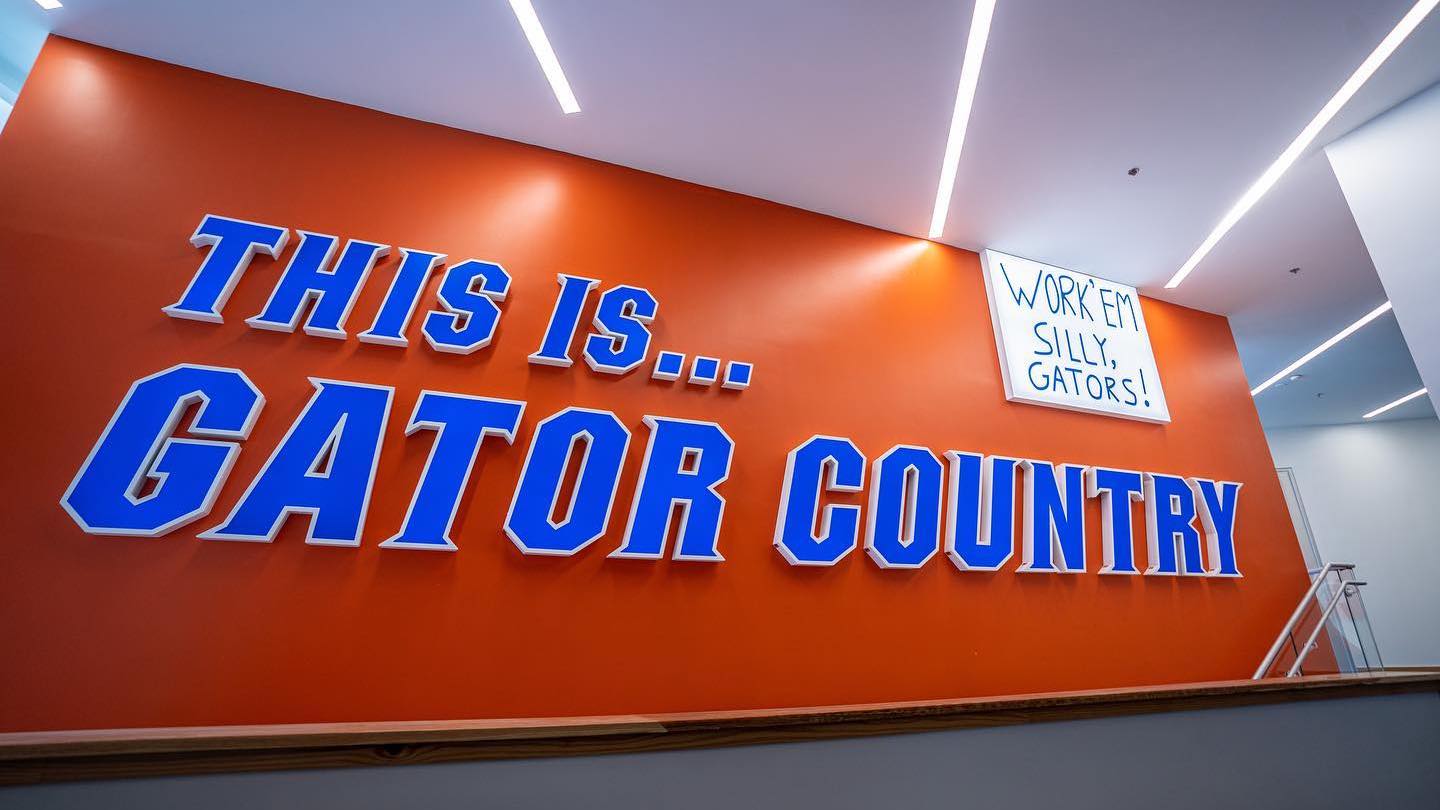 GAINESVILLE, Fla. – Florida Head Soccer Coach Samantha Bohon announced the signing of four new Gators from the Class of 2024.
The four-member class includes signees who have played internationally and found success with their club and/or high school teams.
"We are thrilled with this year's signing class. While smaller in numbers, they're certainly mighty in the impact we expect them to have. They're going to continue the tradition of our student-person-player culture. I know they're chomping at the bit to get started, so we can't wait to have them come next fall.
"I think one of the appealing things for all in this signing class is that they mentioned the student-person-player piece. One of the amazing attributes of the experience here at Florida is you're not just coming to an incredible athletic department with a storied soccer program but you're coming to a No. 1 ranked public academic school in a great location that has an incredible storied tradition on a lot of different fronts. I know that that was a big part of the decision making process for this four. We're really excited for them to have this entire Florida Gator experience."
———
Florida Soccer Signees
Enrolling for 2024 season
| Name | Hometown | Position | High School | Club |
| --- | --- | --- | --- | --- |
| Norah Abbott | Florence, S.C. | MF | IMG Academy | IMG Academy |
| Ryleigh Acosta | Cape Coral, Fla. | F/MF | Mariner High School | FC Prime ECNL |
| Skye Barnes | Oviedo, Fla. | D | Hagerty High School | Florida Kraze Krush |
| Zamiyah Hill | Lynn Haven, Fla. | F | Mosley High School | Florida Elite SA |
Norah Abbott
Position: Defensive midfield
High School: IMG Academy (Coaches: Marco Salazar & Jason Nicolette); West Florence High School (Coach: Alex Shortall)
Hometown: Florence, S.C.
Club Team: IMG Academy (Coaches: Janny Rivera, Miguel Rodriquez)
Club Info
Played with Switzerland Under-17 National Team in 2022 Round 1 of UEFA European Championship
SCUFC- ECNL 1st team Mid Atlantic IMG Academy at GA National Talent ID Event
High School Info
MVP Freshman year at West Florence HS; 1st Team All Region
Abbott Said: "I chose the University of Florida because they care about me as a person and not just an athlete."
Bohon Said: "Nora Abbott's a player who from the first time we watched her play, she just stood out because she embodies that blue-collar grittiness. She's a tough six – hard to beat, disrupts a lot of things and is just a quality person off the field. She has her mom's CrossFit mentality with training and she's not afraid of hard work, so we're really excited to have her join us."
DYK: 
Plays soccer internationally for the Swiss National Team as an American citizen
Mom, Nicole Abbott, played collegiate soccer for Framingham State University
Ryleigh Acosta
Position: Midfield
High School: Mariner High School (Coach: Jami Hagy)
Hometown: Cape Coral, Fla.
Club Team: FC Prime ECNL (Coach: Alan Hough)
Club Info
ECNL Playoffs twice
Three years on the ODP State Team
One year on the ODP Regional Team
One year in the ID2 National Training Camp
High School Info
2022 and 2023 Southwest Florida Sports Award winner for girls soccer by News-Press and Naples Daily News
2023 Southwest Florida All-Region soccer team after 25 goals and 21 assists
2021 SWFL All-Region soccer team after 18 goals and 16 assists
Mariner won 2022 5A Florida High School Athletic Association State title – the first in any sport for the Tritons and lost in 4-2 in penalty kicks in 2023 5A final
Mariner H.S. advanced to 2021 FHSAA Class 4A Region 3 semifinal
Three-time FACA Academic All-State
Two-time Mariner H.S. varsity captain
Mariner H.S. Most Valuable Player as freshman, sophomore and junior
Acosta Said: "I chose the University of Florida because of the academics, the college atmosphere, and the culture of the team."
Bohon Said: "I actually first met Riley at my previous program as her sister was on a visit and she was an eighth grader. She came to our ID camp and stood out incredibly – highly technical, very quick, fast player. She was one of my first phone calls on June 15 when I could start recruiting for Florida. So it's a long time coming but we are really excited to have Riley and her family here."
DYK
Member of the National Honor Society, won the Superintendent Award three times and three-time All-State Academic in soccer
Wears #20 in honor of Gator Abby Wambach, her favorite women's soccer player
Skye Barnes
Position: Defender
High School: Hagerty High School (Coach: Angie Densburg)
Hometown: Oviedo, Fla.
Florida Kraze Krush ECNL (Coach: Hue Menzies)
Club Info
Southeast Conference First Team
Chosen to play in the Tennessee national selection game
High School Info
Hagerty High School advanced to 2022 Florida High School Athletic Association (FHSAA) 7A regional semifinal and 2023 regional quarterfinal
Barnes Said: She loved the "family-like atmosphere between the team at coaches" at UF.
Bohon Said: "Skye is awesome. We are pumped because we think she can fill a lot of different positions. The fun part will be figuring out where she's going to be able to impact the most. She's a very capable athlete but also a soccer player who has incredible appealing versatility for us. So we expect her to have an impact right away."
DYK:
Her high school coach, Angie Olson Densburg, played for Florida and was the 1992 SEC Tournament MVP.
Mom, Kelley Barnes, played collegiate soccer at University of Central Florida
Zamiyah Hill
Position: Forward
High School: Mosley High School (Coach: Marek Betkowski)
Hometown: Lynn Haven, Fla.
Club Team: Florida Elite Soccer Academy (Coach: Mike Johnson)
Club Info
2022, 2023 National ODP Team
2018-2023 2005 South Regional Team
2017-2018 South Regional Pool
Florida State Team 2017-2023
High School Info
2021, 2022, 2023 county 1st team (9th-11th grade)
Scored 84 goals in first three season of Mosley H.S. career
35 goals as a sophomore Mosley H.S. record
Mosley H.S. advanced to 2023 Florida High School Athletic Association (FHSAA) 6A regional quarterfinals; 2022 and 2021 5A regional semifinals
2023 MVP (11th grade)
2021 and 2022 Offensive Player of the Year (9th and 10th grade)
2021 (9th grade) Track and Field won county in 400m and 4×400 relay; 6th place in long jump at districts; 7th place in 400m at districts
Hill Said: "The coaching staff was a big deciding factor for me [in choosing UF], and of course University of Florida is an amazing university."
Bohon Said: "Zamiyah is a great, athletic, fast-attacking player, but I think the thing that really stood out to us is she competes so she's not just a one-trick pony where she can run really fast. She likes to get stuck in, she really prides herself on the defensive side of the ball and we think she's a little bit of a hidden gem that slipped through the cracks a bit. We're really excited that she's going to be wearing a Gator uniform next year."
DYK:
Played the piano since age 5.