Texas A&M locks in talented 2024 recruiting class, with 5-of-7 signees from in-state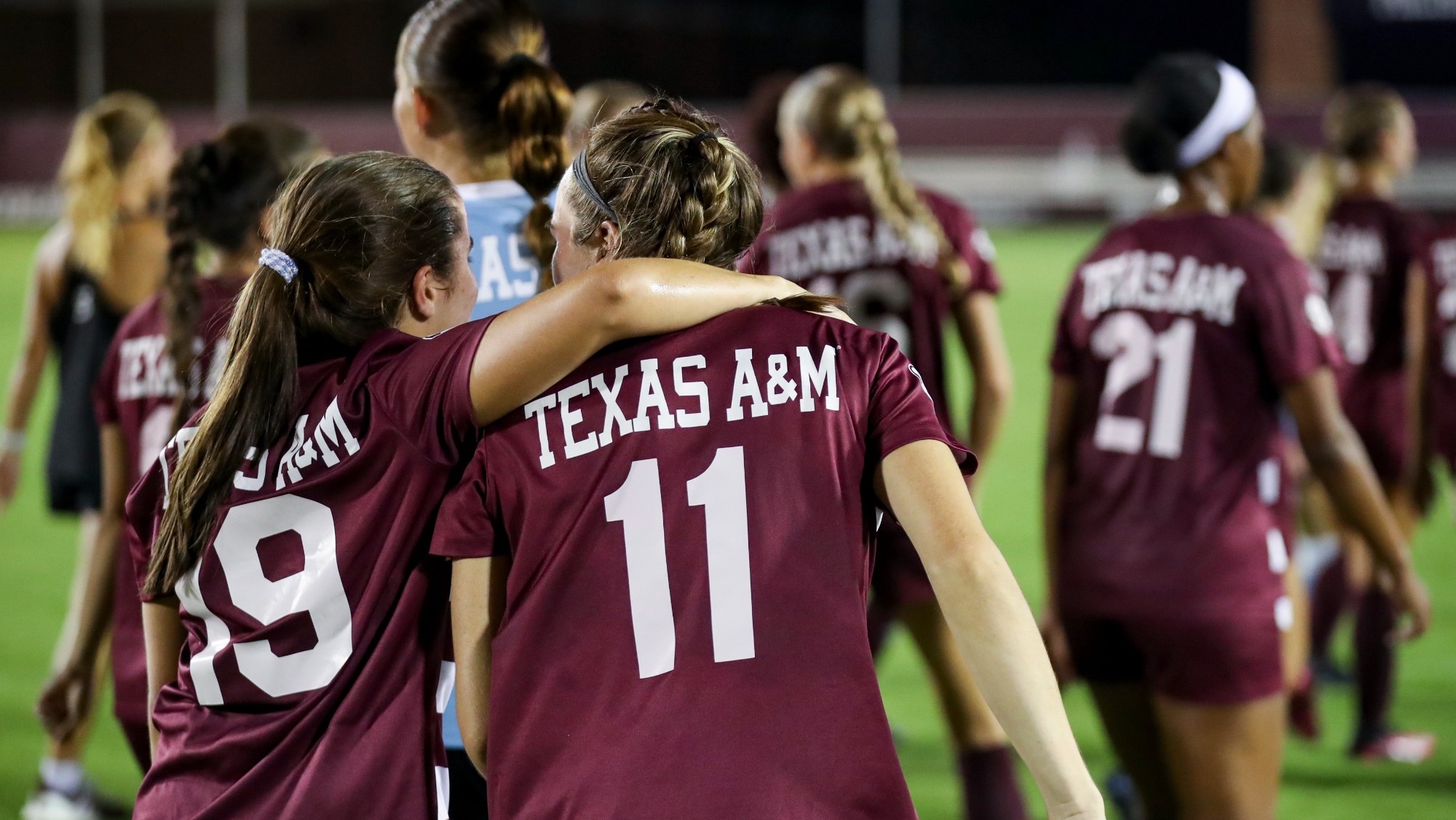 BRYAN-COLLEGE STATION, Texas – The Texas A&M soccer team received certification of National Letters of Intent and appropriate paperwork for seven of the most coveted high school players in the nation, head coach G Guerrieri announced.
"This is a class that immediately boosts our overall talent and athletic levels across the board! We have some world-class players who can break games open and help us in our pursuit of championships, and all are incredible students of the game and teammates from wonderful families and great soccer clubs across Texas and North America," Guerrieri said.
Guerrieri and his staff mined the mother lode of talent in the Lone Star State with five signees, including midfielder Kat Campbell (Frisco/Frisco HS/DKSC & Sting Black), goalkeeper Sydney Fuller (Keller/Keller HS/FC Dallas), forward Emma Hoang (Flower Mound/Flower Mound HS/Solar SC), defender Mary Claire Torn (Houston/Second Baptist School/Albion Hurricanes FC Royals) and forward/midfielder Emma Yolinksy (Prosper/Prosper HS/FC Dallas & Solar SC).
The Aggies also went out west to land goalkeeper Maysen Veronda (JSerra Catholic HS/Slammers HB Koge) from San Clemente, California. The Maroon & White also attracted another top player – Jaime Perrault – from the Vancouver Whitecaps youth program that produced two-time All-SEC midfielder Mia Pante, Jazmine Wilkinson and Andersen Williams.
The recruiting class once again is chocked full of players who have picked up academic accolades in their prep careers along with shining on the field.
The entire class is expected to enroll early, beginning their Aggieland academic careers in January 2024.
TEXAS A&M SOCCER 2024 SIGNING CLASS
| | | | | |
| --- | --- | --- | --- | --- |
| Player | Position | Hometown | Club Team | High School |
| Kat Campbell | Midfielder | Frisco, Texas | DKSC & Sting Black | Frisco |
| Sydney Fuller | Goalkeeper | Keller, Texas | FC Dallas | Keller |
| Emma Hoang | Forward | Flower Mound, Texas | Solar SC | Flower Mound |
| Jaime Perrault | Forward | Pitt Meadow, B.C. | Whitecaps FC Elite REX | |
| Mary Claire Torn | Defender | Houston, Texas | Albion Hurricanes FC | Second Baptist School |
| Maysen Veronda | Goalkeeper | San Clemente, Calif. | Slammers HB Koge | JSerra Catholic |
| Emma Yolinsky | Forward/Midfielder | Prosper, Texas | FC Dallas & Solar SC | Prosper |
———
KAT CAMPBELL – Midfielder – Frisco, Texas (DKSC & Sting Black / Frisco HS)
Has played for DKSC since 2019, coached by Adam Flynn and Michael Bones
Named All-ECNL Texas Conference Second Team in 2021 and '22 (DKSC 2022)
Led DKSC 05 Bones to ECNL Texas Conference title in 2022 as team captain
Competed in ECNL National playoffs in both 2021 and 2022 seasons
Twice led squad to Dallas Cup finals
Three-year letter winner at Frisco High School for Coach Jaime Leraas, serving as captain for 2022 and '23 seasons.
Lead squad District 9-5A title in 2022 and state runner-up finish in 2023
Named to 2022 All-District 9-5A First Team
Picked up 2022 Team MVP Award
Earned 2023 All-District 9-5A and All-State First Team
Selected Academic All-District 9-5A three times from 2021-23
Earned NHS Member honors 2020-2024
Has three cousins, two uncles, and an aunt that attended Texas A&M
Grandfather, John Mims, played football at Rice University and was a third-round draft pick of the Los Angeles Rams in 1964.
Coach Guerrieri says… "Kat is a winner and been a dominating figure in the middle of the field for her teams. She has a dominant physical presence in winning air duals and is a very good distributor and link between the defense and attack, and side to side. She has always been a critical piece to many successful teams in her youth and high school career, leading her Frisco team to the state championship last year."
SYDNEY FULLER ­– Goalkeeper – Keller, Texas (FC Dallas / Keller HS)
Been playing for FC Dallas squad since 2021 trained by coaches Gareth Evans and Matt Grubb
Spent one year with Dallas Texans under Coach Jon Patterson and four years with Fever United under Coach Kenneth Penn
Led Fever United to US Club Soccer National Championships in 2018 and 2019
Helped FC Dallas to the ECNL National Finals Elite Eight in 2022
Earned Texas All-Conference First Team honors with FC Dallas
Four-year letterwinner at Keller High School for Coach Cory Oglesby, helping team to a combined 37-6-6 mark her last two seasons
Claimed District 4-6A Goalkeeper of the Year and All-District 4-6A on three occasions
Guided squad to 20-4-1 record and third round of playoffs in 2023
Helped Keller to a 17-2-5 record and a regional quarterfinal appearance as a sophomore
Earned Texas Association of Soccer Coaches (TASCO) 6A All-Texas First Team in 2022 and Honorable Mention
Claimed TASCO 6A Region I First Team distinction in 2022 and '23
Garnered Academic All-District 6-4A three times from 2021-23
Named an AP Scholar with Honors
Coach Guerrieri says… "Syd is the top goalkeeper in Texas and this part of the country for this graduating class. She has all the physical and psychological tools to be great goalkeeper in the SEC. She is tall, brave, quick and has innate technical strengths that really make you say 'wow, she is a special player."
EMMA HOANG – Forward – Flower Mound, Texas (Solar SC / Flower Mound HS)
Played for Solar Soccer Club from 2017-23 coached Jason Bates
Won the 2021 & 2022 ECNL Texas Conference championship
Led team to the Dallas Cup title
Guided team to the 2021 and '22 ECNL National Championship quarterfinals
Earned a spot on the IMG Top Drawer Soccer National Top 150
Named the Top Drawer Soccer ECNL National Championship standout in 2021 and 2022
Three-year letterwinner at Flower Mound High School for Coach Misail Tsapos
Guided squad to 2021 Texas Class 6A Championship, earning all-tournament team recognition, as team posted a 23-1-1 mark
Selected to the 2022 All-District 6-6A Team
Earned All-Texas and All-South Region distinction from United Soccer Coaches in 2023
AAU & USATF Track National Champion
Mother, father, brother, and sister that attended Texas A&M
Coach Guerrieri says… "Emma is very smart, fast, and versatile. She has the ability to play in a variety of roles in attack for us because she can both set up and score important goals, which she has done for both her club team and her high school teams."
JAIME PERRAULT – Forward – Pitt Meadow, British Columbia (Whitecaps FC Elite REX)
Boasts international experience with the Canada National Team youth squads on the U17 and U20 level
Participated in three CNT U17 camps, the World Cup qualifiers and the 2022 U17 World Cup in India
Won a bronze medal with Canada at the 2022 CONCACAF U17 Championship in Dominican Republic
Most recently has played with the Canada U20 squad, including qualifying matches for the 2024 U20 World Cup
Spent the last five years with the Vancouver Whitecaps FC Elite REX program coached by Emma Humphries
Guided Whitecaps to League 1 titles in back-to-back seasons
Also helped Whitecaps interprovincial crownas well as a Blue Stars FIFA Youth Cup title
Also played four seasons with Coastal FC mentored by Coach Mark McQueen
Coach Guerrieri says… "Jaime is an electric, game-changing talent. She is one of the fastest, most exciting forwards in North America. She can truly open up a game and leave defenders in her wake as she speeds past them on the dribble. She has played as a striker, winger and fullback for the Canadian U20 National Team, which gives her great versatility and experience coming onto our roster."
MARY CLAIRE TORN – Defender – Houston, Texas (Albion Hurricanes FC / Second Baptist School)
Active in the Albion Hurricanes FC from 2010-22 mentored by coaches Rob McGann, Ben Williams and Rafa Brazos
Joined current Aggies Lauren Geczik, Macy Matula and Margo Matula on the AHFC Royals of the Women's Premier Soccer League for the 2023 campaign
Was the leading scorer on her Albion Hurricanes FC squads in 2019, '20 and '21
Boasts 62 career ECNL goals
Three-year letterwinner for Coach Geoff Brooks at Second Baptist School
Scored 17 goals in 10 district games as a defender during her freshman campaign
Selected TAPPS Division II All-State Second Team for the 2021-22 campaign
Also earned TAPPS All-District II-5 First Team, All-VYPE First Team and Houston Chronicle All-Greater Houston First Team during her career
Aggies in her family include her parents, a pair of grandparents and two sisters
Mother, Ceci Hudson Torn, was an All-Big 12 heptathlete for Texas A&M
Coach Guerrieri says… "MC is a natural born leader. She is a great defender and teammate, but also someone who is driven to win. She grew up playing alongside current Aggie center back Margo Matula in club ball with Albion Hurricane FC. Her height makes her a goal-scoring threat on set pieces due to her prowess in air duel situations, while her communication and intelligence make her successful in everything she does."
MAYSEN VERONDA – Goalkeeper ­– San Clemente, California (Slammers HB Koge / JSerra Catholic)
Played for Slammers HB Koge 2022-2023 for Coach Cheyne Gordon
Claimed the 2022 Surf Cup – Best of the Best with Slammers
Spent 2017-22 with San Diego Surf mentored by Louis Hunt
Guided San Diego Surf to three consecutive Surf Cup – Best of the Best titles
Helped Surf claim Manchester City Cup crowns in 2019 and '21
Led Surf to ECNL National Championship finals in 2021
Began club career with Strikers Orange County in 2016
Three-year letterwinner at JSerra Catholic High School for Coach Greg Baker and Coach Anjel Brown
Earned All-Trinity League First Team recognition in 2022 and '23
Named the 2023 JSerra Catholic High School Girls Soccer Team MVP
Earned academic distinction on the Honor Roll and Principal Honor Roll every semester at JSerra Catholic
Father played baseball at Loyola Marymount University
Coach Guerrieri says… "Maysen is an incredibly athletic goalkeeper with great experience playing with two of the most celebrated programs in America – San Diego Surf and Slammers HB Koge. She has strong leadership traits and is skillful with the ball at her feet – two assets that will help her at this major college level."
EMMA YOLINSKY – Forward/Midfielder – Prosper, Texas (FC Dallas & Solar SC / Prosper)
Played for FC Dallas in 2018-2019 and returned for the 2023-2024 season coached by Matt Grubb and Chris Clarke
Starred for Solar Soccer Club from 2021-23 coached by Jason Bates
Led Solar to the ECNL Final 8 in 2022, scoring six goals in five games
Helped Solar U17 win Texas Conference championship in 2022
Played in the Dallas Cup in 2022 & 2023, earning the MVP honors of the U19 championship game, notching a hat trick – logged nine goals in the tournament
Experience at U16 Camp Chula Vista, U17 IMG Florida, and U17 & U19 WNT Team Pool
Three-year letterwinner at Prosper High School for Coach Taylor Baca
Guided squad to a 23-1 record with a regional quarterfinal appearance in 2021
Earned 2022 District 5-6A MVP and claimed All-District 5-6A First Team in 2021 and '22
2022 Claimed Texas Association of Soccer Coaches Class 6A All-Texas Second Team and first-team all-region
Selected to the Academic All-District 5-6A squad 2021 and 2023
Named the April 2023 Prosper High School Student of the Month
Has an aunt and uncle that attended Texas A&M
Father, Kyle Yolinsky, was a four-year starter on the Fairleigh Dickinson baseball team
Mother, Stacy Yolinsky, was a two-year starter on the Fairleigh Dickinson softball team
Coach Guerrieri says… "Emma is one of the most exciting and creative attacking players in America. She has the unique ability to dribble at and past opponents at full speed and either shoot, find a teammate with a precise pass, or continue on the dribble in devastating form. I am so excited to have her in our lineup and expect her to make an immediate positive impact in our goals scoring this year."