LSU Soccer solidifies program's largest signing class with 9 new Tigers for 2024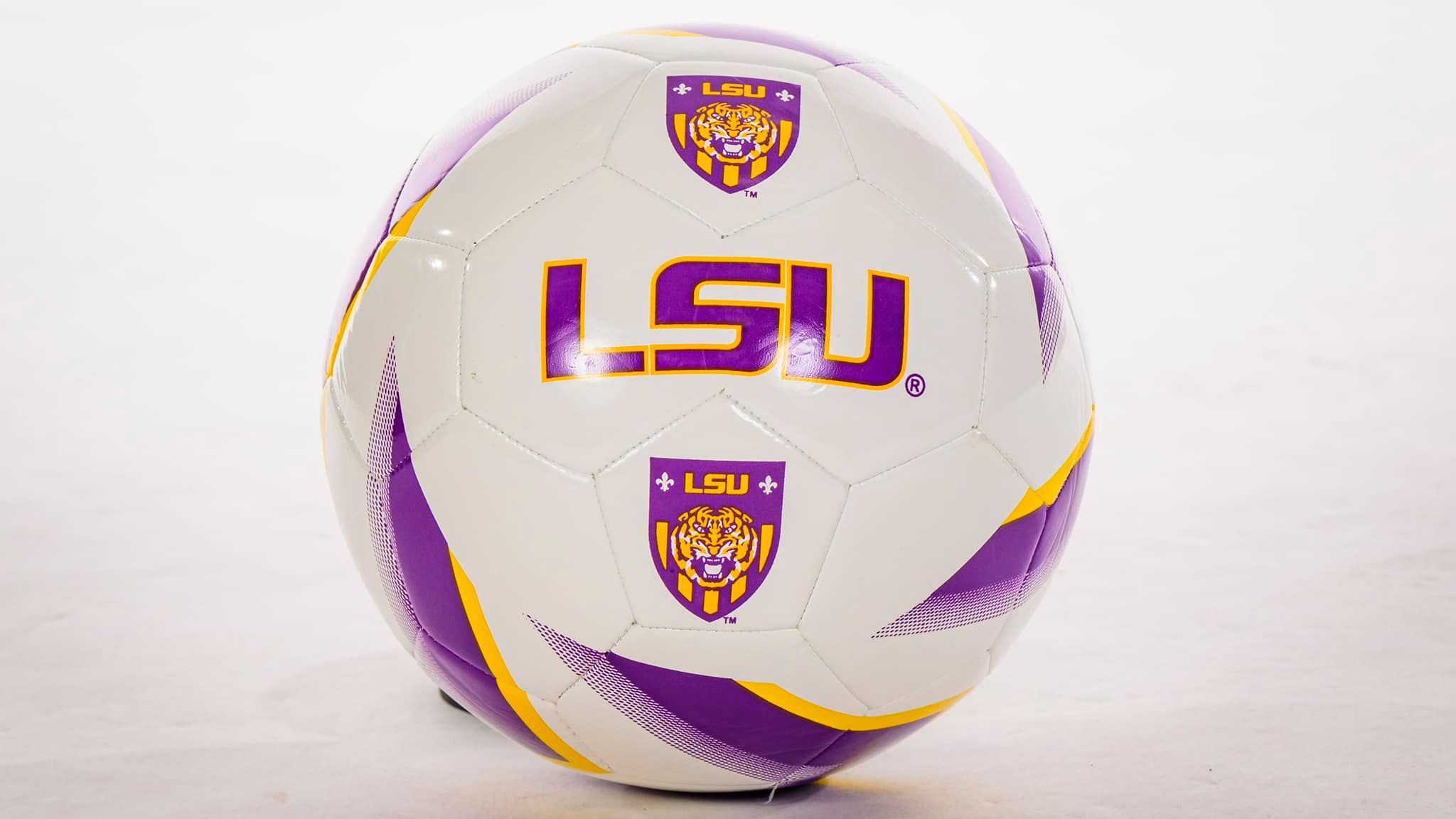 BATON ROUGE – The LSU Soccer program announced their largest signing class with the addition of nine members to the Tiger family from the Class of 2024.
Amy Smith, Emerson DeLuca, Riley MacDonald, Aurora Gaines, Sarah Stadler, Katelyn Holt, Ava Amsden, Senai Rogers and Annaleigh Bruser will join the Tigers next fall.
With two four-star recruits and seven three-stars, head coach Sian Hudson and her staff continue to build the soccer program in Baton Rouge with players who are not only successful on the field, but also in the classroom.
"I am really thrilled about the addition of the 2024 class. It is a large class for us, with a range of positions, players from all across the country and a great blend of personalities in the mix. This is a class that we believe can come in and elevate our program both on the field and in the classroom with immediate effect," said Hudson.
———
A native of Colorado Springs, Colorado, Ava Amsden joins the Tigers as a three-star recruit by Top Drawer Soccer. The midfielder attends Pine Creek High School and competes for the Colorado Rapids Elite Club National League (ECNL). She chose LSU because of the elite academic and soccer program.
"The coaching staff is certainly one of the best in the country and have built a program not only strong on the soccer field, but strong in building relationships and cohesion among the team. I love the passion the community has for the Tigers," said Amsden on her decision to come to LSU.
Amsden earned first team all-conference honors and 5A Colorado first team all-state honors in 2023. She co-captained her high school team this year and was named the team MVP.
She notched first team all-conference honors in three consecutive years throughout her high school career. While at Pine Creek, she tallied 50 goals and 39 assists through three seasons that led her to being named the Offensive Player of the Year in 2022. At the club level, Amsden was a two-time ECNL National Semifinalist and team co-captain for the last three years. In 2022, she was an ECNL Northwest 1st Team All-Conference while earning second-team honors in 2023.
Like all of this year's signees, Amsden will bring success to the Tigers not only on the field, but off the field as well. The Colorado native is a member of the National Honor Society and earned first-team Academic All-State in 2023.
"Ava is a player who not only impacts the game with her individual ability, but she makes those around her better with her communication and ability to bring others into the game. She is the ultimate teammate who has a fantastic work ethic and a determination to succeed in all that she does," said Hudson.
——
Senai Rogers is a gifted attacking player out of Elk Grove, California. The left winger attends Franklin High School and competes for the Blackhawks Soccer Club.
"Senai has an "it" factor that is capable of reaching impressive heights in the right program that can stretch her tactically," said Hudson. "We feel that Senai has an ability to come into our teaching driven environment and really flourish. It was evident from her first step on campus that LSU was the right place to help her amplify her competitive spirit and pursuit for more."
Rogers captained her high school team all five years and earned multiple honors throughout her career, including being named the Delta League Player of the Year, Offensive Player of the Year and First-Team All-League. The California native earned the Scholar Athlete and Community Service awards in 2022 for her efforts in the classroom and in her community.
LSU was at the top of her list of schools she dreamed of going to. Rogers explained that she always wanted to go somewhere with a lot of school spirit and go to a school that's good in every sport. She plans to major in Kinesiology in hopes of becoming a veterinarian when she arrives on campus next fall.
——
A goalkeeper from Waterford, Virginia, Katelyn Holt is a rising star with high potential in between the posts for the Tigers. The three-star keeper attends St. Paul VI Catholic High School and plays for Northern Virginia Alliance ECNL.
"Katelyn is a very talented goalkeeper whose range is professional level in terms of the attributes she already has as a young goalkeeper," said Hansen. "She comes from a club background where she is training day in and day out with other top players in the country – and she is challenged as a goalkeeper by some of the most respected GK coaches in the country from a development standpoint. We are excited to welcome Katelyn into one of the best GK unions in the country – and even more so to push her to the level we think she is capable of.
Holt was also named the VAA Female Athlete of the Year in 2019 and has continued to flourish since then. The Virginia native played varsity soccer for four years at St. Paul's and was named the Paul VI Catholic High School Girls Soccer Rookie of the Year in 2021. This year, she earned ECNL Mid-Atlantic Region All-Conference honors.
The keeper plans to major in business and sports administration at LSU next year, the place where she felt right at home. "I had visited a lot of top college soccer programs, and the coaching staff at LSU was absolutely unrivaled. I immediately felt like part of the LSU soccer family, and the campus just felt like home," said Holt. "LSU has an incredible atmosphere, top-notch facilities, and a school pride and passion that is infectious.  Additionally – the opportunities that LSU is creating for its female athletes are second to none. It's an exciting time to become an LSU Tiger!
——
A midfielder out of New Berlin, Wisconsin, Sarah Stadler is excited to join the Tigers while focusing on her engineering career path. "I was really excited about how LSU is known to excel in my area of academic interest. I know that I will get a great education, which is very important to me. I love all the spirit and camaraderie that this school offers," said Stadler.
Stadler is a three-star recruit who plays for SC Wave Soccer Club, where she captained the team for four seasons and was the team representative for the Girls Academy since 2021. During her time with the Wave, Stadler was a two-time State Champion (2020, 2023) and appeared on the 2022 Wisconsin International Team that traveled to Spain to play in the Donosti Cup.
At New Berlin Eisenhower High School, Stadler became a state champion once again in 2022, as well as earning All-State Second Team honors in 2023 and All-Conference First Team honors the last three years.
"We are really excited to have Sarah join our program," Hudson said. "She is a versatile player who is comfortable in multiple lines of the field. We feel confident that she will add quality no matter where she ends up positionally. She has a high ceiling with her physical frame and her level of drive and commitment. She also possesses an attention to detail that will serve her well in all areas of her growth as a Tiger."
The LSU coaching staff is confident that she will be a high academic achiever and thrive as a member of the university's  honors program. Stadler is currently the Student Union Senior President, Member of National Honor Society and a part of the Student Athlete Leadership Team at her high school.
——
Riley MacDonald will join the Tigers from Highlands Ranch, Colorado, where she attends Mountain Vista High School and competes for the Colorado Rush Girls Academy. The midfielder is the ultimate competitor with an absolute drive and dedication to win.
"Her technical ability, passing range, and vision allows her to be equally effective in tight spaces or opening up the game. She will add a big aerial presence in both 18 yard boxes for us and she will be a midfielder that will chip in with her share of goals too," Hudson said.
MacDonald has had a breakout year this year, racking up multiple accolades such as Mountain Vista Offensive Player Of The Year, Player of the Club, Goal of the year, First Team All-Conference and Second Team All-State in 2023. She also sets the example in the classroom, as she is a part of Student Leadership, National Honor Society, FCCLA and earned Academic All-State First Team honors in her academic career thus far.
The Colorado native is looking forward to growing in all aspects during her time at LSU. "The players on the team are exceptional. I am looking forward to not only becoming a better player at LSU but a better person as well," said MacDonald.
——
Emerson DeLuca, a native of Westminster, Colorado, is a three-star rated outside back/wingback by Top Drawer Soccer. Hudson says one of the things that Tiger fans will love most about DeLuca is her competitive mindset and the relentless way she approaches the game on both sides of the ball.
"Emerson is an aggressive and athletic full back who loves to fly forward.  She can break up the play deep in her own defensive third or beat players on the dribble, Her decision making when she gets into the attack is very good and whether it is a final pass or service in the box, she will be a fullback with the ability to create assists when she gets into the attack.".
DeLuca attends Broomfield High School and competes for Colorado Rapids ECNL. She was the only freshman starter to become a 5A State Champion in 2021, as well as earning Academic All-State First Team honors and All Conference Honorable Mention. Now, she owns multiple state and conference honors in her high school career.
At the club level, the defender was an ECNL National Championship Finalist last year and a National Semifinalist this year. DeLuca participated in the U.S. Youth National Team ID Camp in 2022.
——
Amy Smith is a forward out of Fort Collins, Colorado, where she attends Fossil Ridge High School and competes for Colorado Rapids ECNL, alongside future teammates Amsden and DeLuca. The forward is rated four stars by Top Drawer Soccer and has a wide range of scoring capabilities.
"Amy is one of the top goalscorers in the country. As a number nine she has it all. Her selfless attitude in the way she works off the ball for her team, her hold up play and the instinctive nature in the way she finds space in the box and can finish are just a few of her key attributes. She has the capability to bury any chance that comes her way."
Smith is a three-time varsity MVP, Colorado State MVP and was named to the Northwest Conference First Team. In the classroom, she is a four-time academic honor roll member as she plans to major in animal science/pre-vet at LSU in the fall.
"LSU was my choice because of the amazing coaching staff and resources available for me to grow and play the best soccer while achieving my academic dreams simultaneously," said Smith.
——
The Tigers snatched home grown talent in this year's class with the signing of Annaleigh Bruser. The Baton Rouge native currently attends IMG Academy in Florida, but will return home to play for LSU in the fall. At IMG, she received the coaches award in 2022. While attending Episcopal High School in Baton Rouge from 2019-2020, Bruser received all state honors both years and was named the defensive MVP in 2020.
On Annaleigh, Hudson said "she is a hard-nosed defender who plays with a competitive drive and tenacity that makes her difficult to beat. Her pace and technical ability will also give her the versatility to play centrally or be an attack minded full back who can get forward and create in the final third. We are thrilled to be adding a Baton Rouge native to our roster."
Bruser is ready to return home and gear up in the Purple & Gold. She plans to major in business next fall.
——
Aurora Gaines is a forward out of Milton, Georgia. She is rated four-stars by Top Drawer Soccer and attends Cambridge High School. The Concorde Soccer Club player is an attacker with explosive pace and trickery who has experience on various levels.
"Aurora can play anywhere across the front line and has the capability to beat defenders on the dribble or cut inside and link to get in behind the opposition defense and get to the goal. Along with her goal scoring presence, she is a big personality who isn't fazed when faced with big pressure moments and we can't wait to get to work with her," said Hudson.
At the national stage, Gaines recently competed with the U18 San Diego Wave team in 2023 as well as with the U17 and U20 Puerto Rican National Team and the U.S. Youth National Team from 2017-2021.
Hudson and the LSU Soccer program will officially welcome all nine signees next fall.