Five US Youth Soccer Midwest Conference teams qualify for 2021 National Championships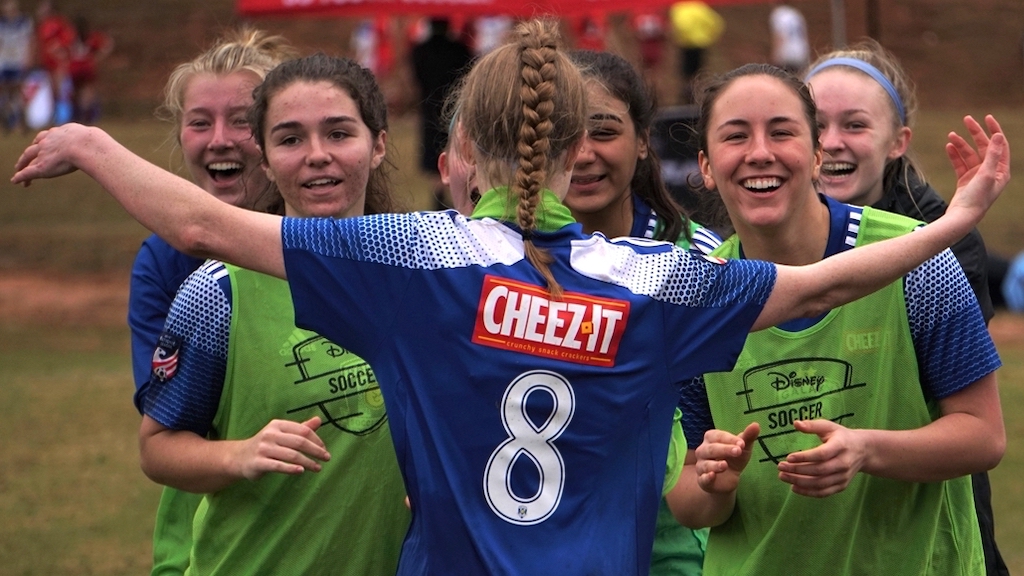 GREENSBORO, N.C. — Five teams from the Midwest Conference were victorious in the US Youth Soccer National League Playoffs this past weekend, progressing to the 2021 USYS National Championships as a result.
G17U Galaxy SC 2004 Blue (IL), G18U Nationals Union 03 Girls Black (MI), B17U SLSG 2004 Elite (MO), B18U Kingdom SC 03 Red (MI) and B19U SLSG 2002 Elite (MO) all won their respective groups at the National League North Carolina event, which featured Playoff teams in the 15U-19U Girls age groups and the 17U-19U Boys age groups.
G17U Galaxy SC 2004 Blue rebounded from a scoreless draw against SLSG 04 (MO) to win its final two games to finish top of its group. Heading into the final game, Galaxy was in second place, but a late winner against SC Wave Juniors 04 Girls (WI) moved Galaxy ahead of SC Wave in the standings and advanced the Illinois side to the USYS National Championships.
According to Joe Taylor, coach of Galaxy SC 2004 Blue, the final whistle brought a huge sense of accomplishment.
"Going into the last day, we knew it was going to be a very tough game against a top-quality opponent and a win was the only way we were going to advance," Taylor said. "We spoke about everything we have achieved up to this point and to make sure we kept our composure, to never give up and to play to the final whistle. That feeling at the full-time whistle, knowing that we're going to the National Championships, is something that the team and myself will never forget."
G18U Nationals Union 03 Girls Black won all three of its games — keeping two clean sheets along the way — to clinch its spot at the USYS National Championships. The side's 1-0 win in the second matchday over runners-up Legends FC East Corona G03 (CA-S) proved to be the decisive match of the group, leaving Nationals Union in sole possession of first place.
On the boys' side, B17U SLSG 2004 Elite won its first two games of the Playoffs before drawing against runners-up PDA Hibernian Modric (NJ), 0-0, to secure a first-place finish in 17U Boys Group A. St. Louis Scott Gallagher also saw its B19U 2002 Elite team clinch a berth to the USYS National Championships, as the older side won all three games in its group, scoring 18 goals and conceding none in a dominant performance.
B18U Kingdom SC 03 Red went undefeated in its group to finish atop the standings. After an opening day scoreless draw, Kingdom secured huge wins over Midwest United FC (MI) and KCSG Academy (KS), scoring twelve goals in the process.
Kingdom SC 03 Red coach Chad Wiseman credits his team's commitment to its success in North Carolina.
"The credit must go to the players, they didn't complain, they didn't make excuses, they went out and competed and over the course of three games left no doubt they were the best team on the weekend," Wiseman said. "We have multiple players that can change the game in the attacking third.  We had six different goal scorers on the weekend, we can hurt teams in so many different ways."
While Galaxy SC and Nationals Union competed in the Girls Club vs. Club Division in the Fall 2020 season of the USYS Midwest Conference, both Kingdom SC and St. Louis Scott Gallagher are currently playing in the Spring 2021 season of the Midwest Conference.
To read more about the Conference and view results and standings for the Midwest Conference, click here.